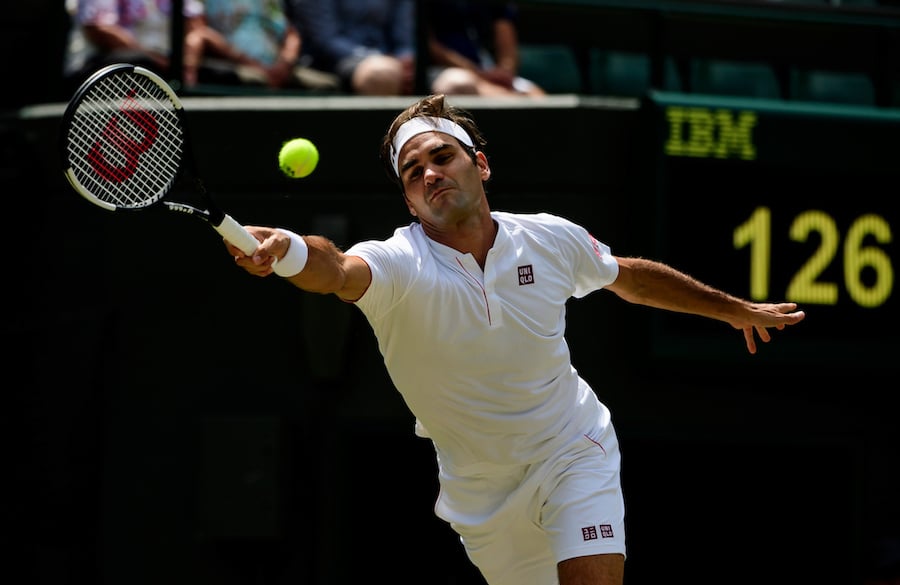 Roger Federer has 102 career titles. Can he make it 103 at this year's Wimbledon?
Roger Federer has broken most records out there but he's still lagging behind Jimmy Connors in terms of number of tournaments won. Connors won 109 titles in his career and Federer is currently on 103.
Who would bet against the 37 year old Roger Federer winning at least 7 more titles and overtaking Connors? At the age of 37 he's already won 3 titles in 2019 and Connors played on into his 40's!
Federer has a chance to make it 103 titles with a win in this year's Wimbledon men's singles and he's been handed a massive boost from the organisers who have seeded him No.2 ahead of his great rival Rafa Nadal. Nadal's world ranking is higher than Federer at No.2 and he's been very outspoken against the system that Wimbledon employ to seed the players. Nadal has also received plenty of support from influential figures in tennis regards this matter.
But Federer won't care as he's the one that has really benefited form the seeding system and he now knows that he probably won't have to play Nadal or Djokovic until the final and because of the same system, his potential semi final opponent is an 'out of practise' Kevin Anderson. Of course it was Anderson that knocked out Federer in last years epic semi final, which in itself added to Wimbledon's decision to introduce 5th set tie breaks this year.
Here you'll find a list of every title that Roger Federer has won in his career so far:
Hard courts
Clay
Grass
Carpet
*indoors
2001
Milan*
2002
Sydney
Hamburg
Vienna*
2003
Marseille*
Dubai
Munich
Halle
Wimbledon
Vienna*
ATP Finals (Houston)
2004
Australian Open
Dubai
Indian Wells
Hamburg
Halle
Wimbledon
Gstaad
Toronto
US Open
Bangkok*
ATP Finals (Houston)
2005
Doha
Rotterdam*
Dubai
Indian Wells
Miami
Hamburg
Halle
Wimbledon
Cincinnati
US Open
Bangkok*
2006
Doha
Australian Open
Indian Wells
Miami
Halle
Wimbledon
Toronto
US Open
Tokyo
Madrid*
Carpet Basel
ATP Finals (Shanghai)*
2007
Australian Open
Dubai
Hamburg
Wimbledon
Cincinnati
US Open
Basel*
ATP Finals (Shanghai)*
2008
Estoril
Halle
US Open
Basel*
2009
Madrid
French Open
Wimbledon
Cincinnati
2010
Australian Open
Cincinnati
Stockholm*
Basel*
ATP Finals (London)*
2011
Doha
Basel*
Paris (Bercy)*
ATP Finals (London)*
2012
Rotterdam*
Dubai
Indian Wells
Madrid
Wimbledon
Cincinnati
2013
Halle
2014
Dubai
Halle
Cincinnati
Shanghai
Basel*
2015
Brisbane
Dubai
Istanbul
Halle
Cincinnati
Basel*
2017
Australian Open
Indian Wells
Miami
Halle
Wimbledon
Shanghai
Basel*
2018
Australian Open
Rotterdam*
Stuttgart
Basel*
2019
Dubai
Miami
Halle
If you can't visit the tournament then do the next best thing and read our guide on how to watch Wimbledon on television
To read more amazing articles like this you can explore Tennishead magazine here or you can subscribe for free to our email newsletter here