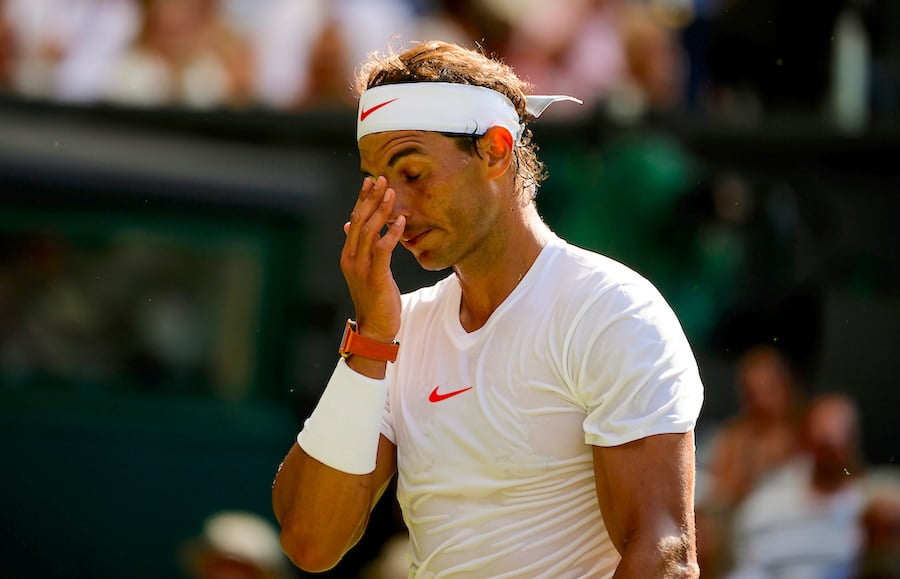 Rafa Nadal receives huge support from tennis stars in battle with Wimbledon
The escalating disagreement between Rafa Nadal and Wimbledon looks set to continue after major names in the sport have voiced their support for the world no.2 and Wimbledon no.3 seed
Rafa Nadal has spoken out about his disagreement with the way that Wimbledon calculates their seedings for the men's singles, which is different to way they do it for the Ladies singles and the way that Nadal would like to see employed.
Wimbledon choose to take into account a players past form on grass when deciding on the seedings, and this year that means that Nadal is seeded at No.3 in the men's singles which is lower than his world ranking of No.2 and means he will almost certainly have to play Novak Djokovic if he makes it to the semi final.
Nadal voiced his concern earlier this week and has now received the backing of some important voices in tennis including John McEnroe's brother and former USA Davis Cup Captain Patrick McEnroe plus influential coach and former Australian ATP Tour player Darren Cahill.
They both took to Twitter today to support Nadal:
The Wimbledon seeding formula came about when there was a clear distinction between clay court specialists & fast court tennis. Many clay courters even skipped the grass. That is not the case now. Players adapted, grass is slower and the game is played similar. I agree with this. https://t.co/hPh1qZkBAj

— Darren Cahill (@darren_cahill) June 26, 2019

Interestingly, Nadal has actually not reached the stage of the tournament his seeding would imply at the past 7 Wimbledon championships which gives a certain credibility to the system that the Wimbledon seeding committee employ.
But Nadal's argument is that all the players work hard all year round to reach their world ranking and it's unfair to seed them lower than this just because other players have a better history on grass. His argument also points to the Ladies singles that simply apply the World rankings to decide the seeds.
An fun poll on tennishead's Twitter page saw a small majority vote in favour of Wimbledon continuing with their own system for seeding the men's singles:
Now you can look ahead to Wimbledon with our exclusive, 164 page, 'Guide to Wimbledon 2019'
To find out how to get tickets for Wimbledon this year read our 9 point guide here
For all the latest Wimbledon news before, during and after the tournament make sure you bookmark our 'Wimbledon News' section here
If you can't visit the tournament then do the next best thing and read our guide on how to watch Wimbledon on television
To read more amazing articles like this you can explore Tennishead magazine here or you can subscribe for free to our email newsletter here