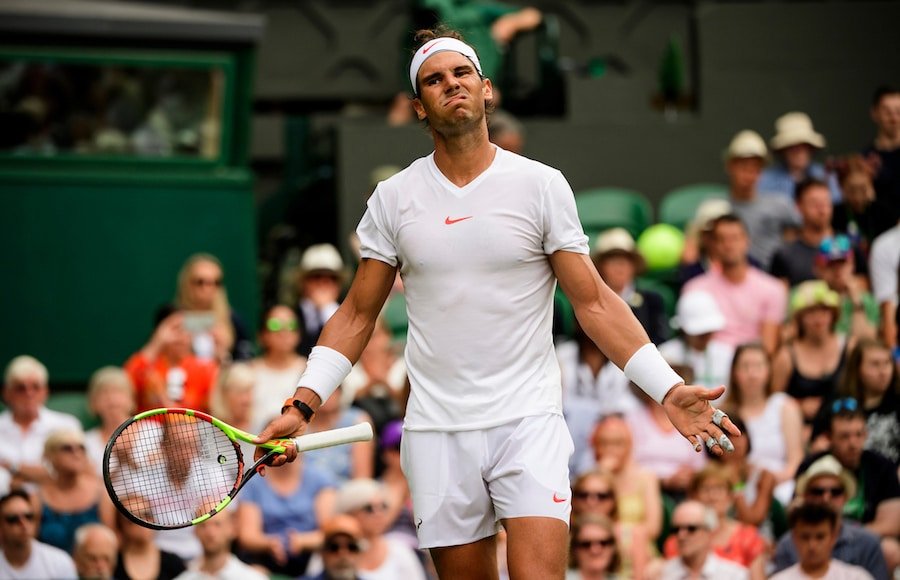 Rafa Nadal questions Wimbledon's respect for players during comments on men's seeding
World no.2 Rafa Nadal has spoken out on the unique system used by the Wimbledon organisers to seed the top players in the men's singles
Rafa Nadal is obviously not a fan of the fact that he will be seeded lower than Roger Federer at Wimbledon this year thanks to the formula Wimbledon applies when seeding just the mens' singles.
Nadal was speaking to one of his sponsors, Movistar, when he said, "Only Wimbledon does it. There have been many occasions when players have played well all year on all surfaces but Wimbledon does not respect the ranking they have earned."
You can see Nadal's original comments here:
"No me parece bien que Wimbledon sea el único torneo que tenga su propio criterio de cabezas de serie". @RafaelNadal, en #NoticiasVamos. #MovistarWimbledon pic.twitter.com/l1rSYKH8HL

— Tenis en Movistar+ (@MovistarTenis) June 24, 2019
This year Nadal will be seeded No.3 at Wimbledon which means he has a chance of meeting Novak Djokovic in the semi final rather than the final. If he was seeded No.2, in line with his world ranking, then he would be guaranteed to not have to play Djokovic until the final.
Wimbledon take into account a players record on grass as well as their current world ranking when deciding on seeds, so if a player has a very good record on grass, such as Roger Federer, then this can result in them being seeded higher than their world ranking which in turn means that someone else will be seeded lower than their world rankings. In this case that player is Nadal.
The men's seeds are calculated as follows at Wimbledon:
Take the ATP Ranking points at 24 June 2019

Add 100% of the points earned for all grass court tournaments in the immediate past 12 months period prior to 24 June 2019

Add 75% of the points earned for the best grass court tournament in the 12 months prior to that
Wimbledon is the only Grand Slam that employs this system because they feel that grass is a unique surface which effects the play significantly enough to warrant a change in the seedings.
Now you can look ahead to Wimbledon with our exclusive, 164 page, 'Guide to Wimbledon 2019'
To find out how to get tickets for Wimbledon this year read our 9 point guide here
For all the latest Wimbledon news before, during and after the tournament make sure you bookmark our 'Wimbledon News' section here
If you can't visit the tournament then do the next best thing and read our guide on how to watch Wimbledon on television
To read more amazing articles like this you can explore Tennishead magazine here or you can subscribe for free to our email newsletter here