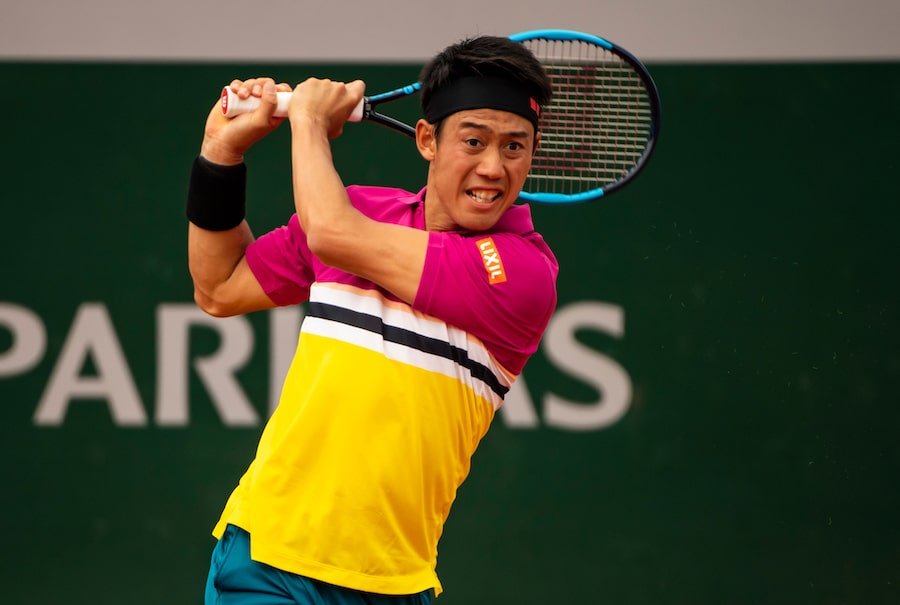 Preview of the most exciting matches in Round 2 of the 2019 French Open
The professional men's game is now so competitive that the second round of a Grand Slam often throws up many enticing matches where the result could go either way. Here, tennishead highlights the best matches of Round 2 in the men's singles at the 2019 French Open
With 32 seeds in the draw and 128 players in total, a seed won't have to play another seed until the 3rd round, but that doesn't mean there aren't dangerous, highly experienced players in the draw that could upset any of the seeded players on their day, and the men's singles at Roland Garros 2019 is no exception.
Benoit Paire versus Pierre Hugues Hubert
France versus France is always going to create a stir in the sophisticated atmosphere of Paris during the French Open. But to have such a crowd favourite and enigma as Benoit Paire facing a French Grand Slam Champion like Herbert in Round 2 is surely too exciting to miss out on?
Paire's been in incredible form these past few months and has played more matches on the ATP Tour in 2019 than any other player! For someone prone to dramatic swings in form and commitment this must be good news. His love for tennis should be very strong at the moment and surely this will translate into a solid run at his home Grand Slam.
But he's up against Herbert who himself has been showing some great form and has also played a huge amount of tennis so far this season.
The two players have surprisingly only met 3 times on the ATP Tour with Paire winning the last two encounters including a very recent win on outdoor clay.
tennishead prediction: Paire to win in a 5 set thriller
Player stats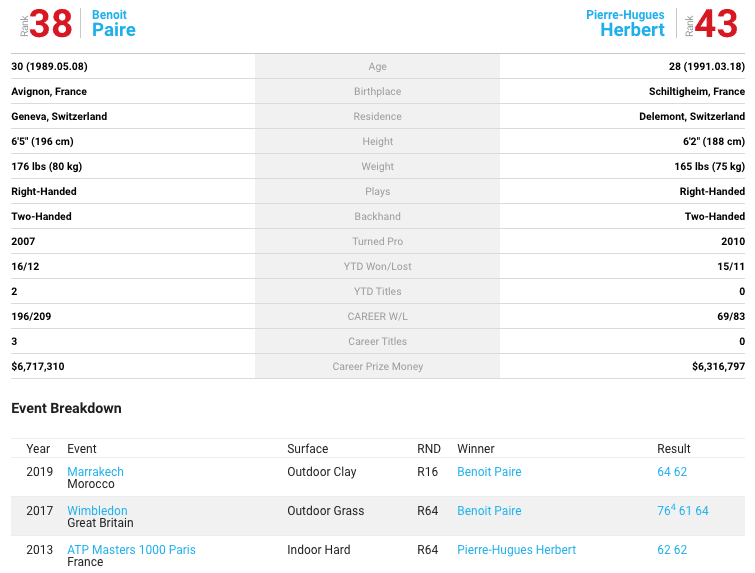 Kei Nishikori versus Jo-Wilfried Tsonga
Wow! We love it when two legends of the game are drawn together so early in a Grand Slam. We doubt that Nishikori in particular is that happy to be facing this great Frenchman in the second round of his home Grand Slam, but that's tennis for you Kei!
These two played each other at the French Open in 2015 in the quarter final with Tsonga coming through in a 5 set thriller, but since then both men have suffered with long layoffs due to injury and have struggled to find their form of old.
Nishikori has had a decent if unremarkable clay court season in 2019 so will be hoping for a deep run at this French Open. He made the semi finals of Barcelona but that's his only notable success on clay in 2019.
Tsonga's had a tournament win this year but that was in a lower ranked event in France and he has yet to perform well in one of the bigger ATP Tour events.
No doubt Tsonga is considering retirement and will be targeting a big performance to show the French fans that he still has what it takes.
tennishead prediction: Nishikori to win in 4 sets
Players stats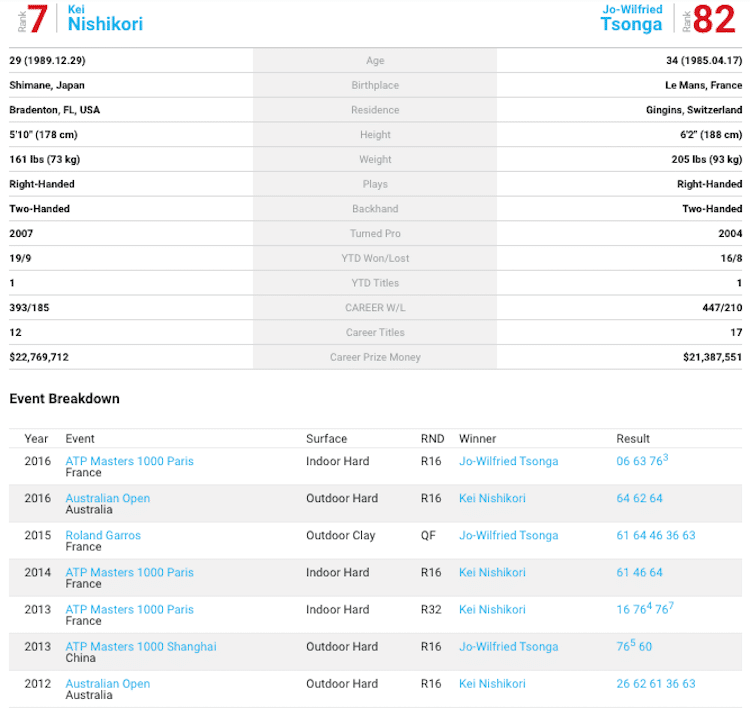 Stan Wawrinka versus Cristian Garin
The beauty of a Grand Slam is that with 128 players in a draw you will often find matches where two opponents have never played before and this is one of those times.
It's also a brilliant clash between a legend of the game and 3 time Grand Slam winner in Stanislas Wawrinka versus an up and coming youngster in the middle of his breakout year on the ATP Tour.
Wawrinka won the French Open in 2015 and has been as high as No.3 in the world but injury has ravaged his body & record of the past few years. Can he get back to where he was or has time caught up with him? A solid if unspectacular 2019 has included just 1 appearance in a final and just 2 wins over players ranked in the Top 10 (Nishikori twice).
The Chilean clay court sensation Garin has won 2 tournaments on clay and made the final of another tournament on clay in 2019. He has a 65% win record on clay in his career and this year, after winning the first set, he has an unbelievable 100% win record. However, he's only ever won 1 match at a Grand Slam which was his first round win here at the French Open whereas Wawrinka has won 135 matches at Grand Slam level with a 72% career match win record at the Slams.
tennishead prediction: Wawrinka to win in 5 close sets
Player stats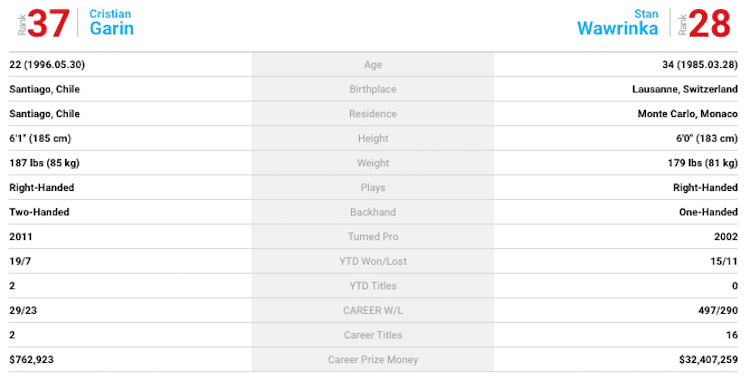 Grigor Dimitrov versus Marin Cilic
Neither player will be happy with their record this season especially on the clay and so both will be desperate to show their class in this high level battle of two experienced Grand Slam players.
Dimitrov has recently parted company with his coach most probably in an attempt to end his slide down the rankings which sees him currently at No. 46 in the World having been as high as No. 3 just over 18 months ago. A dismal 2019 has seen him reach just one quarter final on Tour and not a single win against anyone from the top 25 in the world.
Cilic is in equally worrying form having only made the quarter finals in Madrid this year and holding an 8/7 win/loss record that has seen his ranking slump from No. 3 to No. 13 in just over a year.
Clay is neither players favourite surface which should encourage them that they can win this encounter and move through to the third round of a Slam.
tennishead prediction: Cilic win in 5 close sets
Player stats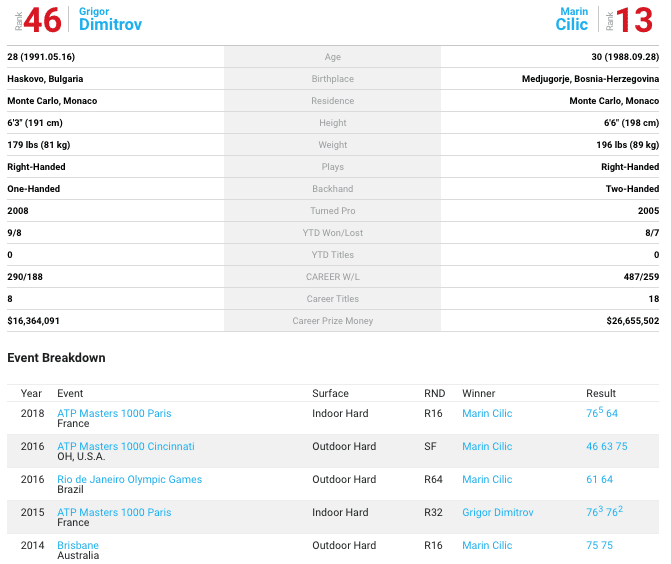 To follow the action at the French Open check out our guide to the tournament or keep visiting our news section for daily updates on all the action at the 2019 French Open. If you want to watch the French Open on TV then follow our advice here