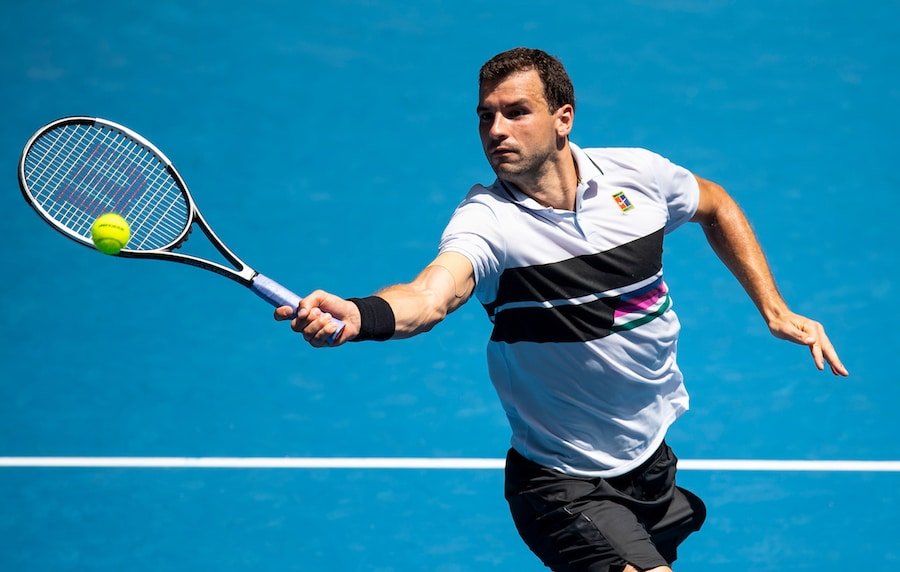 Grigor Dimitrov's tournament schedule for 2019
Often referred to as 'Mini-Fed' because of the similarity in his play to that of Roger Federer, Grigor Dimitrov has long promised to break through and become the next World No.1 but his frequent rise and fall in the rankings makes this now seem unlikely. Unless 2019 is his year?
Currently ranked No. 31 in the World, Grigor Dimitrov will feel that he has the ability to make it back into the top 10 this year having been as high as No.3 in the rankings as recently as 2017. If Dimitrov can stay focussed on his game this year then there is no reason why he can't return to winning ways and even compete for Grand Slams and ATP 1000 events.
His temperament is often questioned and sometimes it seems his off-court life might be distracting him. A string of high profile girlfriends and regular changes of coaching team have often lead to speculation that he's a playboy who can't knuckle down. Maybe as he matures these tendencies will recede and we'll start to see the best out of him? Let's hope so as a Dimitrov firing on all cylinders is a beautiful sight.
Grigor Dimitrov's provisional 2019 schedule is as follows:
JANUARY
Brisbane, Australia (December 31 – January 6)
Australian Open, Melbourne (January 14 – 27)
MARCH
Indian Wells, USA (March 7 – 17)
Miami Open, USA (March 20 – 31)
APRIL
Monte Carlo Masters, Monte Carlo (April 14 – 21)
Barcelona, Spain (April 22 – 28)
MAY & JUNE
Madrid, Spain (May 5 – 12)
Rome, Italy (May 12 – 19)
Roland Garros (May 26 – June 9)
Queens Club, London, England (June 17 – 23)
JULY
Washington, USA (July 29 – August 4)
AUGUST & SEPTEMBER
Montreal, Canada (August 5 – 11)
Cincinnati, USA (August 11 – 18)
US Open (August 26 – September 8)
Beijing, China (September 30 – October 6)
OCTOBER
Vienna, Austria (October 21 – 27)
Paris, France (October 28 – November 3)
NOVEMBER
ATP Tour Finals, London (November 10 – 17)
Davis Cup Finals, Madrid (November 18 – November 24)
Look ahead to 2019 with our guide to every tournament on the ATP Tour, the WTA Tour and the ITF Tour
If you can't visit the tournaments you love then do the next best thing and read our guide on how to watch all the ATP Tour matches on television in 2019
To read more amazing articles like this you can explore Tennishead magazine here or you can subscribe for free to our email newsletter here