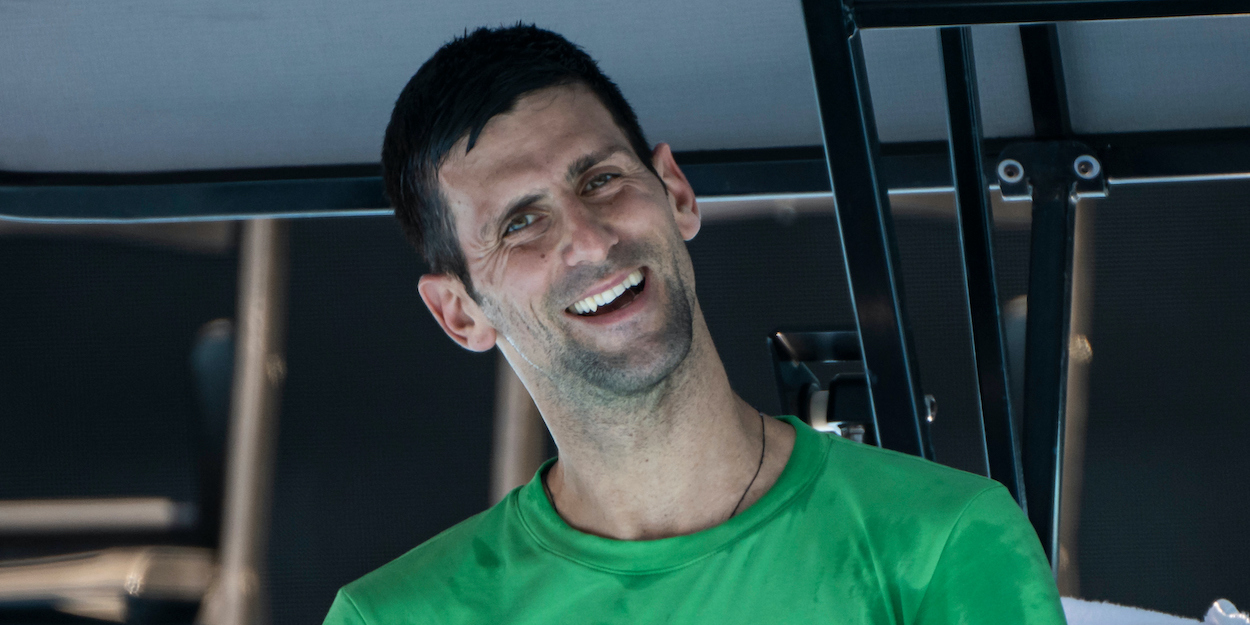 Novak Djokovic: What's been said by tennis' biggest names on vaccination row?
Novak Djokovic has been front and centre of the conversation approaching the 2022 Australian Open as controversy swirls over his participation, the circumstances surrounding and and the actions of him and Australian officials alike. 
Here, Tennishead compiles a number of voices from across tennis who have expressed their opinion on the matter. From top pros to legends of the game to sporting institutions, hear what each has to say on the Djokovic saga.
Djokovic rivals and contemporaries – top ATP pros
20-time Slam champion Rafael Nadal
Fellow GOAT contender Nadal does have sympathy for how Djokovic has been treated in Australia.
However, he also points out that the world number one could have avoided the entire debacle altogether by simply getting vaccinated in advance of the 2022 season.
"In my opinion the world has been suffering enough not to follow the rules," he said in a Melbourne Summer Set tournament press conference.
"if you don't want to get the vaccine, then you have some troubles, that's the thing.
"I think if Djokovic wanted he would be playing here in Australia without a problem."
The world number six later responded to the court ruling overturning Djokovic's visa cancellation in support of the Serb.
"Whether or not I agree with Djokovic on some things, justice has spoken and has said that he has the right to participate in the Australian Open.
"I wish him the best of luck," he added, before jokingly commenting "on a personal level, I'd much rather he didn't play."
World number four Stefanos Tsitsipas
The 2021 Roland Garros finalist was more pointed with his remarks than others when discussing Djokovic's actions.
"For sure, he's been playing by his own rules," Tsitsipas told India's WIO News.
"It takes a lot of daring to do and putting the grand slam at risk, which I don't think many players would do.
"A very small [minority] chose to follow their own way, which kind of makes the majority look like fools."
World number five Andrey Rublev
Rublev regrets the fact that the Djokovic story is overshadowing tennis ahead of the Australian Open, with his overwhelming feeling about the fiasco is that it is very confusing.
"We don't know all the details," he told TASS when asked his thoughts.
"Personal agreements do not give an athlete the right to cross the border, the law of the country is the law.
"None of us would want to get into such a situation. I can only shrug my shoulders."
Former world number one Andy Murray
The three-time Slam champion initially took a broad stance that the entire situation benefits no one and is a bad image for the sport.
"[I need to] wait and hear exactly what the situation is before commenting on it further, because again I don't think it's fair because some of it is speculation," he explained to The Age.
Murray did then align with Nadal that he believes the public should trust experts that the vaccine is safe and the best way forward.
Following his release from detention, Murray stated he was happy that Djokovic had been released, but acknowledged that things had still been left unresolved.
"I think there are still a few questions that need to be answered around the isolation and stuff, which I'm sure we'll hear from him in the next few days," he said on 11th January according to Tennis Majors.
2021 Wimbledon quarter-finalist Marton Fucsovics
Djokovic defeated Fucsovics en route to his record-tying 20th Slam at Wimbledon in 2021.
When speaking on the matter of the Djokovic saga, Fucsovics hammered home that public health was the most important thing at the moment.
"People's health is paramount, and there are rules that were outlined months ago, namely that everyone should vaccinate themselves, and Djokovic didn't," he told M4Sport.
"From this point of view, I don't think he would have the right to be here [in Australia."
Two-time Australian Open quarter-finalist Tennys Sandgren
Sandgren is himself unvaccinated and, according to the ATP, is one of just three players in the top 100 who are have not been vaccinated, including Djokovic.
Sandgren opted not to travel to Australia as he knew he was not eligible for a medical exemption.
However, following the detainment of Djokovic on arrival in Australia, he provocatively tweeted that "Australia doesn't deserve to host a Slam."
Five-time Slam doubles champion Pierre-Hugues Herbert
This top ranked doubles pro made headlines towards the end of 2021 as he announced that he would not play the Australian Open due to his unvaccinated status.
Like Sandgren, he knew he did not have a "valid reason" for an exemption. He did not feel slighted that Djokovic was granted a medical exemption, nor was he surprised.
"I would not like to be in his [Djokovic's] place when he gets off the flight, because I don't think he will be greeted like a number one in the world," he told L'Equipe of the reception he believes the nine-time champion would receive on arrival in the country.
The ensuing fiasco proved the former doubles world number two correct.
Former doubles number one and seven-time Slam champion Jamie Murray
After Djokovic revealed his "exemption permission" to play the Australian Open on 4th January, Jamie Murray was one player who was sceptical of its nature.
"I think if it was me that wasn't vaccinated I wouldn't be getting an exemption," he said during an ATP Cup press conference.
"At the end of the day you kind of have to trust that he does have a valid reason for the medical exemption," he added.
Djokovic forebears – tennis greats, former top players and coaches
18-time Slam singles champion Martina Navratilova
This former world number one has been among the most vocal in commenting on, and in this case condemning, the actions of Djokovic.
"It's unbelievable, what a saga. [But] it could have been avoided," Navratilova said on Good Morning Britain.
"I just wish [Djokovic] had taken that vaccination to begin with. I admire him so much but I can't defend the choice to not get vaccinated. You have to take one for the team. It's getting crazier by the minute.
"You really need to be more aware of everybody else," she added.
Later, Navratilova reacted to a timeline of events surrounding Djokovic's positive PCR test result on 16th December that was apparently the grounds for his initial exemption.
"Not acceptable," she tweeted bluntly on the convoluted narrative of those events.
Finally, in her most direct comments, Navratilova told Djokovic on Channel 7 News to "just suck it up [and get vaccinated]! For the team! For the greater good!"
She then added that in her view the right thing for Djokovic to do would be to go home.
Eight-time Slam champion Jimmy Connors
ATP legend Connors is known for being very straightforward and sometimes abrasive, taking a similar approach with the Djokovic situation.
"Don't f**k up the [Australian] Open without the "best player" if he tests "negative" [they] should let him play!" the former world number one tweeted between Djokovic's arrival in Australia and his court date to have his visa cancellation overturned.
He then implied that Djokovic deserved to play based on his loyalty to a Slam event he has won nine times.
Six-time Slam champion Boris Becker
As he often is, the German former world number one, who you may remember coached Djokovic between 2013 and 2016, has been outspoken throughout the saga.
"He didn't break any rules," Becker told BBC Radio 5 Live in defence of Djokovic and his medical exemption after being detained on arrival in Australia.
"I understand the public outcry but I want to defend Djokovic a little bit because he wouldn't have flown without an exemption."
Later, in his column for the Daily Mail, Becker did admit that he believes Djokovic is mistaken in refusing to get the vaccine, though more for his own good than out of moral obligation.
"I think he is making a big mistake in not getting vaccinated," Becker wrote
"It is one that threatens what remains of his career and his chance to cement himself as the greatest player of all time."
Becker also emphasised that Djokovic will be physically underprepared for his Australian Open title defence after being unable to train properly during his detention.
"Obviously his preparation is beyond bad," he said on BBC Breakfast.
I don't think he's ever been in a worse position entering the week before a Grand Slam, but that's just the way it is.
"He is going to have a difficult first week."
Former world number four Tim Henman
Though Henman did not give a personal opinion on the matter, he highlighted his belief that the Australian crowds will not take kindly to Djokovic when he is on the court.
"I think it will be a very hostile reception," he told Eurosport.
"I don't think in my opinion Djokovic will be well received when he goes on the court."
Henman further explained that this could give Djokovic even more fuel in pursuit of a record 21st men's singles Slam title.
"Knowing Djokovic's attitude, he seems to thrive within that sort of confrontation though.
"Given his record in Melbourne, having won nine times, he is going to be very difficult to beat."
Former world number seven Barbara Schett
Like Henman, Schett focused on how the Australian public will respond to Djokovic on-court at the Australian Open.
"Once again, I have to mention, the Victorian population is really angry," she told Eurosport.
"They're very hurt. They are tired of what has happened in the last couple of years having been locked away.
"I think it's going to be a rough time for Novak Djokovic if he steps out there at Rod Laver Arena and I don't think there's going to be a lot of fans.
Toni Nadal
While someone's vaccination status is a personal matter, Uncle Toni hoped that Djokovic would clarify the situation surrounding his medical exemption.
"I want to think that Novak Djokovic is no stranger to all this and that he will clear up doubts as a sign of human sensitivity and understanding," he wrote in his column for El Pais.
"It would be good if Djokovic gave some explanation.
"He does not have the obligation to give information regarding his privacy, but at the same time, he must be aware that it is a world reference at a time of serious health crisis."
Former coach to Djokovic Riccardo Piatti
Before Djokovic revealed his exemption to play the Australian Open, his former coach Piatti suggested that the world number one would only be able to play one Slam in 2022.
"Djokovic may only play at Roland Garros because you have to be vaccinated to enter the United Kingdom and also outside Europe," he told Italian media while accompanying his charge Jannik Sinner at the ATP Cup.
Tennis organisations
ATP statement
In the days following the cancellation of his visa, the ATP released a statement addressing the treatment of Djokovic and his detainment by Australian authorities.
"In travelling to Melbourne, it's clear Novak Djokovic believed he had been granted a necessary medical exemption in order to comply with entry regulations," the statement reads.
"The series of events leading to Monday's court hearing have been damaging on all fronts, including for Novak's well-being and preparation for the Australian Open."
They did then reiterate the recommendation that all ATP players get vaccinated if possible.
PTPA statement
The Professional Tennis Players' Association was founded by Djokovic along with Canadian pro Vasek Pospisil to advocate for pros on both the ATP and WTA tours.
"With the utmost respect for all personal views on vaccinations, vaccinated athletes and unvaccinated athletes (with an approved medical exemption) should both be afforded the freedom to compete," they stated.
"We will continue to support and advocate for our members, and all players, in a manner that is acceptable to them."
Tennis Australia CEO Craig Tiley
As both CEO of Tennis Australia and the tournament director for the Australian Open, Tiley has been involved in Djokovic's predicament from early on.
Overall, he blamed constantly changing information for the problems surrounding Djokovic.
"The conflicting information, and the contradictory information we received, was because of the changing environment. We are in a challenging environment," he said.
French Sports Minister Roxana Maracineau
Looking ahead to the next Slam of 2022 after the Australian Open, Djokovic has publicly received the ok to play Roland Garros unvaccinated, at least according to Sports Minister Roxana Maracineau.
"[Djokovic] would not follow the same organisational arrangements as those who are vaccinated," she told FranceInfo Radio.
"But he will nonetheless be able to compete [at Roland Garros] because the protocols, the health bubble, allows it."
🎾 Read >> Breaking tennis news
🎾 Follow >> 24/7 LIVE scores
🎾 Free >> Receive our legendary newsletter
🎾 Join >> Tennishead CLUB, the world's only virtual tennis club
🎾 Social >> Facebook, Twitter, Instagram & YouTube
🎾 Order >> World's best tennis magazine
🎾 Shop >> Lowest price tennis gear from our trusted retail partner