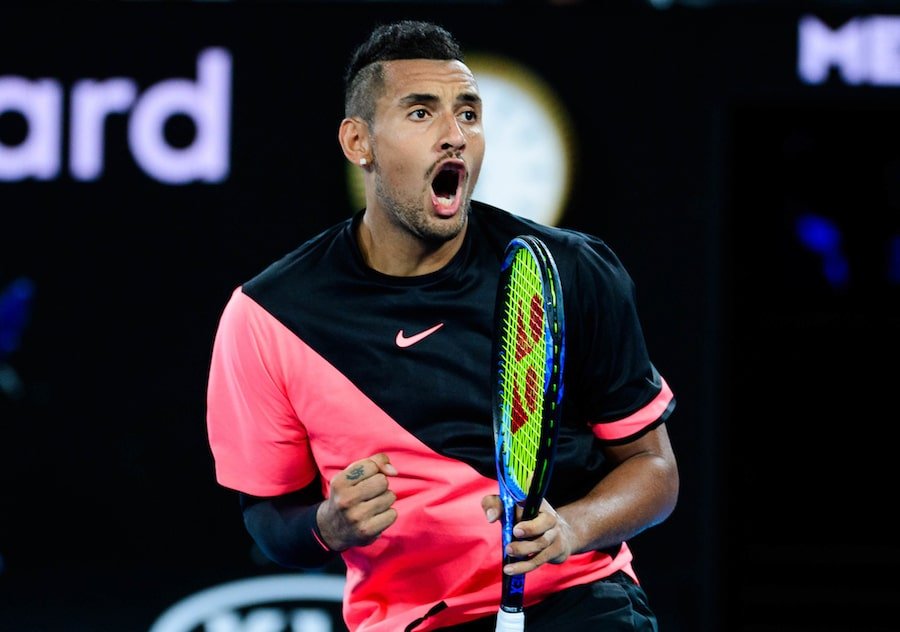 Nick Kyrgios's tournament schedule for 2019
The ultimate enigma in tennis right now. Kyrgios can go from beating Rafa Nadal after being 3 match points down to giving up for a complete set against a journeyman pro he would beat 9 times out of 10. Some say he's crucial for the future of tennis whilst others can't stand his attitude on or off court. Which Kyrgios will we see in 2019 and does nick even know?
Currently ranked No.35 in the world, only Nick Kyrgios knows what the future holds in terms of his potential for the 2019 season. He's been plagued by injuries and a lack of discipline for training, but he has the potential to beat anyone in the World which makes him one of, if not the, most exciting players on the ATP Tour to watch at the moment.
We would love to see Kyrgios play a full schedule of tournaments and be fit and motivated for the whole of 2019, but that unfortunately seems unlikely. He is a young man who can be easily distracted by outside forces and interests such as basketball, computer games and other commentators.
Nick Kyrgios's provisional 2019 schedule is as follows:
JANUARY
Brisbane, Australia (December 31 – January 6)
Australian Open, Melbourne (January 14 – 27)
FEBRUARY
Delray Beach, Florida, USA (February 18 – 24)
Acapulco, Mexico (February 25 – March 2)
MARCH
Indian Wells, USA (March 7 – 17)
Miami Open, USA (March 20 – 31)
APRIL
Monte Carlo Masters, Monte Carlo (April 14 – 21)
Barcelona, Spain (April 22 – 28)
MAY & JUNE
Roland Garros (May 26 – June 9)
Stuttgart, Germany (June 10 – 16)
Queens, London, England (June 17 – 23)
JULY
AUGUST & SEPTEMBER
Montreal, Canada (August 5 – 11)
Cincinnati, USA (August 11 – 18)
US Open (August 26 – September 8)
OCTOBER
Beijing, China (September 30 – October 6)
Shanghai, China (October 6 – 13)
Paris, France (October 28 – November 3)
NOVEMBER
ATP Tour Finals, London (November 10 – 17)
Davis Cup Finals, Madrid (November 18 – November 24)
Look ahead to 2019 with our guide to every tournament on the ATP Tour, the WTA Tour and the ITF Tour
If you can't visit the tournaments you love then do the next best thing and read our guide on how to watch all the ATP Tour matches on television in 2019
To read more amazing articles like this you can explore Tennishead magazine here or you can subscribe for free to our email newsletter here