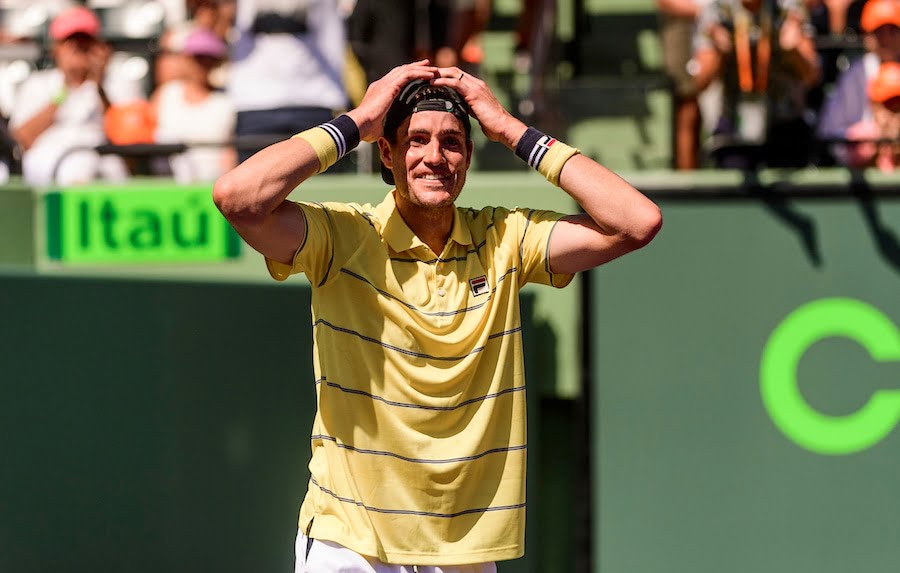 Preview of the Miami Open from 20th to 31st March, 2019
The Miami Open ATP & WTA joint tournament has moved venue this year to the Hard Rock Stadium and is the second stop on the annual 'Sunshine Double'. The tournament runs over 11 days and features the very best men & women players in the World
The dream of an international tennis tournament in Miami began in the 1960s, when top tennis players such as Jack Kramer, Frank Sedgman, Pancho Gonzalez, Pancho Segura and Butch Buchholz toured the country in a station wagon, playing tennis in darkened arenas and fairgrounds. It was before the days of Open tennis, and they travelled with a portable canvas court and plenty of hopes. Buchholz – an original member of the "Handsome Eight" (the first recognized pros of Lamar Hunt's World Championship Tennis Circuit introduced in 1968) – competed until he was forced to retire from tennis in 1970 with chronic tennis elbow.
On Feb. 4, 1985, following 20 years of nurturing a dream to create a world-class tennis tournament, the first ball was struck at the International Players Championships and a new tradition in tennis began. Manuela Maleeva won the first point en route to a 6-3, 6-2 victory over Angeliki Kanellopula. The first tournament turned out 84 of the top 100 men and 97 of the top 100 women. The first champions were Tim Mayotte and Martina Navratilova. The women's final between Navratilova and Chris Evert was a sellout. Only Wimbledon and the U.S. Open exceeded the $1.8 million in prize money.
Since then the tournament has always attracted the greatest names in tennis over the past five decades including Ivan Lendl, Mats Wilander, Andre Agassi, Jim Courier, Pete Sampras, Thomas Muster, Roger Federer, Novak Djokovic and Andy Murray. The 2019 entry list lives up to this billing with Roger Federer, Novak Dkokovic, Kei Nishikori and Alexander Zverev already entered into the men's event.
Where is the tournament held?
The Miami Open sponsored by Itau is held for the first time in 2019 at the Hard Rock Stadium
What dates does the tournament run?
Thursday March 20th 2019 until Sunday March 31st 2019
What court surface is the tournament played on?
The surface is outdoor hard courts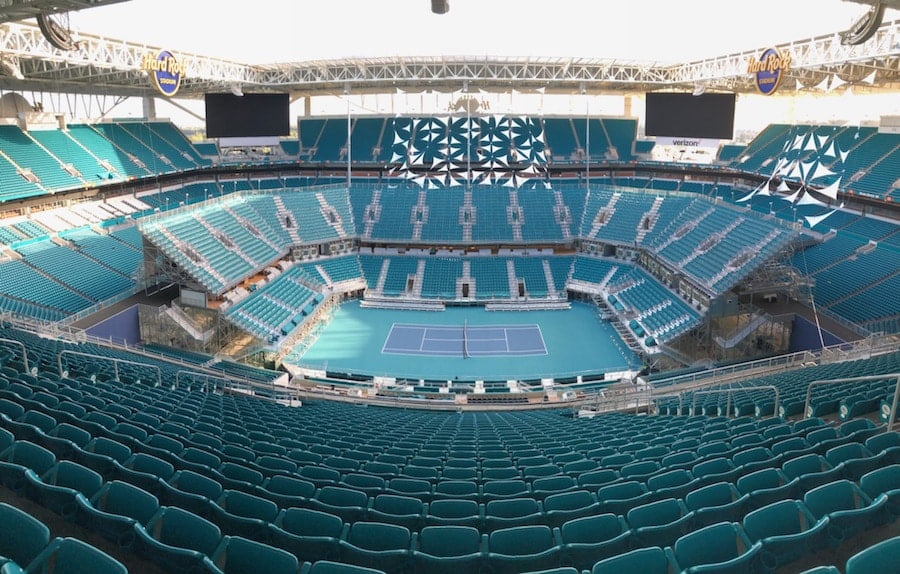 How many players and how many seeds are in the tournament?
There are a total of 96 men and 128 women and there will be 32 seeded players in the Men's and Women's singles draws
What is the prize money and how many ranking points are available?
The mens tournament is an ATP 1000 which means that the winner receives 1,000 ATP World Ranking points, with the complete breakdown of points and prize money awarded as follows:
Winner: 1,000 pts & $1,354,010
Finals: 600 pts & $686,000
SF: 360 pts & $354,000
Quarter Finals: 180 pts & $182,000
Round 16: 90 pts & $91,205
Round 32: 45 pts & $48,775
Round 64: 25 pts & $26,430
R96: 10 pts & $16,425
The women's tournament is a WTA Premier Mandatory event which means that the winner receives 1000 WTA Ranking points, with the complete breakdown of points and prize money awarded as follows:
Winner: 1,000 pts & $1,354,010
Finalist: 600 pts & $686,000
SF: 360 pts & $354,000
Quarter Finals: 180 pts & $182,000
Round 16: 90 pts & $91,205
Round 32: 45 pts & $48,775
Round 64: 25 pts & $26,430
Round 128: 10 pts & $16,425
Who are the reigning Champions?
In the 2018 Men's Singles, John Isner (USA) defeated Alexander Zverev (GER)  6-7, 6-4, 6-4
In the 2018 Ladies Singles, Sloane Stephen (USA) defeated Victoria Azarenka (BLR) 3-6, 6-2, 6-1
Where can I buy tickets for the tournament?
You can buy tickets online by clicking here
How can I follow the tournament without going there?
To watch the live scores of every match in this tournament as they happen you can use the Tennishead exclusive Live Scores service here.
You can also follow this tournament on their official Twitter here
Alternatively you can watch the tennis live on television and full details of how to do this can be found here
Men's singles and Ladies singles draw for 2019: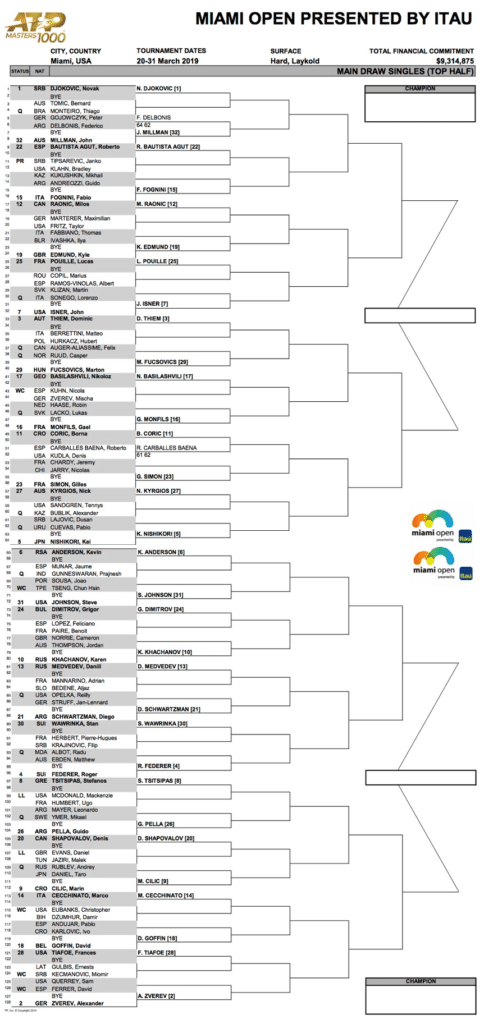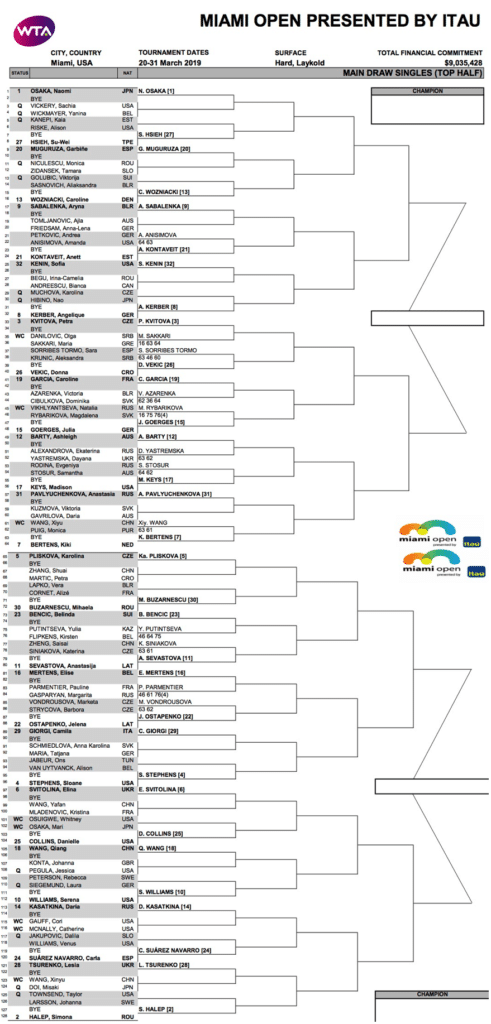 Past Champions – Men's Singles
Prediction for 2019
With Rafa Nadal out of the event, Juan Martin del Potro still recovering from injury,  Novak Djokovic seemingly not on top form and Roger Federer's relatively quiet form at this event over the years, we predict that there will be another new winner of this huge ATP Masters 1,000 event in 2019. The bottom half of the draw features Zverev, Tsitsipas and Federer with one of those players favourite to proceed into the final. The top half looks potentially the tougher section of the draw with Djokovic rested and out for revenge after an early defeat at Indian Wells, Thiem riding high on the back of his ground breaking victory at Indian Wells, defending champion John Isner aiming to repeat his victory of 2018 and the huge serving Canadian Milos Raonic seemingly heading back to form.
The sweltering conditions in Miami at this time of year will favour the big servers for two reasons. Firstly is that they play shorter points than the rest and secondly their serve is more effective in fast conditions created by the high levels of humidity.
The top half also features Kei Nishikori and Nick Kyrgios who are both in their own way capable of shocking the rest of the field in these huge events. It's about time that both players went deep in these big events so maybe Miami is their chance?
Our prediction though is for a Djokovic vs Zverev final with Zverev winning (he'll be confident after his ATP World finals victory back in November 2018)
Good luck to everyone!
Look ahead to 2019 with our guide to every tournament on the ATP Tour, the WTA Tour and the ITF Tour
If you can't visit the tournaments you love then do the next best thing and read our guide on how to watch all the ATP Tour matches on television in 2019
To read more amazing articles like this you can explore Tennishead magazine here or you can subscribe for free to our email newsletter here