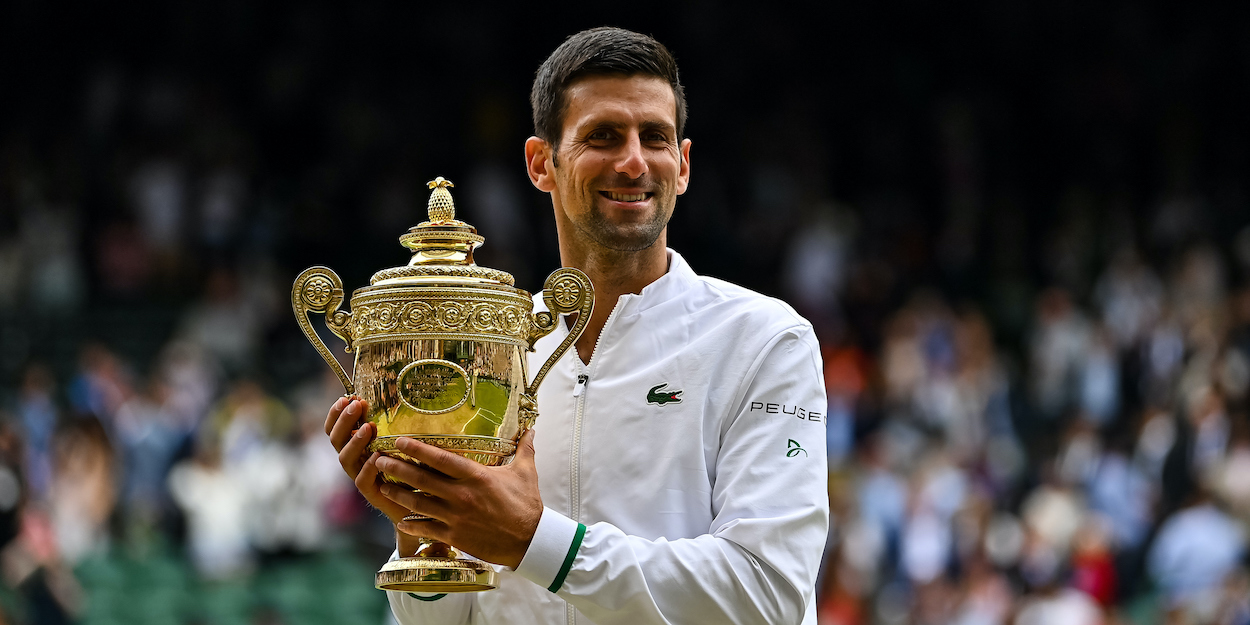 Grand Slam 2021 review: How Novak Djokovic won Wimbledon
Novak Djokovic competes in his second most successful Major with a shot at a sixth title and three quarters of the Calendar Slam.
First Round – defeats Jack Draper, 4-6, 6-1, 6-2, 6-2 
Match Stats:
First serve percentage: 78%

Return points won percentage: 38%

Break points converted: 6 of 15
After a 2020 without Wimbledon, fans were itching for the tournament to get underway with the traditional opening of Centre Court from the defending champion.
Djokovic took to the hallowed turf against 19-year-old British wildcard Draper. The youngster came out all guns blazing, going toe-to-toe with the world number one as he soaked up the occasion.
An early break saw the teen up 2-1, a lead which he held until the end of the set, securing it 6-4 on his first set point chance. But Djokovic was not panicked. From there the Serb broke at the first opportunity in the second set, then again for a 5-1 lead, holding serve to level with a 6-1 set.
The 19-time Slam champion served impeccably in the match, losing just 15 points on his serve across the match, along with firing 25 aces.
Like the second, the third set featured a double break from Djokovic, as did the fourth, the five-time Wimbledon champion wrapping up the match in just over two hours under the roof.
"I could not be more pleased with the rhythm of my serve," the top seed expressed after the match. "On grass, the quickest surface in our sport, it helps a lot getting a lot of free points on that first serve."
Second Round – defeats Kevin Anderson, 6-3, 6-3, 6-3
Match Stats:
First serve percentage: 64%

Return points won percentage: 39%

Break points converted: 4 of 8
Next came a familiar opponent for Djokovic, South Africa's Kevin Anderson. The two had faced 11 times before, including on three occasions at Wimbledon. The last of those All England encounters was the 2018 final, which Djokovic won in straight sets.
He led the head-to-head 9-2, and it was clear early on in this match that he had Anderson's number. Neither man struggled on serve at all in the first seven games. No break point chances for either brought the score to 4-3 on serve.
Djokovic then launched an offensive on the Anderson serve, breaking to love then holding to claim the opener 6-3. In the second, Djokovic broke twice to secure it with the same 6-3 scoreline, before an almost exact copy of the opening set sealed the match with just a single break. A routine win in just 104 minutes on-court.
"I'm striking the ball really well in general," the Serb said in his press conference. "Obviously I'm in a high level of confidence after winning the French Open.
"But I was nervous coming into this match because I was playing a very good player, experienced player, whom I faced in the final three years ago. He's a big server. He's very dangerous opponent, especially in the early rounds."
Third Round – defeats Denis Kudla, 6-4, 6-3, 7-6 (9-7)
Match Stats:
First serve percentage: 54%

Return points won percentage: 36%

Break points converted: 4 of 11
Next came a third career meeting between Djokovic and Kudla, all at Slam level, and for a second time at Wimbledon. The world number one had never previously dropped a set, never being pushed further than 6-4. That trend continued in the opener, as Djokovic broke at 5-4, requiring a single break point opportunity to claim the set.
Three breaks in a row came early in the second as the two men struggled to hold. From 3-1 Djokovic then held firm to see out the set 6-3. The American refused to hand the win to the number one seed however, taking the third to a tiebreak.
Despite going up 3-0 to start the breaker, Djokovic eventually prevailed 9-7 to claim the straight sets win. "I can't say that I'm too pleased with the way I performed," admitted the Serb after the match.
"I felt like today I was a bit off, especially with serving. Usually my serve worked really well in the first two matches, and generally my serve is a weapon. It wasn't today."
Fourth Round – defeats Cristian Garin, 6-2, 6-4, 6-2 
Match Stats:
First serve percentage: 70%

Return points won percentage: 47%

Break points converted: 9 of 9
Djokovic then came up against a seeded player for the first time in the tournament, Chile's Cristian Garin. The pair had met just once before, at the inaugural ATP Cup in 2020, where Djokovic won 6-3, 6-3.
This match at Wimbledon became a similar affair, as the top seed broke immediately. After breaking again to go 4-1 up, Djokovic etched the one set lead 6-2.
In the second set, the Chilean was firmer on his own serve, but could not hold off the Serb at 4-4, with Djokovic closing to within a set of the quarter-finals.
Another opening break spelled the end for Garin, as a second break sealed the stranglehold before Djokovic served it out 6-2 for a win in under two hours.
"I am happy particularly with the match today," he revealed in his press conference. "After the third round, it was kind of up and down for me. Today was a very solid performance from the first to last point. I was mentally present. I was serving much better, using the court well."
Quarter-final – defeats Marton Fucsovics, 6-3, 6-4, 6-4
Match Stats:
First serve percentage: 66%

Return points won percentage: 39%

Break points converted: 4 of 14
Surprise quarter-finalist Fucsovics of Hungary was next in the path of Djokovic, a third meeting between the two men, the Serb leading 2-0.
Before long the Djokovic was up a double break, before surrendering one but seeing out the set 6-3. A tighter second set saw the two men deadlocked until 4-4, when Djokovic broke before serving out the set.
Finally, the world number one broke at the outset of the third, holding from there to seal the encounter 6-4 in the third after a little under two and a half hours on-court.
"I'm pleased that it was as it was. I don't really regret not playing longer on the court," Djokovic said of how long it took him to finish off matches to that point in the tournament.
"I said that I had enough match play. Obviously different surface in Roland Garros, but a lot of different match play in the last couple of months that put me in the right frame of mind I think for what's coming up. I had enough training on grass."
Semi-final – defeats Denis Shapovalov, 7-6 (7-3), 7-5, 7-5
Match Stats:
First serve percentage: 61%

Return points won percentage: 28%

Break points converted: 3 of 10
Youngster Shapovalov was into a first career Slam semi-final, displaying excellent form to reach that stage. And the Canadian took it to Djokovic in the opener, securing the early break before eventually serving for the set at 5-4.
But he could not convert, as the two-time defending champion broke back before forcing a tiebreak. The two men lost serve seven times between them in the breaker before Djokovic won out on the Shapovalov serve to take it 7-3.
Again the 22-year-old hung tough in the second set, but was just unable to hold out long enough, as Djokovic broke and held from 5-5 for a two set to love lead.
Both players had a flurry of break chances early in the third set, but neither could take them. Once more, Djokovic broke at 5-5 before serving out the match for a far from straightforward win despite the straight sets scoreline.
In his post-match press conference, questions immediately went to the subject of a potential 20th Major title to equal Roger Federer and Rafael Nadal.
"It would mean everything [to do it]," Djokovic expressed. "That's why I'm here. That's why I'm playing. I imagined myself being in a position to fight for another Grand Slam trophy prior to coming to London. I've put myself in a very good position."
Final – defeats Matteo Berrettini, 6-7 (4-7), 6-4, 6-4, 6-3
Match Stats:
First serve percentage: 61%

Return points won percentage: 40%

Break points converted: 6 of 15
A second Slam meeting of the season between Djokovic and Berrettini, the previous time being at Roland Garros in the quarter-finals. Berrettini meant business from the off as he threatened the Djokovic serve, but he was the first to be broken at 2-1.
With Djokovic serving for the set at 5-3, the Italian put up a great defence to force a 21-point game, finally breaking the world number one to stay in the set.
Berrettini would go on to win the set in a tiebreak and inflict a first dropped set for the Serb since the very first set of the tournament against Jack Draper.
But Djokovic was just gearing up, immediately securing a double break in the second set to go up 4-0. He later gave up one break, but saw out the set 6-4 to level the tie. Another break at 1-1 in the third was enough for the Serb to move within a set of the title.
Despite Berrettini backing himself to 3-3, Djokovic pounced to break twice and claim a third Slam of 2021, a 20th overall and a sixth at Wimbledon.
"Winning Wimbledon was always the biggest dream of mine when I was a kid," Djokovic told the crowd while holding his trophy after the match. "I have to remind myself how special this and not take this for granted. To enjoy and be aware that this is a huge honour and privilege.
"A seven year old boy in Serbia, constructing a Wimbledon tennis trophy in my room from improvised materials. And today, standing with a sixth Wimbledon, it's incredible."
Check out the rest of our 2021 Grand Slam Review Series
Re-live Djokovic's road to the 2021 Australian Open title.
Remind yourself how Djokovic captured the 2021 Roland Garros title.
How Djokovic was denied the Calendar Slam at the US Open.