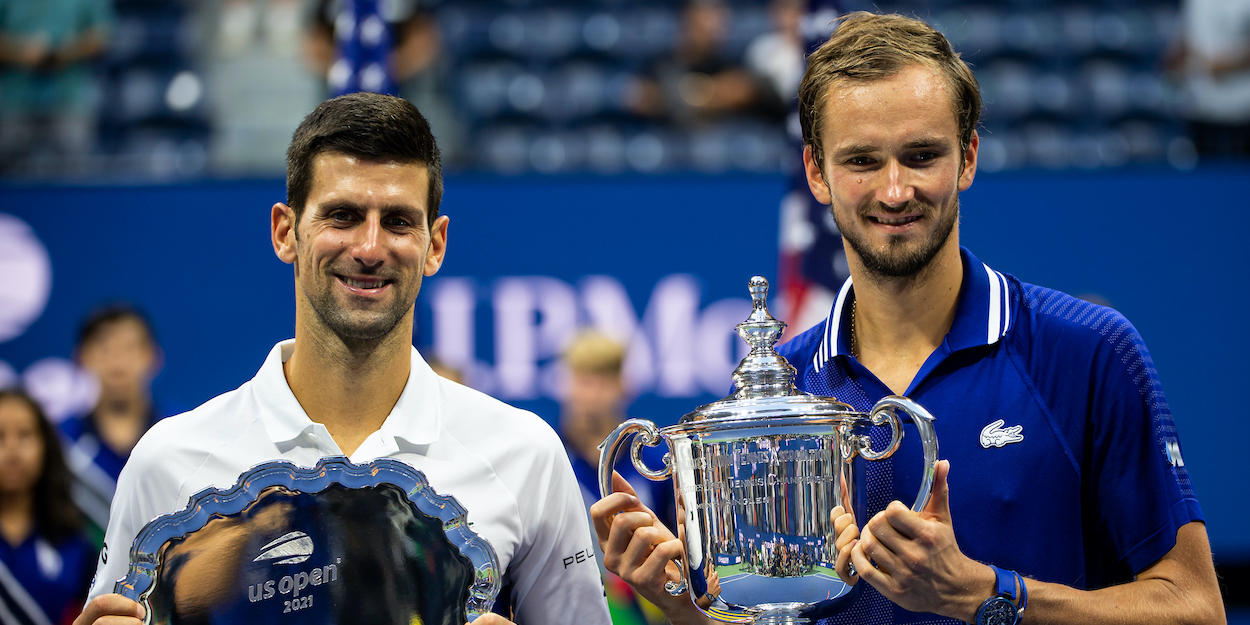 Grand Slam 2021 review: How Novak Djokovic was denied history at the US Open
A look at the final leg of the quest for the Calendar Slam, where history weighed heavy on the shoulders of Novak Djokovic.
First Round – defeats Holger Rune, 6-1, 6-7 (5-7), 6-2, 6-1
Match Stats:
First serve percentage: 64%

Return points won percentage: 44%

Break points converted: 8 of 14
A 20-time Slam champion up against a Slam debutant saw Djokovic versus 18-year-old Dane Holger Rune. A qualifier, Rune was relishing the meeting before they took to the Arthur Ashe Stadium court.
But Djokovic meant business in this opening encounter, breaking at the first time of asking again at 4-1 to close the first set 6-1 after under half an hour on-court.
However, Rune was undeterred, securing a break of the Djokovic serve early in the second. Though he surrendered two breaks from there, the teen grabbed another from Djokovic before both held out to require a tiebreak.
The Dane played admirably to go up 6-3 in the breaker, clinching the set at the third opportunity, all square. Unfortunately for Rune, his body soon began to give up.
Djokovic then accelerated to a double break in the third and two more in the fourth to claim a 6-2, 6-1 scoreline respectively. "Obviously I'm pleased with the way I finished the match," explained Djokovic following the victory.
"Again, it was not a fair battle, so to say, on the court with his unfortunate injury and cramping," he continued, acknowledging his opponent's struggles.
Second Round – defeats Tallon Griekspoor, 6-2, 6-3, 6-2
Match Stats:
First serve percentage: 64%

Return points won percentage: 51%

Break points converted: 6 of 10
The next opponent for the world number one was Griekspoor of The Netherlands, the world number 121. The two had never met on the ATP tour, with the Dutchman making his US Open main draw debut this year.
Griekspoor offered little resistance to Djokovic, as the Serb claimed a double break to go up a set in just thirty minutes. Despite recovering after going down a break in the second, Griekspoor surrendered a second break before Djokovic served it out 6-3, one set from victory.
A double break in the third then confirmed the win for Djokovic after just an hour and forty minutes on-court, a straightforward encounter for the three-time US Open champion.
"[It was] a great performance, definitely better than the first round match," Djokovic expressed in his press conference. "I served well, I found the rhythm on my serve. It was important I came up with the goods."
Third Round – defeats Kei Nishikori, 6-7 (4-7), 6-3, 6-3, 6-2
Match Stats:
First serve percentage: 63%

Return points won percentage: 43%

Break points converted: 7 of 16
A familiar foe lay in wait in the third round, former world number four and 2014 US Open runner-up Kei Nishikori. The pair had already met 19 times in their careers. Djokovic held a dominant 17-2 win-loss record over the Japanese. This included 16 straight wins without dropping a set.
Nishikori started well, hanging tough to force a tiebreak to decide the opener. With a mini-break for 5-4, he then held both serves to clinch the first set after an hour.
Djokovic subsequently broke early in the second to go 2-1 up before holding off resistance from Nishikori as he tried to break back, levelling the tie with another break for 6-3.
The third was a tight affair as an exchange of breaks meant the two could not be separated, before Djokovic broke for 5-3 and then 6-3 as he held serve to move within a set of the fourth round.
A double break meant Djokovic claimed the match after three and a half hours on-court and a valiant fight from Nishikori. "It was a tough battle," the world number one admitted following the encounter.
"All in all I thought it was a high level of tennis. Good quality from both of us. I had to work for this victory and I'm glad. It feels satisfying to gout out from the court with a win against a player who is playing in really great form today."
Fourth Round – defeats Jenson Brooksby, 1-6, 6-3, 6-2, 6-2 
Match Stats:
First serve percentage: 63%

Return points won percentage: 44%

Break points converted: 6 of 12
Another youngster presented the next obstacle for Djokovic, this time in 20-year-old American Jenson Brooksby, who had recently broken into the top-100 for the very first time.
Coming out all guns blazing, Brooksby played at an astonishing level to twice break the top seed and secure the opening set 6-1 in just half an hour on the Arthur Ashe court.
From there the battle really began, as Djokovic took an early break for 2-0 in the second. But Brooksby was ready to fight, culminating in a 23-point 21-minute game on the Djokovic serve at 3-1.
Brooksby eventually landed the break on his sixth opportunity, before Djokovic expertly broke back to reinstate his advantage. The Serb capped the set with a love hold for 6-3 after a nearly 70-minute set.
The 20-time Slam champion now looked in control, claiming a double break in the third set, maintaining that lead for a 6-2 scoreline. An opening break for Djokovic in the fourth and another for 5-2 set up a well-earned victory after nearly three hours of play.
"It's different stepping out on the court against someone that really has nothing to lose," Djokovic recounted of the experience. "[Brooksby] is a young, talented player that is very crafty. He was pumped, he's got the crowd behind him of course. He played a perfect first set. Everything he intended to do he executed it perfectly."
Quarter-final – defeats Matteo Berrettini, 5-7, 6-2, 6-2, 6-3
Match Stats:
First serve percentage: 62%

Return points won percentage: 44%

Break points converted: 5 of 16
A third meeting in three Slams between the two men, this tussle played out similarly to the previous two. A 13-point opening service game set the tone early, as it would not be easy for either player.
Both held until 5-5, when Berrettini pounced to secure the break before serving out the opener 7-5 after nearly 80 minutes of play. Djokovic claimed his first break at 2-1 in the second, doubling up at 5-2 to level the tie with a 6-2 set.
Break at the first time of asking in the third, the world number one took control and again broke to win the set 602 as he had in the second. One step from the semi-finals.
In the end, one break was all that was needed, as Djokovic held on to see off the Italian 6-3 in the fourth for a three and a half hour victory in front of the New York crowd.
"The second, third and fourth sets were the best three I've played in the tournament so far," Djokovic described following his triumph. "I think I managed to raise the level of my tennis. When I dropped the first set, I just went to a different level and I stayed there until the last point."
Semi-final – defeats Alexander Zverev, 4-6, 6-2, 6-4, 4-6, 6-2
Match Stats:
First serve percentage: 66%

Return points won percentage: 35%

Break points converted: 6 of 9
This match would prove the toughest test yet for the 20-time Slam champion. Zverev had won their most recent showdown, coming in the semi-finals of the Tokyo Olympics to deny Djokovic the chance at a gold medal.
Zverev had served impeccably to this point in the tournament, and that did not change in this match. The German continued serving strongly as he lost just four of 25 points on his serve. He needed just a single break at 4-4 to claim the set 6-4 after holding.
This was a fourth consecutive match where Djokovic had lost the opening set, and like those previous three, the Serb did not buckle. He immediately broke the Zverev serve to gain the upper hand in the second set, and again to claim the set 6-2.
Until now, the pair had produced some monstrous rally exchanges in the match. It came to a head in the third set. Facing a set point on his serve at 4-5, 15-40, Zverev played out a monumental 53-shot rally with Djokovic, claiming it with a winner to hold off the Serb.
But not for long, Djokovic taking his chance on the next point to be one step away from the final. Zverev was not done by any means though, breaking to go up 2-1, and holding firm on his serve to claim the set 6-4 and force a decider, the first five-setter for either man in the tournament so far.
Djokovic went up a gear to secure a double break, surrendering one, but breaking again to close out the match with a 6-2 set. He was into the US Open final. 27 Slam matches won in 2021, one to go for a historic Calendar Slam.
"[I'm] just keeping things simple [from here] guys," Djokovic said of his mental state moving towards the final. "I know we wnat to talk about history. I know it's on the line. I'm aware of it. Of course I'm aware of it.
"But I'm just trying to lock into what I know works for me. I have my routines, my people, I isolate myself. I gather all the necessary energy for the next battle, only the next match, the next match."
Final – defeated by Daniil Medvedev, 6-4, 6-4, 6-4
Match Stats:
First serve percentage: 54%

Return points won percentage: 29%

Break points converted: 1 of 6
A second Slam final of the season between the world number one and world number two. Most expected a completely different affair from the straight sets victory for Djokovic at the 2021 Australian Open.
However, no one could have known what would take place in front of the Arthur Ashe crowd. Right from the start, Djokovic looked nervous. The weight of the achievement he was gunning for was clearly having an effect on the Serb.
He was broken in the opening game, as the set went on serve from there to see Medvedev go a set up. Djokovic had been in this position four times in his last four matches, but something felt different this time around.
A potentially pivotal moment came early in the second. With Medvedev serving at 1-2, 40-Ad, the Russian hit a service let before missing a first serve long. On his second serve, after the ball landed in an audio interference was heard in the stadium, forcing the chair umpire to call a let, handing Medvedev a first serve.
Medvedev went on to save the break and hold serve, denying Djokovic a major opportunity to shift momentum of the match. Frustration boiled over for the top seed as he obliterated a racket after missing a return of serve.
The Serb was immediately broken in the following game, leading to a 6-4 set for Medvedev as he edged to one set from a maiden Slam title.
Djokovic had been down two sets to love before in the Roland Garros final against Stefanos Tsitsipas, and had steeled himself to win the match. But Medvedev looked determined, and with Djokovic still looking fatigued and off the boil, the Russian doubled down.
He then secured a double break to go 4-0 up in the third, going on to serve for the championship at 5-2. A chance to deny Djokovic history But the New York crowd had other plans, riling against Medvedev to see him be broken, before Djokovic held to give himself another chance to stay in the match.
Overcome by the emotion of seeing the Calendar Slam slipping away from him, and touched by the support of the fans, Djokovic was seen weeping into his towel at the next change of ends.
After a third championship point, Medvedev claimed the title as a Djokovic return sailed into the net. The Russian then flopped to the court as the moment sunk in. A first Slam title, what a feeling. Djokovic must have been devastated, but graciously embraced Medvedev at the net, congratulating him on his brilliant achievement.
"Amazing, amazing match. Amazing tournament," Djokovic continued in his runner-up speech on Medvedev. "If there is anyone that deserves a Grand Slam title right now, it's you. So well done, absolutely.
"And I would like to say that tonight, even though I have not won the match, my heart is filled with joy. I'm the happiest man alive because you guys (the crowd) made me feel very special on-court.
"You guys touch my soul. I've never felt like this in New York. I love you guys, thank you so much for the support, everything you've done tonight for me."
Medvedev then responded to Djokovic's praise in his own speech. "I never said this to anybody, but I'll say it right now. For me, you are the greatest tennis player in history."
With Rod Laver watching on, the last man to complete the Calendar Slam, the Australian legend was left wondering if he will see his record beaten. 27 matches won and one lost, Djokovic had certainly created history, but so close to something monumental.
Check out the rest of the 2021 Grand Slam Review Series
Re-live Djokovic's road to the 2021 Australian Open title.
Remind yourself how Djokovic captured the 2021 Roland Garros title.
How Djokovic won Wimbledon 2021.