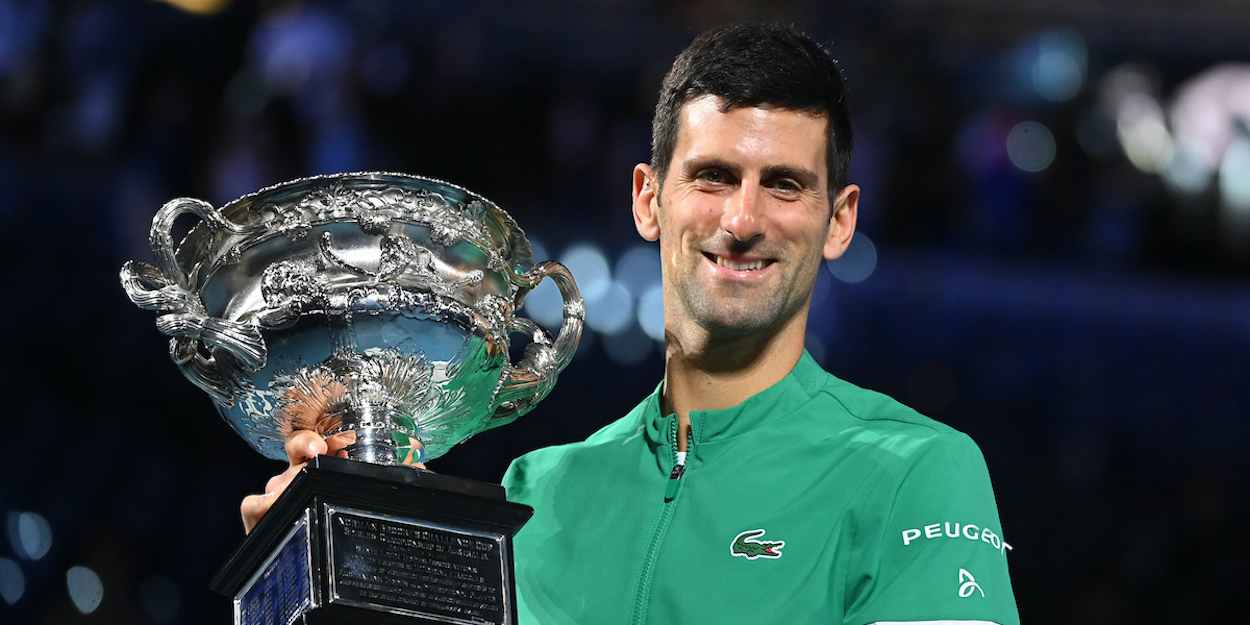 Grand Slam 2021 review: How Novak Djokovic won the Australian Open
Novak Djokovic began the 2021 season by claiming a record-extending ninth men's singles title at the Australian Open. Here, Tennishead looks back at how the Serb kicked off his push for the Calendar Grand Slam.

First Round – defeats Jeremy Chardy, 6-3, 6-1, 6-2 
Match Stats:
First serve percentage: 75%

Return points won percentage: 46%

Break points converted: 6 of 13
To kick off his Slam season, Djokovic came up against 33-year-old tour veteran Jeremy Chardy, then ranked world number 61. The world  number one had a 13-0 win-loss record against the Frenchman up to that point, and had in fact never lost a set to him.
Djokovic laid out his intent by breaking at the first time of asking in each set, serving strongly so as not to face a single break point. The match was over in just 95 minutes, paving the way to the second round for the defending champion Serb.
"Yeah, it was pretty much a flawless match," Djokovic described post-match. "Just overall I think every shot that I executed tonight was really good and on a high level."
Second Round – defeats Frances Tiafoe, 6-3, 6-7 (3-7), 7-6 (7-2), 6-3
Match Stats:
First serve percentage: 62%

Return points won percentage: 32%

Break points converted: 5 of 14
From a familiar foe to a first-time meeting, Djokovic then took on American star Frances Tiafoe.
Again the Serb played aggressively to break at the first time of asking, claiming the first set 6-3.  But from there the world number 64 put up more of a fight than Chardy.
Tiafoe hung tough in the second as neither man was broken, before the American claimed it in a tiebreak, 7-3. The third was just as tight, with a break each exchanged between the two. This time it was Djokovic that turned it on in the tiebreak, before a double break in the fourth was enough to secure the match.
"I was impressed with the way he was competing," the 33-year-old said of his opponent after the battle. "He served very well, he fought hard. I mean, he pushed me to the very limit I think."
Third Round – defeats Taylor Fritz, 7-6 (7-1), 6-4, 3-6, 4-6, 6-2 
Match Stats:
First serve percentage: 66%

Return points won percentage: 33%

Break points converted: 4 of 9
Back-to-back American adversaries for the defending champion, as Djokovic and Fritz met for the third time on the ATP Tour. Djokovic had not lost a set in the previous two meetings with the 23-year-old, but that would soon change as the match would prove to be a tough test for the 17-time Slam champion.
The Serb expectedly took the opening set, but not without Fritz forcing a tiebreak, one which Djokovic took full control of to win 7-1. He then needed just a single break at the first opportunity in the second set to be one set away from the fourth round.
But then the problems came for Djokovic. He received a medical timeout part way through the third set for an abdominal injury, and was not the same from then on. Fritz took advantage to claim the third and fourth sets with one break in each to take it to a decider.
But Djokovic fought hard to outlast the 23-year-old and take the final set 6-2. "This is definitely one of the most special wins of my life," the Serb said in his on-court interview following the match.
"Doesn't matter what round it is and against who it is. Under these kind of circumstances to pull this through is definitely something I'll remember forever."
Fourth Round – defeats Milos Raonic, 7-6 (7-4), 4-6, 6-1, 6-4
Match Stats:
First serve percentage: 68%

Return points won percentage: 33%

Break points converted: 3 of 11
Into the fourth round, and Djokovic still had not faced a player he had ever lost to, which continued as he took on Milos Raonic. The world number one held an 11-0 win-loss record against the Canadian star going into the tie, including defeating him at the Australian Open the previous year in the quarter-finals.
As expected, Raonic was strong behind his serve, taking the opener to a tiebreak. Djokovic took his chance and claimed it 7-4. Come the second set, Raonic threatened the Djokovic serve early, securing a break at 2-2 before holding on to claim the set 6-4 and tie the match. From there Djokovic blitzed the third set, winning it 6-1 in under half an hour, before closing out with a 6-4 fourth set clincher.
"I didn't hit a tennis ball yesterday," Djokovic admitted when asked about his ongoing injury. "I tried to use every single hour possible to recover and give myself at least a little bit of chance to step on the court, which I have done.
"If I were part of any other tournament other than a Grand Slam, I definitely wouldn't be playing."
Quarter-final – defeats Alexander Zverev, 6-7 (6-8), 6-2, 6-4, 7-6 (8-6)
Match Stats:
First serve percentage: 73%

Return points won percentage: 31%

Break points converted: 6 of 9
Here was a dangerous opponent for Djokovic. He and Zverev had faced off seven times before, with Djokovic holding a 5-2 record over the German.
But with the Serb still not playing at full capacity Zverev had a shot to make the semi-finals. And he took that chance from the off, breaking Djokovic immediately in the match. After surrendering the break back to the world number one, Zverev regathered to claim the opener in a tiebreak.
Djokovic wasted no time in responding, going up a double break in the second to lead 4-0, tying the match with a 6-2 set. Momentum changed hands again as Zverev got the early break of serve in the third, but Djokovic responded by claiming back-to-back breaks late on to set himself up to serve out the set, which he did.
Though Zverev put up a fight to force a tiebreak in the fourth set, Djokovic had too much for the 23-year-old, closing out the match.
"There were a lot of keys, a lot of turnarounds today," he said following the victory.
"It's hard to pick one moment in the match where it feels like things have shifted, because it was really anybody's game…a rollercoaster of a match in every sense of the word."
Semi-final – defeats Aslan Karatsev, 6-3, 6-4, 6-2
Match Stats:
First serve percentage: 68%

Return points won percentage: 47%

Break points converted: 6 of 7
Djokovic encountered an almost complete unknown in Aslan Karatsev, a qualifier ranked world number 114 who was making his Slam main draw debut.
The world number one started efficiently by securing the opening set with a single break before going up a double break in the second. Though he then surrendered one break back, Djokovic claimed the set 6-4 to be within a set of a ninth Australian Open final.
Despite grit from Karatsev, Djokovic dismissed the Russian 6-2 in the third to come through in under two hours on-court to bring the fairytale run of the qualifier to an end.
"I felt as best as I felt so far in the tournament tonight," Djokovic said following the match. "Physically and mentally as well. I'm just very pleased with my performance."
Final – defeats Daniil Medvedev, 7-5, 6-2, 6-2
Match Stats:
First serve percentage: 67%

Return points won percentage: 39%

Break points converted: 7 of 11
Djokovic faced a fitting opponent in 2019 US Open runner-up Daniil Medvedev for the chance to secure an 18th Slam title.
But what was billed as a blockbuster turned out to be somewhat of a breeze for the world number one, as Medvedev appeared over-awed by the occasion.
Djokovic broke early before Medvedev responded in kind at 3-2. The defending champion then broke at 5-6 to claim the first set leaving him just two sets away from glory.
An expected comeback never really arrived from Medvedev, as Djokovic then sealed the second and third sets 6-2 each to claim a ninth Australian Open title in under two hours on the Rod Laver Arena court.
"[This] was definitely emotionally the most challenging Grand Slam that I ever had with everything that was happening," Djokovic admitted following the triumph.
"Injury, off-the-court stuff, quarantines. [Definitely] a rollercoaster ride in the last four weeks."
Check out the rest of the 2021 Grand Slam Review Series
Remind yourself how Djokovic captured the 2021 Roland Garros title.
How Djokovic won Wimbledon 2021.
How Djokovic was denied the Calendar Slam at the US Open.