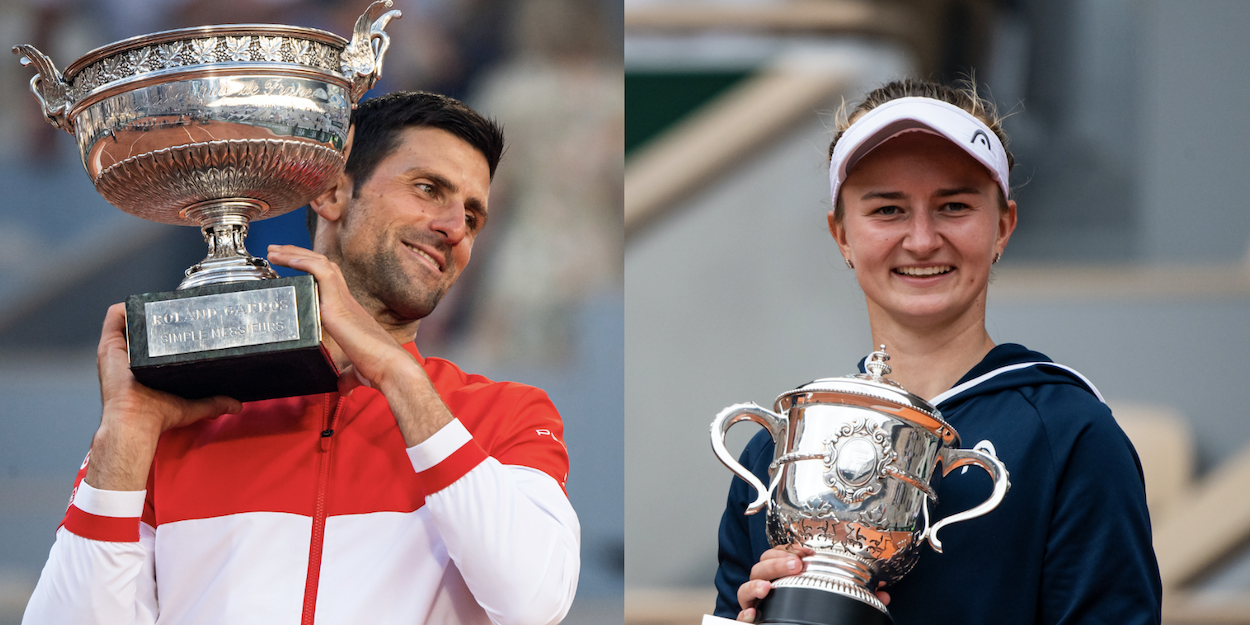 Tennishead's guide to the 2022 French Open
French Open 2022, the 126th edition of the tournament, gets underway on 22nd May. Novak Djokovic will be ready to defend his second Paris title and look to equal Rafael Nadal on 21 Majors, while Barbora Krejcikova has the tough task of defending her singles/doubles double from 2021.
It's taken hours of sweat and tears (not really that many tears!) from our expert tennis journalists to produce this guide which we offer every year for free (with no adverts) to Tennishead readers. All we ask in return is that you sign up to our email superb, free email newsletter to receive regular news updates and much more. Newsletter subscribers also receive a free digital issue of Tennishead magazine. Sign up now.
In this 2022 guide to the French Open we've included in-depth content on a wide range of fascinating topics which you'll find listed in the table of contents below. Click the blue heading to jump to that section.
At the same time, Tennishead's team of news hungry journalists are publishing breaking news in our dedicated French Open news section. Make sure to check back every day for the latest updates on all the action from Paris.
For a more indulgent, longer read try an issue of Tennishead, the world's best tennis magazine, with every edition packed full of 164 pages of the best tennis writing, analysis, interviews, racket reviews, competitions and much more. Checkout the latest issue plus all our subscription options. (We deliver worldwide).
If you are a keen tennis player there's no doubt you'll be interested in our ground-breaking Tennishead CLUB, the world's first and only virtual tennis club with an incredible package of annual member benefits including a head-to-toe ASICS tennis outfit with shoes. Find out more about the Tennishead CLUB.
Finally, please share this free guide to the 2022 French Open with all your tennis friends:
[ss_social_share align="left" shape="rounded" size="small" labels="none" spacing="1″ hide_on_mobile="0″ total="1″ all_networks="0″ inline_total_style="none" total_share_placement="left" hover_animation="ss-hover-animation-fade"]
Contents
History of Roland Garros
The Championnat de France or French Championships were first held in 1891, making it the third Slam to have its earliest edition after Wimbledon in 1877 and the US Open in 1881.
Only men's singles and doubles were held and entries were only open to members of French tennis clubs.
H. Briggs (given name unknown), a Brit living in Paris, was the inaugural singles champion while Frenchmen B. Desjoyau and T. Legrand won the doubles.
Women were first invited to play singles in 1897, mixed doubles in 1902 and women's doubles in 1907.
Frenchwoman Adine Masson won the first three women's event from 1897 to 1899.
After no competition was held from 1915 to 1919 due to World War I, early tennis legend Suzanne Lenglen won four women's singles and doubles titles on the bounce from 1920 to 1923.
It was 29 editions of the tournament solely for French club members before non-French club members were invited to compete for the first time in 1925.
Aided by the restricted entry requirements, after Briggs in 1891, no non-French man won the singles until Jack Crawford of Australia claimed the title in 1933.
Meanwhile, no non-French woman won the singles until Cornelia Bouman of the Netherlands did so in 1927.
After the entry expansion Lenglen claimed her sixth and seventh women's singles and doubles titles, and a certain René Lacoste claimed his first of seven Slam singles titles and three in Paris.
Unlike for World War I, the tournament was only cancelled in 1940 as a result of World War II, while the 1939 and 1941-45 editions went ahead.
Across the amateur period up until 1968, Max Decugis of France claimed a record eight men's singles titles across the 1900s and 1910s while Lenglen led the amateur women with six singles titles in the 20s.
After the pros were admitted a number of stars old and new took up the mantle of champions.
Ken Rosewall and Rod Laver claimed titles either side of the Open Era shift, as did Margaret Court.
Bjorn Borg made his mark with six titles across the 70s and early 80s, while Chris Evert clinched her seven crowns between 1974 and 1986, an all-time women's record.
For the men of course the greatest ever is the 'King of Clay' Rafael Nadal with an incredible 13 Roland Garros titles and counting, five more than any other player in the 141-year history of the great event.
French singles success has been sparse during the Open Era, with Yannick Noah the sole men's champion in that time in 1986 and Mary Pierce the only Frenchwoman to win it, doing so in 2000.
---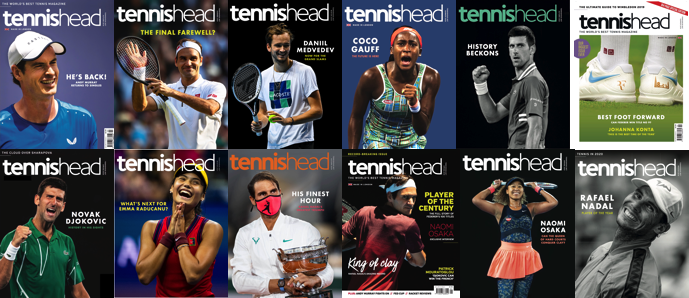 Tennishead, the world's best tennis magazine
🎾 Tennishead >> First published in 2010, Tennishead magazine is packed full of exclusive player interviews, features from the heart of the sport written by the world's best tennis writers, stunning photos, expert racket and gear reviews plus insight and advice from top coaches and analysts. (Try a free issue of Tennishead)
🥯 The Bagel >> Tennishead subscribers receive our exclusive, ground breaking newsletter The Bagel, delivered every fortnight via email. This unique mini-magazine is written by the same team that writes for Tennishead, offering up-to-the-minute insight on all the news in tennis including tournament reports, interviews, match reviews and even some trivia! (Try a free issue of The Bagel)
📆 Schedule >> Tennishead magazine is published 4 times per year:
Issue 1 > February/March: Including French Open 🇫🇷 preview
Issue 2 > June: Including Wimbledon 🇬🇧 preview
Issue 3 > August: Including US Open 🇺🇸 preview
Issue 4 > November: Including Australian Open 🇦🇺 preview
Find our more about Tennishead
---
Paris and Stade Roland Garros
Bar one year in 1909 when the tournament was held in Bordeaux, the French Open has always been held in Paris or its suburbs.
The tournament saw a combination of five different venues from 1891 to 1927. They were: Societé de Sport de Île de Puteaux, at Puteaux (1891–1894), Tennis Club de Paris, at Auteuil (1895–1908); Société Athlétique de la Villa Primrose at Bordeaux (1909); Croix-Catelan de Racing Club de France at the Bois de Boulogne (1910–1924, 1926); and Stade Français at Saint-Cloud (1925, 1927)
The event has had its home in the 16th arrondissement of Paris for nearly 100 years now since 1928.
That was the year the tournament site gained its iconic name, after French aviation pioneer a fighter pilot during World War I Roland Garros.
He was shot down and killed just a month before the close of the war in October 1918.
A decade on, the tournament honoured his legacy by naming its newly built complex after him, Stade Roland Garros, with the Major still bearing his name to this day.
The main stadium court, Court Philippe Chatrier, seats 15,000, while Court Suzanne Lenglen holds 10,068 and Court Simonne Mathieu has a capacity of 5,000.
For the 2020 event, Philippe Chatrier became the final Slam main stadium court to be fitted with a retractable roof after the US Open, Australian Open and Wimbledon all added their own over the years.
Review of Roland Garros 2021
Men's singles
Entering Roland Garros 2021 brought a strange feeling after a 2020 event that ended in mid-October meant a space of just over seven months between editions of the Slam.
Nadal was defending men's champion after clinching his 13th title by defeating Djokovic in the 2020 final, while young talent Iga Swiatek was defending women's champion after blitzing the field for her maiden Major crown.
Both Nadal and Swiatek displayed domination in 2020, winning their respective titles without dropping a set.
World number one Novak Djokovic had already won a men's record-extending ninth Australian Open title earlier in the year to bring his overall haul of Slams to 18.
As such, a triumph in Paris would bring him to within one of Nadal and Roger Federer.
On the subject of Federer, the Swiss was playing his first Major since the 2020 Australian Open.
All three men were placed in the top half of the draw, setting the possibility of a Federer versus Djokovic quarter-final and a potential matchup with Nadal in the semis for the winner.
After easing past Tennys Sandgren, Pablo Cuevas and Ricardas Berankis without dropping a set, Djokovic then came dangerously close to being dumped out in the fourth round.
Italian teenager Lorenzo Musetti upset 13th seed David Goffin before beating Yoshihito Nishioka and compatriot Marco Cecchinato to set a meeting with the top seeded Serb.
He then proceeded to snatch the opening two sets from Djokovic in tiebreaks, putting the world number one within a set of exiting the Slam.
But the youngster had spent all his energy, with Djokovic winning the next two sets 6-1, 6-0 before Musetti retired down 4-0 in the decider.
In the next section, ninth seed Matteo Berrettini was on course to face eighth seed Federer come the quarter-finals.
And in fact both men made it that far, Berrettini for the loss of just one set and the Swiss for the loss of two.
But the 20-time Major winner then withdrew ahead of their encounter, resting in anticipation of Wimbledon handing the Italian a meeting with Djokovic.
Nadal made short work of each of Alexei Popyrin, Richard Gasquet, Cameron Norrie and Jannik Sinner in his quarter to set a meeting with 10th seed Diego Schwartzman.
In the bottom half, two-time Roland Garros quarter-finalist Alexander Zverev was seeded sixth and himself came within a set of crashing out in the very first round.
He rallied from two sets down against compatriot qualifier Oscar Otte before breezing past Roman Safiullin, Laslo Djere and Kei Nishikori all in straight sets to book his spot in a third career- quarter-final in Paris.
Two-time finalist Dominic Thiem was the highest seed in the next section, but he was upset by Spanish veteran Pablo Andujar as the 35-year-old defeated the Austrian from two sets to love down.
Another Spaniard in Alejandro Davidovich Fokina then became the only non-seeded quarter-finalist as he prevailed in two five-setters against Botic van de Zandschulp and Casper Ruud plus a four-set battle with Federico Delbonis in the fourth round.
After Stefanos Tsitsipas and Pablo Carreno Busta reached the fourth round dropping just a set each, the Greek dismissed the Spaniard in straight sets to book his spot in the last eight.
Finally, despite his dislike for clay, second seed Daniil Medvedev reached the quarter-finals with little fuss, dropping just one set in his second round match with American Tommy Paul.
In just their second meeting and with the world number one having won in their first encounter, Berrettini took on Djokovic for a place in the semi-finals.
With public Covid measures still in place in the French capital, the match was halted with Djokovic up two sets to one to allow for the crowd to leave as the city's curfew came into force.
The top seed then came through after a three-and-a-half hour battle, producing a primal scream on winning the match in front of an empty arena.
Playing in the day, Nadal had the fortune of his match with Schwartzman being spectated until its conclusion.
Though he suffered his first dropped set of the tournament to the Argentian, he came through in a little under three hours to set a 58th career meeting with Djokovic.
While Djokovic and Nadal both required four sets to reach the last four, Zverev and Tsitsipas did not as they dispatched Davidovich Fokina and Medvedev respectively in straight sets to ensure an eighth career meeting.
What followed were two absolutely epic semi-finals.
First up Zverev took on Tsitsipas in a match which saw the greek two sets to love up and cruising into his first Slam final.
However, Zverev was not down and out as the German claimed sets three and four to force a decider after nearly three hours on court.
Tsitsipas eventually conquered Zverev 6-3 in the fifth to await the victor of Djokovic and Nadal.
The two titans then treated the Parisian crowd to a spectacle for the ages, so much so that the same curfew enforced on the Djokovic versus Berrettini match was waived late in the encounter by the French government to ensure spectators could watch the conclusion of such a monumental battle.
After Nadal raced into a 5-0 lead in the opener he looked set to dominate his long-time rival.
But Djokovic had other plans as he resisted to the point of the set going an hour before Nadal eventually came out on top 6-3.
From there the battle was glorious as the pair fought tooth and nail for more than three more hours before Djokovic clinched the win in four sets, becoming the first man ever to beat Nadal twice at Roland Garros.
Come the final Djokovic was the favourite given his triumph over the 'King of Clay', but the Greek came out swinging in hopes to stop the Serb.
Tsitsipas played stunningly to go up 7-6 (8-6), 6-2 to come within a set of his maiden Major title.
But the warrior that Djokovic is he was not going to let it be that easy, and he rallied in response.
The world number one not only made the matcha contest, but he completed an impressive comeback to win 6-7 (6-8), 2-6, 6-3, 6-2, 6-4 to clinch a 19th Slam title and second at Roland Garros, becoming the first man of the Open Era to win all four Majors at least twice.
Women's singles
For the women, defending champion Iga Swiatek was seeded eighth, while world number one and 2019 champion Ashleigh Barty was playing the event for the first time since her that maiden Slam triumph. Naomi Osaka, Aryna Sabalenka, Sofia Kenin and Elina Svitolina rounded out the top five seeds.
Serena Williams came into the event seeded seventh as she looked to regain momentum having played just three matches since reaching the semi-finals of that year's Australian Open.
However, Roland Garros 2021 went on to be one of the most open Slam draws in recent women's tennis history. Besides Swiatek, none of the top 10 seeds of the women's draw progressed past the fourth round, with Barty, Osaka, Bianca Andreescu, Karolina Pliskova and Belinda Bencic all out by the end of the second round.
Serena was downed in the fourth round by Elena Rybakina, as was Kenin by Sakkari, while Sabalenka went out to Anastasia Pavlyuchenkova in the third round. In fact, Swiatek was the only top 16 seed to even reach the quarter-finals, with two unseeded quarter-finalists and four seeded 20th or lower.
31st seed Pavlyuchenkova was one of the stories of the championship, defeating 15th seed and two-time Slam champion Victoria Azarenka in the fourth round. This set a seventh career Slam quarter-final for the Russian, a feat she had achieved at every Slam but never bettered.
That all changed as she defeated Serena's conqueror Rybakina to reach the last four to meet another surprise semi-finalist in Tamara Zidansek of Slovenia there. Zidansek had been the one to oust Andreescu in the first round before making it to the quarter-finals and overcoming Paula Badosa at that stage to meet Pavlyuchenkova.
Then 17-year-old Coco Gauff, seeded 24th, got past compatriot and Australian Open finalist Jennifer Brady thanks to her third round retirement before ousting 25th seeded Ons Jabeur to reach the last eight of a Major for the first time.
Meanwhile, world number 33 Barbora Krejcikova sat just outside the seeds and was very much still considered a doubles specialist, having claimed her maiden tour level singles title immediately before Paris in Strasbourg.
However, she quietly made her way through the first week by defeating compatriot Kristyna Pliskova, 32nd seed Ekaterina Alexandrova, fifth seed Elina Svitolina and 2018 Roland Garros finalist Sloane Stephens, all in straight sets.
She then ended Gauff's run in the French capital, again in straight sets, before an epic with 17th seed Sakkari after the Greek had come through 14th seed Elise Mertens, 2020 finalist Kenin and 2020 champion Swiatek consecutively to reach the last four.
Krejcikova and Sakkari played out one of the epic matches of Roland Garros 2021 as they fought for over three hours and went beyond 6-6 in the deciding set after Sakkari had a match point while up 5-4. After passing up four match points of her own Krejcikova eventually won 9-7 to book her place in the final.
Pavlyuchenkova had an easier time of it in her semi-final as she got the better of Zidansek 7-5, 6-3 to reach her first Major final in her 52nd Slam main draw participation, a new record after Flavia Pennetta set the previous number at 49 at the 2015 US Open.
After Jelena Ostapenko won Roland Garros while unseeded in 2017 and Swiatek did so too in 2020, Krejcikova had the chance to be the third unseeded woman to win the Paris singles in five years.
And she achieved that feat, defeating Pavlyuchenkova 6-1, 2-6, 6-4 as she completed her breakthrough Slam journey to sit atop the field in what was just her fifth ever Slam main draw appearance in singles.
It added to her two Major doubles titles and three slam mixed doubles titles before she came back the day after her singles triumph to also win the doubles alongside fellow Czech Katerina Siniakova.
Classic matches
Roland Garros has played host to some of the greatest battles of the Open Era. with too many to list here, enjoy our curated selection of sporting gems.
1999 – Steffi Graf defeats Martina Hingis – Final – 4-6, 7-5, 6-2
This final had everything you could ask for in a Slam final in terms of quality, drama and controversy.
Graf, 29, came into the tournament with 21 Major singles crowns under her belt and ranked sixth in the world.
Hingis, still just 18, was world number one, a four-time Major champion and 1997 Roland Garros finalist.
Having won the Australian Open earlier in the year, Paris was the last Slam the Swiss needed to complete the Career Slam.
Graf toughed out her quarter and semi-finals against second seed Lindsey Davenport and third seed Monica Seles each in three sets for the right to face Hingis.
Meanwhile, the top seed hd an easier time of it, winning all her matches up until the final in straight sets, including over seventh seed and defending champion Arantxa Sanchez Vicario.
And she started the stronger, going 6-4, 2-0 up before the tide began to shift.
In a now infamous moment, Hingis disputed a line call on one of her shots that she believed to be in.
In disagreement with the umpire, she came around the net to Graf's side of the court to examine the mark.
However, that incurred a code violation and point penalty for the Swiss, as players are not permitted to cross the net in order to contest a line call.
That set the crowd against Hingis and let Graf back into the match, the German surviving from 5-4 down in the second as Hingis served for the match, winning three games in a row to force a decider.
From there Graf secured a stunning 22nd Slam title 6-2 in the third, announcing soon after that this was her final Roland Garros match before retiring from professional tennis two months later.
1999 – Andre Agassi defeats Andrei Medvedev – Final – 1-6, 2-6, 6-4, 6-3, 6-4
Roland Garros 1999 put out two very eventful finals, this one being a true redemption story for Agassi.
The American had twice before reached the final of Roland Garros, in 1990 and 1991, losing to Andres Gomez and Jim Courier respectively in matches where he went in as favourite.
That second final was particularly tough for Agassi, losing from two sets to one up against his compatriot and rival as he missed out on a maiden Slam title.
Eight years on a lot had happened for the 29-year-old. He now had three Major crowns to his name, one at each of the Slams besides Roland Garros, and had been world number one for 32 weeks to this point in his career.
But after a tumble to world number 140 in 1997, the Las Vegas native had reclaimed a solid status as world number 14 entering Paris.
As he fought his way to the final, former teen prodigy Andrei Medvedev had a resurgence of his own. Ranked 100th in the world at the 1999 event, the former world number four got past Pete Sampras and 1997 champion Gustavo Kuerten on the way to the championship match.
And the apparent underdog took full momentum into the battle to go a set up in a 6-1 set that took less than 20 minutes before backing it up 6-2 in the second.
3-2 on serve in the third, Agassi clinched a much-needed break to serve up 4-2, but the Ukrainian broke right back for 4-3.
Play was then suspended due to rain, giving Agassi the chance to recuperate and strategise with coach Brad Gilbert.
He came back rejuvenated, and toughed out a tense situation serving at 4-4 down 30-40, holding then before breaking to secure the third set.
From there the American had the upper hand, going on to win the match from two sets to love down to complete a stunning Career Super Slam, having won all four Majors, the ATP Finals and olympic gold in single at Atlanta 1996.
Agassi said after the victory: "This is certainly the greatest feeling I've ever had on a tennis court."
Honorable mention – 2021 – Novak Djokovic defeats Rafael Nadal – Semi-final – 3-6, 6-3, 7-6 (7-4), 6-2
As mentioned, these two men played out a brilliant battle at last year's Paris Slam.
Fresh in our memories, we at Tennishead are sure it is fresh in yours.
For detail, see our Review of Roland Garros 2021 section above.
2022 men's singles preview & draw
Projected last 16 based on seeding:
Novak Djokovic (1) v Diego Schwartzman (15)  
Felix Auger-Aliassime (9) v Rafael Nadal (5)
Alexander Zverev (3) v Taylor Fritz (13)
Cameron Norrie (10) v Carlos Alcaraz (6)
Casper Ruud (8) v Hubert Hurkacz (12)
Denis Shapovalov (14) v Stefanos Tsitsipas (4)
Andrey Rublev (7) v Jannik Sinner (11)
Pablo Carreno Busta (16) v Daniil Medvedev (2)
Defending champion Djokovic will kick off his campaign against Japan's Yoshihito Nishioka, who sits just inside the top 100 entering Roland Garros. The world number one would then face either Alex Molcan or Federico Coria next, with Molcan now coached by compatriot and former coach to Djokovic, Slovakia's Marian Vajda.
31st seed Jenson Brooksby is arguably the biggest threat to Djokovic in the top 16th of the draw before any of Grigor Dimitrov, Borna Coric, Jaume Munar, or Schwartzman could face the Serb in the fourth round.
While Auger-Aliassime has had patchy results since his maiden tour triumph in Rotterdam in February, he comes into Paris having displayed some strong form in Rome, pushing Djokovic hard in a tight quarter-final there.
He will face a qualifier or lucky loser in his first match before a likely match-up with Aslan Karatsev next, before a possible encounter with FIlip Krajinovic of Serbia or American 16th seed Reilly Opelka.
Uncertainty surrounds Nadal and his latest foot injury flare-up, but assuming he gets past Jordan Thompson in his opener he would face either French wildcard and maverick Corentin Moutet or familiar rival Stan Wawrinka.
Another veteran could lie in wait later in Fabio Fognini should the Italian defeat Aussie Alexei Popyrin and his second round opponent. Auger-Aliassime would then be the likely candidate for a last 16 battle with Nadal.
2021 semi-finalist Zverev has a tough draw for such a high seed. After facing a qualifier or lucky loser first he would take on either Dusan Lajovic or Sebastian Baez, both player who are more than competent on clay.
Just one round later, he could face Monte Carlo Masters finalist Alejandro Davidovich Fokina just for a place in the fourth round.
Three Americans occupy the next 16th of the draw in 23rd seed John Isner, wildcard Michale Mmoh and Indian Wells champion Taylor Fritz. Isner or Fritz is likely to take on Zverev in the fourth round, though Japan's Taro Daniel could prove a viable threat to Isner in the second round.
Seeded 10th, Norrie faces French wildcard Manuel Guinard first, before possibly meeting Karen Khachanov or Dominic Thiem in the third round, the Austrian taking on Bolivia's Hugo Dellien in his opener.
Rising superstar Alcaraz faces a qualifier or lucky loser first before either compatriot Albert Ramos-Vinolas or Thanasi Kokkinakis of Australia.
27th seed Sebastian Korda poses the biggest early threat to the Spaniard should they meet in the third round, the young American inflicting on of only three defeats suffered by Alcaraz this season.
Should Alcaraz and Norrie meet in the fourth round it would be their fourth tour meeting in under a year, with Alcaraz leading the head-to-head 3-0.
Moving to the bottom half, Eighth seed Ruud takes on wildcard and former world number five Jo-Wilfried Tsonga in an opener that could be the Frenchman's final ever professional match if the Norwegian beats him. The 37-year-old is retiring at Roland Garros this year after an 18-year pro career.
Whoever wins between Emil Ruusuvuori and Ugo Humbert has the potential to cause Ruud problems, while 32nd seed Lorenzo Sonego would be a tough third round opponent.
Hurkacz opens his play against a qualifier or lucky loser before facing one of clay specialists Pablo Andujar or 2018 Roland Garro semi-finalist Marco Cecchinato.
Frances Tiafoe, seeded 24th, could provide an entertaining battle with the Pole should the pair meet in the third round.
Of the top 16 seeds, Shapovalov has arguably the toughest first round draw, taking on in-form Next Gen talent Holger Rune. 19th seed Alex de Minaur could also face difficulties against home youngster Hugo Gaston in his opener, with any combination of Shapovalov/Rune and de Minaur/Gaston meeting in the third round.
Similarly tricky for a first round match-up, 2021 finalist Tsitsipas takes on Lorenzo Musetti first, the man who pushed Djokovic to two sets to love down in the fourth round last year.
The Greek would face either wildcard Frenchman and former world number 10 Lucas Pouille or a qualifier or lucky loser next before a potential showdown with Brit Dan Evans in the third round.
Seventh seed Rublev faces Soonwoo Kwon of South Korea first and could take on Cristian Garin or Tommy Paul should he win his first two ties.
If Sinner hits his stride early he should have no problem getting past a qualifier or lucky loser, before the likes of potential opponents, Oscar Otte, Mackenzie McDonald, Maxime Cressy and Nikoloz Basilashvili to set a meeting with Rublev in the fourth round.
In the bottom eighth, veteran Gilles Simon could play his final Roland Garros match against 16th seed Pablo Carreno Busta should he lose, with the Frenchman set to retire at the end of the season.
Dubai finalist Jiri Vesely could prove a tough second round adversary for Carreno Busta, while 20th seed Marin Cilic could take on the winner in the thrid round.
Miomir Kecmanovic is hitting strong form in 2022 with 23 match wins already, joint sixth in terms of ATP victories this year.
He occupies the same 16th as world number two Medvedev, the Russian coming into Paris off the back of an extended injury layoff after hernia surgery.
Moreover, Medvedev has just one clay match to his name this season, a loss to French veteran Richard Gasquet at the Geneva Open, not to mention clay is the second seed's least favourite surface to put it diplomatically.
As such, a third round match-up between Kecmanovic and Medvedev could favour the Serb.
The hype after the draw is that Djokovic, Nadal and Alcaraz are all in the top half together. While that means no combination of those players can meet in the final, it does make a match-up between them more likely.
Nadal and Djokovic could meet in the quarter-finals for an astounding 59th career tour level meeting and a repeat of their 2021 semi-final epic. The victor there would likely take on Alcaraz next for a place in the championship match, the Spaniard bidding to become the youngest Roland Garros men's champion since Nadal won his first title there in 2005.
Tsitsipas versus Ruud looks the likeliest quarter-final from the next section, with the winner possibly matching up with any of Rublev, Sinner, Carreno Busta, Kecmanovic or Medvedev in perhaps the most open quarter of the men's draw.
Djokovic, Alcaraz, Nadal and Tsitsipas are the top four favourites for the title, with the final likely being Djokovic/Alcaraz/Nadal against Tsitsipas given the disparity between the two halves of the draw.
Link to updated men's singles draw
2022 women's singles preview & draw
Projected last 16 based on seeding:
Iga Swiatek (1) v Jelena Ostapenko (13)
Jessica Pegula (11) v Karolina Pliskova (8)
Paula Badosa (3) v Elena Rybakina (16)
Danielle Collina (9) v Aryna Sabalenka (7)
Ons Jabeur (6) v Emma Raducanu (12)
Belinda Bencic (14) v Maria Sakkari (4)
Anett Kontaveit (5) v Garbine Muguruza (10)
Victoria Azarenka (15) v Barbora Krejcikova (2)
While this Roland Garros is arguably Swiatek's to lose, the world number one could face a tricky opponent early on. After facing a qualifier or lucky loser in her opener, she would face either Alison Riske or Dayana Yastremska before a possible meeting with 25th seed Liudmila Samsonova in the third round.
That match-up is notable because during her 28 match winning streak stretching back to February, only one player has successfully taken a set off Swiatek. That player was Samsonova in the first set of their Stuttgart Open semi-final battle last month, the Russian claiming it in a tiebreak before the Pole came back and eventually won the title.
The huge depth in talent on the WTA tour means that in the next 16th of the women's draw there are two former Roland Garros champions in 2018 winner Simona Halep, seeded 19th, and 2017 winner Ostapenko, the 13th seed. They would meet in the third round should both win their opening two matches, with the victor there likely facing Swiatek.
Madrid Open finalist and American number two Jessica Pegula will hope to fair well in Paris, the 11th seed facing Qiang Wang in her first match before a possible battle with Anhelina Kalinina to make up for not facing her at the Italian Open after the Ukrainian withdrew ahead of their second round match.
She could face 2021 Roland Garros semi-finalist in the third round, with whoever comes out of that section potentially taking on former world number one and eighth seed Karolina Pliskova.
Badosa is the biggest threat in the next eighth, seeded third and facing French wildcard Fiona Ferro in her first match. She could face Veronika Kudermetova in the third round.
2017 US Open finalist Madison Keys takes on Anna Kalinskaya first before a potential meeting with Rybakina in the third round. American number one and Australian open finalist Collins faces a qualifier first before a possible all-American encounter with Shelby Rogers with the winner maybe taking on Italian Open semi-finalist Daria Kasatkina.
Sabalenka will look to start strongly against France's Chloé Paquet before possibly taking on erratic Italian Camila Giorgi in the third round.
Jabeur is the clear favourite to make it to the fourth round out of her section of the draw, though she may have to oust two-time Major champion Petra Kvitova come the third round and former world number one Angelique Kerber in the fourth round.
Raducanu makes her Roland Garros debut against a qualifier or lucky loser and could reach the fourth round instead of Kerber from her section. Raducanu and Leylah Fernandez would have to reach the quarter-finals to set up a rematch of their US Open final encounter from last year. Fernandez would likely have to make it through either Bianca Andreescu or Belinda Bencic should that pair meet in the second round.
Fourth seed and 2021 semi-finalist Sakkari will hope to improve on her last four run last year, and she faces Clara Burel in the first round before possibly meeting Jabeur should both women make it to the quarter-finals.
Amanda Anisimova and four-time Major winner Naomi Osaka meet in what could be a thoroughly entertaining first round encounter, with the winner likely taking on Sakkari in the third round should they back up an opening win.
Defending champion Krejcikova, while seeded second, is very much an unknown after being out with injury since the Qatar Open in February. Double Slam champions Muguruza and Azarenka also occupy the Czech's quarter of the draw, as do teen sensation Coco Gauff and top 10 talent Kontaveit.
Seedings suggest quarter-finals of Swiatek against Pliskova, Badosa versus Sabalenka, Jabeur versus Sakkari and Kontaveit against Krejcikova.
Unlike the exceedingly open draw fans witnessed last year, many feel this year's Roland Garros is a Swiatek versus the field situation. The world number one is simply dominating the women's game at present and anyone else making the final from her half would be a surprise, while the bottom half of the draw is far more open.
Of course, Swiatek could lose in Paris and be stopped in her win streak on a tally anywhere from 28 to 34.
Link to updated women's singles draw
---

The world's only virtual tennis club
Tennishead CLUB members receive:
Head-to-toe ASICS tennis outfit with shoes

Video coaching from legends incl. Boris Becker

Membership of a worldwide tennis community

Tennis 'mindset' training course

Super absorbant racket overgrips

Low calorie chocolate protein bars

Discount club for tennis rackets & gear

The world's best tennis newsletter

Tennishead magazine

(optional)
Join today with membership fees from just $35/£27
Learn more about the membership benefits & how to join
---
History on the line
Multiple players have the opportunity to make history in Melbourne this year with potential feats that would cement their legacies in the annals of the sport.
After Djokovic pulled level with Federer and Nadal on 20 Slams by winning the Australian Open, Roland Garros and Wimbledon last year, Nadal has now surpassed his two biggest rivals to reach 21 titles after Melbourne this year.
As such, the world number one will be looking to reclaim that joint lead atop the men's Major leaderboard by defending his Roland Garros title.
He could very well need to come through Nadal in the quarter-finals to do that, which would see him become the first man ever to defeat Nadal three times at Roland Garros should he win that match.
Should Djokovic claim a third crown in Paris it would see him become the first man in the Open Era to complete the Triple Career Grand Slam, winning all four Majors at least three times.
Of course, Nadal himself has the opportunity to extend his lead in the Slam race with what would be a record-extending 14th Roland Garros title. That would be six more singles titles there than any player ever, Open Era or otherwise.
Two more odds-on contenders in Alcaraz and Tsitsipas could make personal history should either claim a maiden Major triumph. Should Alcaraz be the one to do so, he would become the youngest slam champion since his idol Nadal won Roland Garros as a 19-year-old in 2005.
At the same time, Swiatek is already making history with her excellent run of form as she enters Paris on 28 wins in a row.If she were to win a second Roland Garros title she would be up to 35 match wins in a row, a joint WTA record for the 21st century after Venus Williams won 35 matches on the bounce in 2000.
Youngsters to watch
Talent 21-and-under have been making huge strides over the past year on both the ATP and WTA tours, and they will look to continue that trend at Roland Garros 2022.
Iga Swiatek – 20 (born May 2001) – Rank: #1
In 2022 the newly-crowned world number one has done nothing less than dominate the women's tour. Swiatek has not lost a match since February, entering Roland Garros on a streak of 28 consecutive wins. She has won four of the five WTA 1000 events held so far this year and is first in the women's rankings by a whopping 2150 points.
As such, Swiatek is easily the favourite to claim a second Major title to add to her maiden Slam triumph in Paris back in October 2020. That would no doubt be a nice birthday present for the Pole as she turns 21 midway through the tournament on 31st May.
Carlos Alcaraz – 19 (born May 2003) – Rank: #6
While not yet world number one, this Spaniard is well on his way there after so far being a formidable force on the men's tour entering Roland Garros. Alcaraz is 28-3 so far this season and is the only man so far to have claimed multiple Masters titles in 2022, winning Miami and Madrid. Not only that, but he did the latter by defeating his idol Nadal and world number one Djokovic back-to-back, the first ever to achieve such a feat at one clay event.
While Djokovic is the bookies favourite to defend his 2021 Paris crown after claiming a sixth Rome Masters title, Alcaraz comes a close second after some needed rest following his run in the Spanish capital.
Emma Raducanu – 19 (born November 2002) – Rank: #12
Since her US Open triumph a little over seven months ago, the Brit has worked her way into a regular tour schedule while struggling but fighting to register positive results. Raducanu played her first ever professional match on clay less than two months ago at the Billie Jean King Cup but already has a respectable 5-4 opening pro record on the surface.
She comes into Roland Garros off the back of a match retirement at the Italian Open and dealing with fitness troubles. While few expect Raducanu to go deep in Paris, it will no doubt be an invaluable learning experience for the teenager and an interesting spectacle for tennis fans.
Felix Auger-Aliassime – 21 (born August 2000) – Rank #9
After eighth consecutive tour final losses, the young Canadian finally claimed a maiden ATP tour title in Rotterdam this February, but has had sporadic form since, going 11-9 in the three months since.
However, while the 21-year-old is yet to claim a win at Roland Garros after two previous appearance, he enters the Slam in good form after pushing Djokovic in a close-fought Italian Open quarter-final. He won more games against the world number one than anyone else as the Serb claimed the title without dropping a set. As such, Auger-Aliassime will be looking to end his trend of Paris losses and potentially match the level of his other Major results, having reached at least the quarter-finals at each.
Leylah Fernandez – 19 (born September 2002) – Rank: #17
After her run to the US Open final catapulted Fernandez to world number 28 last year, she has since built on that ranking to enter Paris ranked 17th. That spell has included a successful defence of her 2021 Monterrey Open title back in March, defeating fellow youngster Camila Osorio in the final there for her second WTA tour level title.
Despite reaching a Major final in New York in October, she has only gone as far as the third round at any other Slam, reaching that stage of Roland Garros in 2020. The Canadian will be hoping to better that mark as she looks to continue pushing up the women's ranking ladder.
Jannik Sinner – 20 (born August 2001) – Rank: #12
After being touted as possibly the next big thing in men's tennis, Sinner had been somewhat overshadowed by the success of Alcaraz so far in 2022. Having won four ATP singles  titles in 2021, third only to Djokovic and Zverev on the men's tour, the Italian is yet to claim a title this season or even reach a semi-final.
However, he still holds a solid 24-6 win-loss record so far this year, and Roland Garros is the site of his joint-best Slam result to date, reaching the quarter-finals in 2020 before losing to eventual champion Nadal. The 20-year-old will be looking to replicate that sort of form and break his way back into the top 10 for the first time since February.
Coco Gauff – 18 (born March 2004) – Rank: #18
Despite bursting onto the tennis main stage nearly three years ago now at Wimbledon 2019, this American talent is still only 18 years old. After that breakthrough run to the fourth round of The Championships, Gauff reached the fourth round of the Australian Open in 2020 and before claiming her best Major result at Roland Garros last year, bowing. out in the quarter-finals to eventual champion Krejcikova.
In addition, Gauff has experience as a title-winner on clay, lifting the trophy at the WTA 250 Emilia-Romagna Open in Parma, Italy ahead of Roland Garros last year.
Miscellaneous 
Both the ATP and WTA are so chocked full of 21-and-under talent that Tennishead could write a whole guide on it.
For now, just know that other top ATP youngsters include Sebastian Korda, Holger Rune, Sebastian Baez, Jenson Brooksby in the top 50 alone. Meanwhile, 20-year-old Amanda Anisimova is finding good form on the WTA tour and is joined in the top 50 by Dane Clara Tauson, while 12 more 21-and-under players below her sit in the top 100. That includes 2019 US Open champion Bianca Andreescu. Currently ranked 70th in the world after bouts of injury, she only turns 22 after Roland Garros.
French players to watch
France have not had women's singles success at their home Slam since Mary Pierce in 2000, while a French man has not won the Roland Garros singles since Yannick Noah did so in 1983.
Here, Tennishead highlights some of the players in Paris that will be hoping to stir up their home supporters, alongside their ranking come the start of the main draw for the second Slam of the year.
Alizé Cornet – Rank: #40 – Best RG Result: Fourth round
After men's world number 22 Gael Monfils withdrew from Roland Garros citing a heel injury, fellow tour veteran Cornet is the highest rank French singles player, man or woman, in the 2022 main draw.
Despite already being 16 years into her professional career, the 32-year-old achieved her best Slam result at this year's Australian Open, reaching her first Major quarter-final after previously holding a full house of fourth round appearances at the four Slams, including at Roland Garros in 2015 and 2017.
Ugo Humbert – Rank: #45 – Best RG Result: First round
The highest-ranked Frenchman behind the injured Monfils, Humbert has unfortunately not had the strongest start to 2022 after two strong seasons in 2020 and 2021 saw him peak at 25th in the world in June last year.
Unlike at the other Slams, the 23-year-old has not been beyond the first round in Paris in his three main draw appearance, a trend he will hope to end with the help of the home crowds this year.
Caroline Garcia – Rank: #73 – Best RG Result: Quarter-final
Garcia secured her best Major result to date at her home Slam back in 2017, reaching the last eight before falling to second seed Pliskova that day. She hit her rankings peak the next year in September 2018 when she got as high as number four in the world.
However, she has slowly lost form since then, currently ranked outside the world's top 50 and with just six wins from just eight matches played in 2022 as she looks to kickstart a turnaround in the Parisian spring.
Gilles Simon – Rank: #159 – Best RG Result: Fourth round
Simon has had a great career over his 20 years as a tennis professional, reaching a career-high of sixth in the world back in 2009. The 37-year-old recently announced he will retire from the ATP tour at the end of the season, making this his 17th and final Roland Garros appearance.
With 14 career singles titles to his name, Simon holds an ATP tour win-loss record of 498-389, meaning that if he were to defeat 16th seed Carreno Busta and then either Jiri Vesely or Steve Johnson, he would become the 56th man of the ATP era to achieve the feat and the 11th active player to do so.
Jo-Wilfried Tsonga – Rank: #293 – Best RG Result: Semi-final
The 2008 Australian Open finalist has played his final ATP tournament in Lyon, now for his final professional tournament ever, coming at his home Slam. Tsonga confirmed in early April that he would retire at Roland Garros.
While he is unlikely to win a match there as he takes on tough top 10 opposition in Ruud in the first round, the 37-year-old former world number five will certainly bow out to the adulation of the Parisian fans.
The bookies favourites
Men's singles
World number one and defending champion Djokovic is the bookies favourite to win and successfully defend his 2021 title, while Alcaraz is close behind. Nadal is third favourite to win  14th Paris crown, while last year's finalist Tsitsipas is fourth in the running of favourites.
Novak Djokovic 40/17
Carlos Alcaraz 45/17
Rafael Nadal 24/5
Stefanos Tsitsipas 29/5
Casper Ruud 28/1
Alexander Zverev 39/1
Jannik Sinner 39/1
Andrey Rublev 50/1
Women's singles
Off the back of her huge win streak, Swiatek is the heavy favourite to win the title, what would be her second in Paris. Madrid Open champion and Italian Open finalist Jabeur is second, followed by 2018 champion Halep and 2021 semi-finalist Sakkari.
Iga Swiatek 19/20
Ons Jabeur 15/1
Simona Halep 17/1
Maria Sakkari 24/1
Aryna Sabalenka 25/1
Paula Badosa 31/1
Coco Gauff 33/1
Bianca Andreescu 37/1
🎾 Join >> Receive $700/£600 of tennis gear from the Tennishead CLUB
🎾 Social >> Facebook, Twitter, Instagram & YouTube
🎾 Read >> World's best tennis magazine
🎾 Watch >> How to enjoy ATP/WTA/Slam tennis on TV
🎾 Shop >> Lowest price tennis gear from our trusted partner
🎾 Gambling >> Betway tennis odds