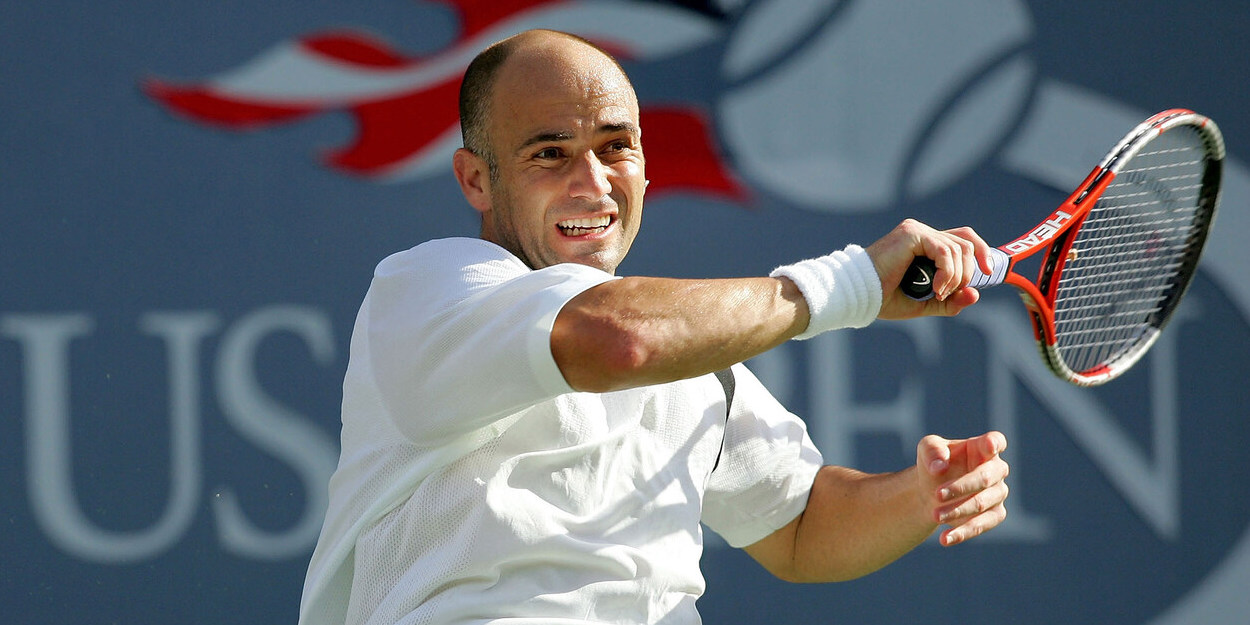 The Career Super Slam: How Andre Agassi stands apart
Only one man has ever achieved what is known as the 'Career Super Slam'. Here, Tennishead looks back on how Andre Agassi separated himself from the rest.
First Leg – ATP Finals 1990
Then known as the ATP Tour World Championships, the 1990 edition was held in Frankfurt, Germany.
A 20-year-old Agassi entered the tournament as world number four, with multiple Slam champions Ivan Lendl, Boris Becker and Stefan Edberg ahead of him in the top three spots.
Agassi had himself made two Slam finals in 1990, at Roland Garros and the US Open, but was yet to claim a maiden career Major title. To this point, the 1990 Miami Masters was the most prolific title of his young career.
The American defeated compatriot Pete Sampras and Emilio Sanchez in his group, but lost out to Edberg in a three-setter.
However, it was enough for Agassi to reach the semi-finals, where he took on world number two and then four-time Slam champion Becker.
Agassi displayed great poise to oust the German in straight sets, 6-2, 6-4, while Edberg overcame Lendl to set a rematch of their group encounter.
Edberg gained the early advantage by securing the opening set 7-5, but from there Agassi was dialled in.
He rattled off the next three sets 7-6 (7-5), 7-5, 6-2 to avenge his earlier defeat by Edberg and win the year-end event.
Second Leg – Wimbledon 1992
After winning the ATP Tour World Championships, Agassi had since reached the 1991 French Open final, but again fell at the final hurdle as he lost out to fellow American Jim Courier, despite being up two sets to one.
With an underwhelming 1991 season which saw Agassi claim just two titles, another deep run at Roland Garros 1992 began a turnaround for the 22-year-old.
After losing out once more to Jim Courier, this time in the semi-finals, Agassi set his sights on the All England Club and Wimbledon.
It was just a third appearance for Agassi at The Championships, having only previously played in 1987 and 1991, reaching the quarter-finals on that second occasion.
Now at world number 14, Agassi won through to the quarter-finals with the loss of just two sets, before facing three-time champion Boris Becker.
He and Agassi played out a classic, with the American winning out 4-6, 6-2, 6-2, 4-6, 6-3 after a little over three hours on-court.
Agassi then faced another three-time champion in compatriot John McEnroe, ranked world number 30 at the age of 33.
The younger man breezed through in straight sets to face eighth-seeded 20-year-old Goran Ivanisevic.
It was a fourth Slam final for Agassi and a first for Ivanisevic. The two men proceeded to battle over five sets before a conclusion was reached.
Ivanisevic took the opener in a tight and tense tiebreak, 10-8, before Agassi hit back with two 6-4 sets.
The Croat then ran away with the fourth 6-1, before Agassi clinched the decider 6-4 to land his maiden Slam title.
Third Leg – US Open 1994
Despite achieving his dream of a first Slam title, following Wimbledon Agassi did not enjoy similar success for some time.
Across five more Slams before the 1994 US Open, the American did not go further than the quarter-finals, doing so at the 1992 US Open and at Wimbledon in 1993.
Ranked 20th in the world just prior to the 1994 US Open, Agassi entered the Slam unseeded, as at that time the Slam had just 16 seeds.
Following routine wins over world number 327 Robert Eriksson and world number 108 Guy Forget, tougher opponents began to appear from the third round onwards.
From the third round to the quarter-finals, Agassi dispatched three top-20 players in Wayne Ferreira (world number 13), Michael Chang (6) and Thomas Muster (14), only surrendering sets against Chang, requiring five to win their tie.
The semi-final was an all-American affair between Agassi and world number nine Todd Martin. Agassi overcame his compatriot in four sets to set up a final with fourth seed and 1991 Wimbledon champion Michael Stich of Germany.
There Agassi made short work of his opponent, winning out in straight sets to win his first US Open at his second attempt in a final.
Fourth Leg – Australian Open 1995
Come the very next Slam in Melbourne, Agassi was now world number two, the highest position he had yet achieved in the ATP rankings.
Despite playing 21 Slam main draws up to this point in his career, 1995 was an Australian Open debut for Agassi.
And what a debut it was for the American, as he cruised through the opening four rounds without ever being pushed beyond 6-4 in a set.
In the quarter-finals, he faced world number 12 Yevgeny Kafelnikov, and again won out in straight sets to face world number 45 Aaron Krickstein in the semi-finals.
With Agassi leading 6-4, 6-4, 3-0, Krickstein was forced to retire, sending the debutant through to the final.
It was a battle between the top-two seeds as Agassi took on Pete Sampras, the latter looking to defend his 1994 Australian Open title.
And Sampras started well, taking the opener 6-4. But from there Agassi had control, securing the second 6-1 before the third followed in a tiebreak, clinching the title 6-4 in the fourth.
The tournament would go on to be Agassi's most successful Slam, claiming three more titles down under in 2000, 2001 and 2003.
Fifth Leg – Olympic Gold, Atlanta 1996
Despite being a professional during the previous two Summer Olympics in 1988 and 1992, Agassi did not make his first appearance at an Olympiad until his home Games of Atlanta 1996.
The American was the top seed at the event, and was a favourite to claim Olympic gold on home soil.
He overcame his first three opponents for the loss of just one set, before taking down fifth seed Wayne Ferreira 7-5, 4-6, 7-5 in the quarter-finals.
Agassi then ousted Indian wildcard Leander Paes 7-6 (7-5), 6-3 to guarantee himself a medal, before overcoming two-time French Open champion Sergi Bruguera 6-2, 6-3, 6-1 in a one-sided final to become an Olympic gold medallist.
Final Leg – Roland Garros 1999
To this point, Roland Garros was the most heartbreaking piece missing from the Agassi jigsaw.
The now 29-year-old had reached back-to-back finals in 1990 and 1991, but had since only been beyond the fourth round twice.
Entering the 1999 edition ranked 14th in the world, Agassi was seeded 13th behind three former champions Gustavo Kuerten (1997), Carlos Moya (1998) and Yevgeny Kafelnikov (1996).
It only took until the second round for Agassi to face a five-set battle, overcoming Arnaud Clement 6-2, 4-6, 2-6, 7-5, 6-0 to progress to the third round.
After dismissing Chris Woodruff in straight sets, he faced defending champion and fourth seed Moya for a quarter-final spot.
Despite losing the opening set, Agassi rallied to claim the next three, sealing the fourth 6-1 to advance to a first quarter-final since 1995.
There, Agassi faced Uruguayan qualifier Marcelo Filippini, dispatching the challenger, with ease, 6-2, 6-2, 6-0.
Another unseeded opponent came in Dominik Hrbaty in the semi-finals, with Agassi winning out in four sets.
The final showdown was already quite a story. Ukrainian Andrei Medvedev was ranked at 100 in the world coming into the tournament, and had never made a Slam final before.
Agassi had the edge in terms of experience, both at Roland Garros and in Slam finals. Surely he could win it from here?
But the pressure of expectation and nerves therein got the better of Agassi from the off, as tightness saw the American go two sets to love down against Medvedev, 6-1, 6-2.
With Agassi 4-3 up in the third, the American having been unable to consolidate a break lead, the match was suspended due to rain, allowing both men to recoup.
When the pair returned to the clay, Agassi seemed rejuvenated. He banished any demons of 1990 and 1991 to win the next three sets 6-4, 6-3, 6-4 and complete the Career Grand Slam, as well as the Career Golden Slam and Career Super Slam.
He became the first man since Rod Laver to complete the Career Grand Slam. "I've got to say, it was the best moment I've ever had on a tennis court," Agassi has since said of the victory in Paris.
"As far as an accomplishment goes. And the feeling was me living the rest of my life truly believing that I wouldn't have another regret as it relates to my career."