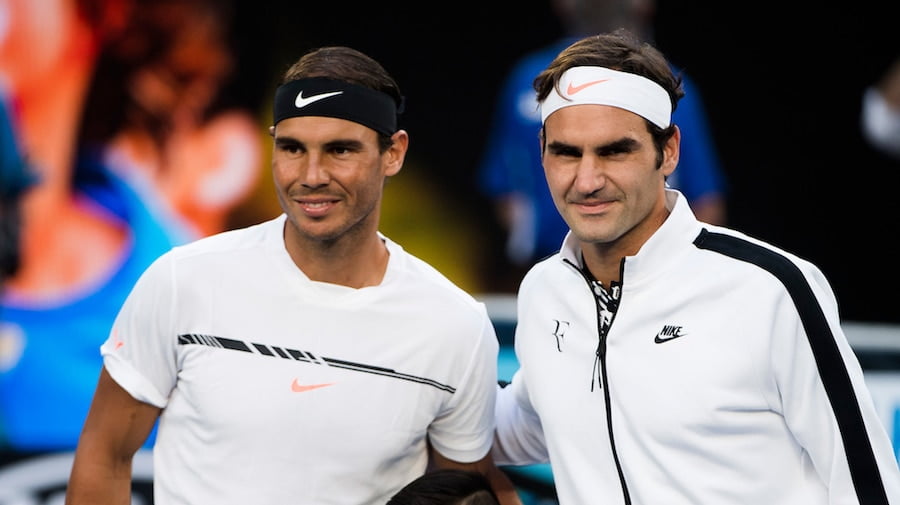 Roger Federer vs Rafa Nadal: Preview of the Wimbledon 2019 men's semi final
Old rivals Roger Federer and Rafael Nadal will meet at Wimbledon for the first time in nine years as they face off in the semi final tomorrow.
In their 40th meeting, it is the first time the pair will have played at Wimbledon outside of the final. Sharing the court in three Wimbledon finals, Federer leads the Spaniard 2-1 across these matches, but is 15-24 behind overall. Meeting at Wimbledon for the first time in the 2006 final, the Swiss star got the better of the man who had already beaten him twice at Roland Garros in 2005 and 2006. A four sets victory gave Federer his fourth Wimbledon.
They met a second time the following year, when now 33 year old Nadal suffered a devastating five sets defeat to be denied his maiden Wimbledon title.  However next time out in 2008 they played in the final at SW19 for a third consecutive year, and this time Nadal won in arguably the best Wimbledon final of all time 6-4 6-4 6-7 6-7 9-7.
It is the first Wimbledon since 2007 that 'The Big Three' are all in the semi-finals of Wimbledon, with Djokovic facing Roberto Bautista Agut in the other semi final. Despite the lack of younger players progressing at this year's Championships, with Zverev, Tsitsipas and Thiem all losing in the first round, there is no doubt ticket holders will be relishing the chance to see two legends of the sport such as Nadal and Federer taking to court in the semi final.
On route to the final Federer has lost two sets, whereas Nadal only the one in a tough second rounder against the charismatic Nick Kyrgios. The eight time champion Federer fought back from losing the first sets against Lloyd George Harris in the round one, and Kei Nishikori in the quarter final on Wednesday.
37 year old Federer is bidding to win his 21st Grand Slam, and extend his own lead over his opponent for the most Slam singles titles of all time. Nadal has won 18 and will look to pull in just one behind the Swiss veteran with a win today and in the final Sunday.
Roger Federer (Switzerland)
Age: 37
ATP Ranking: 3
Career Wimbledon wins: 100-12
Career Grand Slam wins: 352-56
Career grass court wins: 186-26
2019 record: 37-4
Rafael Nadal (Spain)
Age: 33
ATP Ranking: 2
Career Wimbledon wins: 53-11
Career Grand Slam wins: 265-37
Career grass court wins: 71-19
2019 record: 37-5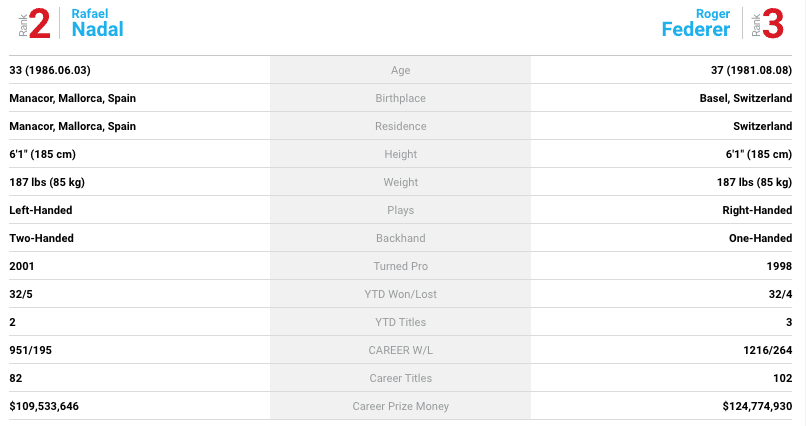 Enjoy Wimbledon even more with our exclusive, 164 page, 'Guide to Wimbledon 2019'
To find out how to get tickets for Wimbledon this year read our 9 point guide here
For all the latest Wimbledon news before, during and after the tournament make sure you bookmark our 'Wimbledon News' section here
If you can't visit the tournament then do the next best thing and read our guide on how to watch Wimbledon on television
To read more amazing articles like this you can explore Tennishead magazine here or you can subscribe for free to our email newsletter