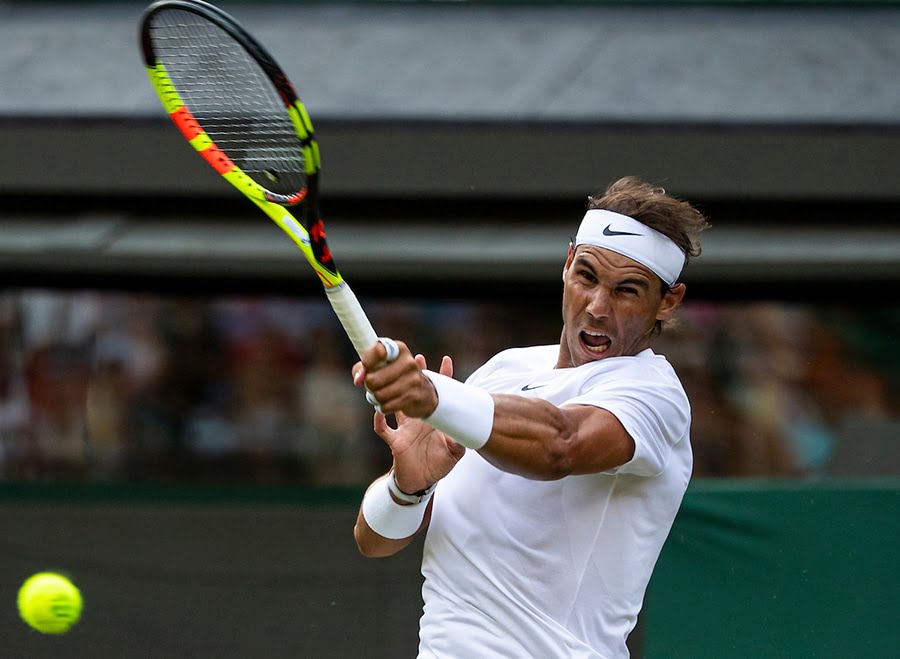 Rafael Nadal gets the better of Nick Kyrgios in four-set Wimbledon thriller
Rafael Nadal played two brilliant tiebreaks to wrap up a big victory against a focused Nick Kyrgios at Wimbledon on Thursday to advance into round three..
In their seventh meeting the Spaniard recorded his fourth victory against Kyrgios and first at a Grand Slam. The number two seed avoided an exit before the third round for a fourth time in his career, though many saw this as a tough test.
There was a heated build up to the match after comments made by Kyrgios earlier this year, calling Rafael Nadal 'super salty'. And, perhaps inevitably, there was little eye contact between the two as they walked out onto court together.
Kyrgios started the match slow however. The 24 year old Aussie was broken in his first service game and was quickly arguing with the umpire about how long his Mallorcan opponent was taking between service points.
Nadal held onto the break of serve the whole was though the first set, against a the frustrated Australian, who was unhappy at the amount of time the third-seed was taking between Kyrgios' serves.
After more heated discussions with umpire Damien Dumusois, Kyrgios snapped and branded him a 'nobody' and a 'disgrace'. However, it only appeared to work in his favour, and a brilliant cross court passing shot helped him to a 3-0 lead in the second.
Further moaning from the 43rd ranked player saw him received a code violation for unsportsmanlike conduct. But again this seemed to add fire to his belly as he sent looping forehands deep into Nadal's court eventually forcing Nadal to hit into the net and restore his break. The charismatic Australian served the set out 6-3.
A more relaxed Kyrgios came out for the third set. Despite putting the Nadal serve under pressure a few times, both men comfortably held serve to force a tiebreak.
Prior to the meeting Nadal had never won a tiebreak against Kyrgios, but an early mini-break from a down the line forehand winner put Nadal in the driving seat. Despite a couple of quality winners of his own, Kyrgios stayed behind the whole tiebreak, losing it 7-5 giving Nadal the lead.
The fourth set was another one of serving brilliance. Following the precedent from the previous set, neither man faced a break point, or indeed a single deuce.
Nadal "punching his fist, raising his arms aloft in celebration"- @barrymillns @RafaelNadal beats @NickKyrgios to progress to the third round of the Championships!#Wimbledon pic.twitter.com/vsPHW42DqJ

— Wimbledon Channel (@WimbledonChnl) 4 July 2019
It was the two time Wimbledon champion who was victorious again in the tie break, though, taking an early mini-break after Kyrgios sent a seemingly simple smash volley into the net. The Spaniard held serve from here and after a couple of unforced errors, Rafael Nadal was able to celebrate the win.
Despite a somewhat childish start to the match from Kyrgios, he eventually gave a professional account of himself, and provided stiff opposition for the the bookies' third favourite to win the title.
Next up for Nadal is is Jo Wilfried Tsonga who defeated Lithuanian Richard Berankis in straight sets. Nadal holds an 8-4 record against the Frenchman but did lose their last encounter in Shanghai four years ago.
Enjoy Wimbledon even more with our exclusive, 164 page, 'Guide to Wimbledon 2019'
To find out how to get tickets for Wimbledon this year read our 9 point guide here
For all the latest Wimbledon news before, during and after the tournament make sure you bookmark our 'Wimbledon News' section here
If you can't visit the tournament then do the next best thing and read our guide on how to watch Wimbledon on television
To read more amazing articles like this you can explore Tennishead magazine here or you can subscribe for free to our email newsletter