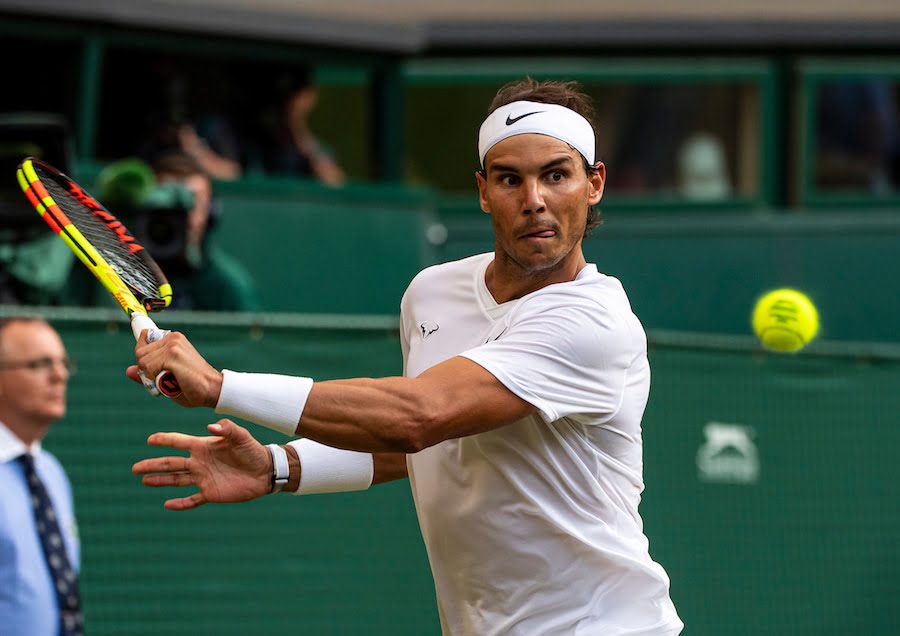 Rafa Nadal set for Wimbledon Centre Court showdown with Tsonga
Rafa Nadal will continue his bid for a third Wimbledon title as he takes on Jo Wilfried Tsonga today.
Despite playing each other twelve times, the pair have never met at SW19. Rafa Nadal leads the Frenchman 8-4 across their meetings, however they have not met in almost four years. It was Tsonga who got the better of the Mallorca man in October 2015, when he beat him 6-4 0-6 7-5 in the Shanghai Masters semi-final.
Nadal and Tsonga's first two contests were their only in Grand Slam competitions. In 2007 Nadal demolished the man from Le Mans in straight sets at the US Open, but just four months later Tsonga returned the favour, just dropping seven games to make his first and only Grand Slam final. Tsonga fell in four sets to Novak Djokovic in the final, who won his maiden Slam.
A victory for Nadal will put him alongside players such as Andre Agassi and Ivan Lendl to go joint eighth in the most Wimbledon fourth round appearances, on nine. However the third seed has not won the title since 2010, and had only made the fourth round in three of his last seven appearances.
One of five Grand Slam winners who entered the draw here, Nadal will look to win his 19th Grand Slam and close the gap on Swiss star Federer, who has 20.
Having spent three years worth of his career ranked inside the top ten, knee injuries have hindered Tsonga of recent. His missed last year's Wimbledon undergoing surgery, eventually causing him to drop out of the world's top 250. But a first title in two years at Montpellier and and injury free 2019 have seen the 34 year old rise back to 72nd in the world.
Tsonga is yet to lose a set this Wimbledon. He beat Bernard Tomic 6-2 6-1 6-4 in a match where the Aussie did not appear to be trying and was consequently fined his wages. Tsonga backed this up with a comfortable win over Richard Berankis, who had knocked out 29th seed and 2016 boys champion Denis Shapovalov in round one. Nadal on the other hand dropped the second set in a tough battle against foe Nick Kyrgios, but held onto win in four. Previously he cruised past Yuichi Sugita in his first match.
Nadal (Spain)
Age: 33
ATP ranking: 2
Wimbledon seeding: 3
Career Wimbledon record: 50-11
Career Grand Slam record: 262-37
Career grass court record: 68-19
Tsonga (France)
Age: 34
ATP ranking: 72
Wimbledon seeding: Unseeded
Career Wimbledon record: 32-10
Career Grand Slam record: 121-42
Career grass court record: 51-22
Enjoy Wimbledon even more with our exclusive, 164 page, 'Guide to Wimbledon 2019'
To find out how to get tickets for Wimbledon this year read our 9 point guide here
For all the latest Wimbledon news before, during and after the tournament make sure you bookmark our 'Wimbledon News' section here
If you can't visit the tournament then do the next best thing and read our guide on how to watch Wimbledon on television
To read more amazing articles like this you can explore Tennishead magazine here or you can subscribe for free to our email newsletter