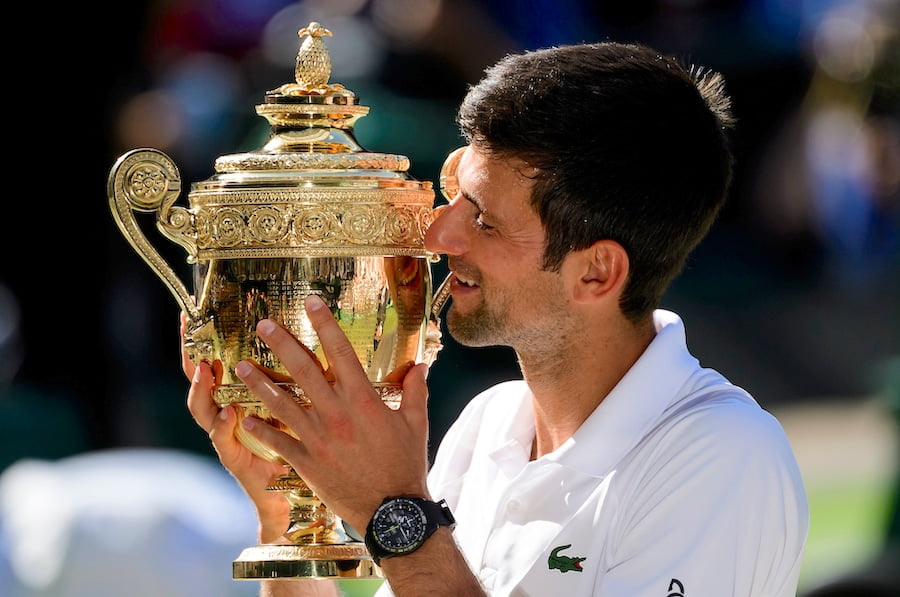 Preview of Wimbledon 2019
Wimbledon is the only Grand Slam played on grass and is the culmination of the month long grass court season every year. Players have competed at this prestigious tournament since 1877 making it the oldest of the four Grand Slam tournaments.
All of the greatest players in the history of tennis have won a title at Wimbledon and recent history shows that you've got to be at the top of your game if you want to triumph on the famous grass courts of the All England Lawn Tennis Club.
For an even more in depth look at Wimbledon 2019 you can order our special 164 page Wimbledon issue of tennishead magazine here
Always played at the same venue, the Wimbledon Championships run for two weeks from 1st July 2019 until 14th July 2019 with a rest day on the first Sunday.
Roger Federer, Rafael Nadal, Novak Djokovic and Andy Murray have all won the Men's Singles in recent years whilst Angelique Kerber, Serena Williams, Garbine Muguruza and Petra Kvitova have held aloft the the Ladies Singles trophy at Wimbledon.
2019 Preview
Without doubt this will be the most open tournament for years in both the Men's and Women's Singles events.
In the men's, the dominant players of the last decade, Roger Federer, Rafa Nadal and Novak Djokovic, will be the favourites to lift yet another men's singles trophy and many people will say it's unlikely that a player not in this trio will win the tournament. The 'Big 3' have shared the last 10 Grand Slam singles tournaments equally between them and in fact, since 2004, only 10 of the 62 Grand Slam Mens Singles events played have been won by someone outside this incredible group.
Of the three, Federer is probably the least likely to triumph simply because of his age. He is 37 years old whereas Nadal is 33 and Djokovic is only 32. But Federer is undoubtedly the greatest grass court player that has ever played the game and he will be desperate to prove one more time that he is still the man to beat at Wimbledon.
Nadal has only won twice at Wimbledon so a victory this year will also be something of a surprise, considering he won't have played any competitive tennis on grass prior to this years tournament and the last time he won Wimbledon was in 2010, nearly a decade ago.
So that leaves Djokovic as the outstanding favourite to take the title this year. He has won 3 of the last 4 Grand Slam's and is the reigning Champion at Wimbledon and is the World no.1 by a long way. His form coming into Wimbledon isn't quite as strong as in previous years but he's not far off his best and will have the hunger to win after being knocked out in the semi-final of the French Open.
Of the other potential winners that will be seeded this year, the group of young stars including Stefanos Tsitsipas, Alexander Zverev and Dominic Thiem are the three next standout players that have a chance of upsetting the likes of Nadal, Djokovic or Federer. But many commentators will question their ability to triumph over 2 weeks on grass given their relative lack of experience. It's such a unique surface that many believe it takes years and years to master. Maybe we'll have to wait for at least Federer to retire before we see one of these three great players come through.
Next you can look at the group of big servers, given that grass is the fastest surface they play on which in turn benefits those players with huge overheads. Last year saw a tired Kevin Anderson get thrashed by Djokovic but to have the giant South African and the even bigger John Isner make the last four of Wimbledon proves how important the serve has become. So don't be surprised if a shock or two comes from their hands.
In the women's tournament it's wide open with not a single two time winner on the WTA Tour so far this year. Naomi Osaka, current World No.1, has never won more than two matches at Wimbledon so her stunning results to win both the US Open and Australian Open consecutively will need to be repeated if she's to win a third Grand Slam.
Australian favourite and recent French Open winner Ashleigh Barty has possibly some of the best credentials for victory at Wimbledon but her best result on the grass of the All England Lawn Tennis Club has been the third round, so will she have the experience to go deep and possibly lift the trophy?
Simona Halep is probably the next closest challenger. She's made the semi finals of Wimbledon in the past and is at the top of her game but many will doubt that she has the required weight of shot to hit the winners that are required on the fast grass courts at Wimbledon.
Reigning champion Angelique Kerber hasn't been in great form this season and her ranking has dropped to No.6 but will her experience and ability to stay in the rally, and make the opponent play one more shot, help her to triumph again?
No preview of the Ladies Singles at Wimbledon would be complete without a mention for Serena Williams, last years beaten finalist. The greatest female tennis player of all time has excelled in the past on the grass with 7 titles to her name. She's hardly playing these days but anyone who writes her off is taking a big risk as her serve alone is enough of a weapon to see the great American go deep at Wimbledon in 2019.
Where is the tournament held?
The Wimbledon Championships are competed for every year at the All England Lawn Tennis Club (AELTC)
What dates does the tournament run?
July 1st to July 14th, 2019
What court surface is the tournament played on?
The surface is outdoor grass courts with two courts having retractable roofs that are used in case of rain
How many players and how many seeds are in the tournament?
There are a total of 128 men and 128 women in the singles and there will be 32 seeded players in the Men's draw and the Women's draw
What is the prize money and how many ATP & WTA ranking points are available?
The tournament is a Grand Slam which means that the winner receives 2000 ATP or WTA World Ranking points, with the complete breakdown of points and prize money awarded as follows:
Men's and Women's singles (GBP £)
Winner – £2,350,000
Runner-up – £1,175,000
Semifinal – £588,000
Quarterfinal – £294,000
Round 4 – £176,000
Round 3 – £111,000
Round 2 – £72,000
Round 1 – £45,000
ATP Ranking Points, Singles:
Winner – 2000 points
Runner up – 1200 points
Semi final – 720 points
Quarter final – 360 points
Last 16 – 180 points
Last 32 – 90 points
Last 64 – 45 points
Last 128 – 10 points
WTA Ranking Points, Singles:
Winner – 2000 points
Runner up – 1300 points
Semi final – 780 points
Quarter final – 430 points
Last 16 – 240 points
Last 32 – 130 points
Last 64 – 70 points
Last 128 – 10 points
Who are the reigning Champions?
In the 2018 Men's Singles, Novak Djokovic (SRB) defeated Kevin Anderson (RSA) 6-2, 6-2, 7-6
In the 2018 Ladies Singles, Angelique Kerber (GER) defeated Serena Williams 6-3, 6-3
Where can I buy tickets for the tournament?
Read our in depth article on how to secure tickets for Wimbledon 2019
How can I follow the tournament without going there?
To watch the live scores of every match in this tournament as they happen you can use the Tennishead exclusive Live Scores service here.
You can also follow this tournament on their official Twitter here
Alternatively you can watch the tennis live on television and full details of how to do this can be found here
Mens singles draw for Wimbledon 2019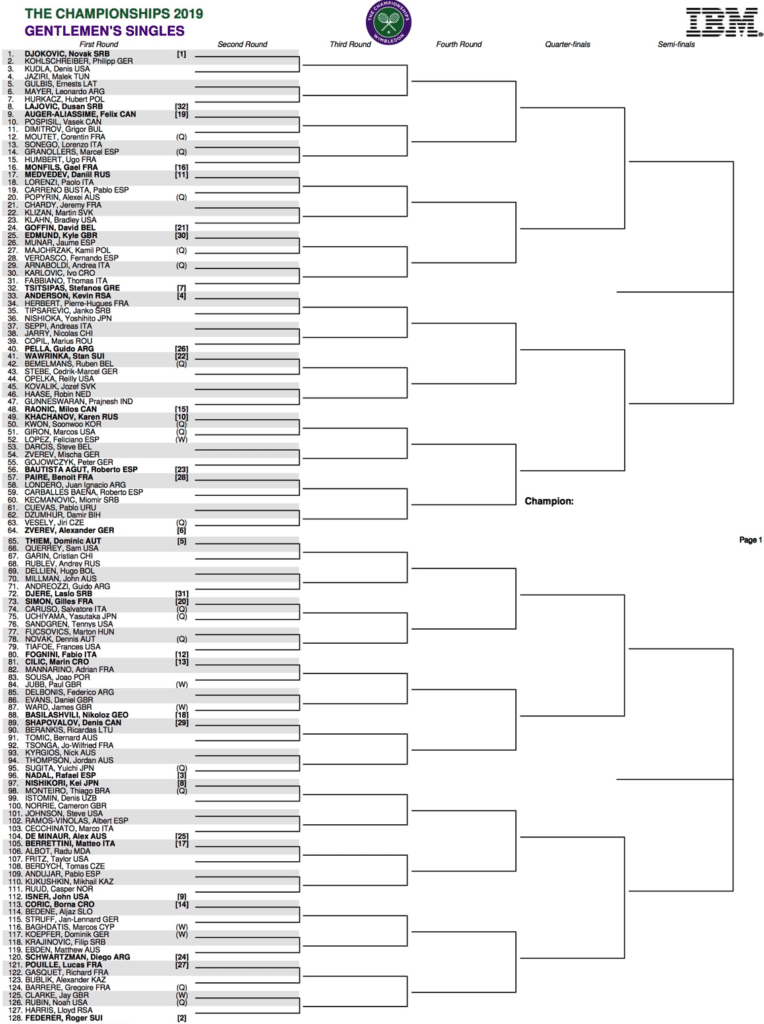 Ladies Singles draw Wimbledon 2019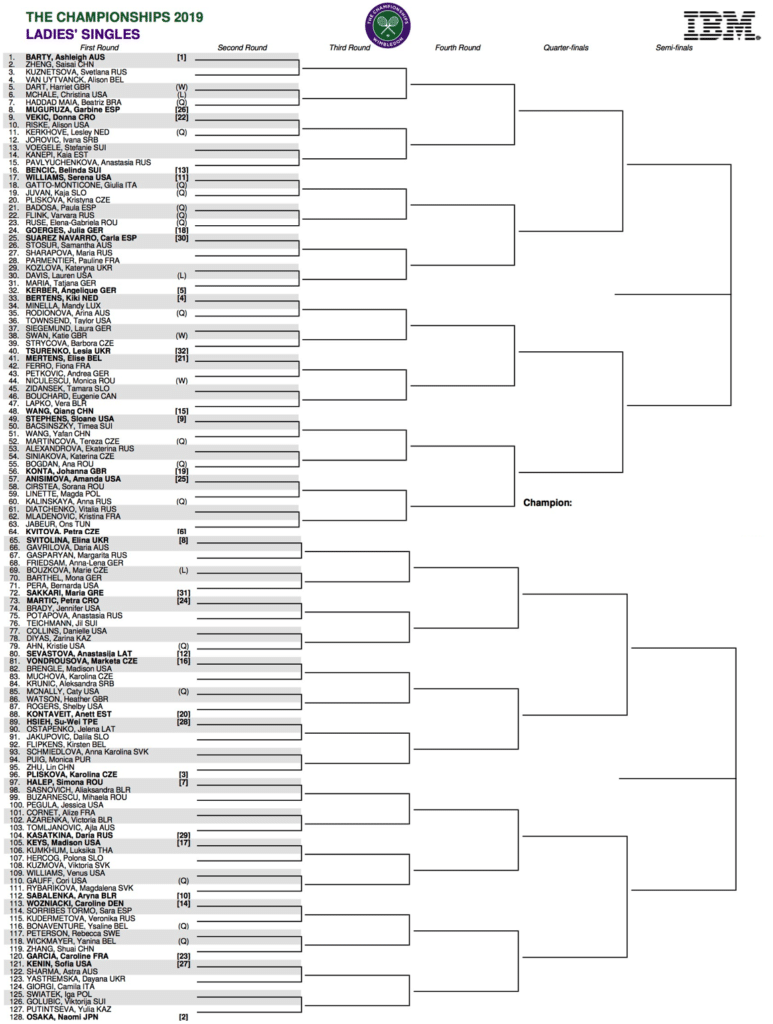 Past Champions – Men's Singles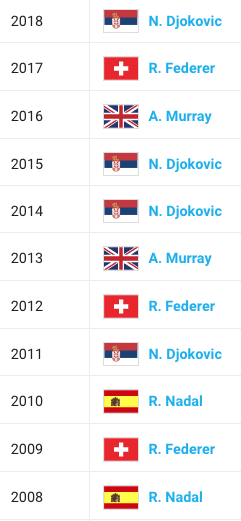 Past Champions – Ladies Singles
STOP! Now you can look ahead to Wimbledon with our exclusive, 164 page, 'Guide to Wimbledon 2019'
To find out how to get tickets for Wimbledon this year read our 9 point guide here
For all the latest Wimbledon news before, during and after the tournament make sure you bookmark our 'Wimbledon News' section here
If you can't visit the tournament then do the next best thing and read our guide on how to watch Wimbledon on television
To read more amazing articles like this you can explore Tennishead magazine here or you can subscribe for free to our email newsletter here