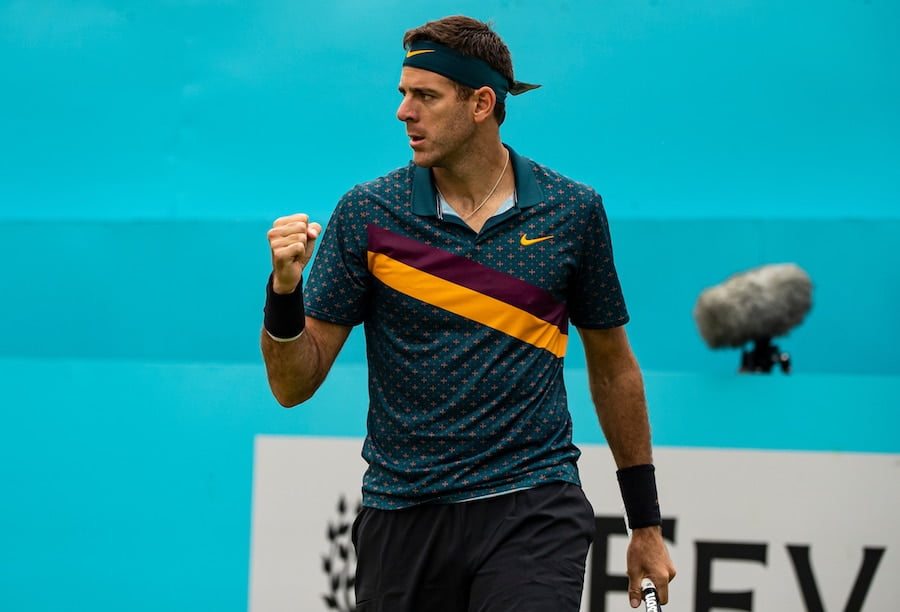 Juan Martin del Potro leaves hospital on crutches after surgery on latest injury
Juan Martin del Potro has already had treatment on his right kneecap and left the hospital just days after suffering a recurrence of his previous injury during a match at Queen's Club
Juan Martin del Potro was smiling for the camera as he hobbled out of a clinic in Barcelona with his right leg completely in plaster from toe to hip and heavy strapping around the outside.
Chau clínica ???? pic.twitter.com/36WrS9jurg

— Juan M. del Potro (@delpotrojuan) June 24, 2019

Del Potro appeared to suffer the injury during his first round match at the Fever Tree Championships whilst playing against Dennis Shapovalov. He originally fractured his right kneecap playing in Shanghai at the end of 2018. After a considerable recuperation period he started playing tournament tennis again in February of this year only to suffer another setback which meant he then couldn't play again until the Madrid open in May. Everyone thought he would soon be back to his big hitting best until this latest heartbreaking injury.
Following this latest surgery he was quick to post on Twitter that, "Surgery went well. Now entering rehab mode. Thanks for your support, I really appreciate it!".
Many fans have posted messages of concern with some asking the tough question of whether del Potro will be able to return to tennis at all, but the giant Argentinian is renowned for his fighting spirit and will undoubtedly make every effort to get back to tennis as soon as possible. At 30 years old, del Potro still has plenty of years left to continue playing, with greats such as Federer still winning ATP tournaments at the age of 37.
Del Potro is currently ranked No.11 in the world but this ranking will no doubt drop during his next injury recuperation period and he'll have to work his back to the top again.
Now you can look ahead to Wimbledon with our exclusive, 164 page, 'Guide to Wimbledon 2019'
To find out how to get tickets for Wimbledon this year read our 9 point guide here
For all the latest Wimbledon news before, during and after the tournament make sure you bookmark our 'Wimbledon News' section here
If you can't visit the tournament then do the next best thing and read our guide on how to watch Wimbledon on television
To read more amazing articles like this you can explore Tennishead magazine here or you can subscribe for free to our email newsletter here