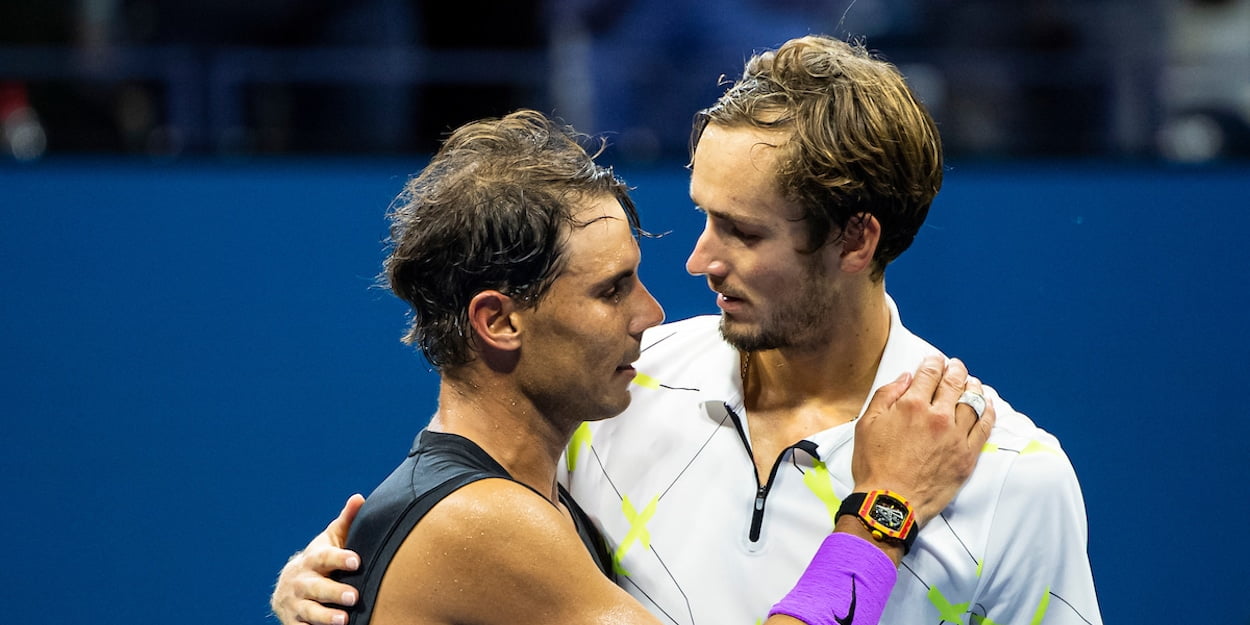 Is serve and volley dead? Not so according to the world's leading tennis strategy expert
Are tennis players ignoring a tactic that yields a huge win percentage just because they don't think it's fashionable or it seems to risky? Craig O'Shannessy says that if serve and volley is good enough for Nadal then it's good enough for everyone.
We've teamed up with the world's best tennis tactics and strategy analyst, Craig O'Shannessy, to find out how he uses statistics to help improve the games of both top professionals and amateur players alike. Craig has now agreed to give tennishead readers this expert guidance on how to harness the power of statistics to win more matches.
In this the fifth of a series of weekly articles to be published for free on tennishead.net, Craig looks at the incredible data related to amount of points you can win when serve and volleying using the astonishing numbers from the 2019 US Open men's singles final between Rafa Nadal and Daniil Medvedev to back up his analysis. Prepare to change the way you think on a tennis court forever…
Serve and volley was dead and buried until Rafa Nadal resurrected it in New York last year.
Serve and volley used to be a "gold standard" tennis strategy that delivered robust win percentages for anyone willing to venture straight to the net after hitting their serve. In 2002 at Wimbledon, serve and volley was employed 33% of the time, with players winning an impressive 67% of points.
Fast forward just six years later to 2008 and that number had dropped to 10% serve and volley points played. but it still won 68% of points. Last year at The Championships, serve and volley dropped to an all-time low of just 5% of serve points, but still delivered an incredibly high win percentage of 68%.
And then New York happened…
Rafael Nadal defeated Daniil Medvedev 7-5, 6-3, 5-7, 4-6, 6-4 in the 2019 US Open final, with a combined 49 serve and volley points exploding out of literally nowhere. To the final in New York, Nadal had served and volleyed five times in six matches, winning every point. Medvedev had also served and volleyed five times in six matches, winning four of them.
Then all hell broke loose in the final, with both players combining to serve and volley a whopping 49 times.
Here are their metrics from the final: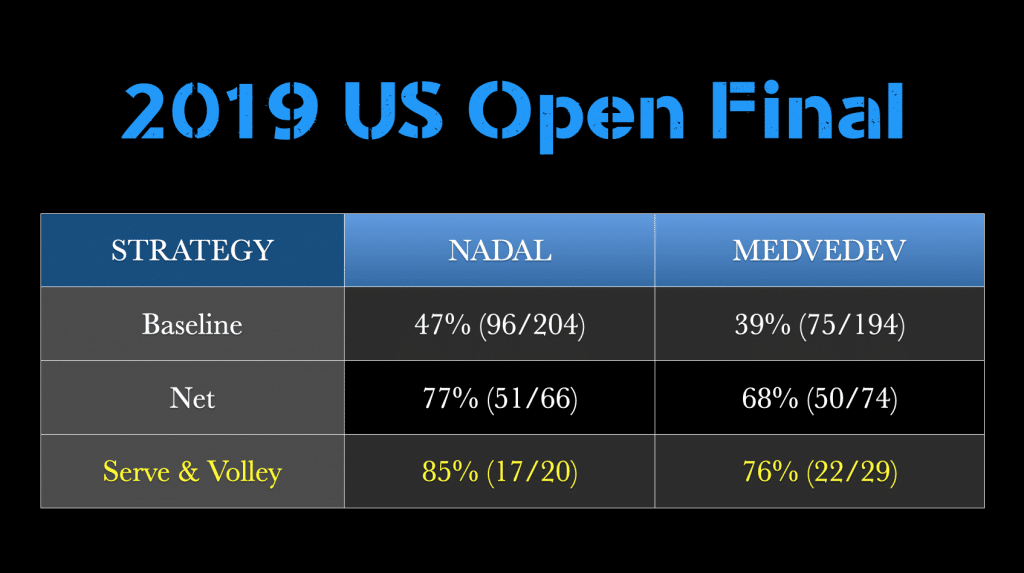 As you can clearly see, serve and volley worked amazingly well for both players. Medvedev served and volleyed just three times in the first two sets, winning all three. Why did he serve and volley 26 times in the last three sets? It's simple really… he knew the win percentages were significantly higher than staying back and trying to go toe-to-toe with Nadal from the baseline.
Nadal served and volleyed seven times in the deciding fifth set, winning six points. He also knew he had a better chance at the net than trying to play though a hard-charging Medvedev at the end of the match.
The next time you play a match and can't find a real advantage trading blows from the back of the court, try serving and volleying. If it worked for Nadal and Medvedev – who are two premier baseliners – then there is a good chance it will work for you as well.
Have you read Craig's previous strategy articles for tennishead?
---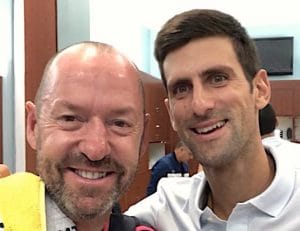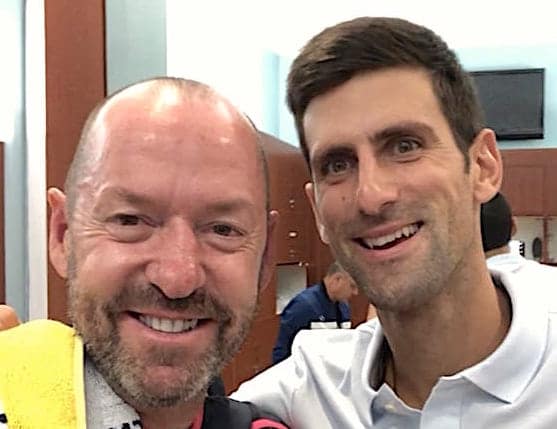 Craig O'Shannessy is the creator of Brain Game Tennis. For 20 years he's been involved in tennis as a coach to players like Kevin Anderson and also with Dustin Brown when he famously beat Rafa Nadal at Wimbledon. More recently Craig's been working as a match analyst at Wimbledon and for the ATP Tour. He has also used the unique insights from his match analysis software dartfish to guide players such as Novak Djokovic with analysis of opponents and performances.
Craig has been writing for tennishead magazine for a number of years and is now working with us on this series of features aimed at using his statistical skills to help you improve your tennis game.
Visit BrainGameTennis.com for your free guide on the '8 ways to force an error' and to find out more about Craig, the world's best tennis strategy coach.