YONEX EZone 98 tennis racket review
YONEX are a force to be reckoned with in tennis racket manufacture with an impressive list of top players choosing to wield their rackets on court, so we were excited and intrigued when the latest version of the hugely popular EZONE 98 dropped into the Tennishead office. Here's our review…
Background
Japanese sports brands are famed for their attention to detail and intense focus particularly on technology. YONEX have definitely been improving their reputation within tennis of late so can the new EZONE 98 continue that upward trend?
With both Nick Kyrgios and Alexander Bublik using this YONEX racket then there must be something in it that favours such enigmatic and talented players! YONEX created the EZONE series only 2 years and the '98' is now their 7th iteration of the series.
Maybe it's the fact that YONEX call this racket 'the easy one" that so suits Kyrgios and Bublik as both have somewhat laidback styles on court. But the frame is also favoured by Naomi Osaka and Casper Rudd and you can't say that they are both laid back on court. Quite the opposite. so how does this racket manage to favour such a wide and prestigious roster of playing professionals?
---
"I had strong hitters down the other end who were pulling me out wide but this racket allowed me return the ball back really effectively from those tough positions"
---
Technology
The four key technologies which YONEX are keen to highlight for this frame are…
2G-Namd SPEED which delivers "enhanced ball speed without sacrificing comfort"
Then there's the "thicker shaft structure with a convex design which reduces unwanted racquet torque on off-centered shots for added power" according to the manufacturers blurb.
"A thinner frame combined with a thicker beam width result in a flexible frame with added power" and finally they say "compared to a conventional round frame, Yonex's signature square-shaped ISOMETRIC racquet generates a 7% larger sweet spot that delivers greater control without sacrificing power."
To be fair, every manufacturer likes to stress the size of their sweet-spot so we needed to test this frame for ourselves to see if these lofty claims really stood out in an exhaustive Tennishead play test.
Watch as our experienced testers try out the YONEX EZONE 98
---
Buy the YONEX EZONE 98 (2022) for the lowest online price from our trusted retail partner All Things Tennis
Use discount code TENNISHEAD5 at the checkout for an exclusive 5% discount
---
The play test
Testing rackets can be down to personal opinion so it's important to remember that not every racket is right for every player and one person's discomfort can equally be another's joy. This is why we try to test rackets with a variety of players and for the YONEX EZONE 98 we have three accomplished testers with very differing game styles.
Our Tennishead play testers for this review are:
Finley – A baseline grinder who wears down his competitors. Finley has been playing tennis for 20 years and currently uses the Wilson Blade.
Ella – Labels herself an aggressive baseliner with 18 years of playing experience. She currently uses the Babolat AeroPro Team racket.
Joe – An all court player who has been playing for 15 years and plays with the Babolat Pure Aero.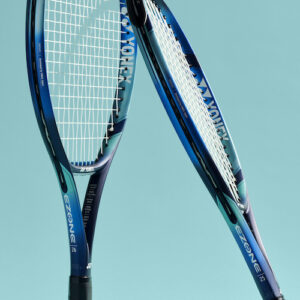 Groundstrokes
Ella: "This Yonex enabled me to get the power and spin but also the control as well. Sometimes when you play hard from the baseline it can be harder, you can sometimes lack a bit of control off certain angles. But actually it really allowed me to have that control which is really good. I had both the boys hitting down the other end so they were pulling me out wide and the racket allowed me to hit the ball back really effectively from those positions."
Joe: "The racket felt pretty natural in my hands. When I connected with the ball it really went through the court, I felt like I could hit with confidence. Plenty of power, it felt good. When I was pushed out wide and made to work hard on the forehand and backhand the Yonex works really well. I felt confident catching the ball whether I was down low or a bit higher."
Finley: "I thought it was a very easy racket to play with, very comfortable. It was nice to hit groundstrokes, top spin and slice as well. It would generate a good amount of power, felt very controllable. I didn't feel like I was not going to be able to control the ball or control my groundstrokes, so it felt really good. When forced out wide I thought the racket played really well. It never felt like I was going to lose control with the swing. I was able to hit the defensive shots that I needed to get back into court."
Volleys and smashes
Joe: "Volleys were tricky. I found it difficult to control the racket. I was either hitting the ball long or into the net. I was just struggling for feel. I felt like there was almost too much power with the volley, I couldn't keep it in the court. Smashes were good. When I said there was too much power on the volleys, there was a perfect amount of power on the smashes. It felt like I was connecting really well and hitting my spots."
Finley: "I didn't like the Yonex so much on the volleys. But I still felt I was able to control the shots how I wanted to. I still like I was able to execute with a bit of punch, or even more of a slice drop volley. I think I preferred the racket at the baseline. I felt like the racket was solid on the smashes. I felt able to generate a good amount of power, control the direction well. Didn't cause me any issues with my shoulder, it felt really good."
Ella: "Volleys I found were actually quite tricky with this racket. I usually play quite a lot of doubles so getting control on the ball is very important at the net. I found it difficult to get that control and also the feel. I think with more practice and maybe if it was strung differently I would feel a bit better with it. But I think it's something that would take a bit of time to get used to it with the volleys. The smashes were really good. The racket allowed really good power with a really crisp, clean hit from the ball as well. So I really enjoyed smashes with this racket."
Serves
Finley: "This Yonex was really good on the serve. I was able to generate a great amount of pace. The flat T serve was really nice with this racket, I really enjoyed it, probably one of my favourites. It certainly felt like I was able to get a really nice swing. It felt like my service action was really good. With the kick serve as well I felt like I was able to generate quite a lot of top spin on the ball."
Ella: "The serves felt amazing with this racket, really really good. It allowed me to get good control, power, good spin, and actually really good direction on the ball as well, really clean hits. I managed to get the spin serve as well, especially serving from the Ad side, which allowed me to get that lefty out wide serve onto a right-hander's backhand, which is one of the most effective things I use when playing a match."
Joe: "The flat serve felt like the smashes with this Yonex. I was getting close to my spots, not quite 100% accuracy, but plenty of power there. I would have liked a little bit more spin on the spin serve. But as long as I was focused and really keeping an eye on where I was hitting the ball, then I could get enough spin on it."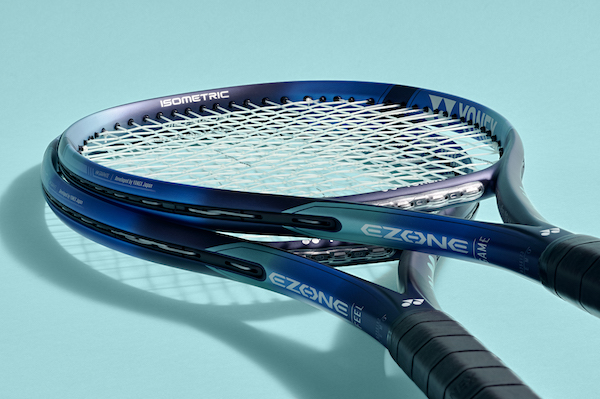 Would this Yonex suit similar styles of player as yourself?
Ella, who enjoys playing aggressively from the baseline: "Definitely. I think it's really good for aggressive players. But I think it would also be quite good if you preferred to grind the ball out because it allows you to keep that good consistent power and control. You're not going to lose any of that at any point. "
Joe, who is an all court player: "I'd say this Yonex makes me feel good about hitting from anywhere in the court. So yes, I would say this does suit an all court player."
Finley, who is a baseline grinder: "I definitely think this is more of a baseline racket. The baseline is where this racket really shines. It's a racket that I think is perfect for it."
What are your thoughts on the design and style of this racket?
Joe: "I really like the design, the colour scheme is quite piercing, gets me ready to hit through the court."
Finley: "I really like the different shades of blue, it's nice, visually pleasing. It's very smart as well, certainly one of the smarter-looking rackets I've played with."
Ella: "I love the colour scheme and design of this racket. I really like the fact that it's more kind of square at the top of the racket. It makes for a really nice professional look. I also like the stripes down the side that add a little bit of extra detail and contrast."
Is $249/£210 a fair price for this Yonex?
Finley: "I think that's a really fair price. For what you get all-round it's pretty good. I definitely liked the groundstrokes and the serves I felt were really good. So yeah, easily worth the £210 price tag."
Ella: "I think it's really good actually for £210. I think it's a really good all-round racket. Really nice design, really nice to play with as well. So yeah, really good price."
Joe: "I think that's a really reasonable price for this Yonex. It's cheaper than a lot of more specific, niche rackets. I think this does a lot more than some more expensive rackets. So definitely £210 is a good price."

The specifications
For a detailed explanation of each racket measurement criteria below have a read of our guide.
Yonex EZONE 98
R.R.P: $254/£210
Weight: 305g
Head size: 98 sq in
String pattern: 16/19
Length: 27in
In conclusion then… 
The most conclusive feedback we've had in a play test for a long time with all 3 of our testers enjoying the racket for groundstrokes and serves but finding ti hard to volley with. The control and easy power from the baseline and on serve was most noticeable but this seems to be what hindered the confidence on volleys.
This racket definitely comes out as a strong choice for a variety of playing styles and standards but it's worth having a good testing session at the net if you like to volley a lot
Buy this racket 
🎾 Free >> Join our legendary newsletter
🎾 Join >> Receive $700/£600 of tennis gear from the Tennishead CLUB
🎾 Social >> Facebook, Twitter, Instagram & YouTube
🎾 Read >> World's best tennis magazine
🎾 Watch >> How to enjoy ATP/WTA/Slam tennis on TV
🎾 Shop >> Lowest price tennis gear from our trusted partner