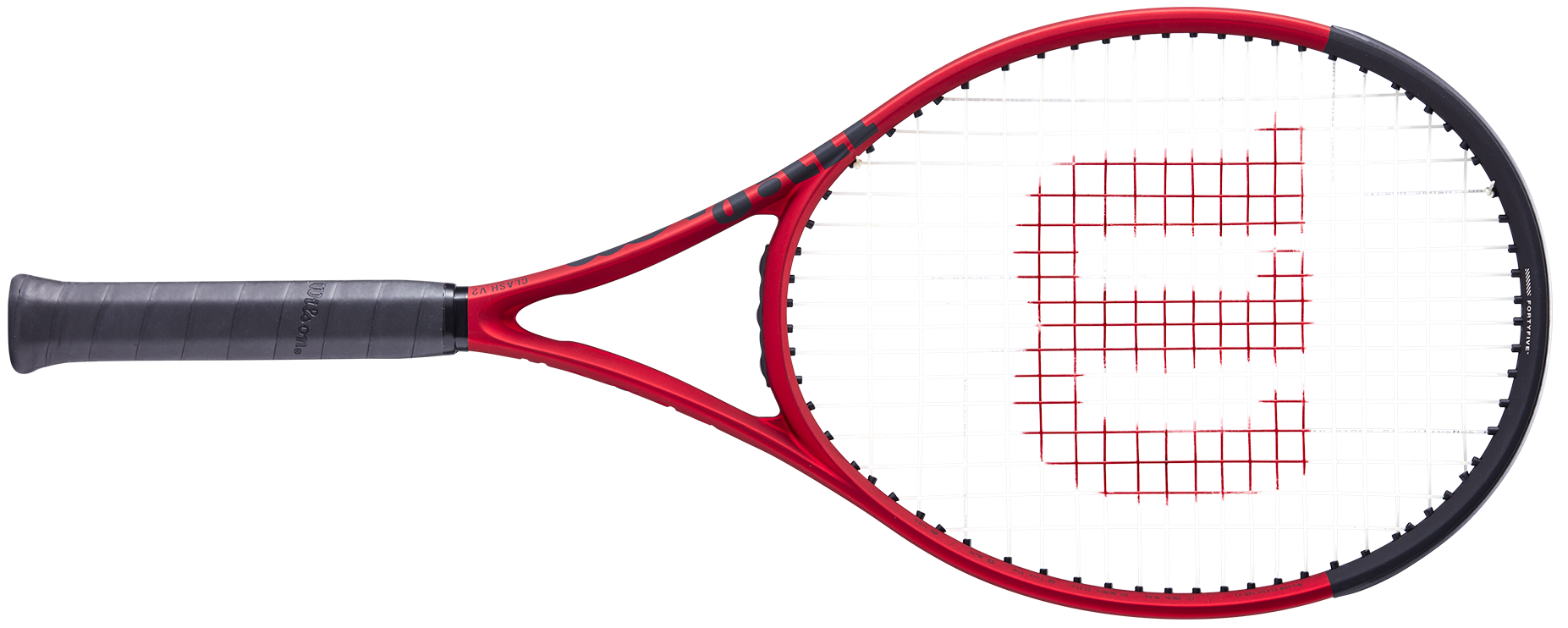 Wilson Clash 100 v2 review
One of the most reputable racket brands around, Wilson are a frontrunner in bringing the best in technology, so when we got the chance to test the new Wilson Clash 100 v2 we jumped at the opportunity!
Background
Wilson started out making tennis racket strings in 1914 before expanding into producing tennis rackets and other tennis related merchandise..
Now the brand is arguably the most recognisable name in tennis thanks in no small part to their partnerships with 20-time Slam champion Roger Federer and 23-time Major winner Serena Williams.
Other top pros that play with a Wilson racket include Stefanos Tsitsipas, two-time Slam champion Simona Halep, Gael Monfils and Aryna Sabalenka.
---
"I was able to get good power, good control and direction on the ball with this Wilson"
---
Technology
The Wilson Clash was launched to huge fanfare back in 2019. Whilst none of the American brand's well known sponsored pro's have started using this frame, it's become a bedrock of the Wilson range.
This v2 features a patent-protected carbon construction that allows the racket to bend with maximum flexibility and stability at impact, giving players of all skill levels and swing styles "more on-court confidence" say Wilson.
The grommet construction of the Clash v2 "provides a consistent, more forgiving string bed response while dramatically increasing the sweet spot".
Watch as our experienced testers try out the WILSON Clash 100 v2
The play test
Testing rackets can be down to personal opinion so it's important to remember that not every racket is right for every player and one person's discomfort can equally be another's joy. This is why we try to test rackets with a variety of players and for the Wilson Clash 100 v2 we have three accomplished testers with very differing game styles.
Our Tennishead play testers for this review are:
Finley – Is a baseline grinder who outlasts his opponents. Finley has been playing tennis for 20 years and currently uses the Wilson Blade
Ella – Describes herself as an aggressive baseliner with 18 years of playing experience and currently plays with the Babolat AeroPro Team racket.
Joe – Is an all court player who has been playing for 15 years and currently uses the Babolat Pure Aero.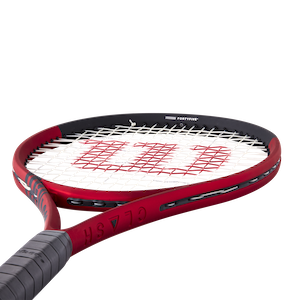 Groundstrokes
Finley: "This Wilson felt really comfortable, a really easy racket to play with. I was able to generate a lot of spin on my groundstrokes, keep in control. I didn't need to put much effort in to generate power which was good. When pushed out wide I felt I was able to get good depth off the racket to give myself recovery time."
Ella: "I really liked this racket. I've used the Wilson Blade in the past and I'm currently using the Babolat Aero Pro Team. This Wilson felt similar to my current Babolat, so it felt very natural and comfortable for me. I was able to get good power, good control and direction on the ball. From out wide I felt I could actually hit an aggressive shot back which was amazing."
Joe: "To be honest I felt a little out of my depth on the groundstrokes with this Wilson. I found it difficult to control the racket and it didn't feel as though I was hitting the ball very cleanly. I'm used to my Babolat Pure Aero, which has easier power and a bigger sweet spot. Out wide was similar, I didn't have full confidence behind my shots and was struggling to hit on the right part of the racket."
Volleys and smashes
Ella: "Volleys were great with this Wilson. They felt lovely, really good control. I was able to just hit the ball exactly where I wanted to every time. Smashes were great too. Big sweet spot on this racket, so I had really good feel and control and was able to get really good power behind my smashes."
Joe: "Similar to the groundstrokes I had to focus hard to hit the ball clean. Even when I did feel like I was connecting it didn't feel as natural as I would've hoped. Smashes were different though. It was totally fine, I had plenty of power, was hitting the spots I wanted to when I went for it."
Finley: "The Wilson felt forgiving on volleys. I wasn't able to punch the volleys but I had good control. Feels like it would be a really great racket for doubles, if someone's hitting strong shots at you. It takes plenty of power out of the shot, allows you to redistribute that power. Smashes felt really clean, even if it wasn't out of the centre of the racket, which was a nice surprise."
Serves
Joe: "Like the smashes I had plenty of control on the serves. Hitting the ball hard, hitting my spots, it felt good on the flat serve. I'm used to more spin on the second serve, and I was struggling to generate that much spin with the Wilson. Maybe I would just throw in two first serves and hit the ball flat both times."
Finley: "On flat serves the Wilson generates a lot of power, like with the groundstrokes it doesn't require a lot of power from me. The racket felt nice on the shoulder, it allowed me to generate plenty of speed with a nice service action too. I really felt I was able to get kick and spin on my serve when I wanted to as well."
Ella: "I was able to hit a really good serve with the Wilson. Really good control, power and direction. Just all around really good."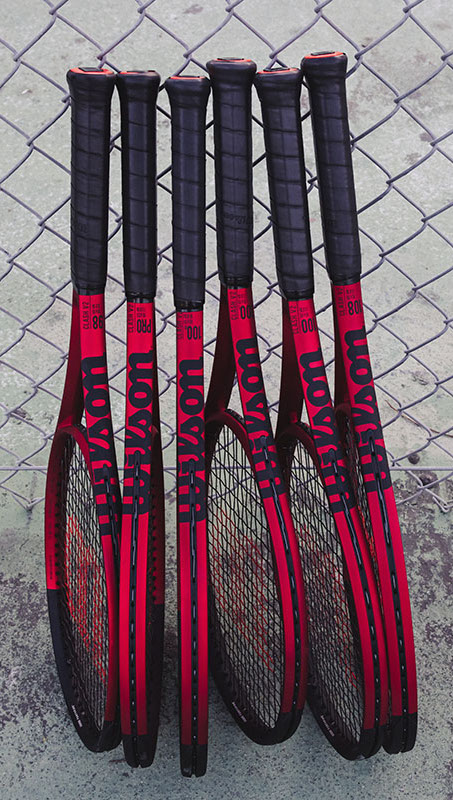 Would this Wilson suit similar styles of player as yourself?
Finley, who grinds out points from the baseline: "Yes, the Wilson is definitely more of a baseline racket. It allows you to send shots deep all day long. I don't think you'll have a problem with it at all."
Ella, who likes to be aggressive from the back of the court: "This is definitely a good racket for an aggressive baseliner. But I'd also say it's quite good if you're a doubles specialist. You can get good control on the volleys, the smashes. I think the Wilson is a really good all-round racket for all players.
Joe, who is an all court player: "Honestly I don't think the Wilson suits the all court player. I just found it too difficult to control the ball when I was pushed out wide. I don't want to be thinking too hard about where I'm hitting on the racket. I just want to be able to swing and feel good that it will go back in court and I just didn't feel that way."
What are your thoughts on the design and style of this racket?
Ella: "I like the colour scheme of the Wilson. the red and black looks really smart and professional. a really nice design, something I would definitely choose for a racket."
Joe: "I really like the design. It's sleek, it's modern. Black and red, you can't go wrong, I really like the matte finish as well."
Finley: "I really like it, gorgeous colour, really smart. It's quite a simple but really cool, classic design. Looks like a return to a more classic Wilson look."
Is $269/£250 a fair price for this Wilson?
Finley: "I think that's a fair price. It's probably the upper limit of what I'd pay for a racket myself. But, I can definitely see it being worth that because for me as a baseline player it's the kind of racket I'd like to use."
Ella: "I think that's a really good price for this Wilson. It's a really good all-round racket which would suit beginners up to advanced players."
Joe: "I think the price is quite steep. If it's exactly what you're looking for maybe. But I don't know that feeling because I just didn't feel that way about the Wilson so I think that price is too much."
The specifications
For a detailed explanation of each racket measurement criteria below have a read of our guide.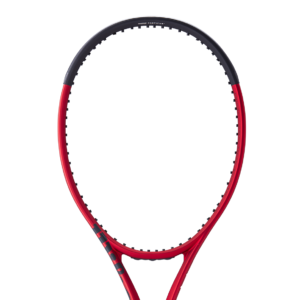 Wilson Clash 100 v2
R.R.P. = $269/£250 (at Wilson.com)
Head size = 100 sq in
Weight = 295g
String pattern = 16/19
Length = 27 inches
In conclusion then…
Has the Clash been improved by this first updated version of the original? Two of our three testers loved the racket and thought it really suited their game styles, while our third was less keen on the Wilson Clash 100 v2.
Our baseline grinder and aggressive baseliner both enjoyed this frame control offered, whether they were hitting groundstrokes, putting away volleys or smashes or lacing a serve through the court.
Finally, while our all court player felt the racket was not best suited for his style, he could see the potential of the Wilson in his smashes and serves. In conclusion, this racket is a strong all-round performer for most styles of play.
Buy this racket 
Head over to Wilson.com if you want to get your hands on the new Wilson Clash 100 v2.
🎾 Free >> Receive our legendary newsletter
🎾 Join >> Tennishead CLUB, the world's only virtual tennis club
🎾 Social >>Facebook, Twitter, Instagram & YouTube
🎾 Order >> World's best tennis magazine
🎾 Shop >> Lowest price tennis gear from our trusted retail partner