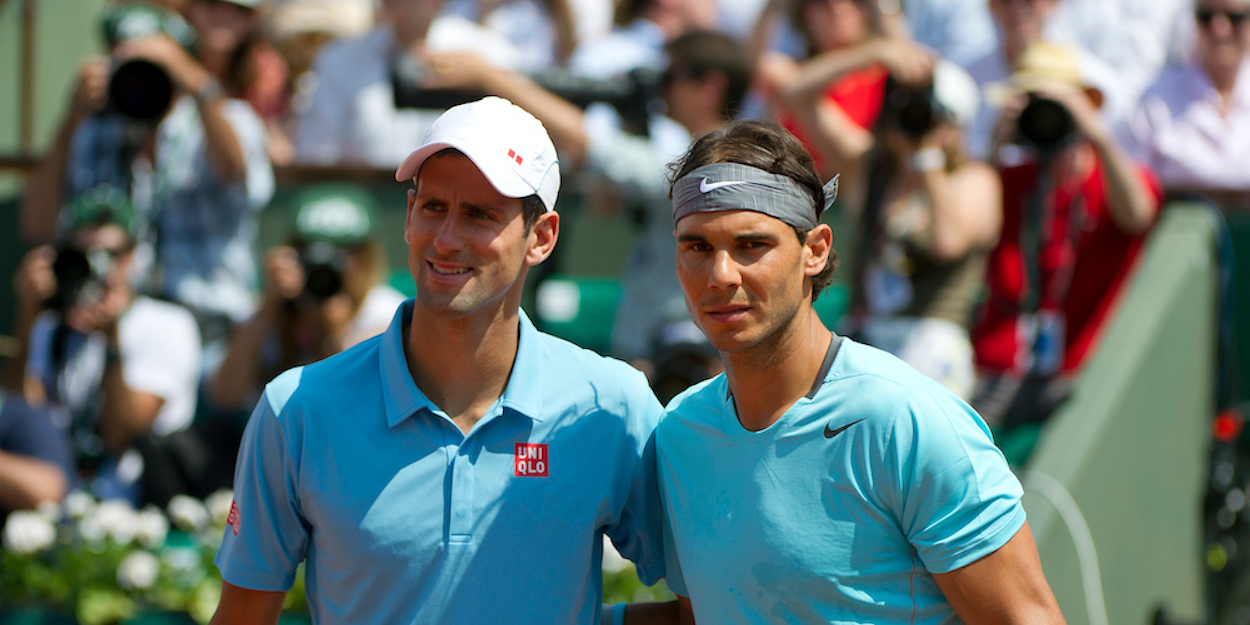 When have Rafael Nadal and Novak Djokovic NOT been in the final of the Monte Carlo Masters in the past 15 years?
Rafael Nadal and Novak Djokovic could meet in the final of the Monte Carlo Masters for a fourth time this year, but when have neither of them made it to the final in Monaco?
Rafael Nadal and Novak Djokovic have been drawn in opposite halves of the draw at Monte Carlo this year, meaning another final between the two is a strong possibility.
In the past 15 stagings of the Monte Carlo Masters, at least one of Nadal and Djokovic has appeared in the final on all but two occasions. Here, Tennishead takes a look at the two finals since 2004 that have not involved Rafael Nadal or Novak Djokovic.
1. 2019 – Fabio Fognini (13) def. Dusan Lajovic – 6-3 6-4
The most recent time that the tournament was held, Djokovic and Nadal were both involved and slated in opposite halves of the draw, setting up the possibility of a fourth final meeting. However, that plan was thwarted when Daniil Medvedev, seeded 10th and ranked No. 14 in the world at the time, defeated no. 1 seed Djokovic in the quarter-finals 6-3 4-6 6-2. Medvedev was then himself beaten by another Serbian, unseeded world No. 48 Dusan Lajovic, 7-5 6-1.
No. 2 seed Nadal made it one step further than Djokovic, falling to 13th seed and world No. 18 Fabio Fognini. Fognini defeated the Spaniard in straight sets, 6-4 6-2, to set up a final with Lajovic.
On a curious side note, Nadal has lost all 5 of his Monte Carlo career losses in straight sets.
Fognini and Lajovic each held to start the match, before trading breaks at 1-1 to make it 2-2 in the first set. Fognini then broke after holding to make it 4-2 for the Italian, before holding for 5-2. Lajovic held to stay in the set before Fognini served it out for a 6-3 first set win.
Fognini immediately broke in the first game of the second set, but could not consolidate it as Lajovic levelled at 1-1 with a break. Fognini would go on to break at 2-2 for 3-2 and hold at 4-3 to go up 5-3. Lajovic then forced Fognini to serve out the match, which he did to win 6-3 6-4.
In doing so, Fognini captured his first and only Masters 1000 title to date.
2. 2014 – Stan Wawrinka (3) def. Roger Federer (4) – 4-6, 7-6 (7-5), 6-2
The fall of Rafael Nadal and Novak Djokovic in the 2014 Monte Carlo Masters was somewhat of a mirror image of that in 2019. Nadal lost at the quarter-final stage in straight sets to compatriot and 6th seed David Ferrer, 7-6 6-4. Ferrer himself then lost in the semi-finals to 3rd seed Stan Wawrinka, 6-1 7-6.
In the other half of the draw, Djokovic made it one move further than Nadal, losing in the semi-finals to 4th seed Roger Federer 7-5 6-2, setting up an all-Swiss final.
For Federer, this was a fourth final and a real chance to conquer Monte Carlo for the first time and narrow the Masters 1000 tournaments he had yet to win down to just the Italian Open. Federer had faced Nadal in his three previous final appearances.
The opening set was a tight affair, with Federer claiming the only break of the set and staying in front until he was able to serve out the set 6-4. Federer was halfway to the trophy and a 12th consecutive win over Stan Wawrinka.
Wawrinka held his opening service game of the next set before breaking Federer on his first game serving. However, Federer broke back to love immediately, making it on serve at 1-2. The set continued that way until a tiebreak was required to decide it, which Wawrinka claimed 7-5.
Wawrinka broke Federer at the first chance to open the final set, before holding for a 2-0 lead and securing a lead cushion by breaking again to 3-0. Wawrinka held that buffer until 5-2, before serving out the match for his first and to date only Masters 1000 title.
This win represented only the second time Wawrinka had ever overcome Federer, since doing so again in the quarter-finals of Roland Garros 2015, where Wawrinka eventually lifted the trophy. Wawrinka still holds only a 3-23 record against Federer, but his win in Monte Carlo will be as sweet a memory as any.
Meanwhile, Federer has yet to win Monte Carlo, despite appearing in four finals. Alongside making four Italian Open finals in 2003, 2006, 2013 and 2015 without crossing the finish line (2006 and 2013 were against Rafael Nadal), Monte Carlo and the Italian Open remain the only two Masters 1000 titles that Federer does not own.
To read about times that Nadal and Djokovic have met in the Monte Carlo final, click here.
Bonus – 2004 – Guillermo Coria (3) def. Rainer Schuettler 6-2 6-1 6-3
In 2004, none of Roger Federer, Rafael Nadal and Novak Djokovic took part in the Monte Carlo Masters. The final was contested by world No. 4 Guillermo Coria and world No. 6 Rainer Schuettler.
Coria secured the match with relative ease, dropping just 6 games across three sets to secure the second and final Masters 1000 title of his career.
Nadal did compete in Monte Carlo in 2003, losing to Coria himself that year. The year following 2004, Nadal would win his first of 8 consecutive Monte Carlo titles, and first of 11 overall.
Bonus Bonus – French Open Final 2004
Coria had already won a clay tournament in Buenos Aires that year, before winning Monte Carlo and making the final of Hamburg before losing to Federer in the final. The Argentine still went into the 2004 French Open with a 16-1 record on the surface in 2004, and was a strong bet to hoist the title in Paris.
Despite his dominance on the clay to start the 2004 season, and only dropping one set en route to the 2004 French Open final, Coria would go on to suffer what is considered by some to be the greatest Grand Slam final collapse in history.
Facing unseeded compatriot Gaston Gaudio in the final, Coria went up 6-0, 6-3, 4-4 40-15. Coria went on to concede the third set 6-4. At the set changeover, Coria received medical treatment and was visibly hampered for the rest of the match. He gave up the fourth set 6-1 so the match would go the distance.
Coria then battled to 5-5 in the final set before breaking Gaudio to serve for the championship at 6-5. Coria went up Ad-40 for a championship point, but could not close out the match, missing a backhand up the line that could have sealed the title. Coria then missed another championship point by missing a forehand wide down the line.
Gaudio then broke and held to make it 7-6 in the fifth. Coria could not hold off Gaudio, serving at 15-40 down two championship points. Gaudio hit a backhand winner to claim a maiden and only Grand Slam title. Coria never made another Slam final before retiring in 2009 at the age of just 27.