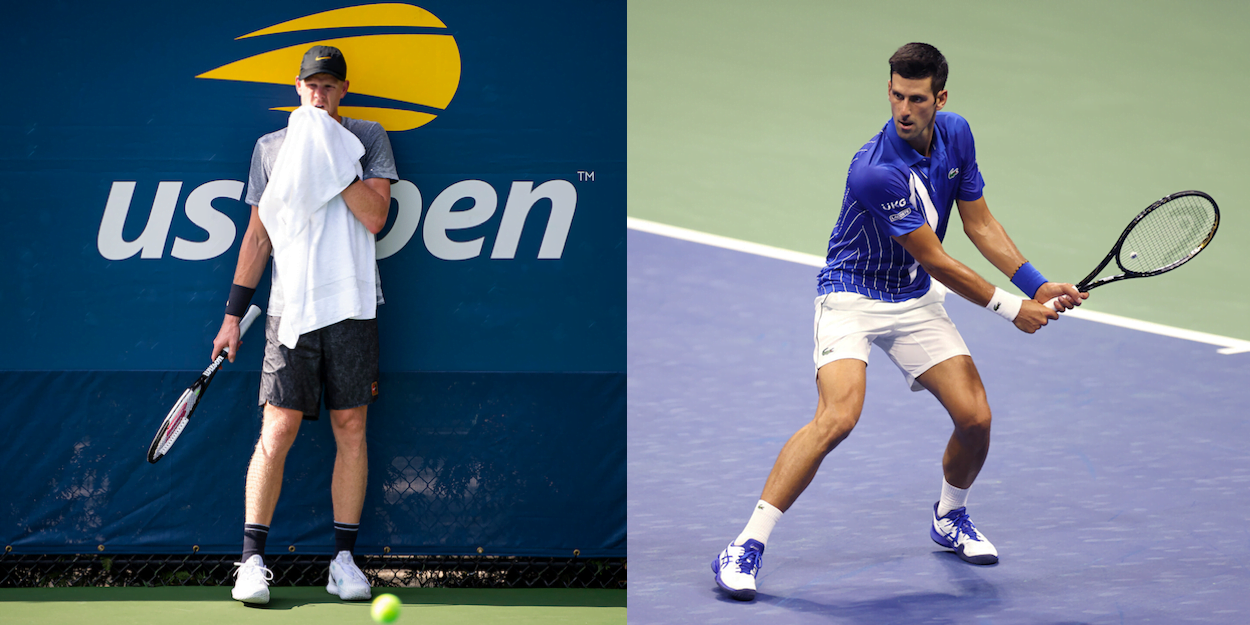 US Open live text commentary: Djokovic v Edmund, R64
Relive all of the action as it happened with our game-by-game updates from the second round clash between Novak Djokovic and Kyle Edmund at Flushing Meadows.
**This page will not update automatically so please click here or refresh regularly to ensure you don't miss out on any of the action!**
---
22:33 Game, Set and Match Djokovic
Djokovic 6-7 6-3 6-4 6-2 Edmund
Three big serves bring up three match points and Djokovic needs only one, hitting an overhead into the open court to move into the third round.
A slightly disappointing end to a match that never really caught fire, but the final result that everyone expected, and the Serb can only really improve from here. 25-0 for the season and he faces Struff in the next round.
---
22:29
Djokovic 6-7 6-3 6-4 *5-2 Edmund
With one foot out of the tournament, Edmund produces one of his best service games of the match, albeit aided slightly by a wild forehand from Djokovic on game point. Novak, with his two break cushion, will serve for the match.
---
22:25
Djokovic 6-7 6-3 6-4 5-1* Edmund
As we pass the three hour mark for the match, Djokovic holds to 15 and Kyle Edmund will serve to stay in the match.
---
22:21 Djokovic breaks
Djokovic 6-7 6-3 6-4 *4-1 Edmund
Another forehand error from Edmund gives Djokovic break point at 30-40 and a backhand out wide seals the double-break for the world No 1.
---
22:19
Djokovic 6-7 6-3 6-4 3-1* Edmund
A beauty of a forehand winner kick off the fourth game of the set for Djokovic, and a well-played drop shot takes him to 30-0. The errors are still creeping in, however, and a netted forehand made the score 30-15 before another down-the-line backhand brought up two game points.
He only needed the one, chasing down an Edmund forehand, which the Brit smashes long in response. Another loud cry from the Serb follows, as he shouts, "So much energy in here!", perhaps, just a touch sarcastically.
---
22:12
Djokovic 6-7 6-3 6-4 *2-1 Edmund
If Djokovic were playing anywhere near his best this set would have 6-0 written all over it. But he isn't, and after a couple of trips to deuce, Edmund stumbles his way to his first game of the set.
---
22:07
Djokovic 6-7 6-3 6-4 2-0* Edmund
Djokovic looking strong now and he holds with ease to 15.
---
22:05 Djokovic breaks
Djokovic 6-7 6-3 6-4 *1-0 Edmund
Ok, maybe now we can write him off…
Djokovic hits a lovely backhand to move ahead 15-30 and that soon turns into 15-40. Some great net play saved the first break point and a Djokovic error brought the game to deuce. A big forehand brings up the advantage for Edmund but he loses it with a netted backhand. A big serve gives him another opportunity but a backhand slice, this time, is his undoing.
Another game point came and went for Edmund but then Djokovic, in a rare display of magic this afternoon, hit a blistering on-the-run backhand down the line to bring up break point, and got the break when Edmund netted another ball. Djokovic, fired up, let out a scream, and he is now a heavy, heavy favourite.
---
21:53 Third set Djokovic
Djokovic 6-7 6-3 6-4 0-0* Edmund
An ace give Djokovic a 30-0 lead and another big serve gives him three set points. He sends the next out wide and backs that up with a big forehand down the line to claim the third set with deceptive ease. A huge task now for Edmund to turn this around. One might say impossible, but Djokovic is still a long way off top gear so let's not write off Edmund just yet.
---
21:48
Djokovic 6-7 6-3 *5-4 Edmund
Edmund reaches 40-0 but still cannot find his first love hold of the match. 40-0 becomes 40-30 but a fifth successive break is not to be and somehow the score is 5-4 with Djokovic again serving for the set. All bets off as to whether he succeeds.
---
21:44 Edmund breaks
Djokovic 6-7 6-3 5-3* Edmund
Incredibly, Djokovic fell to 30-40 and a backhand into the net means FOUR successive breaks of serve.
---
21:39 Djokovic breaks
Djokovic 6-7 6-3 *5-2 Edmund
A bizarre atmosphere (or lack thereof) exudes from Arthur Ashe Stadium as both players appear to struggle to fully focus on the job at hand. At 30-30… my stream cut out briefly… but Djokovic breaks back again (!) and he will serve for the set.
---
21:35 Edmund breaks
Djokovic 6-7 6-3 4-2* Edmund
From out of nowhere Edmund finds himself at 0-30 and Djokovic smacks a ball out of frustration. 0-30 turns to 0-40 and, having not had any break point opportunities since the first set, Edmund suddenly has three. Timely first serves saved the first two but an error from Djokovic was enough to unexpectedly hand one of the breaks back to Edmund.
---
21:30 Djokovic breaks
Djokovic 6-7 6-3 *4-1 Edmund
And Djokovic breaks to love without even breaking a sweat. The errors are mounting up for Edmund and the Serb has now won the last eleven points in a row.
---
21:27
Djokovic 6-7 6-3 3-1* Edmund
A blink and you'll miss it hold to love
---
21:25 Djokovic breaks
Djokovic 6-7 6-3 *2-1 Edmund
A tentative Edmund smash from the back of the court at 40-15 gave Djokovic a foothold back into the game and he capitalised by taking the score to deuce. Edmund double faulted to hand over the advantage but a a backhand error from Djokovic kept the Brit alive.
Edmund reached game point but couldn't take it, and Djokovic forced another break point opportunity, which this time he took for just the second break of the match. It could be decisive though, as Edmund is yet to break the Djokovic serve and has had very few chances to do so.
---
21:17
Djokovic 6-7 6-3 1-1* Edmund
At 30-15 Edmund had a good swing at a Djokovic second serve but sent it flying into the net, and another netted forehand gives the Serb a comfortable hold to 15.
---
21:14
Djokovic 6-7 6-3 *0-1 Edmund
Djokovic opens the set with a forehand winner and that's followed by a forehand error from Edmund. Down 0-30, Edmund recovers well, hits an ace for 40-30, and another unreturnable serve for the game. Promising start for the Brit.
---
21:04 Second set Djokovic
Djokovic 6-7 6-3* Edmund
The Djokovic error count continues to climb and all of a sudden Kyle Edmund finds himself at 0-30. He had the upperhand in the next point but Djokovic bullied his way back into it to make the score 15-30. Big serving saw him through the rest of the game and match is tied at one set all, with neither man playing at their best.
---
21:00
Djokovic 6-7 *5-3 Edmund
Sensing blood, Djokovic hits a big winner for 0-15 but then follows that up with a backhand into the net (a staple of this match) to let Edmund back in at 15-all. Likewise, 15-30 turns into 30-all, and an excellent pick-up earns Edmund the game. Djokovic to serve for the set.
---
20:55
Djokovic 6-7 5-2* Edmund
The run of comfortable service holds continues and Djokovic forces his opponent to serve to stay in the set.
A graphic on screen shows that an impressive 77% of Novak's first serves have been unreturned this set whilst Kyle is on just 22%.
---
20:51
Djokovic 6-7 *4-2 Edmund
Edmund reaches 40-0 but Djokovic pounces on a weak second serve with a backhand down the line to make it 40-15. Another second serve, however, is followed by a backhand into the net and Edmund stays alive in the second set.
---
20:47
Djokovic 6-7 4-1* Edmund
Another service hold to love, in part thanks to two aces, and already this set feels over and done with. A huge difference compared to the first which lasted a whopping 66 minutes.
---
20:43 Djokovic breaks
Djokovic 6-7 *3-1 Edmund
At 0-30, Djokovic lets Edmund off the hook with a forehand straight into the net. The respite doesn't last long, however, as 15-40 turns to game with an untimely double fault. Djokovic leads in the second set with the first break of the match.
---
20:39
Djokovic 6-7 2-1* Edmund
At 40-0, Djokovic shanks a wild forehand but he makes up for it with an ace to follow Edmund's example and hold to 15. Many of Djokovic's recent service games have felt quite easy, and whilst Edmund has the one set lead, one can't help but feel the Serb is still a strong favourite for the match.
---
20:35
Djokovic 6-7 *1-1 Edmund
Edmund reaches 40-0 but cannot close out his first love service game of the match. He can, however, close it out to 15 with a powerful forehand winner.
---
20:32
Djokovic 6-7 1-0* Edmund
Well, who saw that coming? It hasn't been a fluid start from either man but in these situations it tends to be the world No 1 who ups his level first. Not today. He follows up that first set disappointment with a slightly shaky hold to 30.
---
20:26 First set Edmund
Djokovic *6-7 Edmund
Make that 10-1…
Edmund takes the early mini-break at 2-0 but Djokovic responds with a huge second serve ace to make it 2-1. A very poor Edmund drop shot gifts the mini-break back at 3-2 and the score is tied at 3-3 for the change of ends. Djokovic takes the lead for the first time at 4-3 with a well controlled drop volley, but then an equally poorly executed drop shot makes it 4-4.
Djokovic hits wide to give Edmund a set point opportunity on his own serve at 6-5. A huge ace down the T and the Brit takes the opener after more than an hour of play. Could be a looooong evening ahead of us.
---
20:14
Djokovic 6-6* Edmund
An ominous third consecutive love hold for Djokovic. Edmund's sole break point opportunity seems a long, long time ago now.
Tie break time! And Novak in 10-0 in them so far this year…
---
20:11
Djokovic *5-6 Edmund
A simple error sees Edmund fall to 0-15 and on the next point Djokovic forces him to take on a difficult passing shot, which he misses, and the score is 0-30. The Serb, however, fails to take advantage of an Edmund second serveand the Brit rallies to win the next four points in a row, guaranteeing himself at least a tie-breaker in this first set.
---
20:06
Djokovic 5-5* Edmund
Serving to stay in the set, Djokovic begins with a big serve out wide that Edmund can't return. This quickly turns into a second love hold and the pressure is immediately turned back onto the Brit.
---
20:03
Djokovic *4-5 Edmund
Edmund holds to 15 with little pressure from his opponent. It has been a match defined by errors more than winners so far.
---
19:59
Djokovic 4-4* Edmund
And Djokovic produces the first love hold of the match. No fireworks yet from either man but still a long way to go.
---
19:55
Djokovic *3-4 Edmund
Djokovic has been throwing in a lot of drop shots today but has gained very little from them so far. Edmund runs one down to open the game and moves to 40-0 before handing his opponent a lifeline with a double fault. A backhand return goes long, however, and the British No 2 holds to 15.
---
19:51
Djokovic 3-3* Edmund
From 40-0 down, Edmund recovered to 40-30, but a blistering winner from Djokovic seals the game.
---
19:46
Djokovic *2-3 Edmund
At 15-30, a monster rally goes Edmund's way, which he finishes with a well-placed smash, and he takes the next two points for a relatively comfortable hold. If there is such a thing against Djokovic.
---
19:41
Djokovic 2-2* Edmund
A double fault from Djokovic makes it 0-30 but an ace soon after levels things at 30-30. Djokovic hits a poor drop shot to allow Edmund a break point opportunity, but he duly saves that and wins the next two points to hold.
---
19:36
Djokovic *1-2 Edmund
Powerful baseline hitting from both men but Edmund goes a little too big to fall 30-40 down. He saves the break point and takes the advantage but Djokovic reclaims deuce with a well-timed drop shot. Kyle then dumps a forehand into the net to give Novak another opportunity to break but saves it with a powerful crosscourt backhand.
After five deuces, and having saved three break points, the Brit hits a confident smash to squeeze through and hold serve.
---
19:23
Djokovic 1-1* Edmund
Leading 40-15, Djokovic puts a drop shot attempt into the net but a forehand error from Edmund on the next point levels the opening set.
---
19:21
Djokovic *0-1 Edmund
Novak wins a lengthy rally to kick things off but a backhand slice into the net levels things at 15-15. A few more uncharacteristic errors from the world No 1 later and Edmund leads 1-0 as a shirtless Dominic Thiem watches on from above.
---
19:12
Kyle Edmund correctly picks tails on the coin toss and will be serving first in just a few minutes' time.
"He'll have to play the match of his life to beat this man," is the view from the studio. I'll let you decide who 'he' refers to.
---
18:58
A Boggle-themed hype package from Prime Video for the upcoming match. Why not, I guess. Edmund claims the pressure is all on Djokovic but Djokovic says he embraces pressure and has no problems with it.
No pressure, then.
---
18:55
Not long, it turns out. The sixth seed, Petra Kvitova, wins 7-6 6-2 and moves into the third round. Djokovic and Edmund will be out on court very soon.
---
18:44
Kvitova now leads by a set and a double break and in all likelihood this match won't last much longer. That said, Varvara Gracheva just came back from 6-1 5-1 down to beat Kristina Mladenovic so who knows how long we left really.
---
18:20
Kozlova and Kvitova have only just finished the first set (7-6 to Kvitova) so a 18:30 start for Djokovic and Edmund seems highly unlikely… Let's all reassess at 18:45
---
13:39
Djokovic, the heavy favourite for the men's title, won the Western & Southern Open last week and raced through his first round US Open match on Monday, beating Damir Dzumhur 6-1 6-4 6-1. The Serbian world No 1 is 24-0 for 2020 so far and is chasing a 4th US Open title and 18th Grand Slam title overall.
Edmund, meanwhile, currently ranked world No 44 and British No 2, beat the volatile Alexander Bublik in his first round match, coming through a topsy-turvy encounter 2-6 7-5 7-5 6-0. At the New York Open, all the way back in February of this year, Edmund picked up his second ATP World Tour title, but beating a motivated Novak Djokovic over five sets on Arthur Ashe Stadium will be a much tougher task.
The pair's head-to-head is 5-1 in Djokovic's favour and 4-0 on hard courts. They have played once before at the US Open, in the fourth round of the 2016 event, with Djokovic winning convincingly, 6-2 6-1 6-4. Of the sixteen sets they've played, Edmund has won just three but, to give the Brit a glimmer of hope, one of those was the opening set of their third round Wimbledon clash in 2018 so he's proved before that he can trouble the top seed on a big stage. Edmund's lone win against Djokovic came on the Madrid clay, also in 2018.
Today's match will be played second on Arthur Ashe Stadium following the second round women's singles match between Kateryna Kozlova and Petra Kvitova. That match begins at 17:00 BST and as soon as it comes to a finish we'll be updating this page with live commentary of Djokovic v Edmund, with an estimated start time of 18:30 BST.