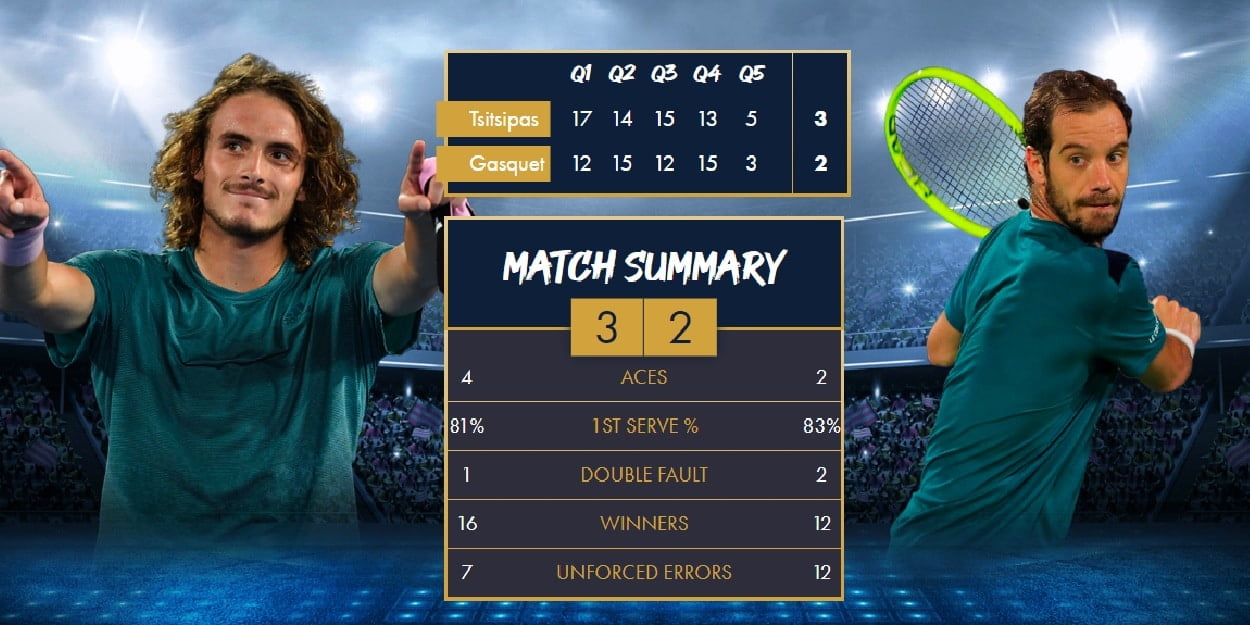 Tsitsipas beats Gasquet in sudden death UTS thriller
Stefanos Tsitsipas took on Richard Gasquet in the headline match on day two of the Ultimate Tennis Showdown. Both men had won their opening matches on day one and the pair provided a late night spectacle, perhaps the best match of the tournament so far, as Tsitsipas barely squeezed out the win, coming through 5-3 in sudden death.
Tsitsipas, in a slight change from his opening match against Benoit Paire, opted for the 'x3 Winner' UTS Card alongside the ever popular 'Steal Serve'. Against Paire he had hit an abundance of winners but had not been able to capitalise on them (not that he needed to with the way he dominated the majority of the match) as he had picked '-1 Serve' instead of 'x3 Winner'. Gasquet, a man equally capable of hitting winners out of nowhere, chose the same combination.
It was "The Greek God" who opened play and the pair proved to be evenly matched in the early stages. At 6-4 down, Tsitsipas's coach, his father Apostolos, called a time-out and encouraged his son to, "try to attack more, please." The match remained fairly even as Gasquet called to use his 'x3 Winner' whilst serving at 8-6 up, but Tsitsipas here made the breakthrough and won both points before using his own 'Steal Serve' and forging a two-point lead of his own at 11-9. Feeling revved up, Tsitsipas used his 'x3 Winner' whilst leading 12-10 and on his second opportunity he got the clean winner and forged ahead 15-11 with just a minute left to play. He held onto the lead to take the quarter 17-12.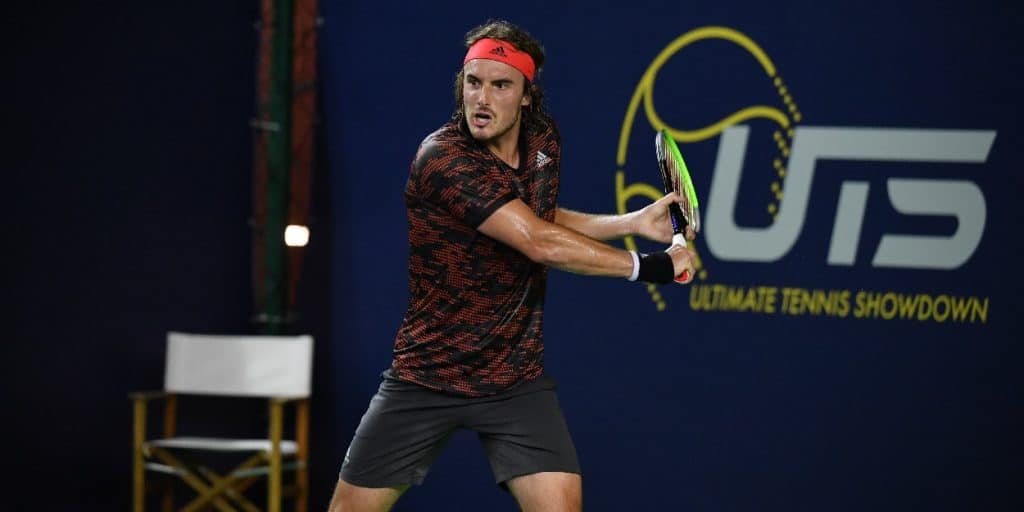 Early in the second quarter Gasquet hit a spectacular trademark backhand down the line to recover from 3-1 down and then levelled the score at 3-3. In an attempt to seize the momentum, he then chose to 'Steal Serve' but the points were split as they were when Tsitsipas tried the same tactic shortly after, bring the score to 8-8. Gasquet then opted to play his 'x3 Winner' card. He lost the first point but then hit another stunning backhand winner on the second to take the advantage 11-9. The Greek world no. 6 responded in kind by using the same card and achieved the exact same result, and so the score was once again tied, this time at 12-all. Gasquet held his two serves to lead 14-12, and with just a minute to play Tsitsipas does the same, intercepting a great passing shot attempt along the way. With seconds remaining, Gasquet served once more, Tsitsipas could not find the return and so the Frenchman scraped through a 15-14 winner.
The disappointment of losing such a tight quarter did not hinder Tsitsipas as he took an early lead in the third, but a lucky net cord for Gasquet pulled him back to 5-4 and then an ace levelled the score. At 6-6, Gasquet used his 'x3 Winner' and after losing the first point he hit a second serve ace to move ahead 9-7. Tsitsipas hit back with his own 'x3 Winner' and won both points, albeit not with clean winners, and so once again there was nothing to separate the two players. The breakthrough finally came, however, as Tsitsipas chose to 'Steal Serve' and took full advantage. Amidst some confusion over Gasquet's team attempting to call a coaching time-out, Tsitsipas built up a 14-10 lead and rode it out to claim the quarter 15-12, and take a 2-1 lead.
Gasquet entered the fourth quarter needing to win it to force sudden death but was immediately pushed back by a return winner from his opponent. This did not dampen "The Virtuoso's" spirits, however, as he soon found himself 6-2 up. Tsitsipas gambled his 'Steal Serve' but lost both points, the second of which he forfeited through an untimely double fault. 8-2 down, the Greek's team called another time-out and once more his father's key message was to attack. He responded well to the advice by hitting a big winner to block Gasquet's 'x3 Winner' effort before using his own card and swiftly improved from 9-3 down to just 9-7.  Gasquet, however, was unperturbed, holding and then stealing serve to take a 12-10 lead as the quarter reached the closing minutes. The pair continued to trade holds until 14-12 when Tsitsipas found the chink in Gasquet's armour to make it 14-13 with 30 seconds to play. There was time to play one more point, but Tsitsipas could not repeat the feat and Gasquet held firm to win 15-13 and force sudden death with the match tied at two quarters apiece.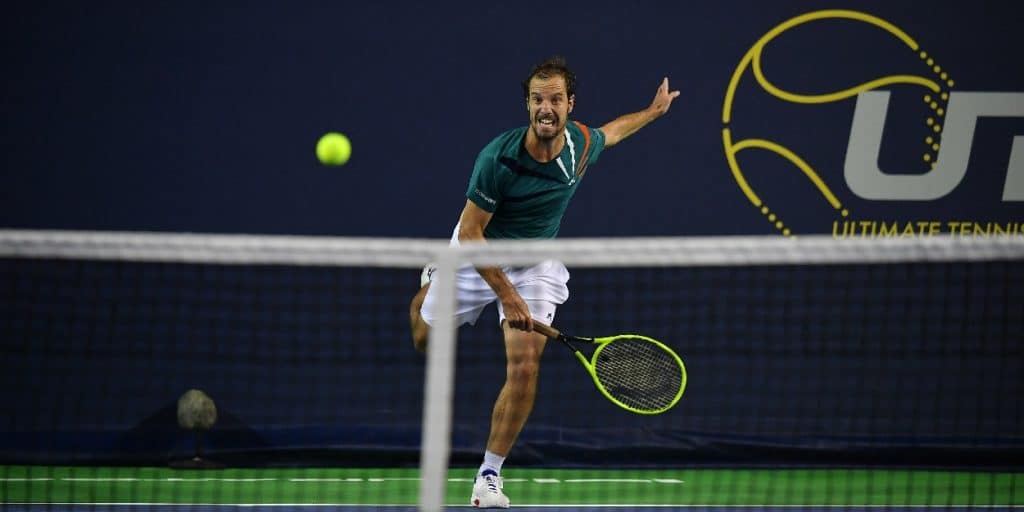 In sudden death the players serve once alternately and need only win two consecutive points to win, meaning that all bar the very first are match point opportunities. Tsitsipas served first and held after a great rally from both men. This gave him the first match point but Gasquet held with an unreturnable first serve. The players continued in this vein until Tsitsipas hit an overhead smash winner to lead 4-3, after which Gasquet netted a backhand on his own service point, giving Tsitsipas the slenderest on wins as he took the match 17-12 14-15 15-12 13-15 (5-3). The stats showed that there was very little between the two, with both having impressive first serve percentages above the 80% mark, but it is "The Greek God" who joins Berrettini and Popyrin as the only players with unbeaten records at the end of day two.
In the day's other results, Elliot Benchetrit, who was just filling in this weekend for the otherwise engaged Dominic Thiem, edged past Lucas Pouille, 3-2. Benoit Paire beat Dustin Brown, which you can read about in detail here, and Matteo Berrettini went up 3-0 against David Goffin before the Belgian fought back to make the final score 3-1. In the night session's other match, 20-year-old Alexei Popyrin recorded his second win of the weekend by downing 38-year-old veteran Feliciano Lopez also by a score of 3-1. The next round of action will take place on Saturday 20th and Sunday 21st June.