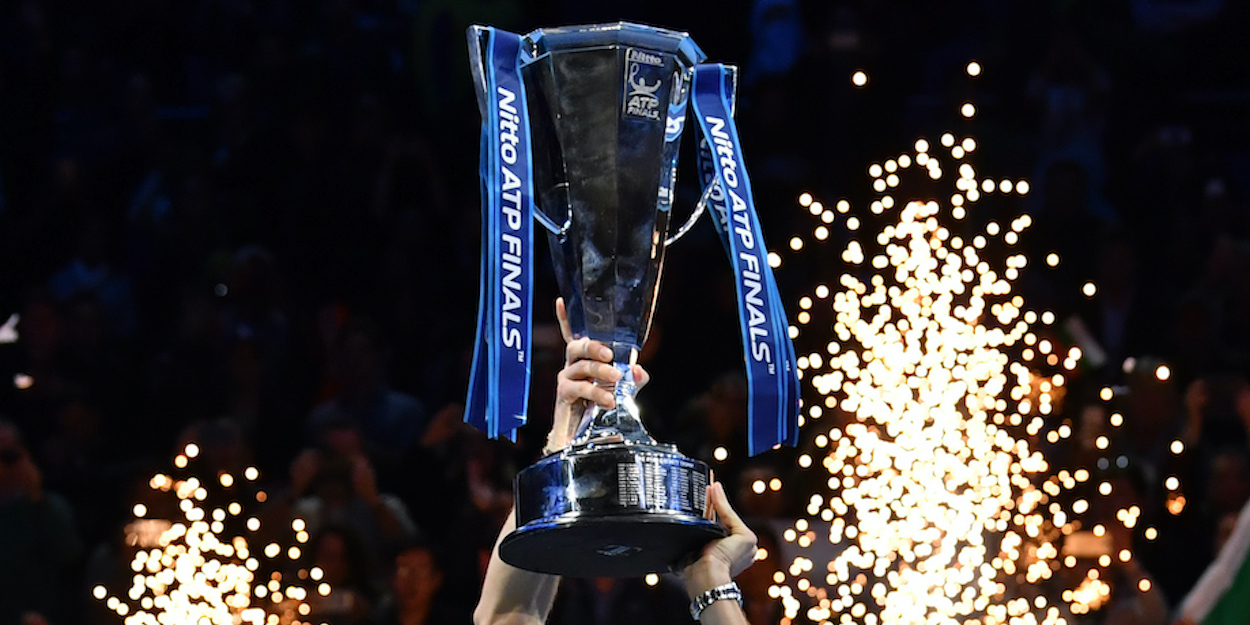 Top 5 players with the most ATP singles titles
Come along as we review the men who have won the most titles in their careers on the ATP tour in the Open Era.
5. Novak Djokovic – 85 (ongoing)
The Serbian legend registered his first career win on the ATP tour all the way back in September 2004 in Bucharest. As 17-year-old, he defeated world number 67 Arnaud Clement while ranked 272 in the world.
His first ATP final came nearly two years later in Amersfoort in the Netherlands. He defeated Nicolas Massu that day to claim the clay court title as his first on the tour.
He added Metz later that year, and has won at least two titles every season since. Djokovic has won five or more titles in a season nine times in his career. He has won 10 or more twice, in 2011 and 2015.
In 2011, the Serb won the Australian Open, Wimbledon and the US Open. He also won five Masters 1000 titles at Indian Wells, Miami, Madrid, Rome and Canada. Finally, Dubai and Belgrade made it 10 on the year.
But 2015 was the most magnificent for Djokovic. In that season, the world number one won six of nine Masters 1000 titles, three of four Slam titles, an ATP 500 in Beijing and the ATP Finals for 11 titles in all.
Djokovic has 20 Slam titles, five ATP Finals titles, 36 Masters 1000 titles, 14 ATP 500 titles and 10 ATP 250 titles for a total of 85 singles titles on the tour.
4. Rafael Nadal – 88 (ongoing)
Nadal's first career title came in Sopot, Poland, on clay (obviously) as an 18-year-old.
The following season, the Spaniard won an astounding 11 titles on the ATP tour. These included four Masters 1000 titles, including all three played on clay. A maiden Roland Garros title was among the 11 too, plus five more on clay and one on hard courts in Beijing.
Nadal registered another season with a double digit tally of titles, in 2013. That year, the legend won Roland Garros and the US Open, five Masters 1000 titles plus three more on clay in Sao Paulo, Acapulco and Barcelona.
Nadal has won at least two titles every year since 2005. He has 20 Slam titles, 36 Masters 1000 titles, an Olympic gold medal, 22 ATP 500 titles and nine ATP 250 titles for a total of 88 titles. 62 of those titles have come on clay.
3. Ivan Lendl – 94 
The Czech great won his first title in Houston in 1980 as a 20-year-old, and went on to claim six more titles that same year.
Between 1980 and 1991, Lendl won at least three titles every year on the tour. He won 10 or more titles in a season on four occasions: 1981, 1982, 1985 and 1989.
In 1981, Lendl won two outdoor hard tournaments, three outdoor clay tournaments and four indoor hard tournaments before claiming the tour finals at the end of the season for 10 titles on the year. Lendl won five more than that in 1982 for a total of 15, including defending his tour finals crown.
Lendl won 11 titles in 1985, including the US Open and Masters tour finals. In 1989 it was 10 titles, including the Australian Open at the start of the year.
Overall, Lendl captured 94 career titles, including eight Slam titles and five tour finals.
2. Roger Federer – 103 (ongoing)
Federer won his first ever title as a 19-year-old in Milan, Italy, on indoor hard courts. He did not win another title the rest of the year, winning three more in 2002.
2003 was the Swiss' breakout year, winning seven titles including a maiden Slam title at Wimbledon and a first tour finals title in Houston, Texas, USA.
For the following three seasons, Federer won more than 10 titles a year. In 2004, he won three Slams and three Masters 1000 titles. He further won four more tournaments and the tour finals once more for 11 titles on the year.
In 2005 he again won 11 titles. They were Wimbledon and the US Open, four Masters 1000 titles plus five others. In 2006, as in 2004, Federer won three of the four slams. He also won four Masters 1000 titles and the tour finals for a third time. Overall, Federer won 12 titles in 2006.
Over his career, Federer has won 20 Slam titles, six ATP Finals, 28 Masters 1000 titles, 24 ATP 500 and 25 ATP 250 titles. His grand total tally is 103 tour titles.
1. Jimmy Connors – 109 
Connors won six titles in his first season on the ATP tour back in 1972. He went on to have four season with more than 10 or more titles: 1973, 1974, 1976 and 1978.
His most prolific was 1974, when Connors won 15 titles including three Slams at the Australian Open, Wimbledon and US Open.
Connors won 11 titles in 1973 and 12 in 1976, including the US Open. In 1978, the American won 10 titles, again including the US Open. Connors won 109 titles over his career.