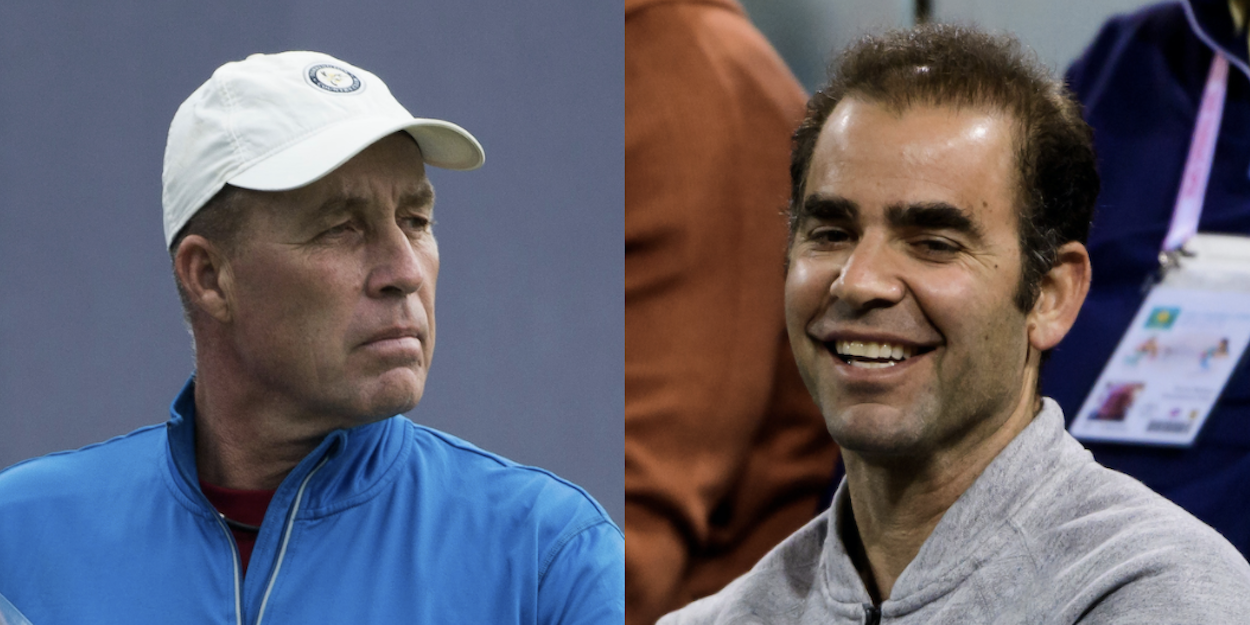 Top 5 ATP players with most weeks at World No. 1
Here, Tennishead chronicles the five men who spent the longest time at the very pinnacle of the ATP rankings hierarchy.
26 different players have held the number one spot since the ATP introduced an official ranking system in August 1973.
Join us for a look at those who led the men's game for the longest time over their careers.
5. Jimmy Connors – 268 weeks
The eight-time Slam champion enjoyed more than five years total atop the ATP rankings. Connors' first stint in the top spot came in July 1974. This was just under a year since the rankings system was first introduced.
Connors was the third man to officially claim the title of world number one, behind Ilie Nastase and John Newcombe.
His rise to number one came just three weeks after his first Wimbledon title, where Connors defeated Ken Rosewall in straight sets for the loss of just six games.
This was just a second meeting between the two men, Rosewall having won their first encounter. Later that same year, Connors again beat Rosewall at the US Open in the most one-sided men's Slam final ever.
Connors defeated Rosewall 6-1, 6-0, 6-1 in under 80 minutes on-court. Rosewall would never overcome Connors again, the American eventually securing a 7-1 win-loss record over the Australian.
In 1975, Connors reached the final of all three Slams he played, the Australian Open, Wimbledon and US Open. He was defending champion at each one, but lost in the final at all three Majors, to John Newcombe, Arthur Ashe and Manuel Orantes respectively.
Before the number one run finished, Connors claimed a second US Open title in 1976 and reached a third Wimbledon final in 1977, losing to defending champion Bjorn Borg.
Borg ended Connors' run at 160 weeks just prior to the US Open that year. However, the Swede held the spot for just one week before the American reclaimed the position for another streak of 84 weeks.
In that time, Connors reached yet another Wimbledon final and yet again lost to Borg, before reaching a fifth consecutive US Open final and clinching a third title with revenge over Borg.
Connors accumulated 24 more weeks at world number one across seven more runs in the top spot, none longer than seven weeks. He tussled for the position with Borg, John McEnroe and the next man on this list, Ivan Lendl.
4. Ivan Lendl – 270 weeks
Lendl first achieved the number one ranking before ever claiming a Major title. He first topped the ATP rankings in late February 1983 at the age of 22, claiming it from Connors.
The Czech remained there for 11 weeks before Connors reclaimed the crown. Lendl would achieve the top spot five more times for a total of 22 more weeks before September 1985 and the US Open of that year.
Now with a Slam title under his belt from 1984, Lendl was ready to fight in New York. He reached the US Open final for a fourth year running, and finally triumphed by conquering defending champion John McEnroe. McEnroe had defeated Lendl in straight sets in 1984, the Czech now inflicting the same margin on the American.
From there, Lendl claimed the top spot for a seventh time, and would not relinquish his grip for three whole years. In that time, Lendl claimed four more Major titles from seven finals. He secured back-to-back Roland Garros titles in 1986 and 1987, plus added the 1986 and 1987 US Open titles to his first in 1985 for three on the bounce.
The run of 157 weeks was finally ended by Mats Wilander, when the 24-year-old overcame Lendl in the 1988 US Open final 6-4, 4-6, 6-3, 5-7, 6-4 to snatch number one from the Czech. This was the seventh of what would eventually be eight consecutive US Open finals for Lendl.
Lendl soon re-established himself atop the rankings when he won his maiden Australian Open title in 1989, beating Miroslav Mecir 6-2, 6-2, 6-2 in the final. He reached the US Open final again that year, losing to Boris Becker, before successfully defending his Australian Open title, defeating Stefan Edberg in the championship match there.
After 80 weeks at number one, Lendl was eventually ousted by Edberg in August 1990. Lendl would never again top the ATP rankings, reaching one more Slam final at the 1991 Australian Open. He lost to Boris Becker there.
3. Pete Sampras – 286 weeks
Sampras first achieved the number one spot at the age of 21 in April 1993. He had one Major to his name by then, the 1990 US Open.
The American held the number one spot for 19 weeks consecutively. During that time he captured his first Wimbledon title, defeating Jim Courier over four sets in the final.
Courier took the number one spot from him just before that year's US Open. But just three weeks later Sampras reclaimed it. Courier had fallen in the fourth round of the New York Major to 15th seed Cedric Pioline. Sampras then defeated Pioline in straight sets in the final for his second US Open title.
From there, Sampras added 82 straight weeks to his tally as world number one. He further added two more Majors in this time: a maiden Australian Open title, defeating Todd Martin at the 1994 event; and a second successive Wimbledon title, defeating Goran Ivanisevic.
Sampras won both finals in straight sets. He then reached the 1995 Australian Open final. There he lost to Andre Agassi, the same man who would succeed Sampras as number one in April of that year.
Sampras had two more short stints at number one of 12 and three weeks respectively, before his fifth time atop the rankings proved to be his longest run.
Sampras spent 102 straight weeks, nearly two years, in the top spot from April 1996 until the end of March 1998. Over that period, the American added a second Australian Open title (1997), plus a fourth and fifth Wimbledon titles in 1997 and 1998.
1998 was the only Wimbledon final when Sampras was ever pushed to five sets. Ivanisevic once again lost to Sampras there, 6-7 (2-7), 7-6 (11-9), 6-4, 3-6, 6-2.
After Marcelo Rios took the crown of number one from Sampras in March 1998, the American would top the rankings a further six times up until his last reign in November 2000. In that time, Sampras accrued 53 more weeks total in the top position for an overall tally of 286 weeks.
2. Roger Federer – 310 weeks
Not only does Federer sit in second place in terms of weeks at number one, he by far holds the outright record for longest consecutive streak in the position.
After winning his first two Slam titles at Wimbledon 2003 and the 2004 Australian Open, Federer first topped the ATP rankings on 2nd February 2004.
He would stay there for more than four years, a total of 237 weeks straight. This is more than a year longer than the ATP second-best, Jimmy Connors' record of 160 weeks straight.
Over that spell, Federer reached the final at 14 of 18 Slams contested, winning 10. He failed to reach the semi-finals of a Major just once in that run, falling in the third round of the 2004 French Open to three-time champion Gustavo Kuerten.
Federer won four consecutive Wimbledon titles to add to his first in 2003, making five in a row, plus four successive US Open titles from 2004 to 2007. He also won the 2006 and 2007 Australian Open events.
Federer eventually lost his crown to Rafael Nadal. After the Spaniard defeated the Swiss in the 2008 Wimbledon final, Olympic gold for Nadal sealed the end of Federer's reign at number one.
Federer completed the Career Grand Slam soon after with his first Roland Garros title at the 2009 event. Then, after securing a sixth Wimbledon title in another epic final, this time with Andy Roddick, Federer spent 48 more weeks in a row at the top of the ATP rankings.
He reached the US Open final and won the 2010 Australian Open in that time. He lost the spot to Nadal once more after the 2010 French Open.
Federer would then enjoy four more periods at world number one. This included one week in June 2018 when he set the record for the oldest ever ATP number one at 36 years and 10 months old. The Swiss' total tally stands at 310 weeks, a record when first achieved in June 2018.
1. Novak Djokovic – 342 weeks…and counting
Incredibly, Djokovic is approaching seven total years spent at world number one. The Serb first achieved the title by defeating Nadal at Wimbledon 2011, his third Major crown and first on the grass.
He spent a year there before Federer claimed the spot from him with a seventh Wimbledon title in 2012. In that year though, Djokovic contested three of four Slam finals, clinching the 2011 US Open and 2012 Australian Open titles, again defeating Nadal on both occasions. The Australian Open final was the longest ever Slam final match, clocking in at a monstrous five hours and 53 minutes played.
At Roland Garros in 2012, Djokovic and Nadal met in the final for the fourth consecutive Slam. Nadal triumphes for a seventh title there. From November 2012 to October 2013, Djokovic took his tally at number one to over 100 weeks. He added another Major title in that period, at the 2013 Australian Open.
Djokovic then won a seventh Slam title and second Wimbledon in 2014. The triumph earned him the number one spot for a third time, holding it for 122 weeks from that time. During that period Djokovic had one of the most prolific seasons in modern ATP history over the course of 2015.
The Serb contested every Slam final that year (plus two more consecutively into 2016). He only lost at the French Open. Djokovic accumulated a dominant 82-6 win-loss record across all tournaments. He won 11 titles: six Masters 1000, an ATP 500, three Slams and the ATP Finals.
The number one streak was ended by Andy Murray in November 2016 following the Paris Masters. Djokovic had now spent 223 total weeks in the top spot. However, he would not do so again for two more years until November 2018.
He spent another year straight at number one, winning the Australian Open and Wimbledon in 2019. After Nadal held number one for 13 weeks into February 2020, Djokovic topped the ATP rankings again.
The 34-year-old has been there since for 67 weeks and counting. This excludes the 22 weeks during which the rankings were frozen due to the Covid-19 pandemic.
Djokovic would go on to win the 2021 Australian Open, French Open and Wimbledon. He then fell just one win short of the Calendar Slam by losing the US Open final to Daniil Medvedev.
At time of publication, Djokovic has 342 weeks at the top of the ATP rankings, his tally climbing with each passing week.
Make sure to read up on the players with the most weeks at number one in the women's game too!