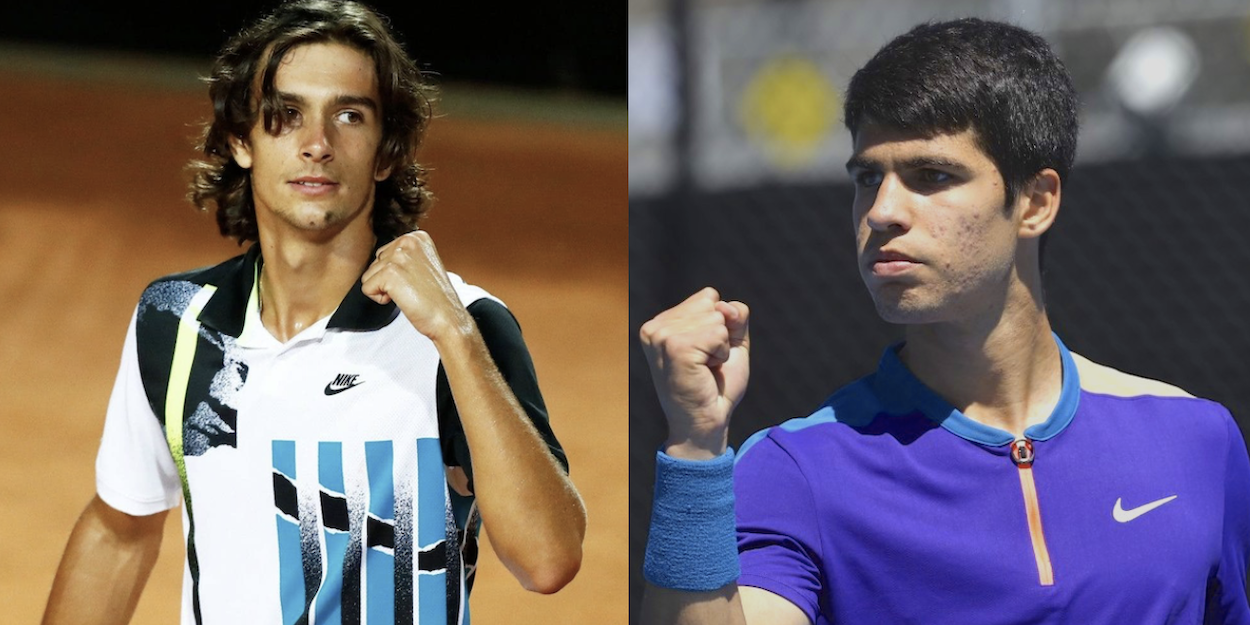 The new Federer and Nadal? How Lorenzo Musetti and Carlos Alcaraz could replicate their great rivalry
Lorenzo Musetti and Carlos Alcaraz have already drawn comparisons to Roger Federer and Rafael Nadal, and could draw more at events this week in Cagliari and Marbella. 
19 year-old Lorenzo Musetti and 17-year-old Carlos Alcaraz are both into the quarter-finals of Cagliari and Marbella respectively this week and will be looking to bolster their young careers. Musetti has been likened to Roger Federer with his movement and style of play, while Alcaraz has been similarly compared to compatriot Rafael Nadal.
If Lorenzo Musetti and Carlo Alcaraz are both able to win their respective tournaments this week, they will recreate similar feats achieved by Federer and Nadal throughout their long careers. If this happens for Musetti and Alcaraz, could their fates reach similar heights to Federer and Nadal? Here is a look at 3 times when a young Roger Federer and a young Rafael Nadal won separate tournaments in the same week.
1. Rotterdam 2005 and Brasil Open 2005
On the 14th February 2005, 23-year-old Roger Federer and 18-year-old Rafael Nadal were playing in Rotterdam, The Netherlands and Mata de São João, Brazil respectively. Rotterdam was indoor hard, Brazil was outdoor clay.
Federer was firmly established on the tour, having been world No. 1 for a year already and with 23 ATP tour titles to his name, including 4 Masters 1000 titles, 2 Tennis Masters Cups (ATP Finals titles) and 4 Grand Slams (2 Wimbledon, 1 Australian Open and 1 US Open).
On the other hand, while Rafael Nadal was beginning to make waves, he was not yet a mainstay of the ATP tour. The Spaniard was No. 48 in the world at the time, and had secured just one title, an ATP 250 on clay Sopot, Poland in 2004.
Of course, as world No. 1, Federer was the top seed in Rotterdam. He only faced one other seed in 6th placed Nikolay Davydenko in the quarter-finals, easing through to the final without dropping a set. The Swiss then defeated Ivan Ljubicic 5-7 7-5 7-6 in the final to win his 24th tour title and first of three in Rotterdam.
In Brazil, Nadal was seeded 6th in the tournament and also only faced one seed en route to the final, defeating 9th seeded Brazilian Ricardo Mello in the semi-finals. Nadal had to seal the latter stages with tougher wins, with his quarter-final, semi-final and final all going three sets. Rafa defeated compatriot Alberto Martin 6-0 6-7 6-1 to lift the trophy, his second on the ATP tour.
2. Dubai 2005 and Acapulco 2005
The shared success continued immediately for Roger Federer and Rafael Nadal, with each of them winning another tournament following Rotterdam and the Brasil Open. From 21st February, 2005, Federer took to the hard courts at the Dubai Tennis Championships, while Nadal hit the clay in Acapulco at the Mexican Open (the tournament switched to hard courts in 2014). Nadal had a new ranking of No. 39 (not yet a career-high though).
Federer had a trickier route to the final in Dubai, winning his first two matches in three sets before straight sets wins over Mikhail Youhzny and Andre Agassi. Just as in the previous week, Federer faced Ivan Ljubicic in the final, defeating the Croat in three sets once more, this time 6-1 6-7 6-3, for his 25th tour title.
By contrast, Nadal had an easier time of things in Acapulco as compared to Brasil, reaching the final without dropping a set before conquering fellow Spaniard Albert Montanes 6-1 6-0 in the final for his third career title and third on clay. This took Nadal's ranking up to 31 in the world, a career high up until that point.
3. Halle 2008 and Queen's 2008
By 7th June 2008, Roger Federer and Rafael Nadal were at the height of their powers and dominating the men's game. Federer was 26 and had been unchallenged as world No. 1 since attaining the top spot on 2nd February 2004. The Swiss was 226 weeks into a still record 237-week streak at the pinnacle of the sport.
Meanwhile Rafael Nadal, having just turned 22, had himself been world No. 2 since 25th July 2005, a streak of 150 weeks. Nadal would eventually dethrone Federer as the best in the world just two months later on 18th August 2008, officially reach the No.1 spot a day after winning Olympic Gold in Beijing.
Going into Halle and Queen's in 2008, Federer and Nadal had between them won 13 of the last 14 Grand Slams since the Australian Open 2005, with only an exciting 21-year-old by the name of Novak Djokovic breaking that streak by winning the 2008 Australian Open. Federer had won the US Open and Wimbledon each year in 2005, 2006, and 2007, as well as the Australian Open in 2006 and 2007 (9 of 13) while Nadal had won four consecutive French Opens in 2005, 2006, 2007 and 2008.
Halle and Queen's are notably both grass court events leading up to Wimbledon, and Federer chose Germany while Nadal opted for London. Federer was the No. 1 seed in Halle and so was Nadal at Queen's.
Federer breezed through the tournament without dropping a set or even being pushed to a tiebreak, defeating Philipp Kohlschreiber 6-3 6-4 in the final for a fifth Halle triumph in six years and his 54th tour title.
Nadal was pushed harder at Queen's, requiring three sets in his second match against a teenage Kei Nishikori, and in his quarter-final meeting with Ivo Karlovic. Nadal won the battle in three tiebreak sets, 6-7 (5-7), 7-6 (7-5), 7-6 (7-4). He then overcame Andy Roddick 7-5 6-4 in the semi-final before facing Novak Djokovic in the final. The Spaniard won out 7-6 7-5 to secure his 28th tour title and first ever on grass.
Mere weeks later, Roger Federer and Rafael Nadal would go on to compete in what many consider to be the greatest tennis match ever played, the 2008 Wimbledon Final. Nadal defeated Federer 6-4, 6-4, 6-7 (5-7), 6-7 (8-10), 9-7 in a 4 hours and 48 minute long epic to claim his first Wimbledon title and first non-French Open Grand Slam title.
The rest, as they say, is history.