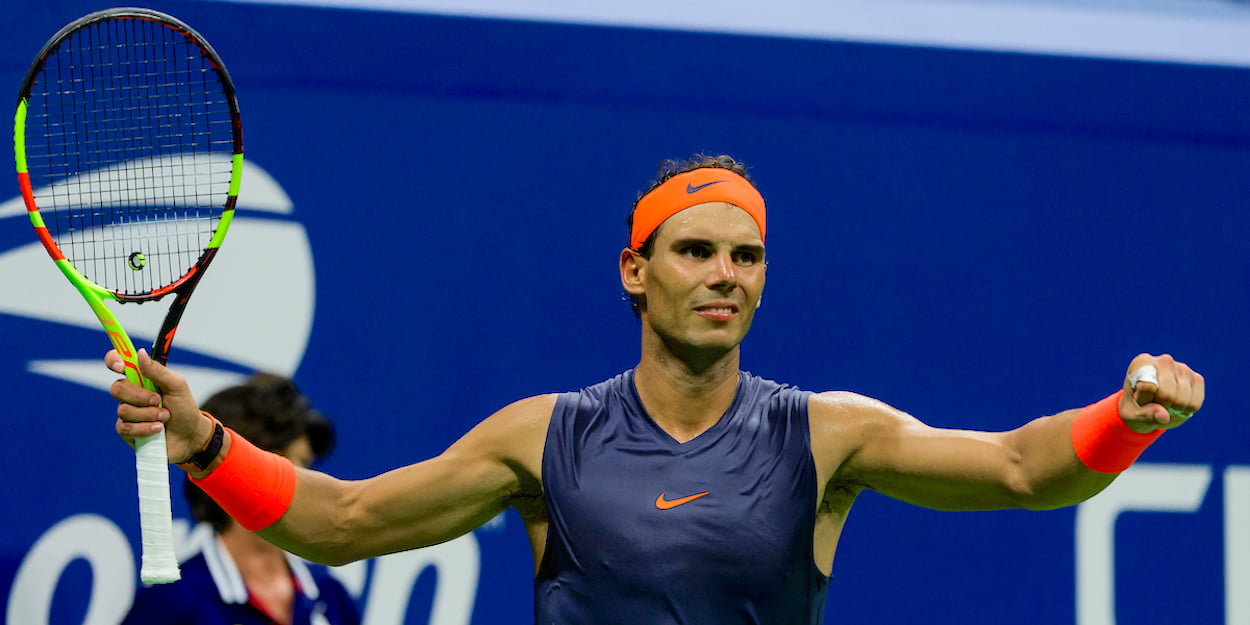 The 10 best U.S. Open men's matches this century: Nadal vs Thiem, quarterfinal, 2018
The U.S. Open has been the stage for some of the best men's singles matches ever seen, and with the dawn of a new decade, now seems like a good time to cast our gaze back and review the best encounters in recent memory.
Here tennishead relives a classic men's U.S. Open match from the 21st century.
Rafa Nadal vs Dominic Thiem, quarterfinal, 2018            
One of the matches of the decade – at the U.S. Open or anywhere else – was the seesawing four hour, 49 minute tangle between defending champion Nadal and Dominic Thiem. Despite it being their first meeting on a hard court, the duo needed no introduction: earlier that year, they had contested the French Open final, and though Nadal won comfortably, Thiem was all over his radar as the clay-court heir apparent: the Austrian had beaten Rafa on clay annually since 2016, first in Buenos Aires and latterly in Madrid.
At the US Open, they produced one of the all-time great night matches, with the final ball being struck at 2.03am. As had been the case against Del Potro a year earlier, Thiem started fast, breaking serve immediately with a thunderous forehand winner after a ferocious toe-to-toe exchange. In fact, it's no exaggeration to say that Thiem produced one of the finest sets of tennis in recent memory, winning 100% of points on his first serve and over 70% on his second; incredibly, he also won 70% of return points, uncorking 13 winners against just two unforced errors to storm to a 6-0 lead. Rarely has a defending champion been so comprehensively outplayed.
Nadal improved though, he had to, and the subsequent sets were incredibly gruelling with each guy maintaining a high calibre of play and winning their share of thrilling rallies. They traded breaks in the second but Nadal came out on top after Thiem sprayed a forehand wide at 4-5. In the third, Thiem had break point at 2-2 only for the Spaniard to bludgeon him all over the court then drill a backhand down the line. In his next service game, Rafa wasn't so lucky, Thiem breaking with a stupendous forehand return winner. Unfortunately for Dominic, he couldn't serve out from here as his opponent won his third set point with a rasping forehand to surge into the lead.
To lose a set 6-0 then win the next two reconfirmed the enormity of Nadal's spirit, but Thiem wasn't finished: in a fascinating fourth set, the pair carved out a dozen break points between them, with a conversion apiece setting up a tie break – which the ninth seed won in some style.
The decider was just as intense and draining, making this Nadal's longest ever U.S. Open match among many epics under the New York lights. His serving was key however, and while he limited Thiem's opportunities to break, he repeatedly heaped pressure on the youngster's serve. With aplomb, Thiem repelled the threats and played his way into a second breaker. Cue yet more punishing baseline rallies with perhaps the game's best forehand going up against its best backhand and both players drenched in sweat. "It's basically turned into a standing ovation after every point," noted one of the commentators as Nadal went 6-5 up having having come into net for the third time in the tie break. A moment later, Thiem dominated the rally only to smash an overhead long and surrender the match 0-6, 6-4, 7-5, 6-7, 7-6.
"I'm not sure I've ever seen ball striking at that pace, for that consistent a length of time," said the awestruck commentator. "That was an absolute thing of beauty."
"It was very demanding in all aspects," Nadal admitted afterwards. "I lost in Wimbledon a match like this, today was for me. I fought until the end."