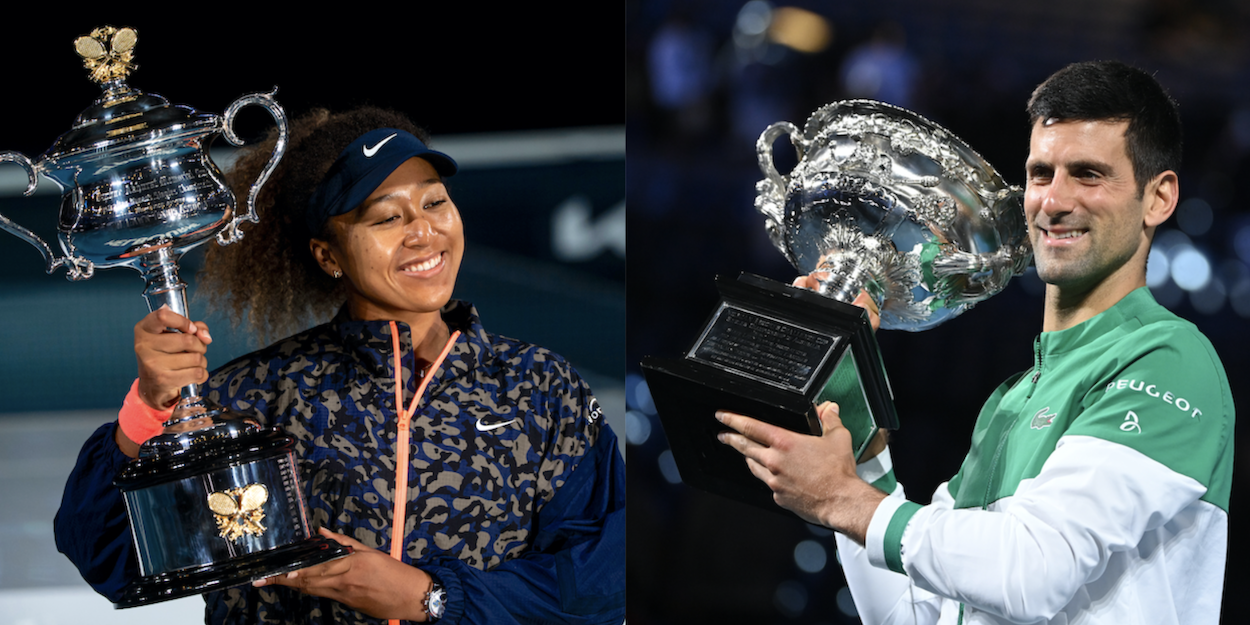 Tennishead's guide to the 2022 Australian Open
The 110th edition of the Australian Open gets underway on 17th January 2022. Novak Djokovic will look to break the men's Slam record with a 21st Major crown while Naomi Osaka aims to back up her second Melbourne triumph 100 years after women were first invited to compete. 
It's taken hours of sweat and tears (not really that many tears!) from our expert tennis journalists to produce this guide which we offer every year for free (with no adverts) to Tennishead readers. All we ask in return is that you sign up to our email superb, free email newsletter to receive regular news updates and much more. Newsletter subscribers also receive a free digital issue of Tennishead magazine. Sign up now.
In this 2022 guide to the Australian Open we've included in-depth content on a wide range of fascinating topics which you'll find listed in the table of contents below. Click the blue heading to jump to that section.
At the same time, Tennishead's team of news hungry journalists are publishing breaking news in our dedicated Australian Open news section. Make sure to check back every day for the latest updates on all the action from Melbourne.
For a more indulgent, longer read try an issue of Tennishead, the world's best tennis magazine, with every edition packed full of 164 pages of the best tennis writing, analysis, interviews, racket reviews, competitions and much more. Checkout the latest issue plus all our subscription options. (We deliver worldwide).
If you are a keen tennis player there's no doubt you'll be interested in our ground-breaking Tennishead CLUB, the world's first and only virtual tennis club with an incredible package of annual member benefits including a head-to-toe ASICS tennis outfit with shoes. Find out more about the Tennishead CLUB.
Finally, please share this free guide to the 2022 Australian Open with all your tennis friends: [ss_social_share align="left" shape="rounded" size="small" labels="none" spacing="1″ hide_on_mobile="0″ total="1″ all_networks="0″ inline_total_style="none" total_share_placement="left" hover_animation="ss-hover-animation-fade"]
Contents
History of the Australian Open
The tournament was first held at the Warehouseman's Cricket Ground in 1905. Only men's singles and doubles were held, and in the men's singles there were 17 entrants, 16 of whom were Australian or New Zealanders. The lone outsider was Britain's Randolph Lycett, who reached the semi-finals before losing in four sets to the eventual champion, Rodney Heath.
Heath would again win the title in 1910, as well as the doubles in 1906 and 1911. The latter was alongside Lycett, who also won the inaugural doubles event in 1905, then partnered by another Australian, Tom Tachell.
American doubles specialist, Fred Alexander, became the first man from beyond Australasia to win the singles title in 1908, when he was again the only outsider in the draw. In the final, he came back from two sets to love down to win in five. 1912 saw the first final without an Australian participant, and in an all-British affair, James Cecil Parkes beat Alfred Beamish in five sets. It would be another 65 years until the next time that the men's singles final would be played without any home interest.
Meanwhile, the women's singles and doubles were introduced in 1922. The first singles event, comprised of just 14 women (all Australasian) was won by Margaret Molesworth, who beat compatriot Edna Boyd in the final. Boyd was the runner-up in each of the first five editions of the tournament before finally lifting the trophy at her sixth attempt in 1927.
As with the men's event, the tournament was largely dominated by Australian players. This was because getting there was a long and arduous journey for American and European players back then, so very few chose to enter prior to the late 1970s, and even then, many would not travel annually. It was also generally held in December and so travelling would mean missing Christmas and New Year, making it an unattractive proposition for most.
On the women's side, Margaret Court holds the record for most titles with 11, although seven of those came in the Amateur Era. In the Open Era, Serena Williams holds the record with seven, and no other woman has more than four. The last Australian finalist was Wendy Turnbull in 1980 and the last winner was the unseeded Chris O'Neil in 1978.
For the men, Novak Djokovic leads the way on nine, with Roy Emerson and Roger Federer tied for second place on six apiece. The last Australian man to reach the final was Lleyton Hewitt in 2005, and the last to win was Mark Edmondson in 1976, making the Australian Open the Grand Slam that has currently been waiting the longest for a home male champion. Wimbledon just pips Australia for the women, with Virginia Wade's 1977 win edging out O'Neil by one year.
---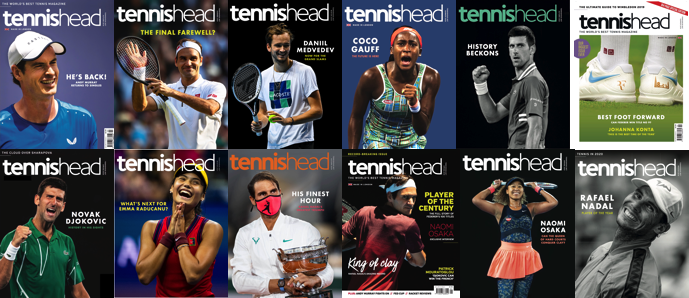 Tennishead, the world's best tennis magazine
🎾 Tennishead >> First published in 2010, Tennishead magazine is packed full of exclusive player interviews, features from the heart of the sport written by the world's best tennis writers, stunning photos, expert racket and gear reviews plus insight and advice from top coaches and analysts. (Try a free issue of Tennishead)
🥯 The Bagel >> Tennishead subscribers receive our exclusive, ground breaking newsletter The Bagel, delivered every fortnight via email. This unique mini-magazine is written by the same team that writes for Tennishead, offering up-to-the-minute insight on all the news in tennis including tournament reports, interviews, match reviews and even some trivia! (Try a free issue of The Bagel)
📆 Schedule >> Tennishead magazine is published 4 times per year:
Issue 1 > February/March: Including French Open 🇫🇷 preview
Issue 2 > June: Including Wimbledon 🇬🇧 preview
Issue 3 > August: Including US Open 🇺🇸 preview
Issue 4 > November: Including Australian Open 🇦🇺 preview
Find our more about Tennishead
---
Melbourne and the Tennis Centre
Melbourne has not always been the home of the Australian Open, and six other cities have played host throughout the tournament's history. It was decided in 1972 to make Melbourne the permanent host due to the city generally attracting the largest crowds.
From 1972-1987, the Australian Open was held at the Kooyong Lawn Tennis Club, and then in 1988 it moved to its current home of Melbourne Park. This also marked the move from grass to hard courts. The move to the new facilities proved to be an instant success with the attendance figures rising 90% from 1987 to 1988 and it has seen an average growth of over 7% since then, reaching a record high of 812,174 in 2020.
The main show court at Melbourne Park is Rod Laver Arena. Named after the Australian legend who remains to this day the only man to have achieved the Calendar Grand Slam, the arena can seat up to 14,820 spectators and it was the first tennis venue in the world to be fitted with a retractable roof.
There are, in fact, three arenas at the park with retractable roofs; the most of any of the Grand Slams. John Cain Arena (formerly Hisense Arena) seats 10,500 and Margaret Court Arena seats 7,500. One more 5,000-seat court, Kia Arena, was completed ahead of this year's event and is the largest capacity court at the venue without a roof.
Melbourne is the second most populous city in Australia, located in the southernmost part of the country. During January, the average temperature is 27 °C, with record highs of 46.6 °C. Because of this, the Australian Open has an Extreme Heat Policy (EHP) which can bring about the suspension of play or the closing of roofs if the conditions are deemed to be unplayable.
Review of the 2021 Australian Open
Last year, Novak Djokovic was the two-time defending men's champion, in pursuit of a ninth Australian Open title, while American Sofia Kenin was defending women's champion, the 2020 title being her maiden Slam crown.
Djokovic was world number one and the top seed looking to bring his Slam tally to 18 to be just two behind Roger Federer and Rafael Nadal on 20. The Serb came through his first two matches with little difficulty, ousting French veteran Jérémy Chardy and American young gun Frances Tiafoe in three and four sets respectively.
However, come the third round, Djokovic faced a tough test from another young American talent, 27th seed Taylor Fritz. After battling hard to go two sets up, the world number one suffered an abdominal injury in the third set which could have spelled the end of his run in Melbourne.
After losing the third and fourth sets, Djokovic secured a double break in the decider to close out victory 7-6 (7-1), 6-4, 3-6, 4-6, 6-2 after nearly three and a half hours. Given the circumstances of the win, the 33-year-old described it as "definitely one of the most special wins in my life." Djokovic then saw off 14th seed Milos Raonic in four sets to reach the quarter-finals.
In the same quarter, sixth seed Alexander Zverev came into the event having reached his first Slam final at the previous hard court Major, the 2020 US Open, where he lost to Dominic Thiem.
The German breezed through his first four matches for the loss of just one set, that coming in the first round against American Marcos Giron. So, Zverev had set a seventh career meeting with Djokovic, a head-to-head in which he trailed 2-4. Djokovic had won their only previous Slam meeting, in the quarter-finals of the 2019 French Open.
While the German did land the opening set 8-6 in a tight tiebreak, the Serb was too strong and reached his ninth Australian Open semi-final.
Meanwhile, the unlikely story of Aslan Karatsev was being told in the same half of the draw. The Russian raced through qualifying to make his Slam main draw debut at the age of 27.
He then proceeded to decimate his competition, winning his first three matches in straight sets for the loss of just 20 games, including a near triple-bagel match in the second round against Egor Gerasimov which ended 6-0, 6-1, 6-0, before defeating eighth seed Diego Schwartzman 6-3, 6-3, 6-3.
Karatsev recovered from two sets to love down against 20th seed Felix Auger-Aliassime to reach the quarter-finals. There he faced 18th seed Grigor Dimitrov who had beaten third seed and 2021 finalist Dominic Thiem in the previous round.
The Russian took out Dimitrov in four sets to stretch his win streak across qualifying and the main draw to eight and book a semi-final with 17-time Major champion Djokovic.
In the bottom half, second seed Nadal began his campaign in dominant fashion, defeating Laslo Djere, Michale Mmoh, Cameron Norrie and 16th seed Fabio Fognini all in straight sets to reach the quarter-finals. There he faced fifth seed Stefanos Tsitsipas, the Greek being pushed to five sets in his second round match with home wildcard Thanasi Kokkinakis, but otherwise breezing past his competition, including a fourth round walkover past ninth seed Matteo Berrettini.
It was an eighth meeting between the pair, with Nadal leading 6-1, including a victory in the semi-finals of the 2019 Australian Open. The Spaniard went two sets up before Tsitsipas turned it around to force a decider. The 22-year-old then completed the comeback to win 3-6, 2-6, 7-6 (7-4), 6-4, 7-5 in a little over four hours, a brilliant win.
In the same half, fourth seed Daniil Medvedev won four of his five first matches in straight sets to reach the semi-finals of the Australian Open for the first time. Hence, the semi-finals saw Djokovic face qualifier Karatsev and Medvedev taking on Tsitsipas.
Both encounters were straightforward for the victor as Djokovic and Medvedev won in straight sets. Djokovic was into his ninth Australian Open final, Medvedev his first and second overall at Slams after reaching the 2019 US Open final.
Djokovic led the head-to-head 4-3 overall and 1-0 at Slams, that match coming at the 2019 Australian Open in the fourth round. But what was billed as a blockbuster final between two top five talents was simple for Djokovic as he won 7-5, 6-2, 6-2 while Medvedev seemed overwhelmed by the occasion. A ninth Melbourne trophy for Djokovic and 18th Major title.
In the women's draw, defending champion Kenin came in as world number four and fourth seed at the event, with 2019 champion Naomi Osaka third, two-time Slam champion Simona Halep second, and Aussie native, world number one and 2019 Roland Garros champion Ashleigh Barty first. Seven-time champion Serena Williams was seeded 10th as she continued her quest to equal Margaret Court's all-time Slam singles record of 24 titles.
Unfortunately for Kenin, her Melbourne campaign ended abruptly as she lost in the second round to world number 65 Kaia Kanepi of Estonia. Osaka came in as 2020 US Open champion, the last Slam she played after skipping Roland Garros soon after.
She continued her hard court form by cruising through to the fourth round in straight sets before facing 14th seed and 2020 Australian Open runner-up Garbine Muguruza. Serving at 3-5 in the deciding set, Osaka held off two match points to stay in touch at 4-5 before eventually clinching the win 4-6, 6-4, 7-5 to advance to the quarter-finals. There she breezed past Su-wei Hsieh 6-2, 6-2 to book her place in the semi-finals.
2018 finalist Halep had to rally from a set down against both Ajla Tomljanovic and 15th seed and newly crowned Roland Garros champion Iga Swiatek in the second and fourth round respectively to reach the last eight.
Serena Williams breezed through to the fourth where Aryna Sabalenka pushed the 39-year-old to three sets before Williams came out victorious to face Halep. The Romanian trailed Serena 9-2 in their head-to-head but had won their most recent battle in the 2019 Wimbledon final. Serena was too at home in Melbourne though, winning 6-3, 6-3 to meet Osaka in the last four.
Back to the top half and top seed Barty eased into the quarter-finals in straight sets before taking on 25th seeded Czech Karolina Muchova. After winning the opening set 6-1 the Australian looked certain to make the semi-finals for a second year running. But Muchova had other ideas as she turned the tie around to win 1-6, 6-3, 6-2 and end Barty's dreams of a home Major triumph for another year.
For the last semi-final spot 22nd seed American Jennifer Brady came through to the quarter-finals in straight sets before ousting compatriot Jessica Pegula 4-6, 6-2, 6-1.
The semis saw Brady take on Muchova and the heavyweight match-up of Osaka against Williams. Brady overcame Muchova in three while Osaka blitzed Williams to win 6-3, 6-4 and reach her second Australian Open final.
Brady had pushed Osaka in the semi-finals of the recent 2020 US Open before the Japanese star then went on to win the event, so the American was no meek opponent. But Osaka was just too strong as she claimed a fourth Major crown and second in Melbourne 6-4, 6-3.
Classic matches
There have been a number of brilliant and memorable matches at the Australian Open across its history. While we cannot cover them all here, please enjoy an overview of some of the very best contests in Melbourne.
2000 – Andre Agassi defeats Pete Sampras – Semi-final – 6-4, 3-6, 6-7, 7-6, 6-1
Entering the first Slam of the new millennium, both Agassi and Sampras had won the Australian Open before, Sampras in 1994 and 1997 and Agassi in 1995.
Agassi was world number one and coming in off a 1999 season that saw him win Roland Garros to complete the Career Grand Slam before adding his second US Open title for good measure, his fifth Slam title. That same season, Sampras had won his sixth Wimbledon title and third consecutively, a 12th career Major overall, defeating Agassi in the final
In Melbourne, Agassi eased his way into the semi-finals for the loss of just one set, while Sampras had to escape from two sets to love down to Zimbabwean qualifier Wayne Black in the third round before winning his fourth round and quarter-final ties in three and four sets respectively.
And so a 29th battle between the American duo was set for a chance to reach the final Down Under. Sampras led the head-to-head 17-11 entering the match, including winning four of their last five meetings.
The pair split the first two sets before a tough fought third set came to 5-6 on the Sampras serve. Agassi forged two set points for himself, but both were saved by Sampras with huge first serves before finishing the game off for a tiebreak.
After clinching the mini-break immediately on the Agassi serve, Sampras whitewashed his compatriot 7-0 to go two sets to one up, one set from the final.
The fourth also reached a breaker, giving Agassi a chance to set the record straight after the previous one. Serving at 5-5, two points from defeat, Sampras' return just failed to clear the net, set point Agassi. A huge return to the feet of Sampras on the next point set Agassi up for a winner to bring up a deciding set.
Agassi was clearly fired up from his fightback, closing out the match 6-1 to advance to his second Australian Open final. He then defeated second seed Yevgeny Kafelnikov in four sets in the final for a sixth Slam title.
Melbourne proved to be a fruitful Major for Agassi, going on to be his most successful Slam as he won again in 2001 and 2003 for four titles in total there and bringing his career Slam tally to eight.
While Sampras never got as far at the Australian Open again, he went on to win a then men's record seventh Wimbledon title later in 2000 before securing a 14th and final Major title at the 2002 US Open before retiring that season.
2003 – Serena Williams defeats Kim Clijsters – Semi-final – 4-6, 6-3, 7-5
The Williams sisters had already proven themselves a force to be reckoned with in women's tennis by the time the 2003 Australian Open came around.
Since Serena won her maiden Major as a 17-year-old at the 1999 US Open, she and Venus won seven of the next 12 Slams between them, three for Serena and four for Venus.
From the back end of 2001 in particular, Serena was nearly unstoppable. She reached the 2001 US Open, losing to Venus there, missed the 2002 Australian Open, but then won Roland Garros, Wimbledon and the US Open all in a row, defeating Venus in the final of each.
The Australian Open was the only remaining Major silverware that Serena required, having previously never been beyond the quarter-finals.
Clijsters reached her first Slam final at the 2001 French Open, losing to Jennifer Capriati there and peaked at world number three in 2002, behind Serena and Venus. After losing her first five meetings with Serena, the Belgian then defeated her in the final of the 2002 WTA Finals in Los Angeles.
After losing the first set of her her first match, Serena went on to reach the last four without dropping another set. On the other hand, fourth-seeded Clijsters annihilated her competition, dropping just 16 games across five matches to meet Serena in the semi-finals, including a 6-0, 6-0 win in the second round over Hungary's Petra Mandula.
And Clijsters continued that streak into the semi-final as she took the opening set 6-4 over Serena, an 11th set in a row in Melbourne for the Belgian.
Serena rallied to tie it up with a 6-3 second set, but she required the trainer in the third to treat blisters. Clijsters went 4-1 up and was serving for a 5-1 lead and to be just a game away from her first Australian Open final.
She did hold before Williams responded likewise. Clijsters now served for the match. She went 40-30 up for a first match point, but a strong return from Williams saw Clijsters put the ball in the net.
Serena saved another match point with some defiant attacking tennis, finished at the net, before eventually breaking for 3-5.
Serving for the match again at 5-4, Clijsters presented Serena with a break point at 30-40, a chance the American immediately took to tie it up at 5-5.
After holding serve for 6-5 and her confidence sky-high from surviving two match points, Serena bombarded the Clijsters serve to break to love and reach her first Australian Open final.
There she defeated sister Venus in their fifth Slam final meeting in six events, overcoming her to complete the Career Grand Slam and claim her fifth title overall.
Serena has famously gone on to claim 18 more Slam crowns in the 18 years since as she sits on 23 and pursues Margaret Court's all-time singles Slam record of 24 titles.
Clijsters did go on to taste ultimate Slam glory by winning her maiden major title at the 2005 US Open, before claiming two more in New York in 2009 and 2010, plus an Australian Open title in 2011.
Despite both turning pro in the 1990s, Clijsters and Serena are still looking to continue playing in 2022, though neither will play the Australian Open this year, Williams due to injury and Clijsters due to ranking and the lack of a wildcard.
2012 – Novak Djokovic defeats Rafael Nadal – Final – 5-7, 6-4, 6-2, 6-7 (5-7), 7-5
The 2012 Australian Open was the culmination of more than a year of dominance from Nadal and Djokovic.
Between them the pair had won each of the last seven Slams, beginning with Nadal winning Roland Garros, Wimbledon and the US Open consecutively in 2010, before Djokovic won the Australian Open, Wimbledon and the US Open the next year, Nadal the French.
Djokovic had snatched the world number one spot from Nadal by defeating him in the final at Wimbledon, and the pair contested the US Open final right after.
So, Djokovic had won two matches in a row against Nadal, both in Slam finals, with the Australian Open providing the opportunity for another showdown.
Djokovic came through to the semi-finals for the loss of just one set, against wildcard Lleyton Hewitt in the fourth round, before taking on Andy Murray in the semis.
Likewise, Nadal also only lost one set en route to the last four, doing so to seventh seed Tomas Berdych in the quarter-finals. Top seed Djokovic faced fourth seed Murray while second seed Nadal took on third seed Roger Federer.
Despite going two sets to one down, Djokovic eventually downed Murray in five to reach his third Australian Open final, while Nadal overcame Federer in four sets to play the Melbourne championship match for a second time, the first since he won the title in 2009.
Now, Djokovic and Nadal would meet for a 30th time in a head-to-head led narrowly by Nadal 16-13. It was to be a seventh consecutive meeting in a tournament final, with Djokovic having won the previous six, four at Masters 1000 level, with the other two at Wimbledon and the US Open.
After Nadal claimed the first set and Djokovic the next two, the fourth required a tiebreak to separate the two men. Djokovic secured a mini-break to serve at 4-3, an opportunity to win both his serves and be championship point up at 6-3.
But Nadal fought just as only he knows how to to bring it back on serve 4-5, holding both of his next serves to go 6-5 up. He took the final mini-break to win 7-5 and force a decider, sinking to his knees and pumping both arms.
So far the first and fourth sets had been 80 and 88 minutes respectively, plus a 66 minute second and 45 minute third bringing the time on-court already to four hours and 39 minutes with still a fifth set to come.
After both men held firm on serve until 5-5 in that decider, Djokovic broke Nadal to serve for the championship at 6-5. Nadal did create a break opportunity at 30-40, but Djokovic snuffed it out before going up Ad-40 for championship point.
A big serve down the middle and a follow-up forehand winner saw Djokovic claim his fifth Slam title and third in Melbourne. Djokovic has since won six more titles Down Under and now sits on 20 Major crowns.
Nadal has since reached three more Australian Open finals in 2014, 2017 and 2019 but has lost all three, to Stan Wawrinka, Federer and Djokovic respectively.
Of course, Nadal did not disappear after losing to Djokovic in 2012, securing 10 more Slams since to sit on 20 titles himself. Not only that, but Nadal and Djokovic have met on-court an astonishing 28 more times in the decade since that final for a total of 58 career meetings. Djokovic now leads the head-to-head 30-28, with the possibility of a 59th meeting at the 2022 event.
2022 Men's Singles preview & draw
Projected last-16:
Novak Djokovic (1) v Cristian Garin (16)
Cameron Norrie (12) v Matteo Berrettini (7)
Alexander Zverev (3) v Denis Shapovalov (14)
Hubert Hurkacz (10) v Rafael Nadal (6)
Casper Ruud (8) v Jannik Sinner (11)
Roberto Bautista Agut (15) v Stefanos Tsitsipas (4)
Andrey Rublev (5) v Felix Auger-Aliassime (9)
Diego Schwartzman (13) v Daniil Medvedev (2)
Novak Djokovic will begin his title defence against compatriot Miomir Kecmanovic before likely taking on in-form American Tommy Paul in the next round. A tough opponent could come immediately after in the former of 25th seed Lorenzo Sonego in the third round. Djokovic holds a 1-1 record against the Italian.
Sam Querrey, Cristian Garin, Alexander Bublik and Gael Monfils all occupy the same top eighth of the draw as Djokovic, meaning he could face any of them in the fourth round or earlier. 
Seventh seed Matteo Berrettini will be looking for better luck in Melbourne after being forced to retire in the fourth round in 2021. He plays American 20-year-old Brandon Nakashima in the first round. Should he reach the third round, 18-year-old rising star Carlos Alcaraz could lie in wait. 
Alcaraz defeated Berrettini in their only meeting at the Vienna Open in October 2021, so a third round match-up would be very tough. In the fourth round, Berrettini could come up against any of 12th seed Cameron Norrie, 19th seed Pablo Carreno Busta, Fabio Fognini or another American youngster in Sebastian Korda. In fact, Norrie versus Korda may be the highlight of the first round in this section of the draw.
Like Djokovic, third seed Alexander Zverev faces a fellow countryman in Daniel Altmaier, a first meeting between the two Germans. He could face veteran Spaniard Feliciano Lopez next, who is making his 79th consecutive Grand Slam main draw appearance, playing every Major in a row since Roland Garros 2002.
Big-serving South African Lloyd Harris could await Zverev in the third round in a rematch of their US Open 2021 quarter-final, which Zverev won along with their previous two meetings. A fourth round tie between Zverev and 14th seed Denis Shapovalov would make for an entertaining encounter in a seventh career meeting. Zverev leads that head-to-head 4-2, including a narrow third-set tiebreak victory at the recent 2022 ATP Cup. 
Rounding off the top half, Hurkacz and Nadal face Egor Gerasimov and Marcos Giron respectively in the first round. Two Russians pose serious threats to the pair, surprise 2021 semi-finalist Aslan Karatsev for Hurkacz and Tokyo Olympics silver medallist Karen Khachanov for Nadal. 
Nadal could also face resurgent home talent Thanasi Kokkinakis in the second round after the world number 140 received a wildcard into the event. 
Moving to the lower half, clay grinder Casper Ruud faces Slovakia's Alex Molcan first. Lower down is perhaps the most exciting tie of the first round between Aussie favourite Alex de Minaur and teenage Italian talent Lorenzo Musetti.
Andy Murray takes on Nikoloz Basilashvili of Georgia for the second time in two weeks, and has beaten him in both their previous battles. Murray could then face Uruguayan mainstay of the tour Pablo Cuevas before Jannik Sinner, who Murray beat in Stockholm in November.
2021 semi-finalist Stefanos Tsitsipas will play Mikael Ymer of Sweden first, and could face any of Taylor Fritz, Frances Tiafoe, Roberto Bautista Agut or Grigor Dimitrov should he win two further matches to reach the fourth round.
Andrey Rublev versus Felix Auger-Aliassime could be a tight match in the fourth round of the next section before the final eighth could toss up some interesting duels. Ugo Humbert faces veteran compatriot Richard Gasquet in the first round, then could face US Open champion and 2021 Australian Open finalist Daniil Medvedev in the third round. 
Humbert is actually 2-0 against Medvedev, defeating him on the clay of Hamburg in 2020 and at the ATP Cup just weeks ago. Before that though, Medvedev may have to defeat Nick Kyrgios in the second round, another man who has beaten him twice, both matches coming in 2019 before Medvedev reached his maiden Slam final at the 2019 US Open. 
Djokovic could face Berrettini in the quarter-finals in what would be their fourth meeting in as many Slams, having faced off at Roland Garros, WImbledon and the US Open in 2021, with Djokovic leading their head-to-head 4-0. After that, while a Djokovic versus Nadal final is not in the cards, the pair could meet for a 59th meeting in the semi-finals. 
Nadal against Zverev could be the second quarter-final in the top half, while Ruud versus Tsitsipas is the projected quarter-final in the next quarter. An all-Russian battle could take place between Rublev and Medvedev in the quarter-finals before a possible 2021 semi-final rematch between Medvedev and Tsitsipas. 
Djokovic versus Medvedev is the likely final as first and second seeds respectively, a rematch of both last year's Australian Open final and the 2021 US Open final.
Link to updated men's singles draw
2022 Women's Singles preview & draw
Projected last-16:
Ashleigh Barty (1) v Naomi Osaka (13)
Ons Jabeur (9) v Maria Sakkari (5)
Barbora Krejcikova (4) v Elina Svitolina (15)
Sofia Kenin (11) v Paula Basoa (8)
Anett Kontaveit (6) v Elena Rybakina (12)
Simona Halep (14) v Garbine Muguruza (3)
Iga Swiatek (7) v Anastasia Pavlyuchenkova (10)
Angelique Kerber (16) v Aryna Sabalenka (2)
There is such a depth of talent in the WTA at the moment that there are likely to be a number of high profile match-ups early in the draw. While top seed Ashleigh Barty will face an as-of-yet undecided qualifier in the first round, she could face 2021 Canadian Masters champion Camila Girogi come the third round. 
Olympic gold medallist Belinda Bencic would play four-time Slam champion Naomi Osaka in the third round should they both make it there. Then the likely fourth round match-up would be Barty versus either Bencic or Osaka. 
Ons Jabeur against Maria Sakkari could be an enticing fourth round in the next section down, while Roland Garros champions Barbora Krejcikova could face Jelena Ostapenko in the third round. Should either of them reach the fourth round they could face two-time Australian Open champion Victoria Azarenka or Olympic bronze medallist and 2018 WTA Finals champion Elina Svitolina.
2020 champion Sofia Kenin faces 2017 US Open finalist Madison Keys first in what could be one of the highest quality matches of the opening round, with either woman possibly facing compatriot and teenage sensation Coco Gauff in the third round. Indian Wells champion Paula Badosa could prove a formidable fourth round opponent for any of them.
In a tough draw for the 19-year-old, US Open champion Emma Raducanu takes on 2017 US Open winner Sloan Stephens in the first round. Should the Brit make it past Stephens she could meet her idol and two-time Slam champion Simona Halep in the third round before possibly WTA Finals champion Garbine Muguruza in the fourth round.
Should 2020 Roland Garros champion and seventh seed Iga Swiatek reach the fourth round she could face two-time Major winner Petra Kvitova or 2021 Roland Garros finalist Anastasia Pavlyuchenkova there. 
Three-time Slam champion Angelique Kerber could face a rematch with Leylah Fernandez after the Canadian teenager defeated the German on her impressive run to the US Open final. That encounter would take place in the third round. Fernandez could also face Aryna Sabalenka in a repeat of their US Open semi-final should both women make it to the fourth round. 
While Barty versus Sabalenka is the first versus second seed projected final, it is really anyone's guess as to what the championship match will be. 2021 finalist Jennifer Brady is absent from the draw, meaning at least we know a repeat of her final with Osaka is off the table. 
A total of 13 former Slam champions occupy the women's singles draw, with five in the top half and eight in the bottom half, including four in the same eighth of the draw. Those four are Simona Halep, Sloan Stephens, Emma Raducanu and Garbine Muguruza. 
Link to updated women's singles draw
---

The world's only virtual tennis club
Tennishead CLUB members receive:
Head-to-toe ASICS tennis outfit with shoes

Video coaching from legends incl. Boris Becker

Membership of a worldwide tennis community

Tennis 'mindset' training course

Super absorbant racket overgrips

Low calorie chocolate protein bars

Discount club for tennis rackets & gear

The world's best tennis newsletter

Tennishead magazine

(optional)
Join today with membership fees from just $35/£27
Learn more about the membership benefits & how to join
---
History on the line
Multiple players have the opportunity to make history in Melbourne this year with potential feats that would cement their legacies in the annals of the sport.
This time last year, Djokovic trailed Federer and Nadal by three Slam titles as he boasted 17 while the others had 20 each. Now, after winning three of four Majors in 2021, all three men have 20 titles to their name.
With Federer out for a second year in a row, it will be up to Nadal and Djokovic to continued the GOAT fight as both vie for a men's record 21st Slam singles title. Djokovic is the more likely candidate, having won in Melbourne on nine occasions from nine finals and having won the event every time he has progressed to the semi-finals.
With Serena Williams absent due to injury, the 40-year-old American will have to wait until Roland Garros for another shot at equalling Margaret Court's Slam record of 24 titles.
Meanwhile, former world number one Naomi Osaka has the opportunity to join an elite group of women should she secure a third Australian Open title. The Japanese star current holds four Major crowns. Should she win a fifth title, Osaka would become the 13th woman in the Open Era to secure at least five Slams, and the first since Maria Sharapova in 2014, when the Russian claimed her fifth Slam title at that year's Roland Garros.
In addition, current world number one Ashleigh Barty will be on the hunt to become the first Aussie singles champion at the Australian Open, man or woman, since Chris O'Neil in 1978. a triumph in Melbourne would also bring Barty just a US Open title away from the Career Grand Slam, a feat so far achieved by seven women in the Open Era.
Incredibly, surprise US Open champion Emma Raducanu will be making her Australian Open debut as a Major champion. Both she and fellow teen sensations Coco Gauff and Leylah Fernandez have the chance to become the first teenage Australian Open champion since Martina Hingis won as a 16-year-old in 1997.
Young players to watch
Talent born in the 2000s have truly broken through in 2021 and will be looking to make waves in both the men's and women's draws at the 2022 Australian Open.
Jannik Sinner – 20 (born August 2001) – Rank: #11
After breaking through late in 2019, this young Italian has gone from strength to strength on the ATP Tour, backing up his first tour title immediately in 2021 by securing a second at the ATP 250 Great Ocean Road Open in February. He went on to reach a maiden Masters 1000 final at the Miami Open, claiming four titles over the season, including defending his Sofia 2020 crown, and being called up to replace compatriot Matteo Berrettini at the ATP Finals as first alternate and finishing the year 10th in the world rankings.
Sebastian Korda – 21 (born July 2000) – Rank: #39
Like Sinner, Korda only improved on his impressive 2020 breakthrough in 2021. The son of 1998 Australian Open champion Petr Korda clinched a first tour title on the clay in Parma, Italy in May. He then equalled his Roland Garros 2020 run to the fourth round at Wimbledon, defeating world number 15 Alex de Minaur and world number 26 Dan Evans before losing to 29th ranked Karen Khachanov. Korda ended 2021 at the Next Gen ATP Finals, where he reached the final before losing to 18-year-old Carlos Alcaraz.
Carlos Alcaraz – 18 (born May 2003) – Rank: #33
Speaking of the young Spaniard, he worked hard through the first half of 2021, coming through qualifying at both the Australian Open and Roland Garros to reach the second and third rounds at each respectively. His ranking then improved enough to qualify for Wimbledon outright, going on to claim his first ATP tour title two weeks later in Umag, Croatia, becoming the youngest ATP title winner since none other than an 18-year-old Rafael Nadal in Sopot in 2004.
Alcaraz then landed the biggest win of his career to-date by ousting world number three Stefanos Tsitsipas in the third round of the US Open, then going on to reach the quarter-finals before being forced to retire against Felix Auger-Aliassime. Finally, the teen talent entered the Next Gen ATP Finals as top seed and won the event for the loss of just one set over five matches.
Felix Auger-Aliassime – 21 (born August 2000) – Rank #10
Alcaraz's conqueror in New York had an admittedly mixed season, both securing his best career Slam results and facing disappointment on the tour. The Canadian began 2021 by reaching a seventh ATP tour final at the Murray River Open in Australia, but failed to get over the line as with the previous six attempts. He then lost another tour final to Marin Cilic in Stuttgart in June, making him 0-8 in tour finals as he still awaits a maiden title.
However, the youngster did equal his best Slam result by reaching the fourth round of the Australian Open, before improving it at Wimbledon to reach the quarter-finals there, a run which included victory over world number six Alexander Zverev. Auger-Aliassime then went one step further again, getting all the way to the semi-finals of the US Open before losing to eventual champion Daniil Medvedev. He also broke into the top 10 for the first time in November before ending 2021 ranked 11th.
Iga Swiatek – 20 (born May 2001) – Rank: #8
The first Slam champion on this list, the Polish star is still only 20 years old. While she could not quite match the heroics of her 2020 Roland Garros title run in 2021, she was arguably the most consistent woman at Slam level as the only WTA pro to reach at least the fourth round of all four Majors in 2021. She further added two more singles titles in Adelaide and at the Italian Open, humiliating former world number one Karolina Pliskova 6-0, 6-0 in the final there. Swiatek ended 2021 with her maiden appearance at the WTA Finals, finishing the season ranked ninth in the world.
Emma Raducanu – 19 (born November 2002) – Rank: #18
This British star only made her WTA tour level debut in June on the grass of Nottingham, before truly announcing herself to the world as a wildcard at Wimbledon. There she won three matches, including against 2019 Roland Garros finalist Marketa Vondrousova, before retiring in the fourth round with breathing difficulties.
Raducanu then entered US Open qualifying off the back of a WTA 125 final in Chicago the week before. What happened next shocked the tennis world as she won three qualifiyng matches in straight sets before winning the tournament without dropping a set, claiming 10 consecutive victories to become the first qualifier, man or woman, ever to win a Slam title. Between June and December she climbed from world number 338 to end the season 319 places higher at 19th.
Coco Gauff – 17 (born March 2004) – Rank: #19
It has now been more than two and a half years since Gauff broke onto the world stage by reaching the Wimbledon fourth round as a 15-year-old after overcoming her idol Venus Williams in the first round. The American, who is still just 17 years old, has since claimed two career titles in Linz, Austria in October 2019 and Parma, Italy in May 2021. She also secured a career best Slam result in 2021 by making it to the quarter-finals of Roland Garros, losing to eventual champion Barbora Krejcikova.
Leylah Fernandez – 19 (born September 2002) – Rank: #24
Finally, another Canadian joins Auger-Aliassime in this list. Fernandez claimed a first WTA tour title in March 2021 in Monterrey, Mexico. Come August, she joined Raducanu in shaking the US Open draw. The youngster defeated four-time Slam winner and defending US Open champion Naomi Osaka, three-time Slam champion Angelique Kerber, 2018 WTA finals winner Elina Svitolina and world number two Aryna Sabalenka all in a row to reach the final.
Despite losing to Raducanu there, Fernandez enjoyed an incredible two weeks in New York, jumping from world number 73 to a new career-high 28th in the rankings. She finished 2021 ranked 24th in the world.
Australians to watch
It has been more than 43 years since a home talent, man or woman, has won the (able-bodied) Australian Open singles. Here are the players who have a chance to change that in 2022.
Ashleigh Barty – Rank: #1 – Best AO Result: Semi-final
The world number one is arguably the women's favourite to win in Melbourne. Barty led the WTA tour with five titles in 2021, including a second Major title at Wimbledon, adding to her 2019 Roland Garros triumph.
She capped off 2021 by claiming a third consecutive year-end number one crown, becoming just the fifth woman to do so after Chris Evert, Martina Navratilova, Steffi Graf and Serena Williams.
Alex de Minaur – Rank: #34 – Best AO Result: Third round
After immediately winning a title at his first event in 2021, plus another at Eastbourne ahead of Wimbledon, de Minaur hit a rough patch from there, going 5-12 across the rest of the season to finish with a 25-25 record on the year.
However, the 22-year-old was impressive during the ATP Cup in Sydney, securing victories over Wimbledon finalist Matteo Berrettini and fellow young gun Ugo Humbert. De Minaur relishes playing in front of a home crowd and the 2022 Australian Open will be no different.
Ajla Tomljanovic – Rank: #45 – Best AO Result: Second round
Currently 45th in the WTA rankings, the 28-year-old is not far off her 2019 career-high of 39th. Though she is yet to win a tour level singles title in her career, Tomljanovic did record her best Slam result to date at Wimbledon 2021, reaching the quarter-finals before losing to compatriot and eventual champion Barty. Despite the home support, the Australian Open has historically been Tomljanovic's worst Major, never progressing beyond the second round, getting to that stage four times in seven appearances.
Alexei Popyrin – Rank: #59 – Best AO Result: Third round
This big-hitting 22-year-old had a breakout season in 2021, breaching the top 100 for the first time after claiming his maiden ATP tour title at the 250 level Singapore Open in March, defeating Alexander Bublik in the final there. Though he has never gone further than the third round at any Slam, Popyrin will still be looking to make his mark in Melbourne at what will be his 12th Major main draw appearance.
Nick Kyrgios – Rank: #114 – Best AO Result: Quarter-final
The maverick Aussie ended his 2021 season following the Laver Cup in September to rest up for his home and favourite Slam. Unfortunately for the 26-year-old, he contracted Covid just a week before the tournament gets started on 17th January, putting his participation in serious doubt.
Sam Stosur – Rank: #383 – Best AO Result: Fourth round
This former world number four and 2011 US Open required a wildcard to play the 2022 Australian Open, with Stosur announcing she will retire from singles following the event. While the likelihood of the 37-year-old winning the singles is minute, she could win the doubles with partner Zhang Shuai, with whom she won the 2021 US Open and 2019 Australian Open.
Stosur will continue to play doubles for the rest of the 2022 season as she looks to add to her four women's doubles Slam titles and three mixed doubles Major crowns.
Special Mention – Dylan Alcott – Quad singles #1 and 15-times quad singles Slam champion
In November 2021, Alcott announced that he would be retiring from wheelchair quad tennis following the 2022 Australian Open at the age of 31. He has won the singles event in Melbourne every year since 2015, plus has three Roland Garros singles titles, two Wimbledon singles titles and three US Open singles titles. In 2021, Alcott became the first man to claim the Calendar Golden Slam in quad singles by winning all four Majors and the gold medal at the Tokyo Paralympics.
The Australian has also won the Career Grand Slam in doubles, including being the only man to win the Calendar Doubles Grand Slam in quad tennis, doing so in 2019. He has eight quad doubles titles in total. Finally, Alcott won back-to-back Paralympic singles golds at Rio 2016 and Tokyo 2020 (held in 2021), as well as claiming Paralympic doubles gold in Rio as well.
Australians will miss a true legend of the sport come his retirement at the end of January. Alcott will be hoping to add an eighth consecutive singles title in Melbourne and a 16th singles Major crown overall.
The bookies favourites
Men's singles
Three-time defending champion and world number one Novak Djokovic is the odds-on favourite to win the event for a men's record-extending 10th time. Newly crowned US Open winner Daniil Medvedev is second, ATP Finals champion Alexander Zverev third and world number six Rafael Nadal fourth.
Novak Djokovic 32/19
Daniil Medvedev 13/5
Alexander Zverev 9/2
Rafael Nadal 14/1
Stefanos Tsitsipas 49/1
Jannik Sinner 54/1
Carlos Alcaraz 69/1
Women's singles
As with the men, it is the world number one who is backed by the bookies to win the women's event, that being home favourite Ashleigh Barty. Defending champion Naomi Osaka is second, with WTA Finals winner Garbine Muguruza third and 2018 Australian Open finalist Simona Halep fourth.
Ashleigh Barty 3/1
Naomi Osaka 6/1
Garbine Muguruza 13/1
Iga Swiatek 17/1
Anett Kontaveit 37/2
Aryna Sabalenka 19/1
Paula Badosa 20/1
Emma Raducanu 25/1
🎾 Read >> Breaking tennis news
🎾 Follow >> 24/7 LIVE scores
🎾 Free >> Receive our legendary newsletter
🎾 Join >> Tennishead CLUB, the world's only virtual tennis club
🎾 Social >> Facebook, Twitter, Instagram & YouTube
🎾 Order >> World's best tennis magazine
🎾 Shop >> Lowest price tennis gear from our trusted retail partner