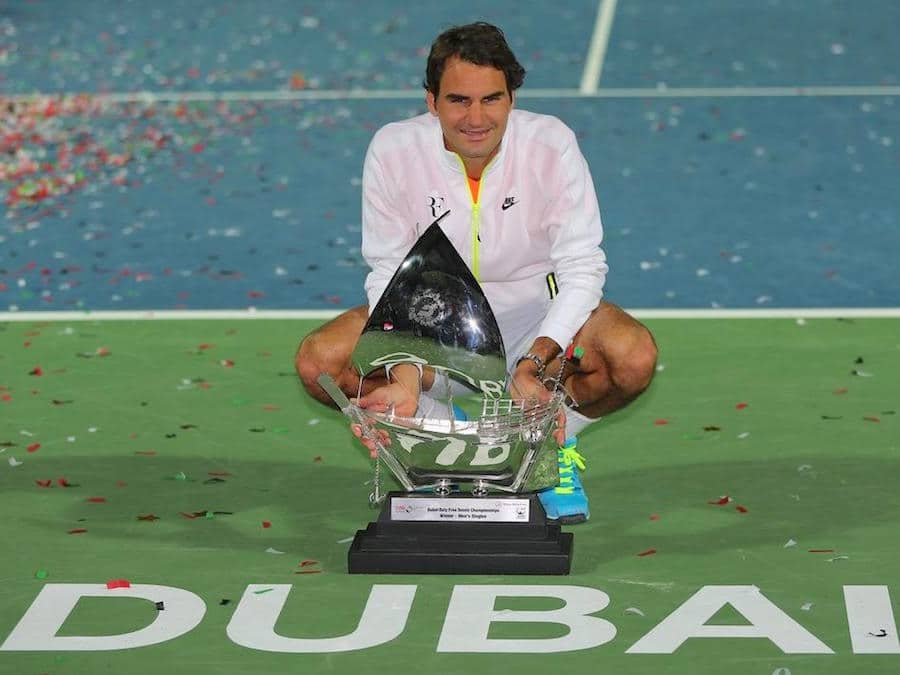 Roger Federer's 100th title beckons as Dubai draw holds no fear
The chances of Roger Federer achieving the unthinkable and winning his 100th ATP Tour title this week have never been greater as a kind draw and favourable conditions look to have played into the great man's hands.
Federer spends a large chunk of his year living and practising in Dubai because he loves the conditions, so competing in the Dubai Duty Free tournament feels like playing at home. Since first winning the tournament in 2003 Federer has gone on to win the event 7 times and lost in the final twice. The only doubt that he might not achieve the feat this week is that his recent form hasn't been quite as potent as throughout his career, with his last win being in October 2018 when he won the Swiss Indoors event.
Federer's incredible ATP Tour record places him second in the all time list of career tournament wins behind the legendary Jimmy Connors. Connors won a staggering 109 ATP Tour singles titles in his 24 year career. Federer has been playing on the ATP Tour for 21 years so far which means that he would need to play for another 3 years to match the length of Connors career. Few commentators see this happening as many believe Federer will only play until the Tokyo Olympics in 2020 where he will aim to win the one major title that has eluded him, the Olympic Men's Singles.
The draw this week in Dubai will hold no fear for Federer. He starts today against Philip Kohlschreiber who he has never lost to in 13 matches. Federer's biggest challenges will begin in the quarter final where he is likely to meet huge serving Canadian Milos Raonic. Federer has lost to Raonic three times but the young Canadian isn't quite back to his best yet after some serious injuries in recent times. Federer would then possibly meet Karen Khachanov in the semi final and Kei Nishikori in the final.
Khachanov has only played Federer once when he lost in 2 sets in the semi final of the Halle grass court tournament. This isn't the best measure of the potential outcome in Dubai as grass is undoubtedly Federer's favourite surface. If Khachanov can bring his best power game to Dubai then he will present Federer with his biggest challenge of the week.
The possible final of Nishikori against Federer is easier to predict as Nishikori's record against Federer doesn't make for good reading for the Japanese. He's only beaten the Swiss 3 times in 16 matches and often talks about the mental difficulty he finds in playing his idol Federer.
Federer has recently confirmed that he will play the clay court season this year for the first time in 3 years which is a great signal that he is still as hungry as ever for the game he loves. Clay is undoubtedly the toughest surface for Federer especially because he's had to deal with Rafa Nadal throughout most of his career. The fact that he still wants to compete on clay sends the signal that simply playing tennis is still a huge motivation for Federer and he feels he has plenty left to give the sport. This is another reason why Dubai this week could well see Federer raising an ATP Tour mens singles trophy for the 100th time.
Look ahead to 2019 with our guide to every tournament on the ATP Tour, the WTA Tour and the ITF Tour
If you can't visit the tournaments you love then do the next best thing and read our guide on how to watch all the ATP Tour matches on television in 2019
To read more amazing articles like this you can explore Tennishead magazine here or you can subscribe for free to our email newsletter here