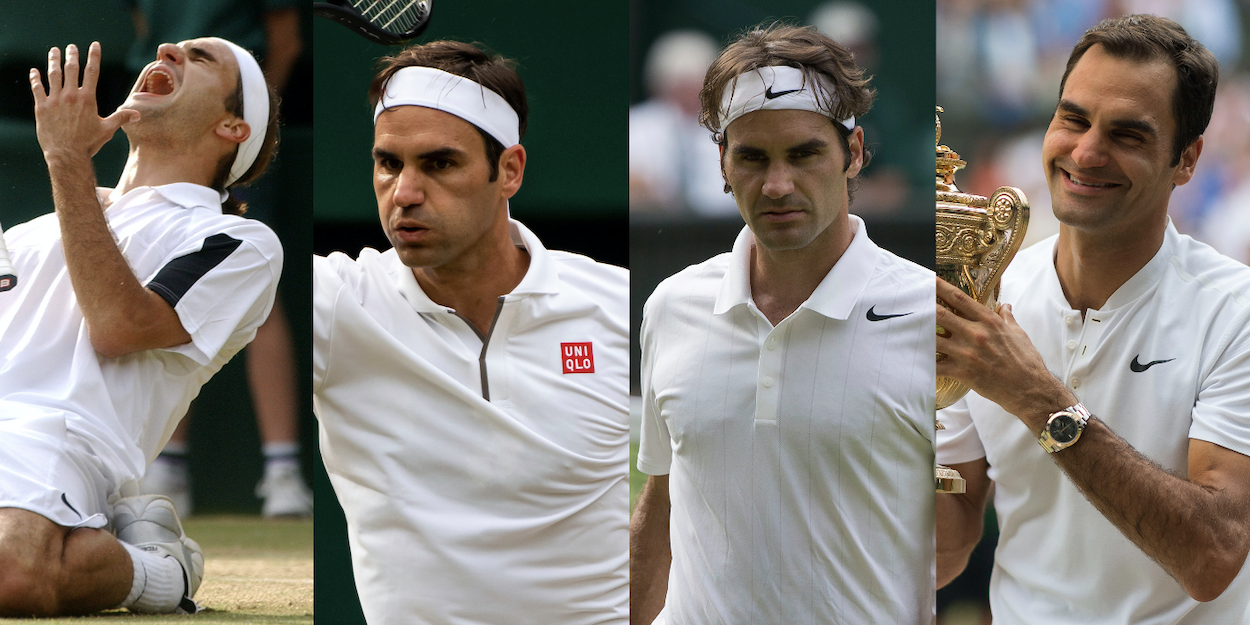 Roger Federer – The Wimbledon Story
Roger Federer redefined success at the highest level with his illustrious results at Wimbledon. 
Here Tennishead breaks down the great's campaigns on the historic courts of the All England Lawn Tennis Club from a burgeoning star to tennis royalty.
1. The debut – 1999
Federer won the Wimbledon boys' singles in 1998 at the age of 16. Seeded fifth, he did not drop a set over the course of the event. He defeated Georgia's Irakli Labadze 6-4, 6-4 in the final, also winning the doubles alongside Olivier Rochus of Belgium.
A year on the Swiss made his main draw debut after making his Slam debut at the French Open weeks earlier. He faced 59th ranked Jiri Novak, narrowly losing to the Czech 3-6, 6-3, 6-4, 3-6, 4-6.
2. A generational shift – 2001
Federer suffered a tough draw in 2000. He faced former world number one and two-time Slam champion Yevgeny Kafelnikov in the first round. He fell 7-5, 7-5, 7-6 (8-6) to the world number five Russian. The next year is when the big breakthrough came. Aged 19 and seeded 15th, Federer claimed wins over Christophe Rochus, Xavier Malisse and Jonas Bjorkman.
That earned him a spot in the fourth round against seven-time champion Pete Sampras, a man seeking a fifth consecutive crown at SW19. Federer triumphed that day 7-6 (9-7), 5-7, 6-4, 6-7 (2-7), 7-5 in front of a crowd witnessing tennis' future. This was the only ever tour meeting between Federer and Sampras. The Swiss lost to home favourite Tim Henman in the quarter-finals, but a legend was born on Centre Court.
3. Federer becomes king – 2003-2007
Seeded seventh in 2002, Federer was tipped as one of the favourites for the title. But all that came crashing down as he lost 6-3, 7-6 (7-2), 6-3 to world number 154 Mario Ancic. But Federer would put that well and truly behind him in 2003.
The fourth seed defeated Hyung-Taik Lee and Stefan Koubek in straight sets to get underway. A third round against Mardy Fish required four sets before downing Feliciano Lopez  7-6 (7-4), 6-4, 6-4. He then despatched 12th ranked Sjeng Schalken and world number six Andy Roddick both in straight sets too to reach a maiden Slam final.
There he took on 48th ranked Mark Philippousis of Australia, playing his first Major final since the 1998 US Open. Federer maintained his tournament form to win 7-6 (7-5), 6-2, 7-6 (7-3), surrendering just one set over the Wimbledon fortnight.
On his return in 2004, Federer was now world number one. He had another Slam to his name, the 2004 Australian Open, and was hungry for a third. The defending champion reached the quarter-finals with ease to face 2002 champion Lleyton Hewitt. He came through 6-1, 6-7 (1-7), 6-0, 6-4 for his third successive victory over the Aussie. 2003 semi-finalist Sebastian Grosjean was next, but he was no match as Federer won for the loss of just 11 games.
A final against Andy Roddick was next, the US Open champion and the man Federer had taken the number one ranking from. After losing the opener 6-4 it looked as though Federer may not defend his title. But he surged back to win 4-6, 7-5, 7-6 (7-3), 6-4 to cement his place as champion.
Federer matched his 2003 dominance in 2005, only dropping one set en route to the final. Again he defeated Hewitt to get there, this time in the semi-finals 6-3, 6-4, 7-6 (7-4). Once more Roddick stood in the way, but offered little resistance this time around. Federer won 6-2, 7-6 (7-2), 6-4 to complete the Wimbledon hat-trick.
Only two men had ever won four consecutive Wimbledons in the Open Era, Bjorn Borg and Pete Sampras. In 2006 Federer was vying to become the third. He stormed to the final, this time without dropping a set and only being pushed beyond 6-4 once in a set. There he faced a new rival on the grass, Rafael Nadal. The two had met in the French Open final earlier that season, the Spaniard winning there in four sets.
Federer turned the tables on the 20-year-old in London, defeating him, but not before Nadal inflicted a first dropped set for Federer 7-2 in a third set tiebreak. The Swiss joined Borg and Sampras with his quadruple. 2007 came and another streak to chase as Federer looked to match Borg's five straight wins from 1976-1980.
Wins over Teymuraz Gabashvili, Juan Martin del Potro and Marat Safin took him to the second week. Tommy Haas then handed him a walkover before Federer saw off Juan Carlos Ferrero in four sets to reach the last four. Richard Gasquet was roundly beaten 7-5, 6-3, 6-4 there. Nadal awaited once more in the final. This was Federer's toughest final yet, eventually winning 7-6 (9-7), 4-6, 7-6 (7-3), 2-6, 6-2.
This final was a first five-set match for Federer at Wimbledon since his tussle with Sampras in 2001. It signalled the beginning of a momentum shift at SW19 and beyond.
4. Federer dethroned – 2008
Every tennis fan knows the story. Wimbledon 2008 was destined to be another Federer-Nadal showdown. Nadal made it through top 30 pros Nicolas Kiefer and Mikhail Youzhny plus 12th seed Andy Murray all with ease. The Spaniard dropped just one set before the final, in the second round against Ernests Gulbis. Federer dominated his half, winning all six contests in straight sets, including over Lleyton Hewitt and Marat Safin.
What followed was not only an epic final, but arguably the greatest match in tennis history. Nadal started by inflicting a first dropped set of the tournament for Federer, winning 6-4. He did the same in the second to put the five-time champion one set from defeat. Federer held on for a tiebreak in the third, edging out the Spaniard 7-5 to stay in the match.
The fourth set produced another tiebreak and two championship points for Nadal. Federer saved one with a big serve out wide, and the other with a stupendous backhand passing winner. An unreturned serve at 9-8 meant the battle went to a fifth.
The two could not be separated as the tie went on without a final tiebreak. Finally breaking to go up 8-7, Nadal served out the championship past 9pm local time as light faded on Centre Court. Federer's streak of 40 match wins at Wimbledon was over, and a new man led the field on the grass.
5. Federer does not go away – 2009-2012
His reign of dominance may have been over, but Federer was far from finished at Wimbledon. In 2009 Nadal was injured and unable to put up a defence of his title. In his absence Federer tore through the draw to reach the final losing just one set. While Nadal was gone, another familiar adversary stood in the way, Andy Roddick.
And the American put up his best fight yet in a Wimbledon final. He claimed the first set 7-5 and did not have his serve broken once in the first three sets. Still, he somehow found himself two sets to one down as Federer claimed sets three and four in tight tiebreaks 8-6 and 7-5. He levelled 6-3 in the fourth before a marathon final set. As in 2008, the decider went beyond 6-6 without a tiebreaker to end the match.
7-7 came and went, as did 8-8, 9-9 and so on until the score was 14-15 as Roddick served to stay in the championship for an 11th time. And that was the breaking point as Federer won the match 16-14, the only time he broke Roddick in the final. The Swiss was now a six-time champion, surpassing the great Bjorn Borg and now within one crown of Pete Sampras, whom he surpassed in the Major tally with his 15th overall title.
Federer struggled to begin his title defence in 2010. He had to recover from two sets to love down against 60th ranked Alejandro Falla. He then required four sets against 152nd ranked Ilija Bozoljac.
Wins over Arnaud Clement and Jurgen Melzer took Federer to a quarter-final against world number 13 Tomas Berdych. And the Czech got the better of Federer in four, his first loss before the final since 2002.
2011 told a similar story. After making it to the quarter-finals, Federer found himself 6-3, 7-6 (7-3) up against Jo-Wilfried Tsonga. The world number three had never lost from this position before, but history does not tell the future.
Tsonga roared back to claim the remaining sets 6-4 each, dumping Federer out in the last eight once more.
The 30-year-old entered Wimbledon 2012 without a Major title to his name for more than two years. His quest for a seventh trophy looked all but over in just the third round though. Facing 32nd ranked Julien Benneteau, Federer was two sets to love down.
He rescued the third set before entering a tiebreak in the fourth. Federer was just two points from defeat on multiple occasions before and during the breaker, but held out 8-6 for a decider.
The Frenchman ran out of steam as Federer won 6-1 in the fifth to stay in the tournament. Wins over Xavier Malisse and Mikhail Youzhny saw him take on defending champion and world number one Novak Djokovic.
Their first meeting on the grass, Federer clinched victory in for sets. He faced home favourite Andy Murray, the Brit looking to be the first men's home champion in 76 years.
While that win was on the cards after claiming the first set, Federer came back to win in four. In doing so he extended the men's Slam record to 17 and levelled with Sampras on seven Wimbledon triumphs.
6. Stopped so close to glory – 2013-2016
2013 was the biggest anomaly in Federer's Wimbledon career. The defending champion lost in the second round to world number 116 Sergiy Stakhovsky. This was his earliest Slam exit in a decade, since the 2003 French Open.
The following year was a return to normalcy. Federer breezed to the quarter-finals in straight sets. He then defeated compatriot Stan Wawrinka in four sets before downing Milos Raonic 6-4, 6-4, 6-4.
In the final Federer met Djokovic once again, the Serb chasing a second Wimbledon title. Momentum flowed back and forth as Federer claimed the first set in a tiebreak before Djokovic took the second and third. The Swiss forced a decider 7-5, but Djokovic eventually clinched it 6-4 there.
2015 was another close run competition. Federer reached the semi-finals to face 2013 champion Murray for a spot in the final. He defeated the Brit 7-5, 7-5, 6-4 to reach a 10th Wimbledon final of his career.
After splitting the first two sets in tiebreaks it looked as though fans could witness an epic. But Djokovic ran away with in the third and fourth to claim a third title in five years.
In 2016 Federer made it to the quarter-finals and faced Marin Cilic for a spot in the last four. After falling two sets to love down against the Croatian he rallied to win in five.
There he took on Raonic in a repeat of their 2014 semi-final. But this time the Canadian came out on top in five sets to reach a maiden Slam final. No title in four events, was Federer done winning Wimbledon titles?
7. A record-breaking run – 2017
After securing a first Major for more than four years in Melbourne, Federer came into Wimbledon as one of the favourites. Losses from Djokovic and Murray in the quarter-finals helped his cause.
Federer rolled back the years to topple Grigor Dimitrov, Raonic and Berdych all in straight sets. He took on Cilic in the final, likewise despatching the seventh seed 6-3, 6-1, 6-4. This was a 19th Slam title for Federer. Moreover, it was a new men's record eighth Wimbledon triumph, overtaking Sampras.
Finally, Federer was the first man to win Wimbledon without dropping a set since Borg did so in 1976.
8. One last title push and an unhappy farewell – 2018-2021
Federer looked in strong form to defend his title in 2018. After adding a 20th Slam to his collection at the Australian Open, he looked a favourite for Wimbledon once more.
After making it to the quarter-finals in straight sets he faced world number eight Kevin Anderson. All looked positive for Federer as he went two sets to love up. But the 2017 US Open finalist was not done. Anderson staged an unlikely comeback to win 2-6, 6-7 (5-7), 7-5, 6-4, 13-11. This was Federer's second loss from two sets up at Wimbledon after losing to Tsonga in 2011.
2019 was the closest Federer would come to another title. Wins over Matteo Berrettini and Kei Nishikori saw him face longest rival Rafael Nadal in the semi-finals. In their last ever competitive meeting, Federer won 7-6 (7-3), 1-6, 6-3, 6-4, more than 15 years after they first did battle at the 2004 Miami Open.
What followed was another classic final, again against Djokovic. Whilst the top seed won the first and third sets in tiebreaks, Federer won the second and fourth 6-1, 6-4. Still no tiebreak in the fifth until 12-12 saw the match go 7-7 before Federer broke to serve for the championship.
Despite two championship points for the Swiss up 40-15, Djokovic courageously saved both. One as a Federer forehand sailed wide, the second with an angled forehand pass. He went on to break to prolong the contest.
And so the tussle did reach 12 apiece, a tiebreak to seven to settle it. And Djokovic broke the 37-year-old's heart to claim his fifth Wimbledon title.
After the 2020 event was cancelled in the midst of the Covid pandemic, Federer returned for a final time in 2021. He survived Adrian Mannarino in the first round when the Frenchman retired in the fifth set. Wins over Richard Gasquet, Cameron Norrie and Lorenzo Sonego took him to a 17th quarter-final at SW19.
But Federer was second best against Poland's Hubert Hurkacz, downed 6-3, 7-6 (7-4), 6-0. this proved his last competitive play before the 2022 Laver Cup where he retired from the sport at the age of 41.
Federer Career Record at Wimbledon
Federer never missed a Wimbledon tournament from his 1999 debut to 2021, making 22 consecutive appearances. He played an astounding 119, winning the title a men's record eight times and appearing in 12 finals.
Win-loss: 105-14, 88% win percentage (most wins Open Era among men, 2nd overall men and women)
Title Strike Rate: 8 of 22 (most titles Open Era among men, 2nd overall men and women)
Finals record: 8-4
🎾 Free >> Join our legendary newsletter
🎾 Join >> Receive $700/£600 of tennis gear from the Tennishead CLUB
🎾 Social >> Facebook, Twitter, Instagram & YouTube
🎾 Read >> World's best tennis magazine
🎾 Watch >> How to enjoy ATP/WTA/Slam tennis on TV
🎾 Shop >> Lowest price tennis gear from our trusted partner