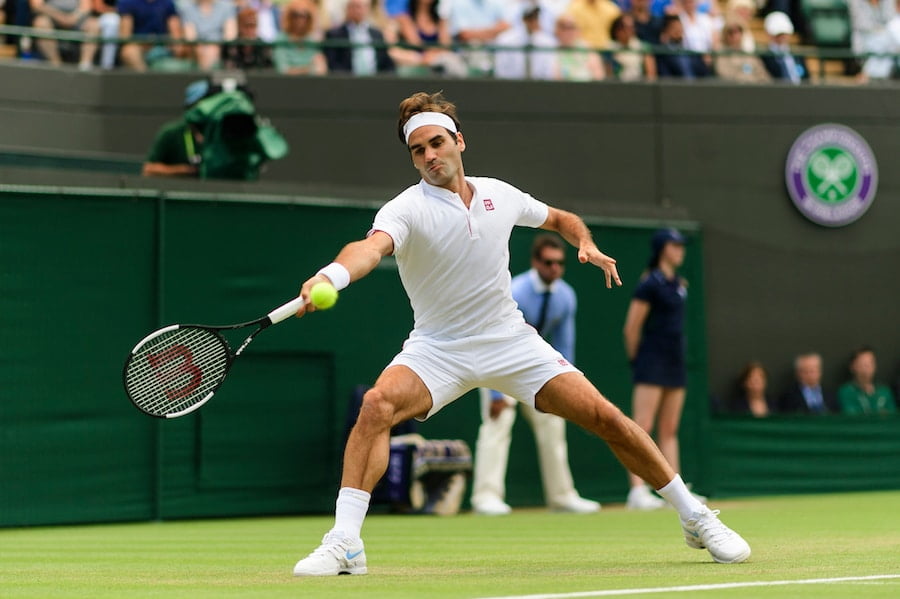 Roger Federer: The incredible facts & figures that make him the player of the century
Roger Federer won the 100th title of his career earlier this year. In advance of his assault on another Wimbledon singles title we look into where has he enjoyed the most success, who have been his most regular victims and what records has he broken along the way.
Where it all began
It might be hard to believe now, but there was a time early in his career when Roger Federer wondered if he would ever win a title. He had made his main-tour debut at Gstaad in the summer of 1998, broken into the world's top 100 the following year and reached his first finals in 2000 but lost both of them – to Marc Rosset in Marseille and to Thomas Enqvist in Basel.
Federer was concerned that he had yet to win a tour-level title, but everything changed in February 2001 at an indoor tournament in Milan. Then ranked No 27 in the world, he beat Goran Ivanisevic in the quarter-finals and Yevgeny Kafelnikov in the semi-finals to set up a final showdown with France's Julien Boutter, the world No 67. Federer won a hard-fought battle 6-4 6-7(7) 6-4 after two hours and 20 minutes.
"Title number one was a special one for me," Federer told Eurosport as he looked back on his 100 tournament victories. "I'm not kidding now if I tell you I was hoping I would not go down as a player to never win a tournament, because I lost my first two quite dramatically."
He added: "I was just so relieved that I was not going to be that guy who has endless talent and no titles."
A slow starter
Federer won his first Grand Slam title (at Wimbledon in 2003) at the 17th attempt, when he was a month short of his 22nd birthday, which was comparatively late for a multiple champion.
Among those who won their first Grand Slam titles earlier in their careers are Boris Becker (aged 17, at fifth attempt), Bjorn Borg (aged 18, sixth attempt), Rafael Nadal (aged 19, sixth attempt), Pete Sampras (aged 19, eighth attempt), John McEnroe (aged 20, seventh attempt), Novak Djokovic (aged 20, 13th attempt) and Jimmy Connors (aged 21, ninth attempt). However, Ivan Lendl did not win his first Grand Slam until his 19th attempt (at the age of 24) and Andy Murray did not win his 28th attempt (at the age of 25).
Happiest hunting grounds
Federer's most successful tournaments have been Basel and Halle. He has won both titles nine times. He has won Wimbledon eight times, which is a men's record. Other tournaments where he has been a multiple champion are Dubai (eight titles), Cincinnati (seven), Australian Open (six), ATP Finals (six), US Open (five), Indian Wells (five), Hamburg (four), Madrid (three), Miami (three), Doha (three), Rotterdam (three), Shanghai (two), Toronto (two), Vienna (two) and Bangkok (two).
There are four tournaments where he has never been beaten: Istanbul, Munich and Tokyo, each of which he played once, and Bangkok, where he played twice.
Familiar foes
Ten of Federer's 100 victories in tour-level finals have been over Rafael Nadal. Andy Roddick has been his second most frequent victim (seven times) ahead of Novak Djokovic (six), Andy Murray (five) and Ivan Ljubicic (four).
Overhauling his hero
Federer beat Pete Sampras' all-time record of 14 men's Grand Slam singles titles at Wimbledon in 2009, when he beat Andy Roddick in the final.
"I'm happy I broke the record here, because this is always the tournament that's meant the most to me because of my heroes and idols being so successful here," Federer said afterwards. "I know how much the record meant to Pete and he knows how much the record means to me."
Now with 20 Grand Slam singles titles to his name, Federer stands two clear of Rafael Nadal at the top of the all-time men's list, with Novak Djokovic in third place with 15 titles. When Federer won his 20th at last year's Australian Open at 36 years and 173 days he became the oldest male winner of a Grand Slam singles title since Ken Rosewall in Australia in 1972.
A title every third tournament
Going into this year's Indian Wells event, Federer had played in a total of 339 tour-level tournaments and won 100 of them, a win ratio of nearly one in three, or 29.5 per cent. He has won 20 of the 76 Grand Slam tournaments he has contested (win ratio 26.7 per cent), six of his 16 year-end ATP Finals (37.5 per cent), 27 of his 122 Masters 1000 tournaments (22.1 per cent), none of his four Olympic competitions and 47 of the 122 other tournaments he has played (38.5 per cent).
Don't forget the doubles titles
As well as his 100 singles triumphs, Federer has eight tour-level doubles titles to his name. The last doubles title he won was alongside Stan Wawrinka at the Beijing Olympics in 2008. Before that he had won three titles with Max Mirnyi, two with Yves Allegro and one each with Jonas Bjorkman and Marat Safin.
The long and the short of it
The longest final Federer has won was at Wimbledon in 2009, when he beat Andy Roddick after four hours and 16 minutes. However, he has played in three longer finals, each of them won by Rafael Nadal: after five hours and five minutes in Rome in 2006, after four hours and 48 minutes at Wimbledon in 2008 and after four hours and 19 minutes at the Australian Open in 2009.
The shortest final Federer has contested was at Basel in 2014, when he beat David Goffin 6-2 6-2 in just 52 minutes. Other finals he has won in less than an hour: Sydney in 2002 (beat Juan Ignacio Chela 6-3 6-3 in 53 minutes), Munich in 2003 (beat Jarkko Nieminen 6-1 6-4 in 56 minutes), Bangkok in 2004 (beat Roddick 6-4 6-0 in 57 minutes), Halle in 2004 (beat Mardy Fish 6-0 6-3 in 57 minutes), Halle in 2017 (beat Alexander Zverev 6-1 6-3 in 53 minutes) and Rotterdam in 2018 (beat Grigor Dimitrov 6-2 6-2 in 55 minutes)
For richer for poorer
The biggest pay cheque Federer has earned in his 100 tournament victories was at Wimbledon in 2017, when he won £2.2m. His smallest pay cheque for a tournament victory was the $48,500 he won in Sydney in 2002. In the course of his career he had won $121,268,063 (about £92.1m) in prize money going into Indian Wells this year. Novak Djokovic had won $128,804,799 (£97.8m) and Rafael Nadal $104,754,905 (£79.6m).
The ones that got away
The two titles that have been the most elusive for Federer are Rome and Monte-Carlo, which are the only two Masters 1000 tournaments he has not won. He has played in Rome 17 times and lost four finals and in Monte-Carlo 13 times with four losses in finals. The French Open (one title in 18 appearances) is his least successful Grand Slam event.
You might also want to know…
Since he won Milan in 2001, Federer's longest run without a title was between November 2015 and January 2017
Between October 2003 and November 2005 he won 24 finals in a row
He went to the top of the world rankings for the first time after winning the Australian Open in 2004
His most prolific season was in 2006, when he won 12 titles
He has won the Davis Cup once, the Laver Cup twice and the Hopman Cup three times
And now for Connors' record?
In the open era Jimmy Connors is the only man who has won more tour-level singles titles than Federer. The American, now 66, won 109 titles between 1972 and 1989. His 100th came at the 1983 US Open.
"Welcome to the 'Triple Digit' tournament victory club," Connors wrote on Twitter in congratulating Federer. "I've been a bit lonely – glad to have the company!"
Ivan Lendl is third on the list with 94 titles. Going into this year's Masters 1000 tournament at Indian Wells, Rafael Nadal was in fourth place with 80 titles and Novak Djokovic seventh with 73. The other players in the top 10 are John McEnroe (77 titles), Rod Laver (74), Bjorn Borg (64), Pete Sampras (64) and Guillermo Vilas (62).
Now you can look ahead to Wimbledon with our exclusive, 164 page, 'Guide to Wimbledon 2019'
To find out how to get tickets for Wimbledon this year read our 9 point guide here
For all the latest Wimbledon news before, during and after the tournament make sure you bookmark our 'Wimbledon News' section here
If you can't visit the tournament then do the next best thing and read our guide on how to watch Wimbledon on television
To read more amazing articles like this you can explore Tennishead magazine here or you can subscribe for free to our email newsletter here