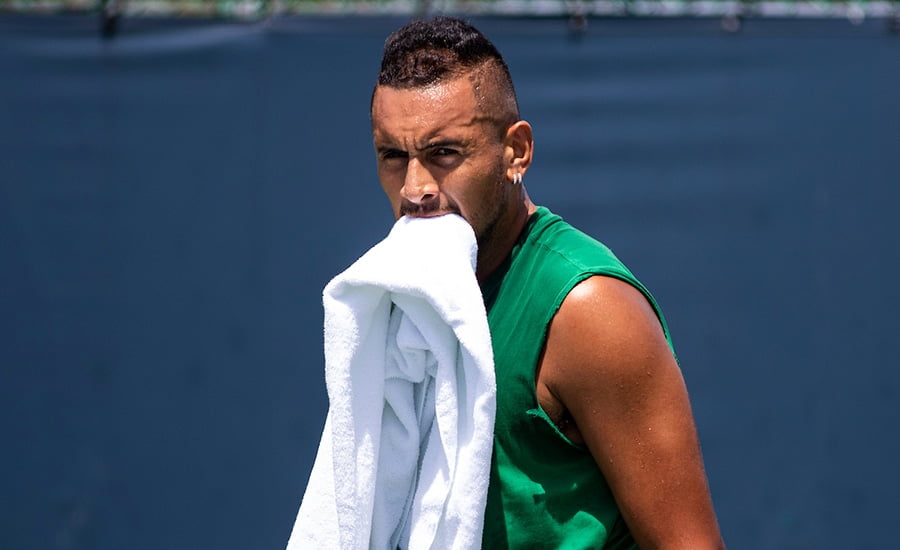 Roger Federer refuses to defend Nick Kyrgios as Australian receives record fine
Roger Federer has refused to defend Nick Kyrgios after the Australian was hit with a huge fine for his shocking on-court antics at the Cincinnati Masters.
Federer has often been a staunch defender of Kyrgios in the past, but appeared to abandon that position on this occasion.
"Yeah I watched it," Federer said of the remarkable scenes where Kyrgios swore and spat at the chair umpire and walked off court to smash a pair of rackets in the locker room area earlier this week during a defeat to Karen Khachanov..
"I'm not going to comment on it because I'm just not really in the mood."
Kyrgios has paid a heavy price for his behaviour after the ATP handed him the biggest fine on record.
The 24-year-old must pay a total of $113,000 covering five charges of unsportsmanlike conduct, one charge of verbal abuse, one for audible obscenity, and one for leaving the court without permission.
Kyrgios major career fines: $243.866

2019 Cincinnati 113000$
2019 Rome 20000$
2018 Queen's 17500$
2018 AO 3000$
2017 Shanghai 31085$
2017 Us Open 5500$
2016 Shanghai 16500$
2016 Wimbledon 8690$
2016 RG 6200$
2016 AO 4370$
2015 W 13095$
2015 AO 4926$

(Anything missing ?)

— enrico maria riva (@enricomariariva) August 15, 2019
It could get even worse for Kyrgios too, with the ATP confirming they are considering a suspension too.
"The ATP is looking further into what happened during and immediately after the match to see if additional action is warranted under the Player Major Offense section of the code. That could result in an additional fine and/or suspension," the game's governing body said.
Look ahead to the rest of 2019 with our guides to every tournament on the ATP Tour and the WTA Tour. If you can't visit the tournaments you love then do the next best thing and read our guide on how to watch all the ATP Tour matches on television in 2019. To read more amazing articles like this you can explore Tennishead magazine here or you can subscribe for free to our email newsletter here