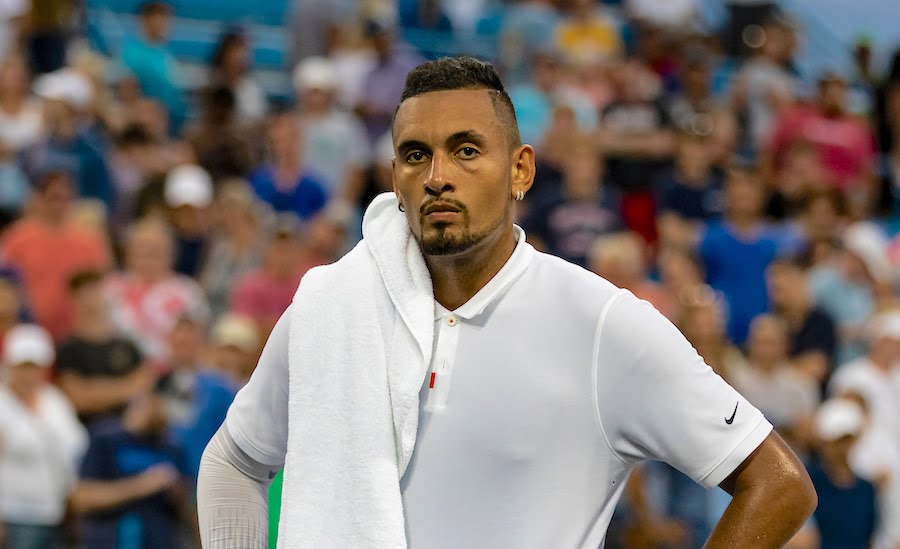 Kyrgios swears & spits at umpire during on court meltdown in loss to Khachanov
Nicky Kyrgios lost control of his emotions during a close fought match which resulted in him smashing rackets, swearing and spitting at the umpire. His actions are likely to lead to a heavy penalty from the ATP and potentially a ban
Nick Kyrgios had shown signs of a change in attitude over the past few weeks as a renewed focus on his game lead to a memorable tournament victory in Washington, but that new found focus has seemingly disappeared as soon as it arrived after a night of high drama in Cincinnati.
The trouble started when Kyrgios began a conversation with the physio during a an injury timeout after taking the first set. Kyrgios decided to use the trainer as a sounding board but wasn't impressed with the camera that was filming the action so he covered it with his towel.
Kyrgios told the physio: "If he (Khachanov) had of held at 5-3 that would have been it, like he literally broke himself. I didn't have to do anything.
"Bro I didn't even move to break him. He hit a double, missed the ball long, missed the ball long. I just stood there and slapped one winner, he literally just broke himself.
"Did not move, I can just stand there and serve and not really move. It's annoying … it really hurts.
Do Not Disturb ?‍♂️?

?: @TennisTV | @NickKyrgios | #CincyTennis pic.twitter.com/NIhQmKaZg3

— ATP Tour (@ATP_Tour) August 15, 2019
Kyrgios subsequently settled down but then later in the second set the Australian fell foul of the shot clock which gives players 25 seconds from the end of the previous point until they must serve to start the next point. Kyrgios is without doubt one of the quickest players on tour but on this occasion the clock wasn't his friend. Kyrgios decided to vent his frustration on the unfortunate umpire, Fergus Murphy:
"You're telling me Rafa plays that quick every service ball? That's hilarious bro, hilarious.
"I missed the ball, the guy starts the clock.
"If Rafa plays that quick I'm retiring. Retiring from tennis.
"Absolute rubbish … disgrace.
"Get me some footage of Rafa playing that quick, that game. If you can find any of that I'll shut my mouth and never speak again.
"I guarantee you'll find none of that, none of it."
The well documented feud between Kyrgios and Rafa was obviously still playing on his mind.
Khachanov then won the second set to force the match into a deciding third at which point Kyrgios unleashed another abusive tirade on the umpire, saying out loud for all to hear:
"The worst f***ing ref ever, the worst ref in the game,
"The worst, hands down. Every time I play he's doing some stupid sh*t, every time."
This time the umpire seemingly ran out of patience with Kyrgios and gave him a warning for an audible obscenity
Kyrgios suddenly decided he needed a toilet break but in fact he used the time off court to smash two rackets.
Having smashed two racquets, Kyrgios abuses umpire, appears to spit in his direction, refuses to shake his hand. But sure, let us hear again from his army of apologists about how good he is for the game pic.twitter.com/P5zIs33eog

— Oliver Brown (@oliverbrown_tel) August 15, 2019
The match continued on with Khachanov securing the victory. After shaking hands Kyrgios was clearly filmed spitting towards the umpires chair and calling him a "f**king tool"
His actions are unlikely to go unpunished once the ATP officials have reviewed all the evidence. A lengthy ban and sizeable fine could well be handed out to the troubled player.
Look ahead to the rest of 2019 with our guides to every tournament on the ATP Tour and the WTA Tour. If you can't visit the tournaments you love then do the next best thing and read our guide on how to watch all the ATP Tour matches on television in 2019. To read more amazing articles like this you can explore Tennishead magazine here or you can subscribe for free to our email newsletter here