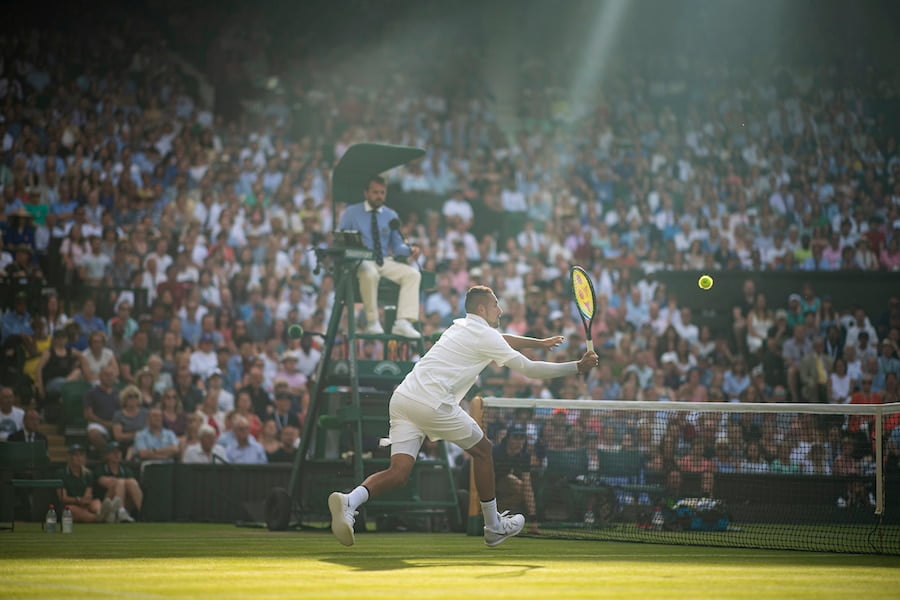 Rafa Nadal refers to "respect" and "fair play" in response to "dangerous" play from Nick Kyrgios
After the best match so far at Wimbledon 2019 what followed were two of the best press conferences this week. Nick Kyrgios and Rafa Nadal spoke incredibly honestly when asked about their feelings towards each other, the match and in particular one moment where Kyrgios deliberately aimed a high speed ball at Nadal.
Rafa Nadal and Nick Kyrgios are obviously very different people and would seem unlikely to ever be the best of friends, but their match yesterday nearly boiled over into outright warfare as the Australian World no.43 Kyrgios deliberately tried go hit the Spanish World No.2 Nadal with a tennis ball.
After the match Nadal was asked his thoughts on that particular point and he said "It's not about what I feel, the history of this sport is about respect and playing fair the whole time. I'm not saying Nick does this to bother the opponent but its true that sometimes it's dangerous".
Below you can watch the complete Nadal press conference after his second round victory over Kyrgios at Wimbledon here. Scroll through to 5 mins 35 secs to see the specified question and answer regards Kyrgios trying to hit Nadal:
In his own press conference earlier Kyrgios had admitted that he deliberately tried to hit Nadal with the shot but didn't need to apologies because he didn't actually hit the Spaniard with the ball and also he won the point. Kyrgios went on to say he didn't care if we wound up Nadal because Nadal has so many Slams and so much money in the bank that he can handle a ball in the chest.
You can watch the complete Kyrgios press conference here after his second round Wimbledon 2019 loss to Nadal here. Scroll through to 6 mins 25 secs to see the specific question and answer regarding the incident:
During his interview Nadal avoided mentioning the other times in the match that had clearly annoyed him including moments when Kyrgios's group of coaches & supporters were shouting encouragement to Kyrgios as Nadal was forced stop and stare at the umpire. Kyrgios also tried to speed up the match in an apparent effort to disrupt Nadal's notoriously meticulous preparation process for each point.
Nadal now faces Jo Wilfried-Tsonga in the third round tomorrow.
Enjoy Wimbledon even more with our exclusive, 164 page, 'Guide to Wimbledon 2019'
To find out how to get tickets for Wimbledon this year read our 9 point guide here
For all the latest Wimbledon news before, during and after the tournament make sure you bookmark our 'Wimbledon News' section here
If you can't visit the tournament then do the next best thing and read our guide on how to watch Wimbledon on television
To read more amazing articles like this you can explore Tennishead magazine here or you can subscribe for free to our email newsletter