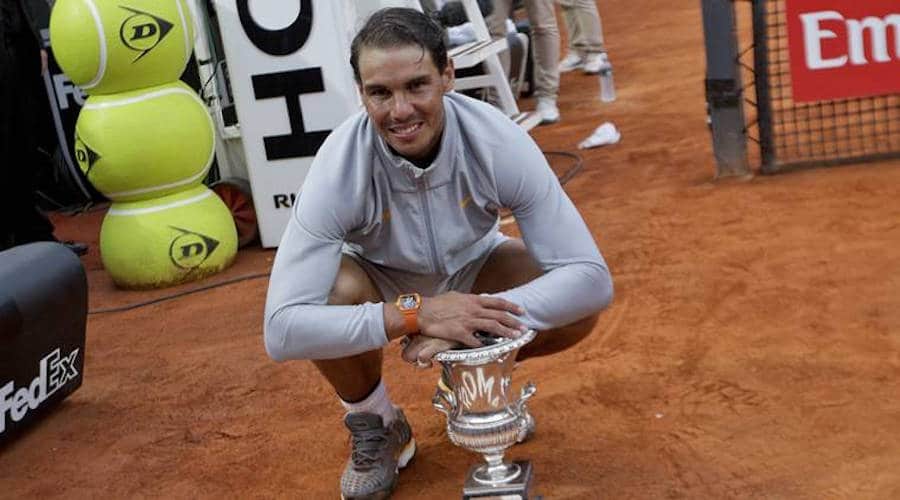 Preview of the Rome Masters & Italian Open from 12th to 19th May, 2019
The Internazionali BNL d'Italia is an ATP Masters 1000 and WTA Premier tournament and an integral part of the clay court season since 1930. The tournament runs over 7 days and features the very best players in the world
The Italian Open is also known as the Rome Masters from an ATP standpoint but it's one of those fantastic events on the tennis calendar that attracts the best male and female players to play alongside each other. The tournament was originally played in Milan but after 5 years in 1935 it moved to it's current location of the Foro Italico in Rome.
The venue is renowned for it's incredible sports park built over 10 years between 1928 and 1938. The tennis centre is an extensive area with a total of eleven clay courts. There are currently 3 show courts with a recently expanded centre court, the Campo Centrale, that can seat 10,400 spectators and was constructed for the 2010 tournament.
The tournament has always attracted the greatest names in tennis over the past 88 years and the winners list includes such greats as Rod Laver, Bjorn Borg, Guillermo Vilas, Ivan Lendl, Mats Wilander, Thomas Muster, Jim Courier, Pete Sampras, Gustavo Kuerten, Juan Carlos Ferrero, Andre Agassi, Novak Djokovic & Andy Murray. However the most outstanding champion in rome has been Rafa Nadal with 8 victories to his name. The 2019 entry list lives up to this billing with Novak Djokovic, Roger Federer, Rafa Nadal, Dominic Thiem, Alexander Zverev, Kei Nishikori and Stefanos Tsitsipas already entered.
Where is the tournament held?
The Italian Open is held every year at the Foro Italico
What dates does the tournament run?
Sunday 12th May 2019 until Sunday 19th May 2019
What court surface is the tournament played on?
The surface is outdoor clay courts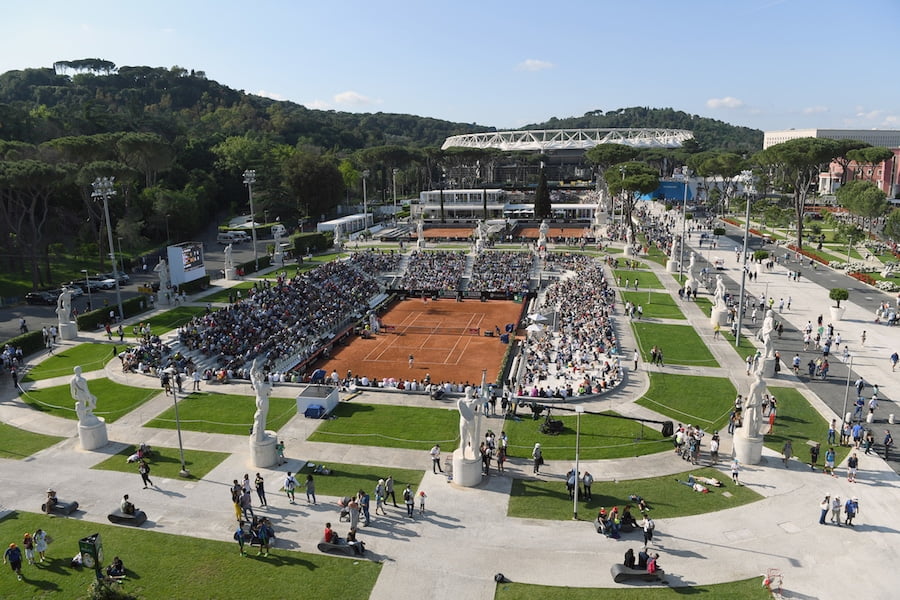 How many players and how many seeds are in the tournament?
There are a total of 56 men and there will be 16 seeded players in the Men's singles draws and 64 women with 16 seeds in the Ladies singles draw
What is the prize money and how many ranking points are available?
The mens tournament is an ATP 1000 which means that the winner receives 1000 ATP World Ranking points, with the complete breakdown of points and prize money awarded as follows:
Winner: 1000 pts & €958,055
Finals: 600 pts & €484,950
SF: 360 pts & €248,745
Quarter Finals: 180 pts & €128,200
Round 16: 90 pts & €64,225
Round 32: 45 pts & €33,635
R56: 10 pts & €18,955
The women's tournament is a WTA Premier 5 event which means that the winner receives 900 WTA Ranking points, with the complete breakdown of points and prize money awarded as follows:
Winner: 900 pts & $1,354,010
Finalist: 620 pts & $686,000
SF: 395 pts & $354,000
Quarter Finals: 225 pts & $182,000
Round 16: 125 pts & $91,205
Round 32: 70 pts & $48,775
Who is the reigning Champion?
In the 2018 Men's Singles final, Rafa Nadal (ESP defeated Alexander Zverev (GER) 6-1, 1-6, 6-3
In the 2018 Ladies Singles final, Elina Svitolina (UKR) defeated Simona Halep (ROU) 6-0, 6-4
Where can I buy tickets for the tournament?
You can buy tickets online by clicking here
How can I follow the tournament without going there?
To watch the live scores of every match in this tournament as they happen you can use the Tennishead exclusive Live Scores service here.
You can also follow this tournament on their official Twitter here
Alternatively you can watch the tennis live on television and full details of how to do this can be found here
2019 mens singles draw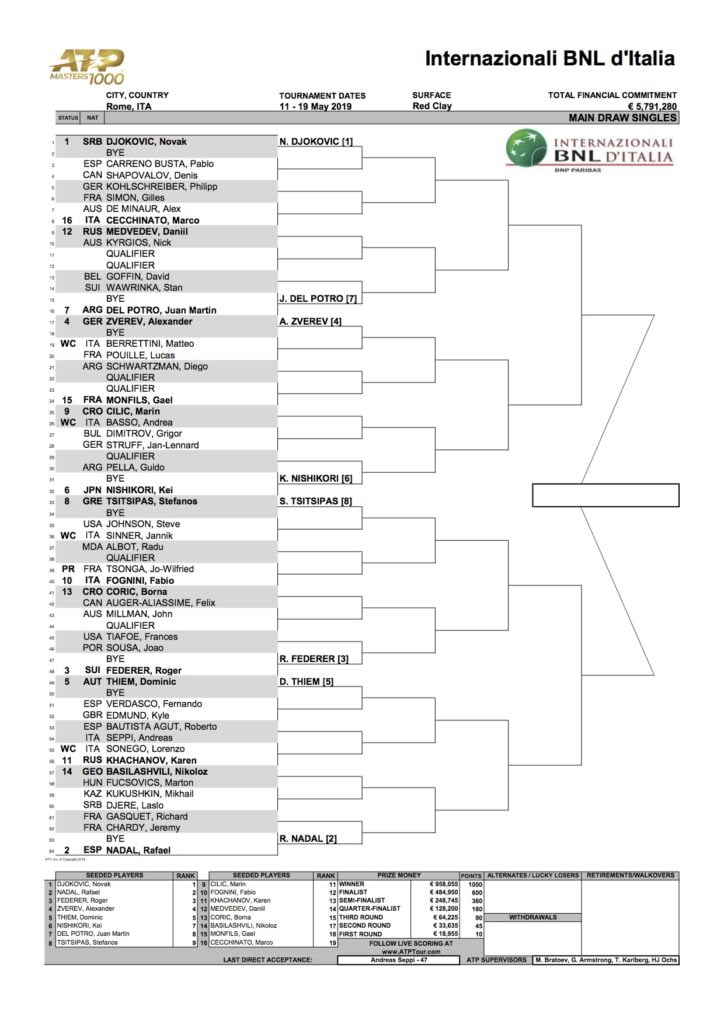 Past Champions – Men's Singles

Prediction for 2019
This year's Rome Masters has one of the strongest fields in recent history with the Top 5 players in the World rankings already entered. Novak Djokovic, Rafa Nadal, Roger Federer, and Alexander Zverev & Dominic Thiem will all be gunning for the title to prove their game is on top form before they all move to Paris for the French Open at Roland Garros.
The presence of Federer in this years event is a surprise to some after not playing on clay for the past 3 years. But he's stated that his body feels good enough and his schedule allows him to play this year. He's said he knows it will be tough but if anyone can deal with the pressure it's Federer.
The most obvious two players to beat will undoubtedly be Nadal and Djokovic, assuming they can stay fit. Both players have already shown great form in the biggest events in 2019 so we expect them to reach the later stages of the Rome Masters in 2019.
Alexander Zverev, having won the tournament in 2017 and made the final in 2018, is definitely a contender and often his form in the run up to an event is no sign on how he will perform.
Dominic Thiem is the other player to watch out for because of his pedigree on clay and his superb form during the 2018 clay court season. We look forward to seeing such a strong draw of great players battle it out for this prestigious trophy.
Good luck to everyone!
Look ahead to 2019 with our guide to every tournament on the ATP Tour, the WTA Tour and the ITF Tour
If you can't visit the tournaments you love then do the next best thing and read our guide on how to watch all the ATP Tour matches on television in 2019
To read more amazing articles like this you can explore Tennishead magazine here or you can subscribe for free to our email newsletter here