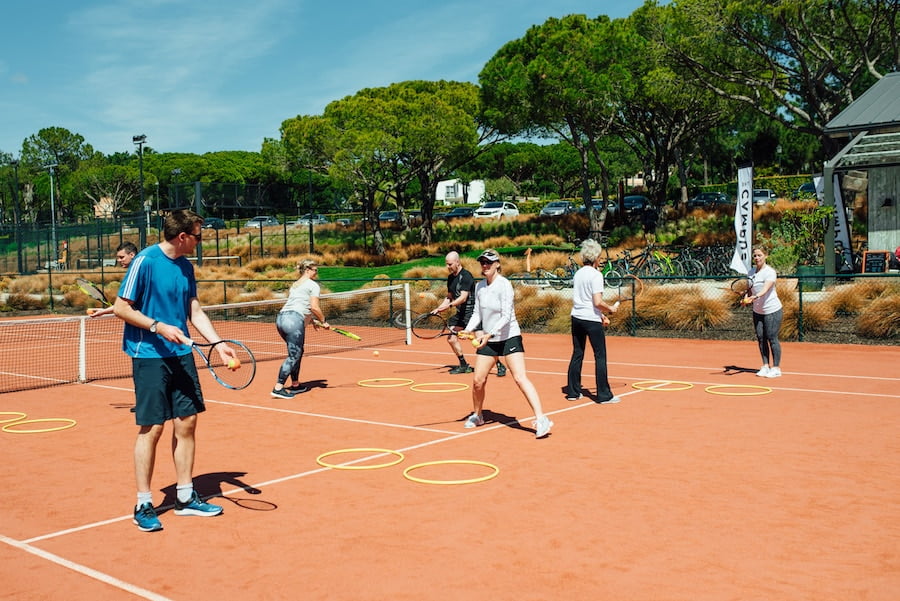 Portugese Academy Head Coach explains how to keep fit for tennis as you get older
As the summer of tennis reaches its climax many tennis enthusiasts are playing much more tennis than at other times of the year which brings fitness into question as their bodies get tired and injuries occur. So how do you get fit for tennis?
As the saying goes "you need to get fit for tennis, just playing tennis won't get you fit enough" and this is never truer than as your body ages. Unfortunately a lot of club tennis players still don't do the basics to help extend their playing careers and improve their performance as well as preventing injuries.
Those close to Wimbledon champion Novak Djokovic have pointed out that whenever they see him he always seems to be stretching and it's no coincidence that he is by far the best athlete to have ever played the game and is still winning Grand Slams at the age of 32.
But how does a club player keep fit when they haven't got the time that Djokovic has but still want to improve their game and prevent injury?
We spoke to Zé Pereira Lopes, Tennis Director and Head Tennis Professional at The Campus in Portugal, to get his advice on how to keep yourself in shape for tennis especially as you get older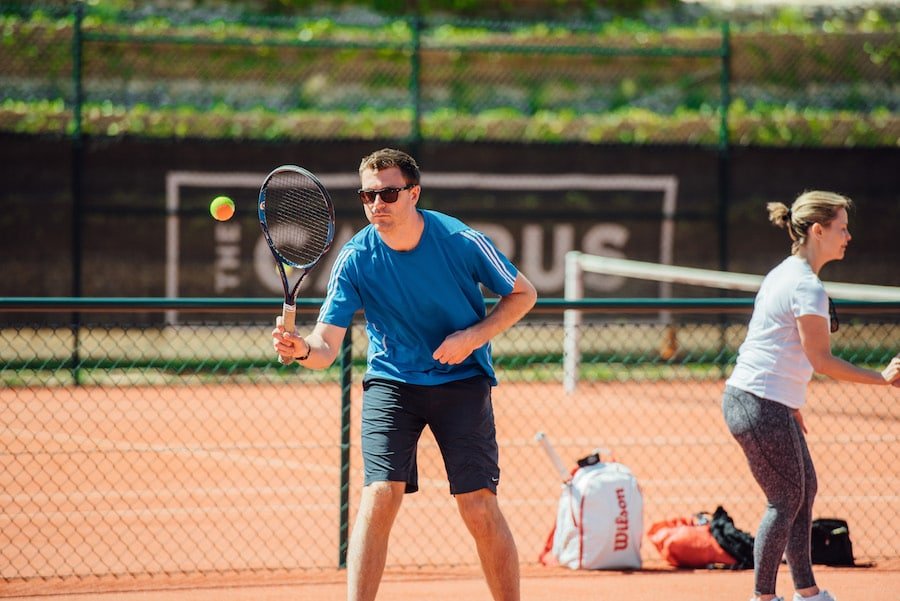 The Campus is Europe's newest five-star multi-sport and wellness hub at Quinta do Lago in southern Portugal. The tennis facility is made up of two artificial clay and four acrylic tennis courts, all built to current International Tennis Federation (ITF) tournament standards. We approached Zé to find out his tips to help you keep fit for tennis.
Tennishead: As you get older but want to carry on playing tennis, is it important to visit the gym regularly and what exercises should you be doing at the gym?
Ze Pereira: Yes, muscular strength is one of the keys to keeping yourself court fit. Some exercises that you should focus on are:
Squats

Split stance curl-to-press

1 leg 1 arm cable row

Rotation cable rows

Single leg balance with rotation
Tennishead: If you don't have access to a gym then what can you do at home to keep fit for tennis in your later years?
Ze Pereira: Try these…
Squats

Plank

Lunges

Hip rotations
Tennishead: How important is your diet for tennis players that are over 50? And can you suggest some good foods to eat?
Ze Pereira: Extremely vital. The best types of food to eat are:
Almond Milk

Eggs

Beans

Alaska Salmon

Seeds

Oatmeal

Nuts

Avocado
Tennishead: What are the most common injuries for tennis players in their 50's and what can they do to avoid them?
Ze Pereira: Hip and knee injuries are by far the most common. When God created the body he didn't intend our knees to be used for tennis unfortunately! To prevent injuries you should practise strengthening and stretching exercises of which swimming is the best as its zero impact on your joints and bones.
Tennishead: How important is it to warm up and warm down before playing tennis when you arrive at 50
Ze Pereira: Very important, everyone should warm up for at least 10 min before playing and warm down for at least 10 minutes after playing tennis
Tennishead: Can you suggest a good warm up and warm down routine for tennis?
Ze Pereira: I would suggest a light jog or some sun salutations. Use rubber bands to warm up. General stretching for shoulders, elbows, wrists, hips, knee, ankles, lower and upper back.
Tennishead: Can you please provide a weekly 'tennis players training plan' – so that more senior players might be able to follow a basic plan to stay fit and healthy.
Ze Pereira: Here's a basic weekly plan I give to all my pupils:
Monday – Tennis drills focusing on biomechanics and movement, then a swim and stretching
Tuesday – Match play with some strengthening in the gym
Wednesday – Rest
Thursday – Rhythm tennis drills and tactics followed by agility and speed exercises
Friday – Match practise (singles and doubles) plus a swim and stretch
Saturday – Tournament play followed by a light stretch
Sunday – Rest
The Campus tennis provides individual and group coaching sessions in a fun weekly tennis programme designed to improve your game, technique and enable you to get the best advice from the experienced team of qualified tennis coaches. The racquets facilities provide five-star service with complementary refrigerated towels and iced water on-court for guests.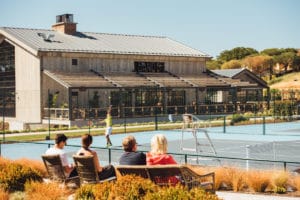 With over 300 days of sunshine every year, The Campus is the perfect destination for winter training for performance players and sports rehab for athletes recovering from injury. The Campus new 10 million Euro High Performance Academy has been built to international governing body tournament specifications, enabling the venue the opportunity to host major international sports events and tournaments through the sporting calendar year.
Zé Pereira Lopes, says:
"The Campus is a fantastic addition to Quinta do Lago. It brings the estate up-to-date with other top European tennis and sports academies, enabling us to offer a comprehensive tennis development programme to our residents and guests, and also to performance standard players using The Campus as their European training base.
The Campus provides weekly tennis coaching for all our residents and guests, whatever standard you are. We're here to support you and make sure you have fun with your family and friends. We invite all guests to 'Bring Your Game' for 2019! Our team will stretch you and test your game, and push your limits to help you achieve your goals!"
It's unrivalled location and year-round temperate Mediterranean climate make for a quintessential setting and perfect for all sports and leisure activities. The Campus offers the luxury for all to enjoy time with family and friends; creating real moments and real life, and a strong sense of community. Quinta do Lago prides itself on offering the local community of residents, guests and holiday makers alike ta chance to train, exercise and socialise. Whether you are looking for a social game of tennis, a complete beginner, or looking to become a full-time ATP or WTA tour player, the coaching team at The Campus will help you reach your full playing potential, achieve your goals and ensure you have fun and stay fit and healthy.
For more information please contact T: +351 289 381 220 | E: [email protected]
Look ahead to 2019 with our guide to every tournament on the ATP Tour, the WTA Tour and the ITF Tour
If you can't visit the tournaments you love then do the next best thing and read our guide on how to watch all the ATP Tour matches on television in 2019
To read more amazing articles like this you can explore Tennishead magazine here or you can subscribe for free to our email newsletter here
This article was brought to you in association with Quinta do Lago resort