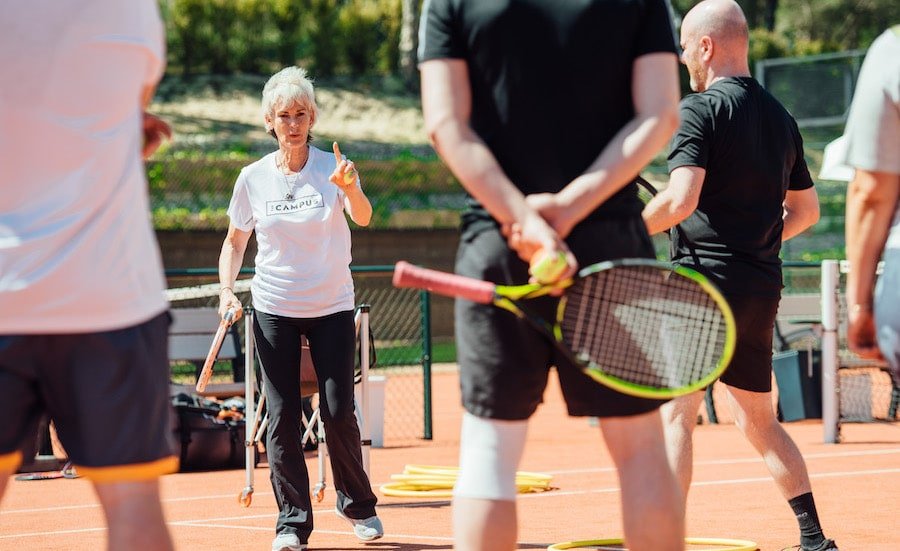 Portugese Academy Head Coach explains how to avoid tennis injuries as you get older
Everyone that enjoys playing wants to avoid tennis injuries and stay on court for as long as possible even as their body ages, so what are the most important areas to think about if you want to extend your playing career into your later years?
With an ageing population, better health care and an increased focus on eating a healthy diet, many tennis players are carrying on playing tennis well into their older years. But this brings other challenges that are specific to tennis which maybe a healthy diet and regular fitness regime won't take into account, such as how to avoid tennis specific injuries.
Tennis is a very technical sport which uses muscles and tendons that unfortunately will be ageing at the same speed as the rest of your body, So are there tips and techniques that can help avoid those annoying tennis specific injuries?
The Campus is Europe's newest five-star multi-sport and wellness hub at Quinta do Lago in southern Portugal. The tennis facility is made up of two artificial clay and four acrylic tennis courts, all built to current International Tennis Federation (ITF) tournament standards.
We spoke to Zé Pereira Lopes, Tennis Director and Head Tennis Professional at The Campus, to get his advice on how to keep yourself in shape for tennis especially as you get older.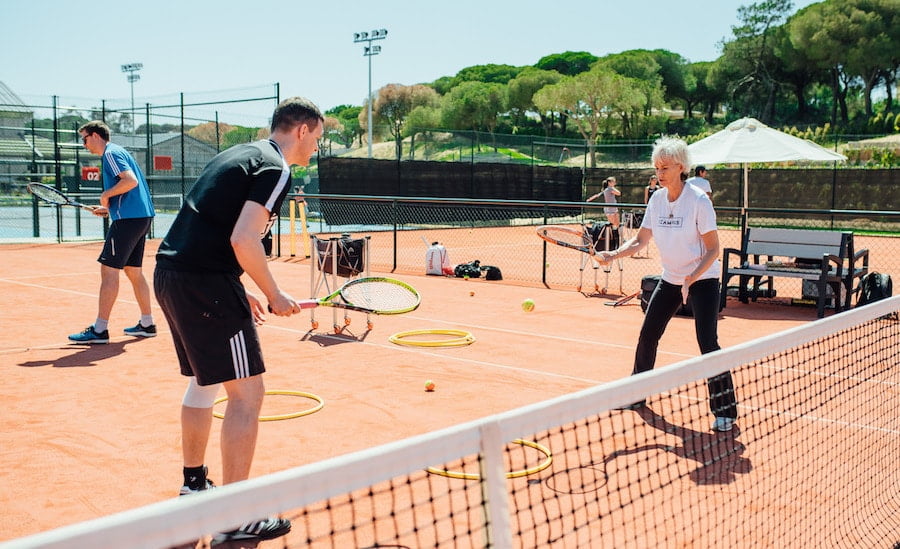 Using a racket with a larger head/sweet-spot (Roger Federer did this a couple of years ago and it hasn't done him any harm!!). When finding problems with your arm you can slightly increase the head size of your racket by a few square inches. This will assist you by reducing the number of bone and tendon damaging vibrations especially if you don't always hit the ball perfectly out of the middle of your racket.
Lowering the tension in the strings to avoid tennis elbow. By lowering the string tension to 21-22 kg it can prevent arm injuries because at the point of impact the tennis stroke will become less rigid. A lower tension in your strings will give oyu slightly more power thus enabling you to swing a bit slower and softer but achieve the same quality of shot
Look at using a 'vibration' control system in the strings to avoid tennis elbow. The use of anti-shock devices (sometimes called a 'dumby') will reduce the chances of tennis elbow by minimising the vibration of the racket that goes through all your arm.
Using a lighter racquet for less impact on the arm and shoulder muscles. A lighter racket will reduce the stress on your muscles. (Find out more about tennis racket specifications by reading this useful guide)
Thinking about your socks/footwear to ensure you have good grip and ankle support. Your feet and ankles provide the foundation for your tennis shots as a solid base is vital when trying to hit a tennis ball. The correct usage of shoes and socks has a decisive impact on feet and ankles.
Consider using customised orthotics to ensure your feet fit your shoes comfortably. This area of injury prevention is starting to become more popular. Everyone walks, steps, runs differently so the best advice is to have a session with an orthopaedist and they will recommend what is right for you. Also it will have a positive impact on your posture, spine, etc.
Take note of your shirt brand and try using 'dry-fit' fabric that takes the sweat from the 'inside to the outside' making the shirt lighter to wear. The lighter the t-shirt, the lighter you will find yourself on the court. Small changes make small gains and often the difference between success and failure is in the small detail.
Think about your hydration levels during your tennis match or practise. If you feel dehydrated it's often to late to stop it being a problem. You need to hydrate your body well before you play tennis and then rehyrdrate during and immediately after a sweaty run around on the court. Recent research showed that drinking milk after vigorous exercise is a great way to rehydrate your body.
Look at warming up and cooling down before and after matches to prevent common tennis injuries. Preparing the body and the mind before training or matches is one of the key areas to help you avoid classic tennis related injuries. Warming up the main parts of your body will help to achieve your full potential more effectively and quicker. After playing always make sure you relax the body by stretching plus cooling down the body & the mind by breathing slowly and carefully. Also visualize what happened in the match or practise so that you can remember the positives and avoid the negatives in the future. This ritual will reduce the stress on the body and naturally decrease the chances of injury.
Look at wearing a cap/sunglasses if playing in hot/bright sunlight. When playing outdoors in a hot climate make sure you wear a cap and sun glasses so will keep you cool and will protect your eyes from the sun.
All the above techniques include important details to keep you fit and injury free for longer periods and reduce the potential of pain or injury. In addition, being guided and coached in the right biomechanics will help to reduce pain or injuries by making you playing more effectively. Try to concentrate on being relaxed when striking the ball.
Now please get out there and practise, stay fit and most importantly enjoy the great game of tennis!
The Campus tennis provides individual and group coaching sessions in a fun weekly tennis programme designed to improve your game, technique and enable you to get the best advice from the experienced team of qualified tennis coaches. The racquets facilities provide five-star service with complementary refrigerated towels and iced water on-court for guests.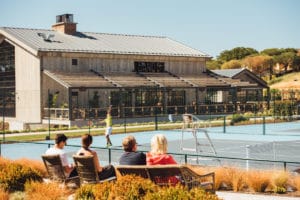 With over 300 days of sunshine every year, The Campus is the perfect destination for winter training for performance players and sports rehab for athletes recovering from injury. The Campus new 10 million Euro High Performance Academy has been built to international governing body tournament specifications, enabling the venue the opportunity to host major international sports events and tournaments through the sporting calendar year.
Zé Pereira Lopes, says:
"The Campus is a fantastic addition to Quinta do Lago. It brings the estate up-to-date with other top European tennis and sports academies, enabling us to offer a comprehensive tennis development programme to our residents and guests, and also to performance standard players using The Campus as their European training base.
The Campus provides weekly tennis coaching for all our residents and guests, whatever standard you are. We're here to support you and make sure you have fun with your family and friends. We invite all guests to 'Bring Your Game' for 2019! Our team will stretch you and test your game, and push your limits to help you achieve your goals!"
It's unrivalled location and year-round temperate Mediterranean climate make for a quintessential setting and perfect for all sports and leisure activities. The Campus offers the luxury for all to enjoy time with family and friends; creating real moments and real life, and a strong sense of community. Quinta do Lago prides itself on offering the local community of residents, guests and holiday makers alike ta chance to train, exercise and socialise. Whether you are looking for a social game of tennis, a complete beginner, or looking to become a full-time ATP or WTA tour player, the coaching team at The Campus will help you reach your full playing potential, achieve your goals and ensure you have fun and stay fit and healthy.
For more information please contact T: +351 289 381 220 | E: [email protected]
Look ahead to 2019 with our guide to every tournament on the ATP Tour, the WTA Tour and the ITF Tour
If you can't visit the tournaments you love then do the next best thing and read our guide on how to watch all the ATP Tour matches on television in 2019
To read more amazing articles like this you can explore Tennishead magazine here or you can subscribe for free to our email newsletter here
This article was brought to you in association with Quinta do Lago resort