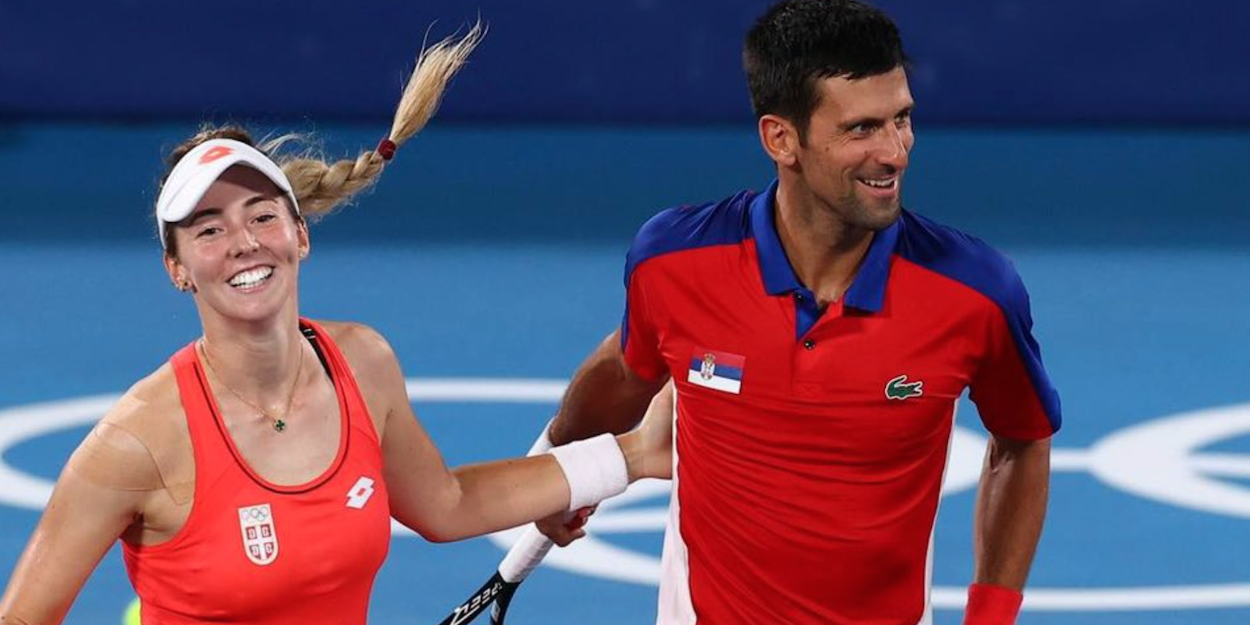 Novak Djokovic hailed as 'best in history' by mixed doubles partner Nina Stojanovic
The WTA star is happy to have partnered with Novak Djokovic at the Olympics, despite the unceremonious end to their journey in Tokyo. 
The pairing of Nina Stojanovic and the world number one started strongly out in Japan, as the two reached the semi-finals of the mixed doubles event.
But after falling to the Russian duo of Elena Vesnina and Aslan Karatsev, plus exhaustion and injury for Djokovic, the Serbs did not compete in the bronze medal match.
Stojanovic has since released a statement about her experience on Instagram.
"Then and now," Stojanovic began her Instagram caption under photos of her meeting Djokovic as a youngster alongside playing with him in Tokyo.
"Only I can know the feelings I dealt with once I had found out I will not have the chance to play the most important match of my career for the Olympic medal.
"I also recognise how much this particular event filled me with the deepest emotion possible and brought me lots of happiness as well."
Djokovic and Stojanovic were set to face Ashleigh Barty and John Peers in a battle for bronze, but Djokovic pulled out to hand the medal to the Australians.
"I want to say that I am grateful first of all for being there among all the best athletes in the world of sports," Stojanovic added. "And it was an honour and privilege playing with the best in the history of our sport, for your own country.
"Thank you everyone for your messages of support and love you gave me through this period. Hvala vam (Thank you)! Year keeps on going, new challenges await. I will appreciate every minute spent in Tokyo."
View this post on Instagram