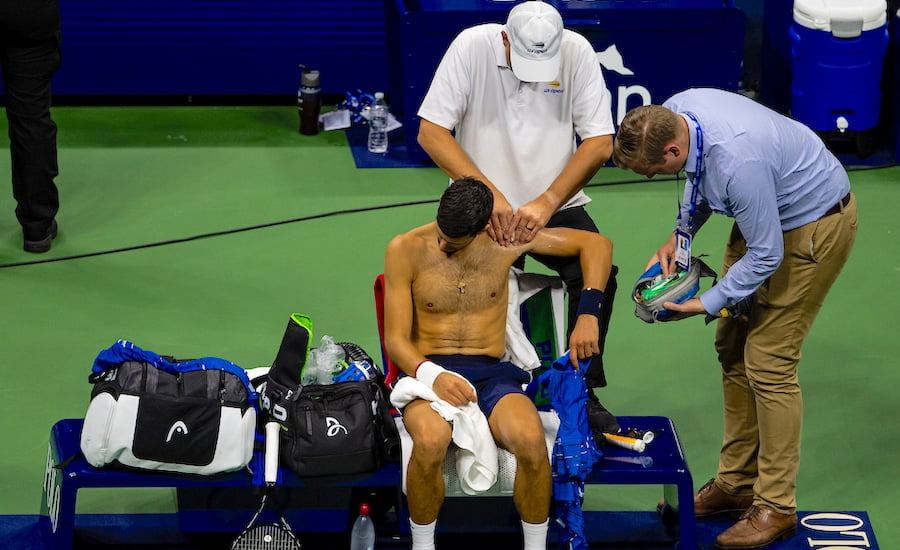 Novak Djokovic achieves unwanted record that Federer isn't even close to
It's the record that no tennis wants to achieve but, with the injury forced retirement of Novak Djokovic at the this year's US Open. he's now added to an illustrious list, a list that will surely never include Roger Federer.
Novak Djokovic has now retired from all four of tennis's Grand Slams. Without doubt a record he never wanted to achieve but, for someone that plays the game in such an energetic style and considering the brutal nature of tennis points on hard courts in the current era, is it any surprise?
Now enjoy the World's best tennis magazine in a new digital format. Download in seconds and read the latest 164 page issue
What's more surprising is that Roger Federer, the man whose Slam record Djokovic has recently admitted he wants to beat, has NEVER retire hurt during a tennis match, let alone one of the Grand Slam tournaments.
Djokovic was losing by two sets to love when he retired hurt against Stan Wawrinka during their 4th round encounter at this year's US Open in Flushing Meadow, New York. Previously, Djokovic had retired during the 2009 Australian Open whilst playing Andy Roddick, during the 2006 French Open whilst playing Rafa Nadal and during Wimbledon 20187 whilst playing Thomas Berdych.
Djokovic has managed to win 16 Grand Slam singles titles which places him third on tennis's most aspirational list of most Grand Slam singles titles. He lags behind Nadal on 18 and Federer on 20 with the likelihood that one of these two greats will take another step away from Djokovic with a victory at the US Open.
Look ahead to the rest of 2019 with our guides to every tournament on the ATP Tour and the WTA Tour. If you can't visit the tournaments you love then do the next best thing and read our guide on how to watch all the ATP Tour matches on television in 2019. To read more amazing articles like this you can explore Tennishead digital magazine here or you can subscribe for free to our email newsletter here