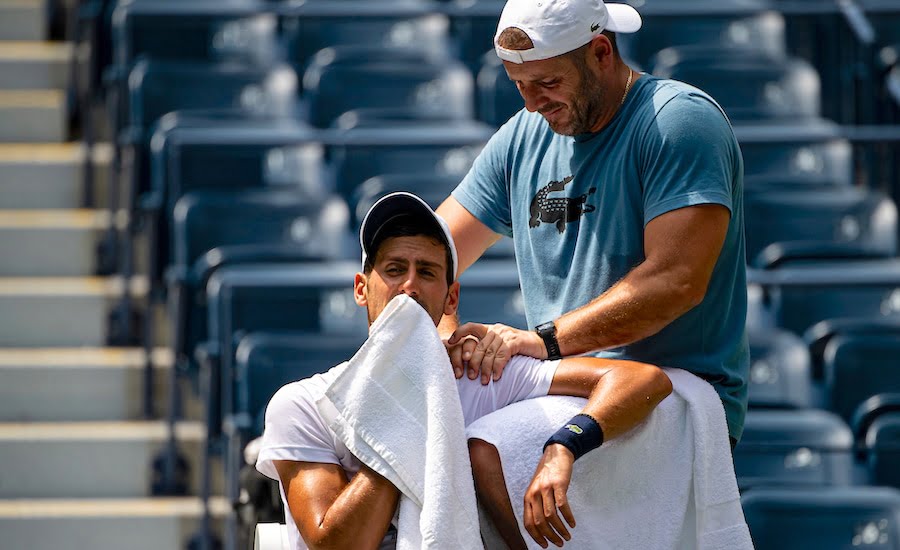 Novak Djokovic reveals ultimate tennis goal in incredibly honest interview
Novak Djokovic has won more titles and trophies than nearly everyone in tennis history but he's not yet regarded as the greatest ever. Now he's revealed his own personal goal which he feels will help him be regarded as the greatest ever.
Novak Djokovic is out of the US Open after retiring injured during his 4th round match with Stan Wawrinka, but now for the first time in an interview he's opened up about his desire to achieve a specific record in tennis.
Djokovic was being interviewed immediately after his match at the US Open when he was asked if it was an extra level of frustration for him at having to retire because it reduced his chances of catching the Grand Slam title records of both Rafa Nadal and Roger Federer.
During a tetchy and tense press conference Djokovic responded, "It's no secret that I have the goal and desire to reach the most Grand Slam titles ever and reach Roger's record, but at the same time it's a long road ahead for me. I don't see an end behind the corner at all."
Novak Djokovic has won 16 Grand Slam singles titles and is in third place on the all time list of champions behind Rafa Nadal, with 18 titles, and Roger Federer with 20 titles. The number of Grand Slam singles titles is often seen as the measure of who is the greatest player but most players are wary of admitting their own personal goals. In a recent interview Australian tennis legend Rod Laver has said that he thinks it's impossible to say who is the greatest of all time casting doubt on Federer's position at the top of this list.
Look ahead to the rest of 2019 with our guides to every tournament on the ATP Tour and the WTA Tour. If you can't visit the tournaments you love then do the next best thing and read our guide on how to watch all the ATP Tour matches on television in 2019. To read more amazing articles like this you can explore Tennishead digital magazine here or you can subscribe for free to our email newsletter here