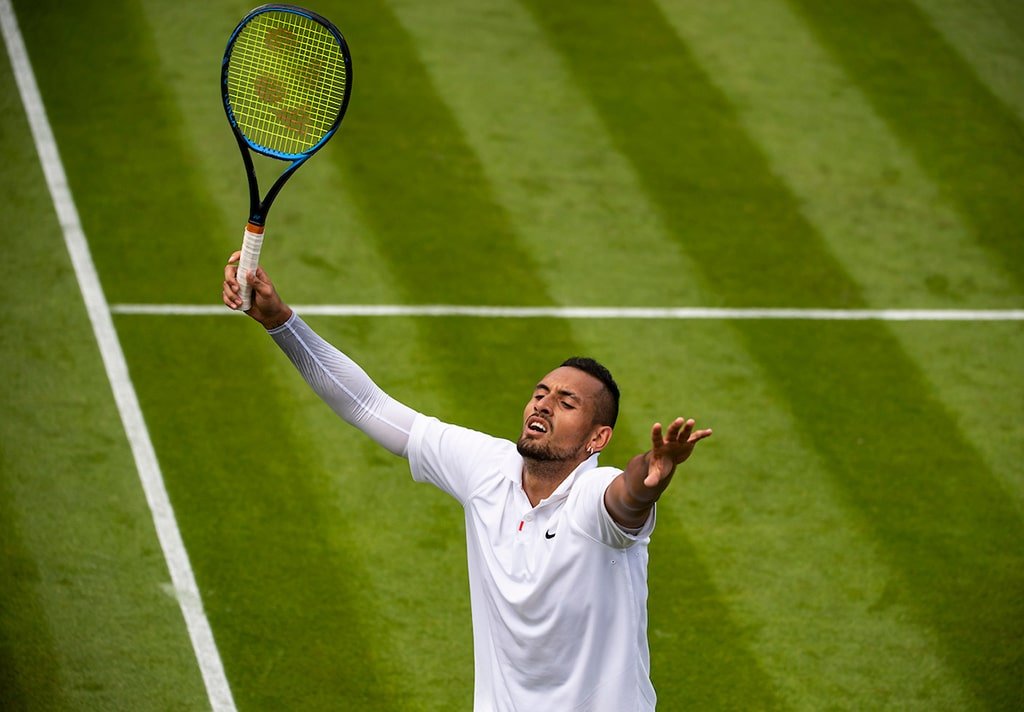 Nick Kyrgios: Rafael Nadal is one of the best ever – but I can beat him
Nick Kyrgios says he is excited to play Rafael Nadal at Wimbledon, but he knows he will have to be a picture of professionalism to beat him.
The Australian beat compatriot Jordan Thompson on Tuesday to set-up the mouthwatering clash, and it carries some extra edge due to some recent bad blood between the players, all stemming from a Kyrgios under-arm serve in Acapulco that Nadal did not appreciate.
Nadal, though, has vowed to not allow any possible 'antics' derail him when the pair meet on Centre Court on Thursday, but Kyrgios appears to be more focused on making sure he does himself justice instead.
"As soon as the draw came out, I was super happy that I saw him in my section. It's more exciting," Kyrgios told the ATP.
"When you're a kid, you want to play the best players in the world on [what] I think is the best court in the world.
"This is something that I can't take for granted. There's no guarantee I'm going to be here again in this position.
"I'm going to grasp it with both hands, go out there and give it my best shot."
There has been a war of words between the pair since that serve in Acapulco, with Nadal branding Kyrgios 'disrespectful' and Kyrgios describing the Spaniard as a bad loser.
However, Kyrgios is also keen t express his admiration for the world number two.
Hyped up for @NickKyrgios v @RafaelNadal at #Wimbledon pic.twitter.com/IXjAeVUCp8

— TennisAustralia (@TennisAustralia) 3 July 2019
"He's one of the greatest tennis players of all time, he said.
"I go into that match as an unbelievable underdog. I know if I play the right type of tennis, I can have success against him.
"I have to come with the right attitude and be willing to fight. If not, it's going to be butter for him.
"I need to rest and recover. I have a day out, then I want to go out there and have some fun."
Nick Kyrgios and Rafa Nadal have met six times before, each winning three of them. Kyrgios, though, has won both their most recent clash and their only previous match at Wimbledon.
Enjoy Wimbledon even more with our exclusive, 164 page, 'Guide to Wimbledon 2019'
To find out how to get tickets for Wimbledon this year read our 9 point guide here
For all the latest Wimbledon news before, during and after the tournament make sure you bookmark our 'Wimbledon News' section here
If you can't visit the tournament then do the next best thing and read our guide on how to watch Wimbledon on television
To read more amazing articles like this you can explore Tennishead magazine here or you can subscribe for free to our email newsletter