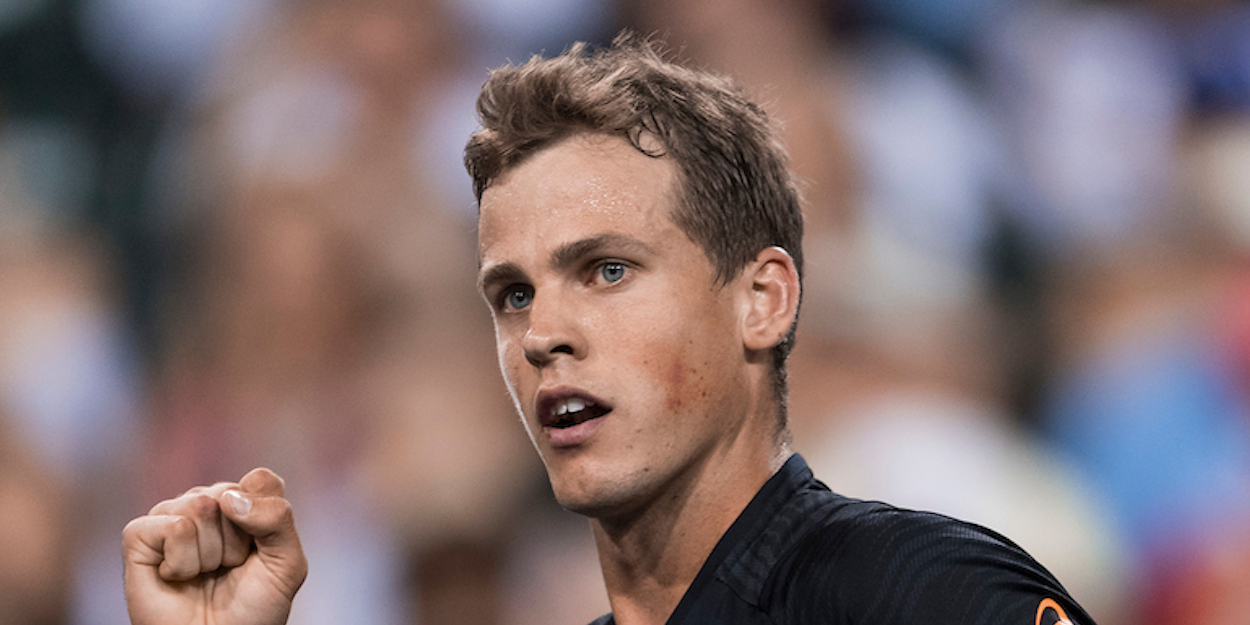 News digest: A dramatic week for tennis and why is the ATP under pressure?
In a big week for tennis and the ATP, the drama has been playing out mainly away from play, rather than on the sun soaked hard courts of Miami. Here Tennishead gives you a run down of all the information you need to keep you 'in the know'.
On Wednesday, Vasek Pospisil called ATP chairman Andrea Gaudenzi a "f***ing a**hole" in an on-court meltdown, bringing into the spotlight the PTPA-ATP relationship, adding to a myriad of player complaints before Miami.
Where has this come from?
In August, Djokovic and Pospisil launched the Professional Tennis Players Association (PTPA), an organisation separate from the ATP. Their proposed purpose is to support tennis players specifically, opposing the ATP stance of having tournaments and players represented under one organisational umbrella.
Reports suggest that Pospisil's actions resulted from a meeting between players and ATP executives the day before, led by the Canadian. Andrea Gaudenzi and CEO Massimo Cavelli apparently called Pospisil "ignorant" and "uneducated", even leaving him in tears by the end of the meeting. (Daily Telegraph)
Who has spoken up?
While Pospisil's mid-match rant was condemned by many as unprofessional, a number of top players voiced their support for him and the sentiment behind his emotions.
Novak Djokovic tweeted "I empathise with him wholeheartedly," adding "I am hopeful players recognise the importance of standing together #playersvoice."
Others showing public support included Milos Raonic, John Isner and Rajeev Ram among a handful more.
Concerning matters at hand, I am not in Miami. However Vasek Pospišil is my good friend and I empathize with him wholeheartedly. Players on tour would agree that he is an individual of the highest integrity who cares about the well being of his fellow competitors. 1/2

— Novak Djokovic (@DjokerNole) March 26, 2021
I am hopeful players recognize the importance of standing together #playersvoice 2/2

— Novak Djokovic (@DjokerNole) March 26, 2021
What else is putting pressure on the ATP?
This has only added to problems for the ATP. Leading up to Miami, a number of players shared concerns and qualms surrounding the ATP's handling of the frozen ranking system, tournament COVID restrictions and reduced prize money.
Alexander Zverev has been perhaps the most vocal critic, describing the reworked rankings as "a mess" and accusing the ATP of "only being focused on keeping the financial situation in order" while leaving players behind. (Tennishead)
Andrey Rublev echoed similar views by asking reporters "what do you think is better for me, to be number eight or number four [in the world]?" (Tennishead)
Players such as Denis Shapovalov, Benoit Paire and Jo-Wilfried Tsonga have expressed difficulties around playing at the moment, while Dan Evans countered by saying "it's not that tough being in the bubble to be honest" in an ATP Tennis TV interview.
What next?
While Vasek Pospisil will no doubt be fined for his numerous on-court violations and eruption, the ATP and Andrea Gaudenzi have not yet publicly addressed the situation surrounding the incident and the meeting from which it transpired.
Pospisil has since apologised for his actions via Twitter, stating "I disrespected the game I love," adding that he "underestimated the toll those emotions [from the meeting] took on me…"
I underestimated the toll those emotions took on me until I stepped onto the court today. Again, I am sorry for my on-court behavior and the language I used. #players [2/2]

— Vasek Pospisil (@VasekPospisil) March 25, 2021
A more cohesive PTPA proposal may take place once Novak Djokovic returns to competition, but for now there is an air of uncertainty surrounding the future of a PTPA-ATP relationship that appears more strained than ever before.