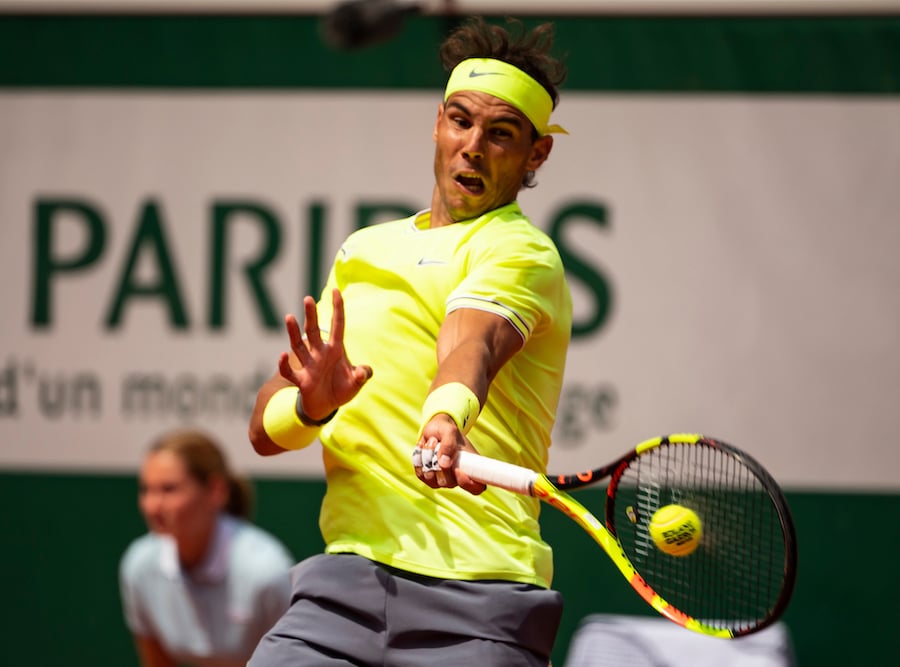 Nadal toughs it out in victory over unknown German and progresses to French Open third round
Second seed and defending champion Rafa Nadal was forced to dig deep in what seemed a routine match against the low ranked German lucky loser Yannick Maden
The Spanish clay court legend won the French Open mens singles 2nd round match in three straight sets but he was made to work a lot harder than many people expected by the plucky qualifier Maden.
Nadal raced to a 5-0 lead in the first set before Maden starting making life difficult for Nadal and the consistency of the German was causing Nadal to have to work very hard for each point.
Maden has been climbing steadily up the rankings but still has yet to reach the Top 100 in the world and his lack of a killer shot was shown to be the real issue with his game. All other parts of his tennis looked solid enough to stick with Nadal during numerous long rallies but the world no. 2 always had that one gear higher to climb into to enable him to win the point. If Maden had just one lethal weapon he could have really stretched this match and maybe taken a set off Nadal but unfortunately the ability to finish a point quickly eluded him.
Maden did manage to break Nadal twice in the third set but it was always following a break of his own serve rather than taking him into the lead in the set. Nadal then managed to break the German one final time in the 9th game to virtually seal the match victory.
But Yannick Maden will be rightly proud of the fact that he virtually matched Nadal in terms of unforced errors which meant that the Spaniard really had to win this match instead of being gifted it. Many players when facing Nadal in Paris are beaten before they walk on court and don't perform to their own ability but that definitely wasn't the case here. Statisticians will also note Maden's 100% record on break points which shows a mental strength above his current position in the world rankings.
Nadal now faces David Goffin who will give him a much harder time even though many will look at Maden's game and see a lot of similarities with Goffin. The 27th seeded Belgian is slightly built which means he doesn't often hit players off the court but his timing of the ball is exquisite and his knowledge on the clay is superb. Nadal will have to continue to be aggressive as he doesn't want to get stuck in a tactical battle with someone of Goffin's clay court pedigree.
If Nadal can get past Goffin then a relatively straightforward fourth round awaits as both seeds in that section, Basilashvilli and Pella, have already been knocked out.
The full match statistics: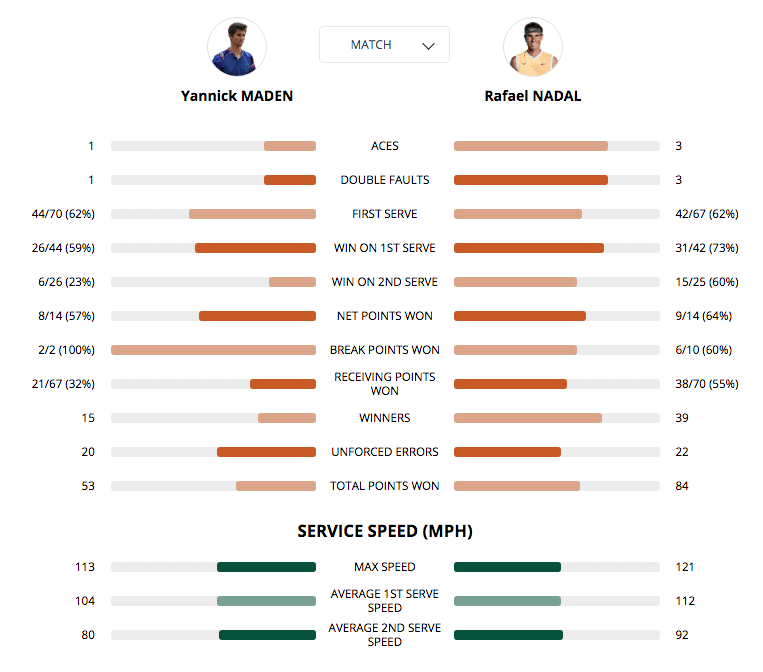 To follow the action at the French Open check out our guide to the tournament or keep visiting our news section for daily updates on all the action at the 2019 French Open. If you want to watch the French Open on TV then follow our advice here