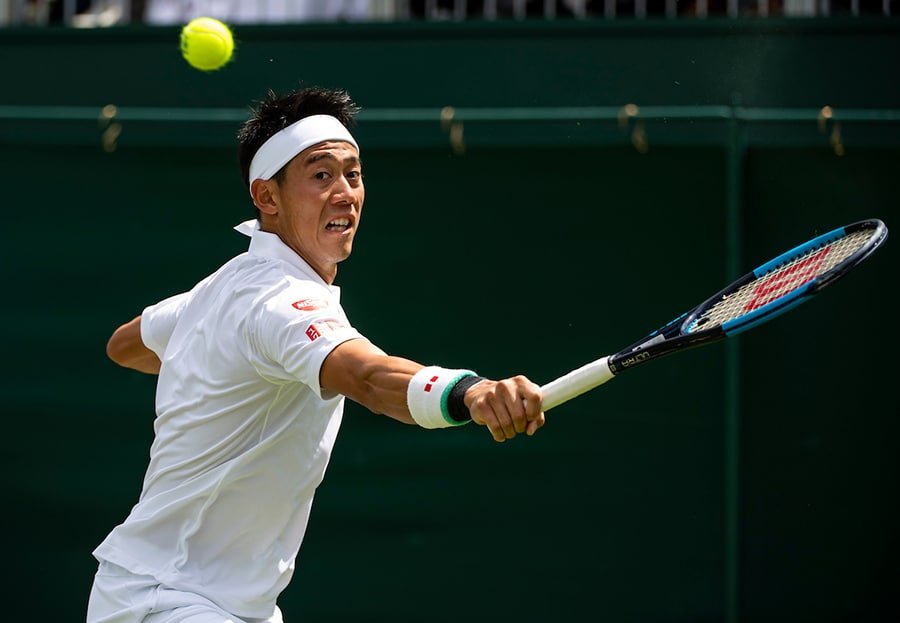 Kei Nishikori advances into Wimbledon third round with ease
Eighth seed Kei Nishikori defeated British second round opponent Cameron Norrie at Wimbledon on Thursday in a match that lacked real quality.
Playing against each other for the first time, both men looked tight early on, each displaying a range of unforced errors. But at 3-2 up and having previously not won a point on the Japanese serve, the South African born Norrie went a break ahead after numerous unforced errors from the world number seven.
Appearing on Centre Court for the first time, the break seemed to give Norrie nerves as he went onto hit back to back double faults helping his opponent to come back level. A more aggressive looking Nishikori went onto capitalise Norrie's mistakes and win the next three games to take the set 6-4.
Norrie, who grew up in New Zealand, appeared to lose fight after the loss of his first set lead, and was quickly a break behind in the second set at 0-1. A double fault and weak backhand gave Norrie a lifeline to comeback to 1-1, but a successive break put the former US Open finalist back ahead.
After this series of breaks, Norrie was unable to put any pressure onto his opponents serve in the set. Nishikori saw the set through 6-4.
The poor performance from Norrie continued in the third set. A loose backhand volley gave Nishikori another instant break, who went on to whitewash the Brit 6-0 to progress to round three.
He will face American Steve Johnson who came though a marathon five setter against Australian 20 year old Alex de Minaur 6-3 in the fifth. Nishikori has beaten the man from California all four times they have played. In fact, he has only dropped one set to him, which came in their only Grand Slam meeting in the 2015 Australian Open. The 29 year old man from Japan eventually came through with a 6-7 6-1 6-2 6-3 win.
Enjoy Wimbledon even more with our exclusive, 164 page, 'Guide to Wimbledon 2019'
To find out how to get tickets for Wimbledon this year read our 9 point guide here
For all the latest Wimbledon news before, during and after the tournament make sure you bookmark our 'Wimbledon News' section here
If you can't visit the tournament then do the next best thing and read our guide on how to watch Wimbledon on television
To read more amazing articles like this you can explore Tennishead magazine here or you can subscribe for free to our email newsletter