Jo Konta accuses journalist of "being disrespectful, patronising and picking on her" in emotional press conference after Wimbledon loss
Jo Konta had just lost her chance of winning Wimbledon and then immediately she found herself in a press conference having to answer some tough questions. The result – she accused the journalist of being disrespectful
Jo Konta missed out on a place in the Wimbledon semi finals today and seemingly carried over her raw emotions into the post match press conference. Konta was asked if she "could have done better" to which she asked if that was the journalists "professional tennis opinion?"
When questioned again she replied that she felt "she was being picked upon in a harsh way" and that she "felt she was being patronised".
The press conference moderator then swiftly moved things on to another question.
The full interview transcript can be read here: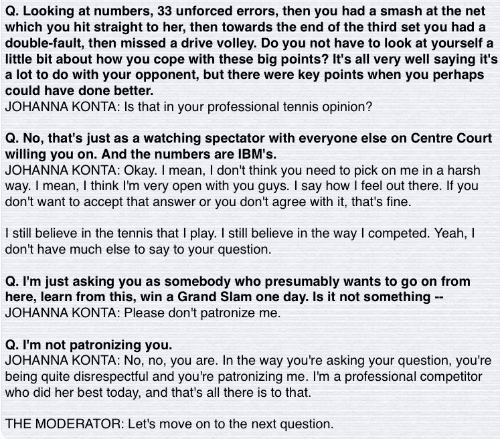 Jo Konta lost to Czech Barbora Strycova in two sets and Strycova now moves into the Wimbledon Ladies Singles semi final where she will face America's Serena Williams. Konta had lead in the first set 4-1 but Strycova fought back well to take the opener in a tie break. A full match report is available here
The full press conference interview can be watched here with the specific questions starting at around 3mins 30secs:
Tennis players at Wimbledon, and most professional tennis tournaments, are required to make themselves available to the press to ask questions almost immediately they walk off the court. If they refuse or don't answer the questions then they can be liable for a hefty fine.
Enjoy Wimbledon even more with our exclusive, 164 page, 'Guide to Wimbledon 2019'
To find out how to get tickets for Wimbledon this year read our 9 point guide here
For all the latest Wimbledon news before, during and after the tournament make sure you bookmark our 'Wimbledon News' section here
If you can't visit the tournament then do the next best thing and read our guide on how to watch Wimbledon on television
To read more amazing articles like this you can explore Tennishead magazine here or you can subscribe for free to our email newsletter