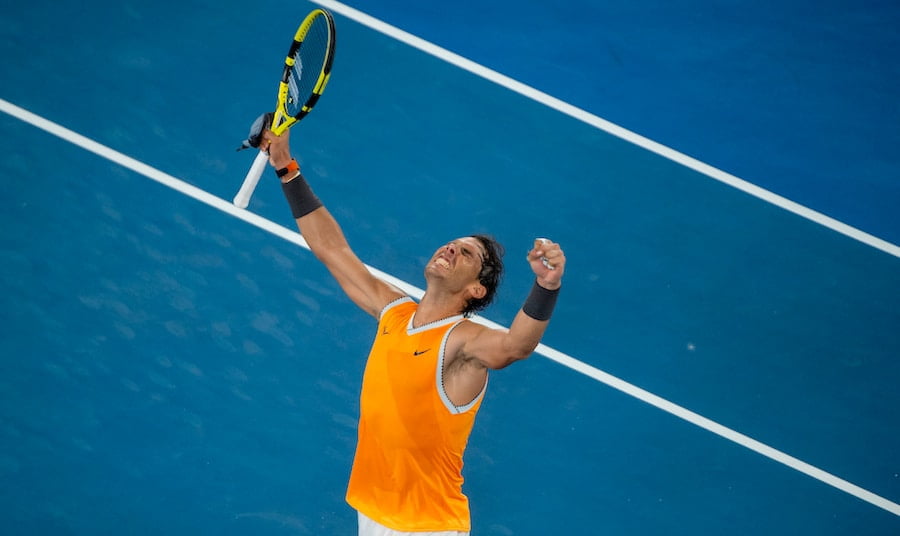 How does Rafael Nadal keep improving at the age of 32? Tennishead investigates
At 32 Rafael Nadal still goes out on the practice court believing he can leave it as a better player. Tennishead's Stephen Towers investigates how he still does it after all these years at the top
As if winning the French Open this summer for the 11th time was not a remarkable enough achievement by Rafael Nadal, consider this. Despite the injuries that cut a swathe through his 2018 campaign, the 32-year-old Spaniard was the only singles player – male or female – to reach the quarter-finals or better of all four Grand Slam tournaments. Indeed, his run of consecutive Grand Slam quarter-final appearances would have stretched back to the start of 2017 had he not lost the fifth set to Gilles Muller 15-13 in the fourth round at Wimbledon last summer.
For years there has been speculation that Nadal would not have as long a career as Roger Federer given his recurring knee problems and the intensely physical nature of his game, but the 17-times Grand Slam champion continues to defy the odds – and has every intention of doing so for a good while yet. He wants to "keep playing tennis for a couple of years" and is determined to do whatever it takes to stay at the top.
"I'm going to keep going and I'm going to keep working hard to keep having opportunities," Nadal says. "I know things are going the right way. I am playing well. I am enjoying being on court. I am having a lot of success.
"I am very competitive at the age of 32. A lot of people, including myself, would never have thought that at the age of 32 I would still be here fighting for titles, fighting for the top positions in the rankings.
"All my career everybody has said that because of my style I will have a short career, but I am still here. I am still here because I love what I am doing. I still have the passion for the game. I am going to keep fighting and working hard to keep enjoying this tour and keep having chances to compete at the highest level."
One of the secrets of Nadal's continued success has been his willingness to work at his game. He still believes that he can become an even better player.
"I don't understand going on court just to practise," he says. "I go on court to improve something. That's the way that I understand my career, the way that I understand sport. I really don't find the motivation to go on court if I don't have the goal of trying to do something better. And when the day arrives when that is not the case, that's going to be the day that I'll take a boat out and go fishing."
Nadal believes the desire to improve is the very essence of sport. "If you don't have the will to improve, you don't understand sport, because sport is always about improving," he says. "That's the meaning of sport. It's playing with the dream of doing something better than what you were doing before. When you're not working with the passion to do something better, I think that sport loses its sense.
That desire to improve has been helped this year by Carlos Moya's coaching. Nadal's fellow Mallorcan took over as his coach at the end of last year from Toni Nadal, the French Open champion's uncle, who is now spending more time working at the family's tennis academy on their home island.
Moya has worked on improving Nadal's attacking game and his influence was particularly evident at Roland Garros, where the champion dropped only one set in his seven matches. Nadal's crushing victory in the final over Dominic Thiem – the only player to beat him on clay in each of the last two seasons – was a vivid demonstration of his relentless aggression. Nadal bombarded the Austrian with huge forehands and was merciless with his ferocious returns. Thiem had to defend break points in nine of his 13 service games.
Although Thiem beat Nadal in the quarter-finals in Madrid, that was the Spaniard's only defeat on clay this year. He won his 11th titles at both Monte Carlo and Barcelona without dropping a set at either event, while Fabio Fognini and Alexander Zverev were the only players to take a set off him in Rome.
He may be the undisputed king of clay, but Nadal continues to excel on all surfaces. Many of this year's best matches on hard and grass courts have involved the Spaniard: his battling Australian Open quarter-final against Marin Cilic (which ended with Nadal retiring injured in the fifth set); his marathon thrillers against Juan Martin del Potro and Novak Djokovic at Wimbledon; and his three consecutive high-octane victories at the US Open over Karen Khachanov, Nikoloz Basilashvili and Thiem.
The one Grand Slam tournament where Nadal did not feature in any memorably close encounters was the French Open. The closest he came to being drawn into a major fight was in the quarter-finals, when he went a set and a break down to Diego Schwartzman. It took a rain break to enable Nadal to regroup; thereafter he won 16 of the last 20 games.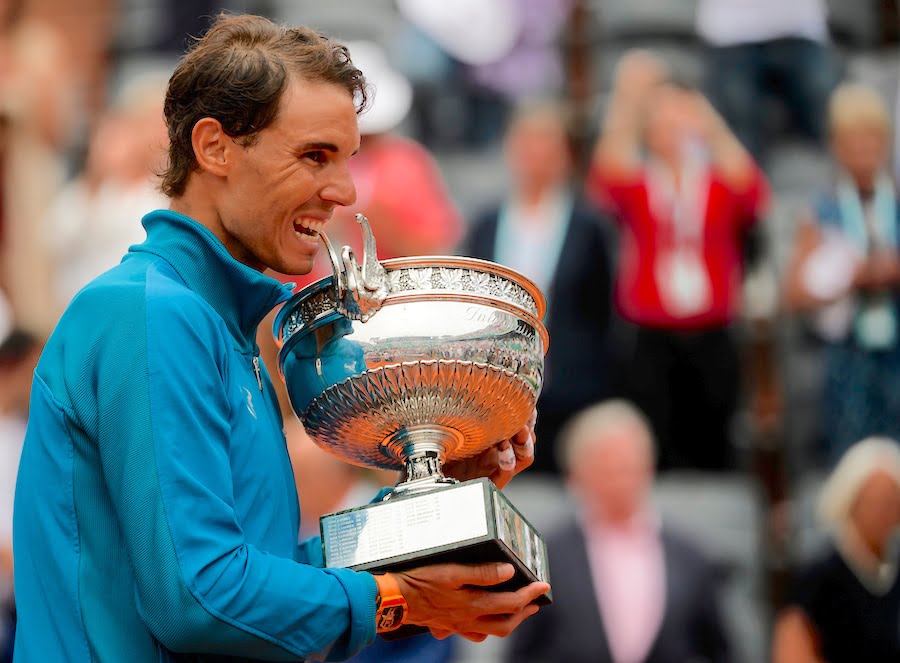 Despite all his injury woes over the years Nadal has not missed Roland Garros since 2004, though his knees were shot when he lost to Robin Soderling in the fourth round in 2009 and a wrist problem led to his withdrawal from the tournament after his second-round match in 2016.
Injuries have forced Nadal to miss or fail to complete seven of the last 25 Grand Slam events. When he won this year's Monte Carlo title it was the first tournament he had completed in six months following his mid-tournament withdrawals from last year's Masters 1000 event in Paris, the Nitto ATP Finals in London and the Australian Open. Finishing 2018 as the world No 2 was quite a feat considering that Nadal played in only nine tournaments, in two of which he retired hurt.
While his main rivals have all had physical problems of their own, Nadal points out that they have not had to deal with as many injury issues as he has. "It's not fair to compare myself with them," he said. "You can compare how many Grand Slams and Masters 1000s I have missed in my career and how many they have missed. But it's just part of the game. I can't and I will not complain about. It's just how it is."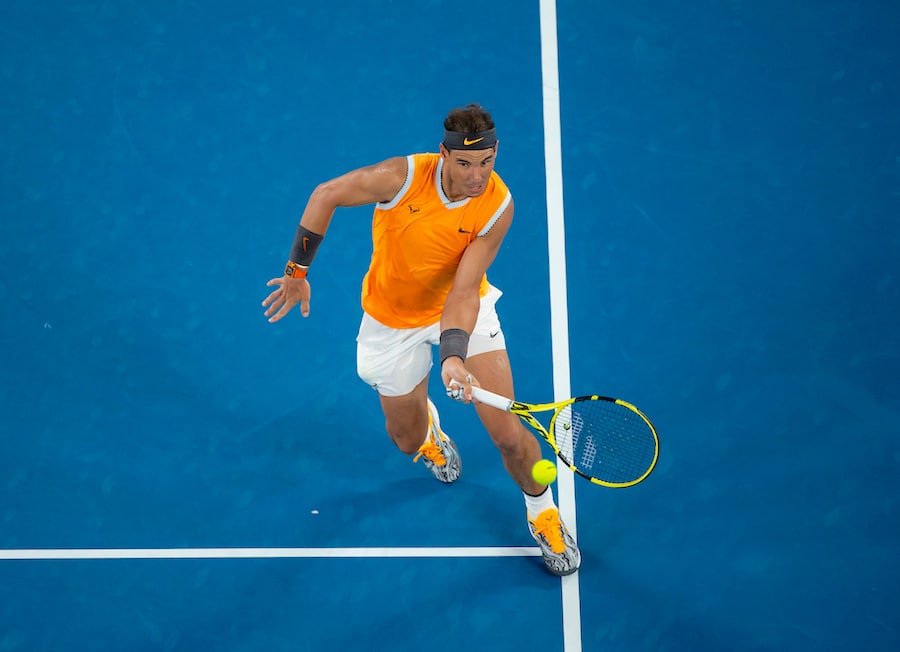 Nadal is happy to be part of an elite group of players who have dominated at the top for many years but knows it will not be long before their reign is over. "There is a new, young and very good generation who will have time to achieve a lot of things in their careers," he said. "And we are not aged 20 any more."
As for his personal ambitions, Nadal dismisses any suggestion that he has a burning desire to chase down Federer's all-time record tally of 20 Grand Slam titles.
"I never have been crazy about all this kind of stuff," Nadal said. "You can't always be frustrated if somebody has more money than you, if somebody has a bigger house than you, if somebody has more Grand Slams than you. You can't live with that feeling. You have to do things your way. You have to be happy with the things that are happening to you. Because if you are looking next to you, you can be frustrated thinking that people have more things than you.
"I am not this kind of person. I am happy that other people have things, and I am very satisfied. I feel very lucky with all the things that happened to me. Of course I would love to have 20 like Roger in the future – or even more – but to be honest, that is not something that is in my mind."
He added: "I play for my happiness. I know that I have already had an amazing career."
Look ahead to the tennis year with our guide to every tournament on the ATP Tour, the WTA Tour and the ITF Tour
If you can't visit the tournaments you love then do the next best thing and read our guide on how to watch all the ATP Tour matches on television in 2019
To read more amazing articles like this you can explore Tennishead magazine here or you can subscribe for free to our email newsletter here