Head Prestige MP L (2022) tennis racket review
Every generation there are rackets that take on a status of their own and the HEAD Prestige was certainly one of those, so Tennishead was equally fascinated and (slightly) apprehensive to see how this iconic frame has been updated. Will the core values that made it so famous still be there and have the latest developments polished this undoubted diamond in the HEAD range?
Background
The HEAD Prestige is one of those rackets that anyone who played or watched tennis during the 1990's will remember with fondness thanks to it's almost cult following. This popularity was honed from two main sources. Firstly, the rosta of players that used the Prestige during that era were some of the most characteristic of all players, most notably Marat Safin and Thomas Muster. Players who epitomised that tennis can be played in a variety of ways, built a massive fan following and showed a true focus to their craft.
The second reason is that the Prestige frame from those days was a racket that needed a certain level of experience to get the best out of it. With it's super stiff frame and tight stringing pattern it really only suited a player who was confident of hitting the relatively small sweet spot most of the time. The racket also 'whistled' when you hit with a fast head speed thanks to the air being pushed through the small spaces created by the tight stringing pattern.
---
"Initially I thought the racket was quite stiff and not quite as forgiving but once you hit the sweet spot it was a really nice racket"
---
Technology
Head touts the feel of the new Auxetic construction. The new Prestige MP L will "boost your power and confidence" says the company. Auxetic technology is a key development for HEAD this year and the material will start to appear in all their frames in the same way that Graphene was introduced a few years ago.
Named after the Greek word 'auxetos', which means 'that which grows', Auxetic materials do something very surprising when stretched along their length. According to HEAD they become fatter and they have another counterintuitive property – when compressed, they get thinner.
When we spoke to the clever scientists at Sheffield Hallam University who are responsible for this development they said, "Tennis players of all levels – from beginners to the elite athletes on the ATP and WTA Tours – will have more confidence in their games thanks to the Auxetic construction in the carbon fiber yoke piece of their HEAD racquets. When you hit the ball, the yoke piece actively responds in real time. It adapts its internal structure, deforming to give you optimal impact feel and highly accurate feedback. Research has shown how the Auxetic construction will improve your feel on every ball you play, even when you hit the ball off-center, outside the sweetspot."
HEAD have also explained that "the racquet has a new and highly distinctive see-through carbon element which is slightly different every time, giving your racquet its unique appearance. As part of a design update that is inspired by PRESTIGE frames from the 1980s, the PRESTIGE MP L also has a translucent Bordeaux color that adds to its premium aesthetic"
So let's get out on court and see what this racket has got for us!
Watch as our experienced testers try out the HEAD Prestige MP L
---
Buy this racket…
To help you feel confident when purchasing this racket we've teamed up with a trusted retail partner, AllThingsTennis.co.uk, to make sure you get the best price combined with free premium tennis balls, next day delivery (UK only) and fantastic advice from tennis equipment experts.
To take advantage of all these benefits simply follow this link to purchase the HEAD Prestige MP L with an exclusive 5% Tennishead discount.
---
The play test
Testing rackets can be down to personal opinion so it's important to remember that not every racket is right for every player and one person's discomfort can equally be another's joy. This is why we try to test rackets with a variety of players and for the HEAD Prestige MP L we have three accomplished testers with very differing game styles.
Our Tennishead play testers for this review are:
Finley – A baseline grinder who wears down his competitors. Finley has been playing tennis for 20 years and currently uses the Wilson Blade.
Ella – Labels herself an aggressive baseliner with 18 years of playing experience. She currently uses the Babolat AeroPro Team racket.
Joe – An all court player who has been playing for 15 years and plays with the Babolat Pure Aero.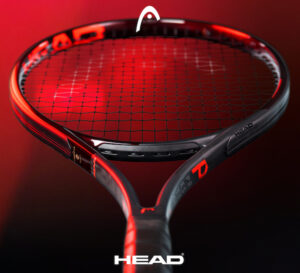 Groundstrokes
Joe: "When I first had the Head in my hand it felt like I wasn't holding a racket. It felt really lightweight. I was worried that I wasn't going to have enough power behind the ball. But it felt really good, nice ping, a very crisp hit with the ball. When I was pushed out wide the racket felt good. I felt confident behind the ball, I wasn't too worried about how hard I had to hit it, or where I was going to hit it in the court. It just felt crisp off the strings."
Finley: "I felt the Head was a nice hitter. I certainly felt that if you timed it nice and you hit the sweet spot it gave a great strike. So it's quite a nice baseline racket. I felt it was a little more difficult to have a nice feeling on the out wide shots. Again, if you hit the centre of the racket you've got a good feel on the ball."
Ella: "Initially I thought the racket was quite stiff and not quite as forgiving but once you hit the sweet spot it was a really nice racket. But I felt it's a really small sweet spot so you have to hit it precisely every time to get a good feel. Because otherwise I find it a little bit harder to control. When I was going out wide I was actually able to get good spin and get myself back into the point really effectively."
Volleys and smashes
Finley: "I really like this racket for volleys. It was really good for punchy volleys. Certainly something I think other rackets don't necessarily have. I was able to step in and put away any volleys and really take the time away from my opponent. With smashes I felt like I was really able to generate some power. I got a lot of nice direction on the ball as well."
Ella: "With volleys I felt I had much better control with this Head. It was a lot easier to find that small sweet spot that this racket has. I got really good control, good power, and I was able to direct the ball exactly where I wanted it to go every time. Smashes were good. Smashes were really effective with this racket. Because as soon as that sweet spot was there it was absolutely perfect. Got really good control, could actually hit some clean winners off the smash which is amazing."
Joe: "I felt like I had a lot of control with the volleys. If I wanted to put a little extra ping on the ball I could, a little bit of punch into the volleys. Otherwise just defending, it was perfect. I wasn't 100% confident with my smashes. I found it difficult to get it in the right part of the racket. So yeah, I found smashes tricky with this Head. Maybe the head size? I'm not sure, just tricky."
Serves
Ella: "Initially I found this Head quite hard to adjust to because it is quite stiff and I felt it wasn't quite as fluid through the service action. But as soon as I got used to it I was able to produce a really good serve and then mix it up with my second serve as well. I was able to get the spin. Took a little bit of getting used to, but definitely was able to get it in the end."
Joe: "The flat serve was good. I felt like I could hit it pretty crisp. Plenty of power behind the ball. I was able to generate some spin, but it was difficult. I had to put more effort into it, would have like a bit more spin. Personally I like to put more spin on my second serve. As long as you put the effort in and focus with the racket it's good for that."
Finley: "It was actually a really clean strike on my first serve. The design of this Head really lends itself to a flat serve. It allows you to generate a lot of power and it's great for down the T serves. I really enjoyed hitting the more spin serves as well. It's certainly something that if you get that really nice spot on the racket you can really generate a lot of kick, a lot of spin, put your opponent under a lot of pressure as well."
Would this Head suit similar styles of player as yourself?
Joe, who is an all court player: "I'd say it does suit my style of play, for groundstrokes most of all. I felt confident behind the ball just getting it back into court. Overheads and more spin on a second serve needed more work. But otherwise yes, for all court play it felt good."
Finley, who grinds out points from the baseline: "This Head lends itself to an attacking game style. It's great for taking time away from your opponent. You can generate power quite easily and it allows you to change the direction of the ball quite easily as well. So I think it's really good if you're attacking from the baseline."
Ella, who likes to be aggressive from the back of the court: "I think if you're able to hit the ball in that sweet spot every time, definitely. But I don't think I would choose it personally. I think the Head Boom or the Babolat AeroPro Team would probably suit my game a bit better."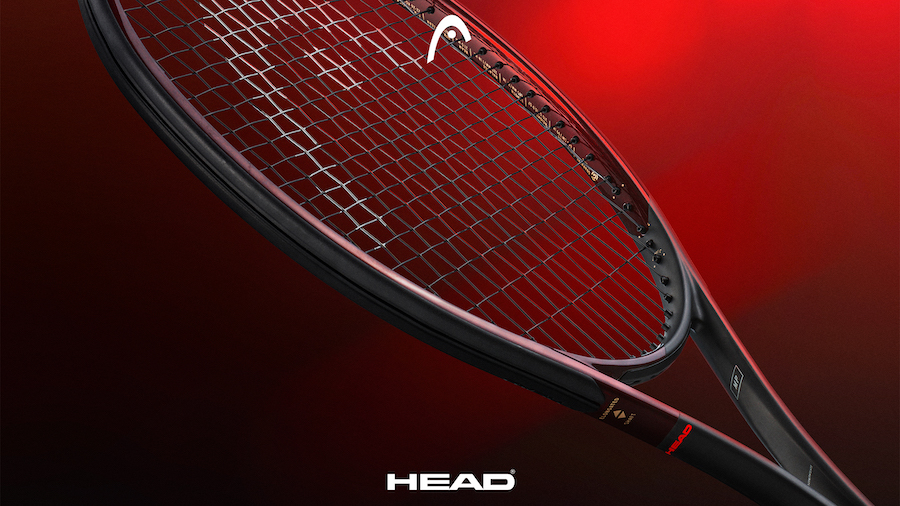 What are your thoughts on the design and style of this racket?
Finley: "I really like the colour scheme. It's a nice blend of a matte finish and a shinier finish. I haven't really seen too many rackets with this colour before. So it's fresh and exciting."
Ella: "I think the colour scheme of this Head is really good. I like the contrast between the matte and the shiny effect. The two tones of the red and black is really effective and it looks like a really professional racket."
Joe: "I really like the colour scheme. Black on the outside, you can't go wrong with black, nice and simple. Then that touch of red, really low profile, clean and sleek."
Is $249/£210 a fair price for this Head?
Ella: "It's a really fair price and I think with the right player and style it could be a really effective racket. If somebody likes to hit the ball quite cleanly and without too much spin I think it would be the perfect racket for them."
Joe: "£210 is a good price for this Head. If this is the kind of thing you want, a nice ping off the racket, a nice crisp feel with the ball, perfect price."
Finley: "I think that's a really fair price. Incredibly nice looking racket, really nice construction. The colour is nice as well. I can't see why you wouldn't spend that on a nice racket like this."
The specifications
For a detailed explanation of each racket measurement criteria below have a read of our guide.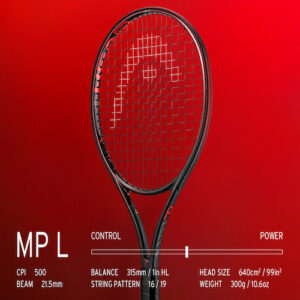 Head Prestige MP L

R.R.P. = $249/£210
Tennishead discount price (UK only): £169 at AllThingsTennis.co.uk
Head size = 99 sq in
Weight = 300g
String pattern = 16/19
In conclusion then… 
The most unexpected outcome from our play test was that the less experienced player really enjoyed this racket which maybe says that the updated technology combined with the lighter frame of the MP L is getting closer to being a club players racket rather than previous versions.
Our experienced competitors that tested the racket also liked it but their feedback implies that better players should maybe head for the slightly heavier versions of this frame.
Overall it looks as if technology is again winning the day in helping this classic frame to become more playable for a variety of standards.
Buy this racket 
Head over to our trusted retail partner All Things Tennis if you want to get your hands on the new HEAD Prestige MP L for the best possible online price of £169 which includes our exclusive Tennishead discount
🎾 Free >> Join our legendary newsletter
🎾 Join >> Receive $700/£600 of tennis gear from the Tennishead CLUB
🎾 Social >> Facebook, Twitter, Instagram & YouTube
🎾 Read >> World's best tennis magazine
🎾 Watch >> How to enjoy ATP/WTA/Slam tennis on TV
🎾 Shop >> Lowest price tennis gear from our trusted partner