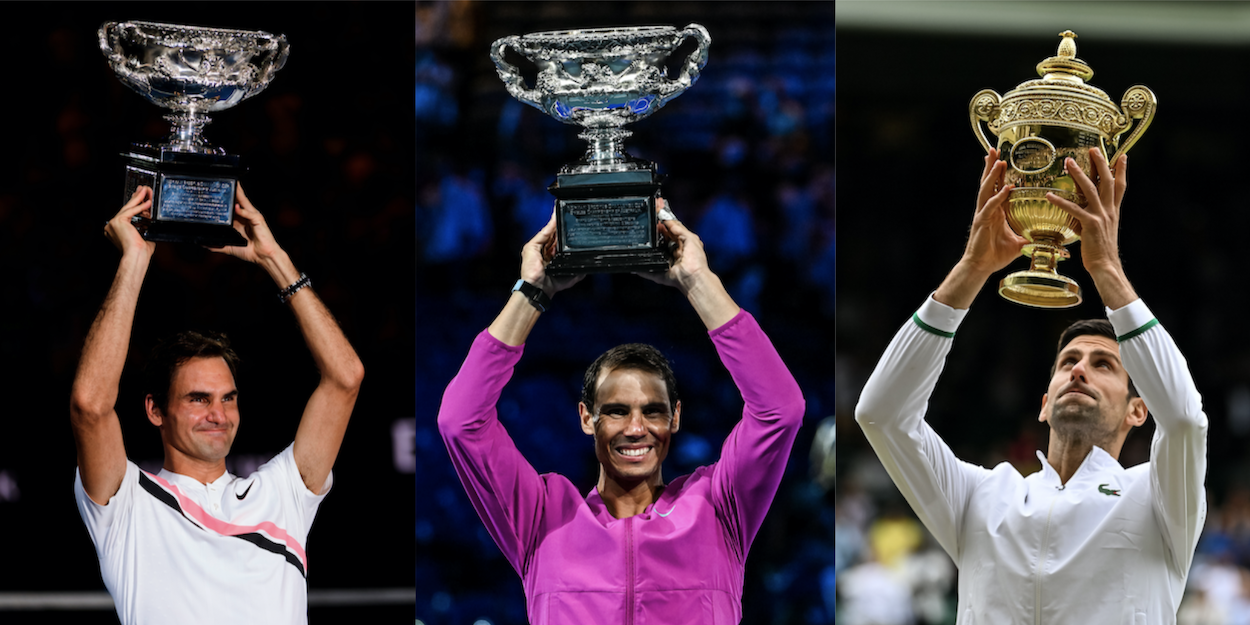 The GOAT Race so far: The ongoing Slam battle between Roger Federer, Rafael Nadal and Novak Djokovic
For nearly two decades, three players have dominated men's tennis and rewritten the history books in the process. Here, Tennishead tracks the Slam title race between Roger Federer, Rafael Nadal and Novak Djokovic, the fight to be the 'Greatest Of All Time'.
A story more than 18 years in the making, and with plenty yet to be written, Roger Federer, Rafael Nadal and Novak Djokovic have defined men's tennis in the 21st century.
With all three men on 20 Major titles entering 2022, Nadal became the unlikely frontrunner by clinching his 21st at the Australian Open. Join Tennishead on the journey of the 'Big Three' from youthful newcomers to all-time legendary figures.
Timeline of the Federer, Nadal, Djokovic battle
Wimbledon 2003: Federer ushers in a new era
Come The Championships in 2003, the 21-year-old Swiss had already announced himself to the tennis world on the grass of the All England Club.
In 2001 as the 15th seed, a 19-year-old Federer upset top seed and seven-time champion Pete Sampras 7-6 (9-7), 5-7, 6-4, 6-7 (2-7), 7-5 in the fourth round. Not only was Sampras a seven-time Wimbledon champion, he was also the four-time defending champion, having won the event in 1997, 1998, 1999 and 2000.
After Federer went out to home talent and sixth seed Tim Henman in the quarter-finals, he then had a disappointing event in 2002, going out in the first round to qualifier Mario Ančić.
Entering the 2003 event as the fourth seed, Federer had not progressed beyond the fourth round of a Slam since his run to the Wimbledon quarter-finals in 2001.
But the young prodigy was in his element on the grass, cruising through to win the event for the loss of just one set, defeating Australian Mark Philippoussis in the final.
Federer proceeded to dominate the Slams in 2004, winning all three of the Australian Open, Wimbledon and the US Open, as well as clinching the world number one ranking immediately after that Australian Open, a spot he would retain for 237 consecutive weeks.
Roland Garros 2005: Nadal emerges as a new rival
Prior to the 2005 French Open, Federer had won four of the last seven Slams, but had not improved on his career best Paris appearance of reaching the quarter-finals in 2001.
Enter 18-year-old Rafael Nadal. The teenage Spaniard was making a name for himself late in 2004 and into 2005 on the clay of Europe and the Americas, winning a first ATP title in Sopot, Poland before back-to-back titles in Costa do Sauípe, Brazil and Acapulco, Mexico.
Federer had already experienced a taste of Nadal's talent in their first ever meeting at the 2004 Miami Masters. There, the 17-year-old Spaniard overcame the Swiss 6-3, 6-3 to reach the fourth round at the Florida tournament.
A year on, Federer avenged that loss by defeating the youngster in the final of the 2005 Miami Masters over five sets. Heading to the clay, Nadal ramped up his play on his favourite surface.
Nadal won Barcelona, the Monte Carlo Masters and the Rome Masters back-to-back-to-back, propelling himself to world number five entering Roland Garros. Seeded fourth, he dropped just one set en route to a semi-final meeting with Federer.
The Spaniard won in four to lead their head-to-head 2-1 before beating Mariano Puerta in the final, again in four sets, to claim a maiden Slam title just two days after his 19th birthday.
Slam counter: Federer – 4, Nadal – 1
Australian Open 2008: Djokovic breaks through as a young disruptor
Djokovic had already established himself as a top pro leading up to Melbourne in 2008. He had reached the fourth round or better at each Slam in 2007, losing to Federer or Nadal at all four.
He reached the semi-finals at both the French Open and Wimbledon, losing to Nadal at each, before falling to Federer at the US Open in his maiden Slam final appearance after the Swiss defeated Djokovic in the fourth round of the Australian Open at the start of the season.
In 2008, Federer was the two-time defending champion at the Australian Open while Djokovic was at a career-high ranking of world number three.
As in 2007, Federer came up against the 20-year-old Serb again, this time in the semi-finals. The third seed rattled the Swiss to win in straight sets while fellow emerging talent Jo-Wilfried Tsonga did the same to Nadal to set an intriguing final.
Djokovic won in four sets 4-6, 6-4, 6-3, 7-6 (7-2) to etch his name into the annals of tennis history with a first Major crown.
Slam counter: Federer – 12, Nadal – 3, Djokovic – 1
Wimbledon 2008: Federer and Nadal play 'the greatest ever final'
After Djokovic claimed his first Slam triumph in Australia, the status quo returned as Federer and Nadal met for a third year running in the final of Roland Garros, a fifth Slam final showdown between the pair in eight Major tournaments.
The two had also combined to win 14 of the last 16 Grand Slams stretching back to Wimbledon 2004.
Despite having pushed Nadal to four sets in 2006 and 2007, Federer was embarrassed in 2008 as he won just four games in the final, the Spaniard claiming victory 6-1, 6-3, 6-0, inflicting Federer's heaviest defeat in his entire Slam career and securing a fourth consecutive Roland Garros title in the process.
The duo had met in the Wimbledon finals of 2006 and 2007, with fortunes reversed as compared to Roland Garros, Federer winning in four and five sets respectively, the latter being his fifth consecutive Wimbledon title.
In 2208 Federer, seeded first, reached the Wimbledon final without dropping a set, while Nadal, seeded second, dropped just one en route to meeting the 25-year-old in the championship match.
What ensued is a battle that some have labelled the greatest match ever played as Nadal went two sets to one up before Federer roared back to win two teibreak sets and force a decider.
Nadal then won 9-7 in the fifth for a four hour 48 minute 6-4, 6-4, 6-7 (5-7), 6-7 (8-10), 9-7 victory that finished at 9:15pm in near darkness on Centre Court. At the time, it was the longest ever Wimbledon final and included two rain delays in a time before Centre Court had a retractable roof.
It was Nadal's first Slam outside of Roland Garros, completing the 'Channel Slam' of winning the clay and grass Majors in the same season, a feat previously achieved by legends Rod Laver and Bjorn Borg in the Open Era.
Slam counter: Federer – 12, Nadal – 5, Djokovic – 1
Roland Garros 2009: Federer completes the Career Grand Slam
Approaching the 2009 French Open, much had been taken from Federer. His streak of 237 weeks at world number one ended on 18th August 2008 after Nadal won Olympic singles gold in Beijing before winning his first Australian Open for good measure to kick off 2009.
Federer had lost to Nadal in the final of the three previous French Opens, but 2009 would be a different story.
In a huge fourth round upset, Nadal was ousted by 24th seed Robin Söderling of Sweden in four sets on 31st May, the Spaniard's first ever loss at the Major.
A day later on 1st June, despite the massive opening presented to him, Federer found himself two sets to love down to Tommy Haas in his own fourth round match.
But the Swiss pulled himself back to win 6-7 (4-7), 5-7, 6-4, 6-0, 6-2 before going on to face Nadal's conqueror Söderling in the final. Federer grabbed his opportunity with both hands, overcoming the Swede in straight sets to win his first Roland Garros title and complete the Career Grand Slam, becoming just the third man to do so in the Open Era after Rod Laver and Andre Agassi.
Slam counter: Federer – 14, Nadal – 6, Djokovic – 1
US Open 2010: Nadal follows Federer to complete Career Grand Slam
As Federer pulled further ahead onto 16 Slams with his Wimbledon 2009 and Australian Open 2010 titles, Nadal went an entire Slam cycle without a title between the 2009 Australian Open and 2010 French Open.
In Paris in 2010, Nadal avenged his loss to Söderling the previous year by demolishing the Swede 6-4, 6-2, 6-4 in the final for a fifth Roland Garros title in six years and seventh Major crown overall.
At Wimbledon, after 12th seed Tomáš Berdych despatched Federer and Djokovic in the quarter-finals and semi-finals respectively, Nadal beat the Czech in straight sets to land his second Wimbledon title and eighth Slam in total.
Come the US Open, Nadal was world number one again and the top seed for the tournament. The Spaniard breezed through his first six matches without dropping a set to reach his first final in New York.
Meanwhile, Federer did the same in his first five matches before facing Djokovic in the semi-finals, where the Serb defeated him in five sets, marking just a second victory for Djokovic over Federer at Slam level.
In what was already a storied rivalry, the Nadal versus Djokovic final marked a 22nd meeting between the pair, with Nadal up 14-7 in the head-to-head.
And the 24-year-old made it 15 wins over Djokovic, beating the Serb 6-4, 5-7, 6-4, 6-2 to join Federer in completing the Career Grand Slam, becoming the fourth man to do so in the Open Era.
Slam counter: Federer – 16, Nadal – 9, Djokovic – 1
2011: Djokovic ramps up his challenge of Federer and Nadal
While the 23-year-old had been knocking on the door since 2008, 2011 is when Djokovic smashed that door down.
He began 2011 ranked third in the world behind Federer and Nadal, quickly getting to work on claiming win after win on the ATP tour.
Djokovic dropped just one set to win his second Major title at the Australian Open, including defeating Federer and world number five Andy Murray both in straight sets in the semi-finals and final.
From there the Serb was unstoppable, winning Dubai, Indian Wells, the Miami Masters, Belgrade, the Madrid Masters and Rome Masters all in a row for 37 consecutive wins including his Australian Open triumph.
In Dubai he defeated Federer in the final, then at each of Indian Wells, Miami, Madrid and Rome he beat Nadal in the final, the Madrid final representing Djokovic's first ever win over the Spaniard on his beloved clay.
Djokovic then won four more matches at Roland Garros before losing to Federer in the semi-finals on 3rd June, going 41-0 in the first five months of the year.
He immediately recuperated to reach the final of Wimbledon, defeating Nadal there for his first crown at the All England Club, taking the world number one spot for the first time in the process.
Finally, Djokovic defeated Nadal again in the final of the US Open for his first New York title, going 6-0 against the Spaniard over the season, all in Masters 1000 or Slam finals.
Slam counter: Federer – 16, Nadal – 10, Djokovic – 4
2015: Djokovic replicates 2011 dominance
Djokovic won one Major per year from 2012 to 2014, two Australian Opens in 2012 and 2013 followed by a second Wimbledon title in 2014.
Rafa did the same with a Roland Garros each year, plus the 2013 US Open for a little extra. Federer claimed just one Slam in the same time, Wimbledon 2012, his 17th Major title.
So coming into 2015, Federer had 17 Slams, Nadal 14, and Djokovic seven. The Serb would hark back to 2011 with his 2015 season to come, reaching the final of all four Slam events, only losing to Stan Wawrinka at Roland Garros, bringing his overall Slam tally to 10.
He defeated Murray in Melbourne and Federer at Wimbledon and the US Open.
Slam counter: Federer – 17, Nadal – 14, Djokovic – 10
2016: Djokovic joins Federer and Nadal on Career Grand Slam 
While 2015 was dominant for Djokovic, the Serb attained another truly historic feat the very next year.
After winning a fifth Australian Open in six years, he kicked off Roland Garros 2016 on his 29th birthday as the top seed.
Djokovic had reached three finals in the past four years in Paris, losing to Nadal in 2012 and 2014 before falling to Wawrinka in 2015.
After nine-time champion Nadal withdrew with a wrist injury in the third round, the door opened for Djokovic to win the event without coming up against the Spaniard.
He took full advantage to reach the final, dropping just one set along the way before taking on second seed Murray, who had defeated defending champion Wawrinka in the semi-finals.
After losing the first set, Djokovic looked as though the disappointment of 2015's final would repeat itself, but he rallied to overcome Murray and complete the Career Grand Slam and join Federer and Nadal in that illustrious group..
Not only that, but Djokovic also held all four Slam titles at once, having won Wimbledon 2015, the US Open 2015, Australian Open 2016 and French Open 2016 consecutively to complete the 'Non-Calendar Year Grand Slam', labelled by media and fans as the 'Nole Slam'.
He is the only man to win all four Slam consecutively in the Open Era other than Rod Laver, who completed the Calendar Grand Slam in 1969.
Slam counter: Federer – 17, Nadal – 14, Djokovic – 12
2017: Federer and Nadal turn back the clock
At the start of 2017, men's tennis was experiencing something it had not for some time. With Murray and Wawrinka's 2016 Wimbledon and US Open crowns respectively, consecutive Major titles had been claimed by non-'Big Three' members for the first time since 2003, when Andre Agassi and Juan Carlos Ferrero won the Australian Open and Roland Garros respectively.
Djokovic won five Slams across 2015 and 2016. By contrast, Nadal had not won since Roland Garros 2014, while Federer's drought stretched back over four years to Wimbledon 2012, and he had been sidelined with injury for the second half of the 2016 season.
The 2017 Australian Open changed all that, as Federer and Nadal met in a Major final for the first time since Roland Garros in 2011, guaranteeing that one of them would end their streak.
It was Federer who triumphed in Melbourne for his 18th Major title and fifth Down Under. Over the rest of the year, the duo continued their nostalgia-inducing form, combining to claim all four Slams for the first time since 2010 as Federer won in Melbourne and at Wimbledon while Nadal won a 10th French Open and third US Open.
They did so in dominant fashion too, as Nadal and Federer won Roland Garros and Wimbledon respectively without dropping a set. Across the 215 men's Slams played to date during the Open Era, only 10 have been won without dropping a set, two coming from Federer and Nadal in 2017.
Slam counter: Federer – 19, Nadal – 16, Djokovic – 12
2018: Djokovic resurgence 
After completing the Career Grand Slam, a combination of injury and the need for motivation beyond the Career Grand Slam saw a downturn in Djokovic's results.
He went a full two years without a Slam title after Roland Garros 2016, while Federer and Nadal added three each in that same period to reach 20 and 17 Major titles respectively.
Come Wimbledon 2018, Djokovic was ranked 22nd in the world and without an ATP tour title so far in the season, having just lost in the final of Queen's to Marin Cilic.
Federer and Nadal, seeded one and two, cruised into the quarter-finals without dropping a set, while Djokovic did the same for the loss of one.
Defending champion Federer looked on track for another final before eighth seed Kevin Anderson upset the 36-year-old from two sets to love down in their quarter-final encounter.
In the bottom half of the draw, Djokovic and Nadal met in the semi-finals for their 52nd career meeting, a third at Wimbledon.
The match was suspended immediately after Djokovic went two sets to one up as the 11pm tournament curfew had been reached, meaning the contest had to be completed the next day.
The Serb eventually claimed victory 6-4, 3-6, 7-6 (11-9), 3-6, 10-8 to reach his fifth Wimbledon final and a shot at a fourth title there.
He took that chance against Anderson in straight sets, the South African spent after having played a six hour 36 minute battle of a semi-final with John Isner which ended 7-6 (8-6), 6-7 (5-7), 6-7 (9-11), 6-4, 26-24.
Djokovic surged on for the rest of the season, winning the Cincinnati Masters for the first time to lay claim to the feat of winning all nine 1000 level events at least once, before clinching back-to-back Slams by overcoming Juan Martin del Potro at the US Open.
After winning the Shanghai Masters and reaching the final at the Paris Masters, Djokovic reclaimed the world number one ranking in time for the end of the year.
Slam counter: Federer – 20, Nadal – 17, Djokovic – 14
2021: Djokovic fights for the Calendar Slam
The elusive Calendar Slam, winning all four Majors in a singles season. In the Open Era, only three players had achieved the feat in singles: Rod Laver in 1969, Margaret Court in 1970, and Steffi Graf in 1988.
Novak Djokovic wanted to be the fourth. Following his 2018 resurgence, the Serb had propelled himself to three more Slam trophies to sit on 17 entering 2021. Nadal had won two more Roland Garros titles and a US Open to join Federer on 20 even titles.
Djokovic won the Australian Open for his ninth title in Melbourne, bumping his tally up to 18. Come Roland Garros, the mouth watered for a 58th career meeting between Nadal and Djokovic, one that would come if they both reached the semi-finals.
And it did, the two men playing out an epic that saw Djokovic triumph over Nadal, inflicting only a third ever defeat for the Spaniard at his favourite Slam and becoming the only man to beat Nadal twice at Roland Garros.
Djokovic then went a step further by winning the final against Stefanos Tsitsipas from two sets to love down. Arguably the toughest leg of the Calendar Slam was complete, only Wimbledon and the US Open left to go.
Djokovic then secured a sixth Wimbledon title to not only be just one Major win from the Calendar Slam, but also to tie level with Federer and Nadal on 20 Slams each, the first time all three claimed the same tally.
At the US Open, Djokovic reached the final, just one match victory from history, before second seed Daniil Medvedev stopped the Serb in his tracks to win his first ever Major crown.
Slam counter: Federer – 20, Nadal – 20, Djokovic – 20
2022: Nadal pulls in front in the most improbable fashion
Nadal had been pushed to end his 2021 season early in August due to a foot injury, leaving him without tour level play for five months and facing possible retirement heading into 2022.
Then, after the debacle of Novak Djokovic's deportation from Australia due to complications with his visa, Nadal was left as the only member of the 'Big Three' competing Down Under.
He had not won the event since 2009, losing in four finals in 2012, 2014, 2017 and 2019 to Djokovic, Wawrinka, Federer and Djokovic again respectively.
Meanwhile, newly crowned US Open champion Medvedev was the hot favourite to win the tournament in Djokovic's absence.
Nadal dropped one set en route to a quarter-final meeting with young gun Denis Shapovalov, who himself had just dismantled ATP Finals winner Alexander Zverev in the fourth round.
After going two sets to love up, Nadal surrendered his lead as the Canadian tied it up and forced a decider before the 35-year-old Spaniard won in five. He then beat Matteo Berrettini in the last four, a repeat of their 2019 US Open semi-final meeting.
Medvedev completed a miraculous victory from two sets to love down against Felix Auger-Aliassime in the quarter-finals before beating Tsitsipas in the semi-finals, as he did at the 2021 event.
The Russian looked set to back up his maiden Major crown as he went two sets up over Nadal, but the Spanish gladiator was not done fighting.
He proceeded to pull off his first win from two sets down at a Slam since Wimbledon 2007 when he beat Mikhail Youzhny from that position in the fourth round.
With the victory, Nadal pulled ahead in the 'Big Three' Slam race for the very first time, sitting out on 21 titles, the first man to achieve the feat, and matching Djokovic on the Double Career Grand Slam, or winning all four Majors at least twice.
Slam counter: Federer – 20, Nadal – 21, Djokovic – 20
Where have Federer, Nadal and Djokovic won their Slams?
Each member of the 'Big Three' has a different 'favourite' Major where they have won at least two more titles there than anyone else.
Federer's favourite is Wimbledon with eight titles, Nadal reigns at Roland Garros, whereas Djokovic is near unbeatable at the Australian Open.
Roger Federer
The Swiss truly dominated before Nadal and later Djokovic came along, cleaning up Slams on hard and grass courts.
Three times Federer has won all of the Australian Open, Wimbledon and the US Open in the same season, those being in 2004, 2006 and 2007.
He was close to making it four years in a row, but lost in the semi-finals of the 2005 Australian Open before winning Wimbledon and the US Open that year too.
Federer won four of seven Australian Opens between 2004 and 2010 and famously won Wimbledon and the US Open five times consecutively from 2003 to 2007 and 2004 to 2009 respectively.
Federer has six Australian Open titles, one Roland Garros title, eight Wimbledon and five US Open crowns.
Rafael Nadal
The Spaniard is the only member of the 'Big Three' to boast more than half of his Major titles at a single event.
His 13 trophies in Paris have come in three separate streaks. Nadal won four in a row from 2005 to 2008, five consecutively from 2010 and 2014, and four on the bounce again from 2017 to 2020, making three years his longest wait between Roland Garros crowns.
He has further won the Australian Open and Wimbledon twice each, with the US Open being his second most prolific Major with four titles there.
Novak Djokovic
While not quite as dominant as Rafa at the French, Djokovic is close to as impenetrable in Australia.
Like Nadal in Paris, Djokovic has never gone more than three years without a title in Melbourne since his maiden crown there in 2008.
He won in 2008 before completing a triple from 2011 to 2013, back-to-back titles in 2015 and 2016, plus another three-peat from 2019 to 2021.
The world number one also has not waited more than three years between Wimbledon crowns since his first there in 2011.
He won in 2011, 2014 and 2015 before consecutive triumphs in 2018, 2019 and 2021 (Wimbledon was not held in 2020 due to the Covid-19 pandemic).
Djokovic has nine Australian Open titles, two Roland Garros titles, six Wimbledon trophies and three US Open wins.
Like Nadal, Djokovic has won all four Slams at least twice.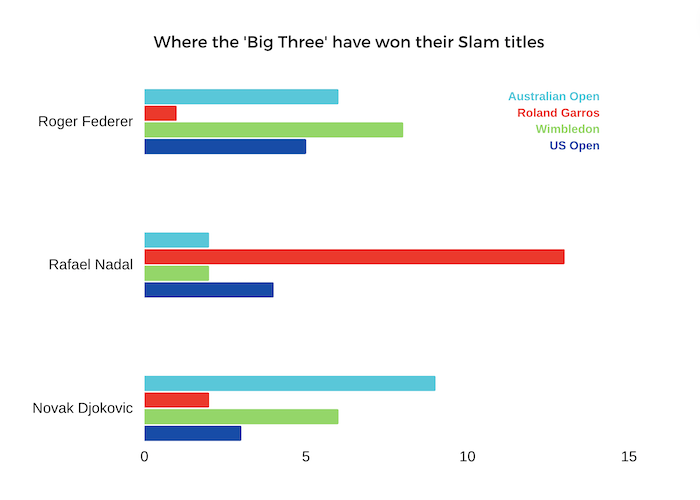 How have Federer, Nadal and Djokovic won their Slams?
A critique levelled by some at Nadal's 2022 Australian Open title is the fact that, after Djokovic's deportation from Australia, the Spaniard would not need to face the world number one who had nine titles in Melbourne and had won the last three events there.
In light of those views, Tennishead has broken down the fashion in which the 'Big Three' have won their combined 61 Major titles.
Namely, when they have won without facing an other 'Big Three' player and when they have played Slams as the only 'Big Three' member present.
While not an in-depth statistical analysis of the difficulty of opponents faced by each, the tally of each player in each category is still worth bearing in mind.
Slams won without facing another 'Big Three' player
Federer leads the way here with 13 of his 20 slams won without having to face either Nadal or Djokovic.
Nadal comes second with seven of his 21 titles being won in such a way, or one third, while Djokovic has won six of his 20 Majors without playing Nadal or Federer.
Remember, Federer burst onto the scene before Nadal and Djokovic, and has played 18 Majors without either of the other two present.
The Swiss played 14 of those Slams before Nadal and Djokovic even debuted at a Major, those 14 appearances coming from 1999 to 2002.
🎾 Read >> Breaking tennis news
🎾 Follow >> 24/7 LIVE scores
🎾 Free >> Receive our legendary newsletter
🎾 Join >> Tennishead CLUB, the world's only virtual tennis club
🎾 Social >> Facebook, Twitter, Instagram & YouTube
🎾 Order >> World's best tennis magazine
🎾 Shop >> Lowest price tennis gear from our trusted retail partner