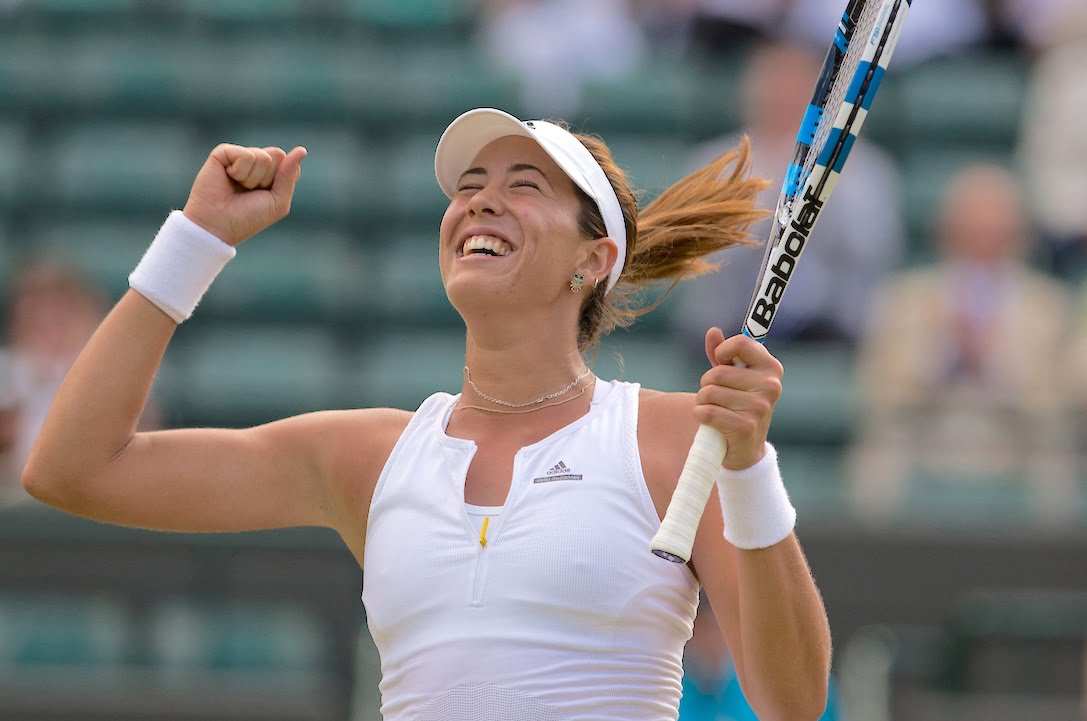 Garbine Muguruza exclusive interview: "Stop complaining and play!"
Garbine Muguruza used to find playing on grass a struggle, but reaching her first Wimbledon final changed everything, she tells Tennishead Editor Paul Newman
Garbine Muguruza can remember the moment she stopped fearing grass-court tennis. "When I reached the Wimbledon final in 2015 I changed my mind," she recalls. "I stopped being a bit negative about grass. I said to myself: 'Listen, Garbine, it's the same for everybody. You don't play a lot on grass. Stop complaining and play.' Once I changed that…"
Two years later Muguruza was holding aloft the Venus Rosewater Dish. The 24-year-old Spaniard dropped only one set en route to that year's title, which she won by outgunning Venus Williams in the final.
Muguruza had never played on grass until she tried to qualify for Wimbledon aged 18. Unlike the three other Grand Slam tournaments, the qualifying competition is played away from the main site, at the Bank of England Sports Centre at Roehampton.
"It was so different from the main draw," Muguruza recalled. "It's basically an empty park where they just paint the lines of the courts on the grass. And if you qualify you then arrive at the All England Club and it's like: 'Wow!' Everything there is so different to the qualifying."
Muguruza lost to Italy's Maria Elena Camerin in qualifying that year. By the following summer her improved ranking earned direct entry into the main draw, but she lost in the second round to Ekaterina Makarova in 2013 and to Coco Vandeweghe in the first round in 2014.
Muguruza recalled: "Every year at the start of the grass-court season I was like: 'What is this?' Playing on grass was always very different, very unpredictable. Like everybody else I always struggled a bit."
Everything changed in 2015, however, as Muguruza swept aside the grass-court veterans Mirjana Lucic-Baroni, Angelique Kerber, Caroline Wozniacki and Agnieszka Radwanska before facing the ultimate challenge in the final. Although Serena Williams won in straight sets, Muguruza had arrived as a grass-court player.
Given that the following year's Wimbledon followed her first Grand Slam title at the French Open it was perhaps no surprise when Muguruza lost in the second round, to Jana Cepelova. In 2017, however, the situation was turned on its head as Muguruza won Wimbledon after losing early at Roland Garros.
Sam Sumyk, Muguruza's coach, missed her Wimbledon triumph because his wife was about to give birth. Instead Muguruza was helped by her Fed Cup captain, Conchita Martinez, who won Wimbledon in 1994.
"Conchita helped me to be calm at a very important tournament where you can get nervous," Muguruza said. "She kept me and the team organised. She has a very calm personality. But I didn't feel she did anything that my team weren't doing before – and we were always in contact with Sam."
Martinez rejoined Muguruza's entourage earlier that year, but the experiment of having two voices in the player's ear brought mixed results. Since Miami she has been back working only with Sumyk.
Might Martinez help again this summer? "We haven't really spoken about that," Muguruza said. "Of course she's always there. We stay in touch. I've known her for many years now. We have a good relationship."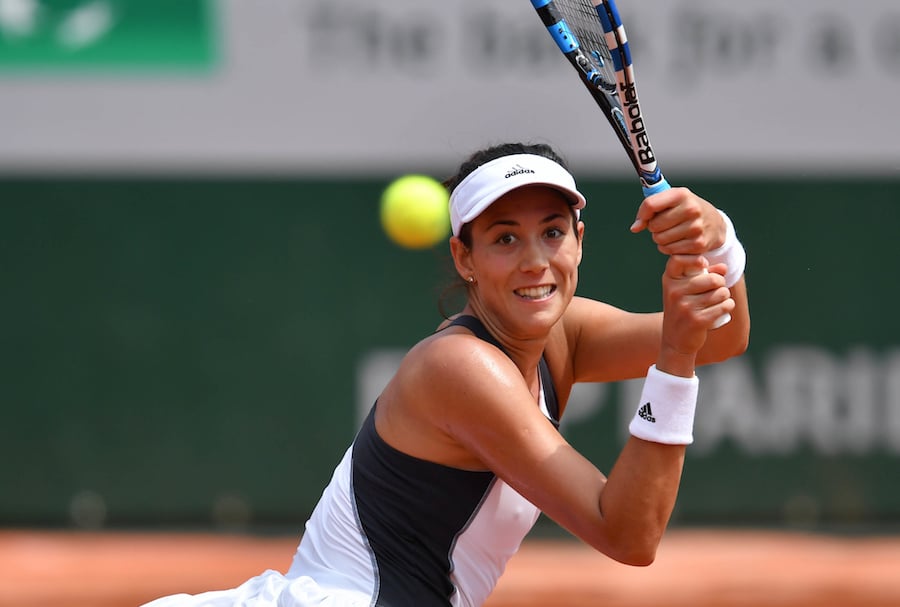 Muguruza is a big-occasion player. That year's final at Wimbledon was only her seventh since she joined the main tour, but three of them had been at Grand Slam level.
One goal after of the summer was to be more consistent through the year, which she has achieved to some degree. She went into last year's clay-court season having played in three more finals, winning in Cincinnati and Monterrey but losing in Doha, and enjoyed a brief reign as world No 1. Nevertheless, defeats to Su-Wei Hsieh (world No 88) and Sachia Vickery (No 100) have been reminders of her vulnerability.
"I just think I play better in the greater scenarios," Muguruza said. "I get motivated. I like the big crowds on the centre courts. At one stage I only had two WTA titles at the same time as I had played in two Grand Slam finals. People would ask me why I hadn't won more WTA titles and I was like: 'I don't know.' I think it's just that I get more motivated for the big ones."
Although she has won her Grand Slam titles on clay and grass, Muguruza fancies her chances just as much on hard courts. "Everybody plays on hard courts more, which makes things more equal," she said.
"Maybe some people struggle a bit more on grass. I actually like the changes in surface. I sometimes find it a bit boring on hard courts, because everyone plays well, everything is so fast, everything is more equal, whatever your ranking says. I like it when we change to clay and then to grass."
For most players the first chance to hit on Wimbledon's practice courts comes nine days before the start of The Championships. Muguruza was surprised to learn – from tennishead – that among the privileges she can enjoy as a new member following her victory is the chance to use the All England Club's facilities before that date.
"Ah, now I know why the winners win more!" she said with a smile. "I get it, Roger! I didn't know that."
Muguruza's two build-up tournaments that year saw her reach the semi-finals at Edgbaston and lose first time out at Eastbourne, where she was beaten 6-1 6-0 by Barbora Strycova.
"I rushed to Eastbourne and played a terrible match there," she said. "It was raining and windy, I played badly and my opponent played well. I just said to myself: 'Let's just go to Wimbledon. It just wasn't meant to be here.' So it didn't affect my mood or my confidence. I was on my way to Wimbledon the next day and it was all forgotten."
After quickfire victories in the first three rounds at the All England Club Muguruza played in one of the matches of the tournament when she beat Kerber, the then world No 1, in three pulsating sets.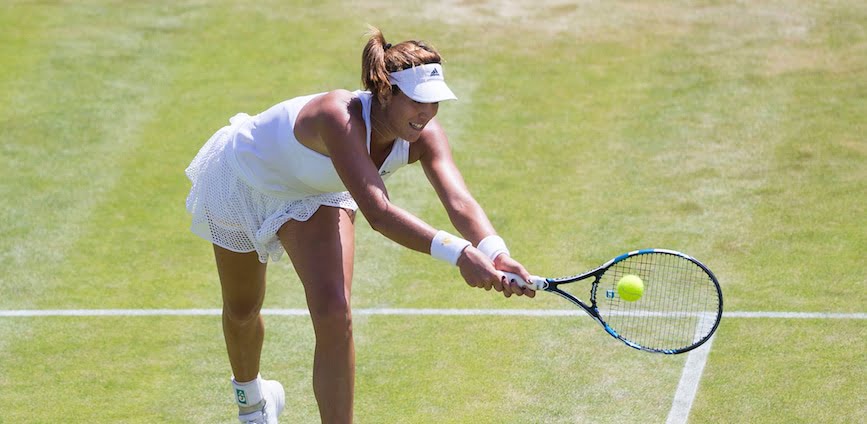 "That was definitely a key match," she said. "It was a battle and when you win a match like that you come out of it feeling very confident. But the upcoming matches were very difficult as well. I didn't think at that stage that I was going to win the tournament."
However, subsequent victories over Svetlana Kuznetsova and Magdalena Rybarikova took Muguruza into a showdown with Venus Williams in the American's first Wimbledon final for eight years. Williams had two set points at 5-4 in the first set, but Muguruza held her nerve and won the next nine games to take the title.
"I went out there ready for Venus to play her best tennis ever, however I played," Muguruza said. "Even though I had two set points against me, I was composed. I played the best I could and I found a way to turn it around. I was prepared. Even if I had lost that set I think there would have been a lot of tennis still to be played."
Has being Wimbledon champion made any difference to her? "I don't feel different, but I do feel a difference between being French Open champion and Wimbledon champion," she said. "At tournaments they announce me as the Wimbledon champion but they don't always say that I was also French Open champion. I feel like I get more attention as the Wimbledon champion. In Spain the French Open is very big, but worldwide I think Wimbledon has a bigger impact."
Are opponents more motivated to win when they face the Wimbledon champion? "Oh yes. I think the better you are the more players want to beat you. It's always been like this. When I was 17 and I was playing the top players I was always excited. I had nothing to lose and that helped me get some victories."
And has she given any thought to what it will be like returning to Wimbledon as the champion? "Not at all," she insisted. "I was thinking a lot about what it would be like when I went back to the French Open as champion last year, but this time I'm not thinking at all about Wimbledon. There's no point."
Look ahead to 2019 with our guide to every tournament on the ATP Tour, the WTA Tour and the ITF Tour
If you can't visit the tournaments you love then do the next best thing and read our guide on how to watch all the ATP Tour matches on television in 2019
To read more amazing articles like this you can explore Tennishead magazine here or you can subscribe for free to our email newsletter here